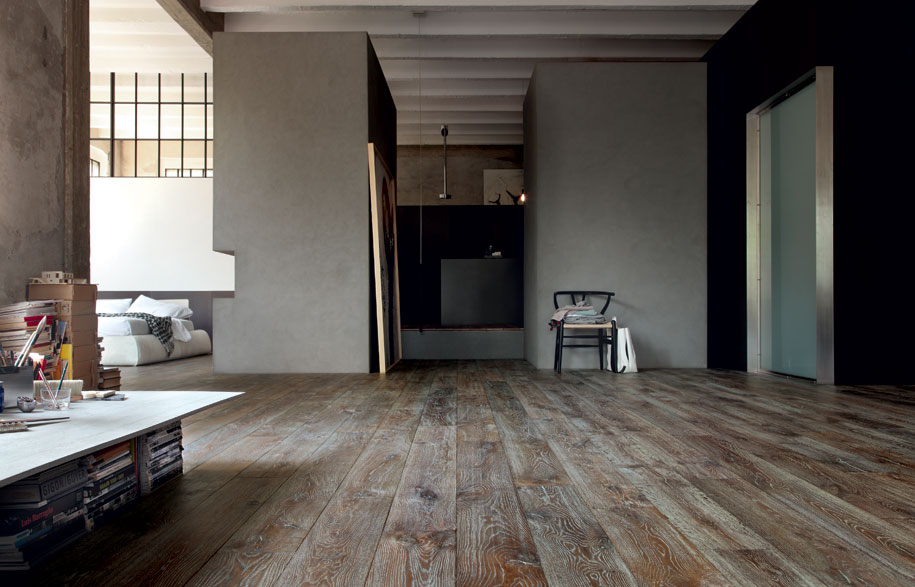 Listone Giordano has arrived
With a long history and tradition of Italian design, craftsmanship and innovation for over 100 years Listone Giordano is recognized around the world for groundbreaking design and uncompromising quality: collaborating with Italy's renowned designers including Michele De Lucchi & Daniele Lago to create extraordinary hardwood flooring products.
Above: Atelier Reserve Mareggiata 'Amalfi'
The story of Listone Giordano begins with its forests in France. Listone Giordano continues to set the benchmark by sourcing the finest quality French oak from its own plantations at Fontaines in the Burgundy region of France. These plantations are regarded among the most sustainable sources of hardwood in the world. With complete vertical integration from plantation to finished product, they control the entire process providing unequalled selection and control.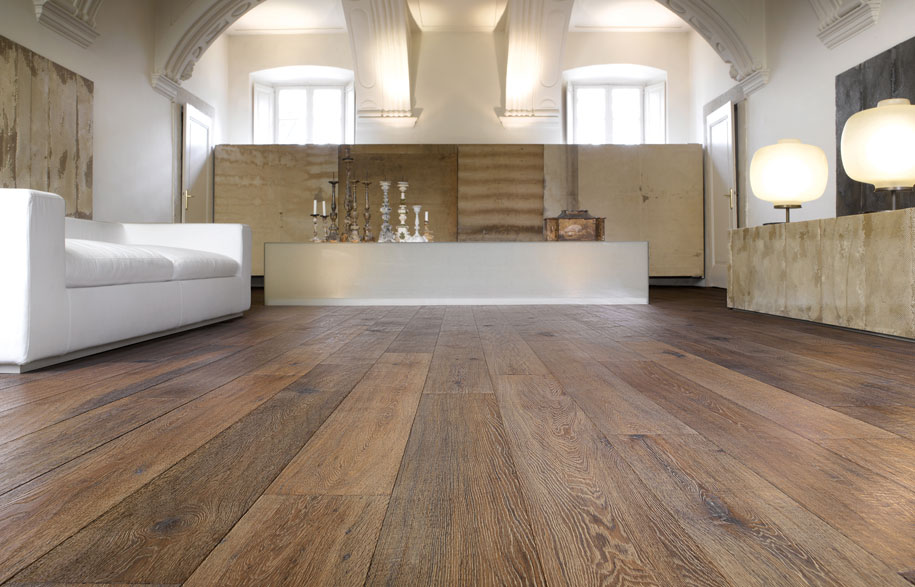 Atelier Reserve 'Siena'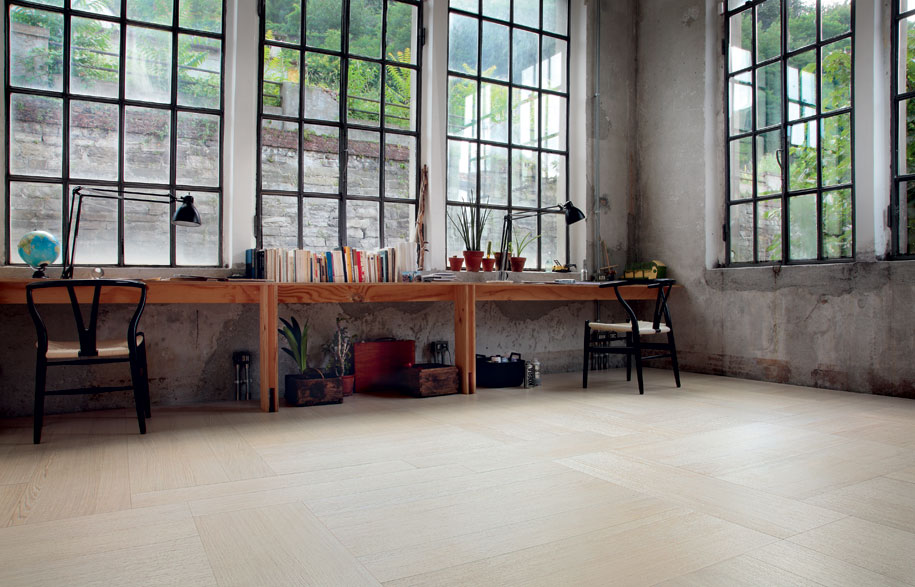 Natural Genius Foxtrot 'Avorio'
Underneath the French oak lies the technological heart of Listone Giordano. A special multi-layer birch support with transversal incisions and micrometric joints renders the hardwood floor stable over time and non-deformable for life. Listone Giordano first invented multi-layered 'engineered' hardwood flooring for greater stability in 1983. It was a giant step in technology which would revolutionize hardwood flooring around the world. Stability, precision, reliability, beauty, long-life and respect for the environment are still the keywords to this success.
EVERY WOOD SURFACE, EVERY FORM OF GENIUS.
Introducing Natural Genius.
In collaboration with renowned Italian designers Michele De Lucchi & Daniele Lago, the Natural Genius collection celebrates the association of naturalness of the wood matter with contemporary design genius. Natural Genius embodies the century-old culture of wood craftsmanship highlighted by the definition of contemporary criteria to redesign surfaces.
Introducing SLIDE.
Listone Giordano continues to push the boundaries with the latest addition to the Natural Genius collection: SLIDE. A rectangular shape turns into a rhombus according to the magic formula of transcendental numbers. Then it rotates, slides and gets composed in endless shapes never replicating themselves. Extraordinary. It could only be from Listone Giordano.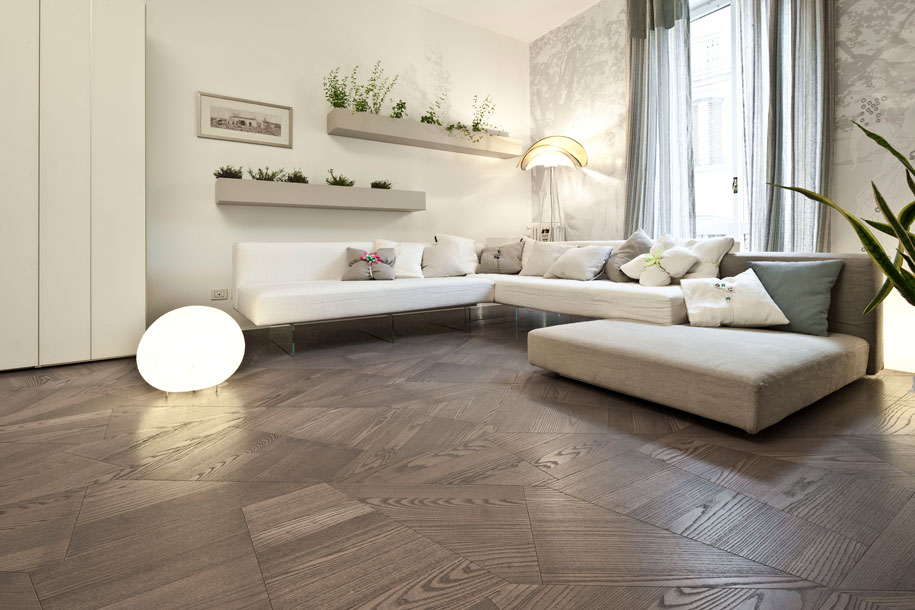 Natural Genius Slide 'Tortora'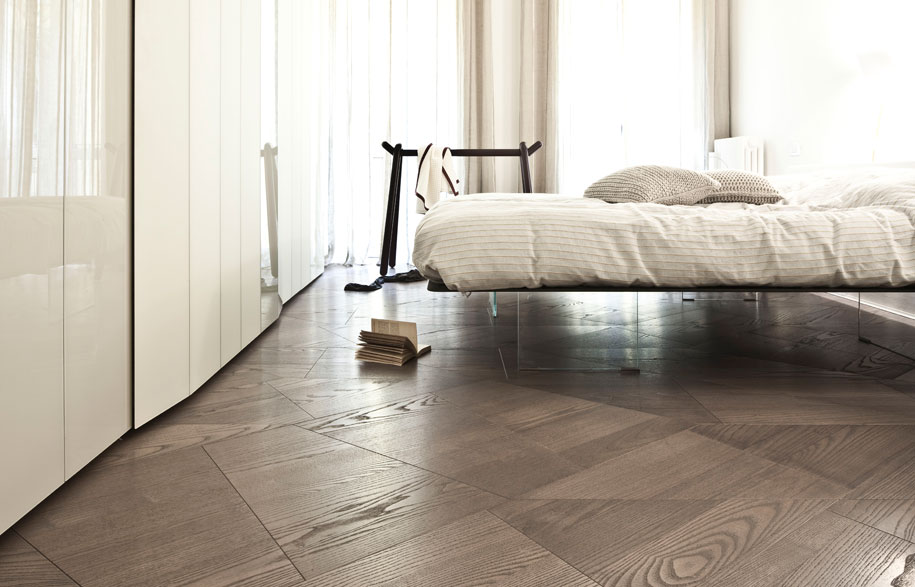 Natural Genius Slide 'Tortora'
WHY LISTONE GIORDANO?
Sourced in France.
Made in Italy.
Only Listone Giordano.
ALL NATURAL FINISHES
An eight-layer, highly resistant varnishing treatment, which offers unequalled performance with regards to resistance, or a penetrating natural oil and wax treatment, which exalts the wood's tactility.
PREMIUM QUALITY HARDWOOD
An upper layer made from wood of the best species is the fruit of careful raw material selection and of absolutely unique production processes. The exclusive milling methods, like the innovative drying processes, house the secrets for producing materials, which acquire new value with every step. It's the pursuit of perfection from the very beginning.
BIRCH WOOD SUPPORT
The secret to Listone Giordano stability lies in the support: a special arrangement of birch wood layers, with marine gluing, allows for the manufacture of perfectly stable planks. Supports conceived in this manner possess an elevated mechanical resistance capable of perfectly compensating the inevitable stresses from the layer above. This translates into excellent product balance and stability.
MICROMETRIC JOINTS
The four sides of each plank are accurately profiled with diamond-tipped cutting tools. The micrometric precision of the joints, obtained through these techniques, is the guarantee of a perfectly flat floor surface.
ECOLOGICAL ADHESIVES
In order to safeguard the environment and personal safety, 
all of the auxiliary products used for manufacturing Listone Giordano floors are absolutely ecological, non-toxic and odorless. 
The adhesives employed comply with the strictest European standards regarding solvents and formaldehydes.
LISTONE GIORDANO FLOORS IN THE BATHROOM AND IN THE KITCHEN
Typical conditions in bathroom and kitchen environments often dissuade the use of materials such as wood, which are susceptible to changes in humidity and temperature. 
 Listone Giordano has developed Sigilplus, a special product which, when applied upon a finished floor, seals any leaks between each plank in order to impede liquids from penetrating into the materials.
The use of Sigilplus, together with the dimensional stability obtained through multilayer technology, allows for the beauty and colour of hardwood flooring to be enjoyed throughout the home, even in more sensitive environments like the bathroom or kitchen.
LISTONE GIORDANO AND UNDER FLOOR HEATING SYSTEMS
Listone Giordano is designed for use over modern under floor heating systems. Giordano technology supports ensure maximum dimensional stability as well as reduced thickness. 
This aspect, associated with a fully adhered installation, allows for heat to be better diffused throughout the home, thereby optimizing thermal yield and energy savings.
CERTIFICATIONS
PEFC
Certification of the chain of custody that guarantees the provenance of products from forests managed inan ecologically sustainable manner.
ISO 9001
Quality Management System Certification.
FSC
Certification of the chain of custody that guarantees the provenance from forests managed according to strict environmental, social and economic standards.
ISO14001
Environmental Management System Certification.
MANUFACTURERS' WARRANTY
Listone Giordano comes with piece of mind: a full manufacturer's warranty.
LA MIA CASA E LA MIA ARTE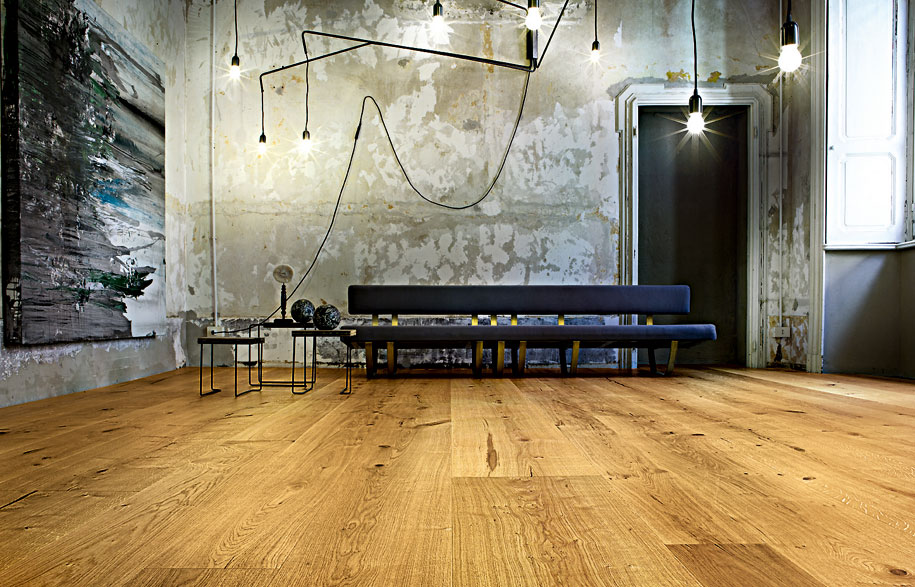 Atelier Quattrocento Italiano 400 'Puro'
Winspear Group is the Australian importer of Listone Giordano. The company specializes in the finest quality hardwood floors for the architecture and design market of Australia.
Winspear Group is dedicated to offering its clients genuine European quality with an emphasis on sustainability and provenance of raw materials. Listone Giordano share this same philosophy. The result is an incomparable hardwood floor made with the passion and enthusiasm of those who create it in the pursuit of excellence.
WINSPEAR GROUP
winspeargroup.com