Shape and form are a key aspect of interior design — the considered geometry, contours and lines of a space help impose balance and harmony. Character and aesthetic are further cultivated through the shapes that permeate rooms, whether it be the smooth, organic curvature of an oval sink or the clean lines of a tessellating carpet. Antoniolupi has always recognised the significance of shape; their work with Gumdesign showcases careful manipulation of form to play with perception and presence, therefore creating products which possess the potential to transform any space. The magical Borghi countertop sink and optically perfect Volumi carpet range, designed by Gumdesign, are a clear display of antoniolupi's distinct innovation with shape and form.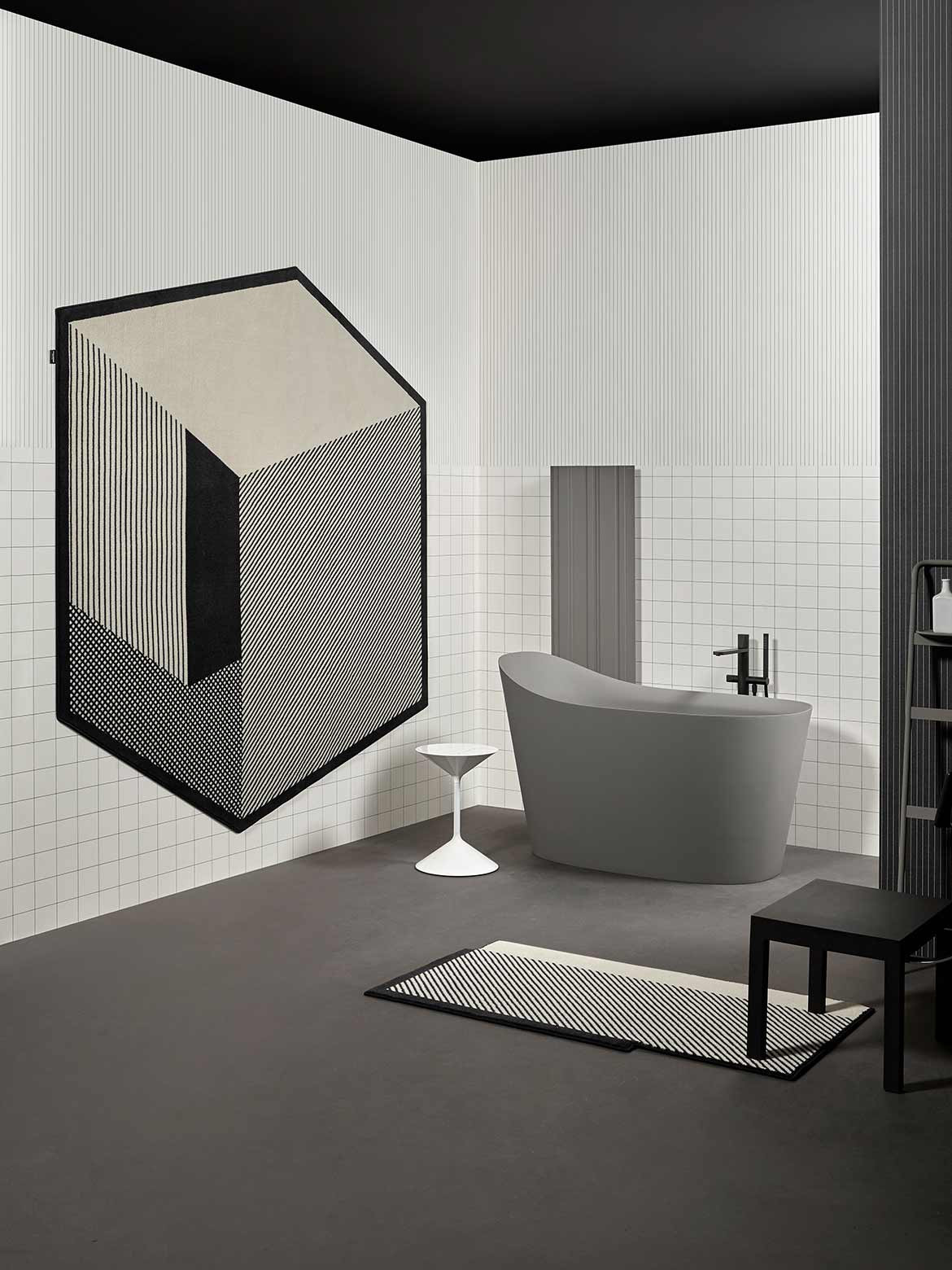 Borghi Oval Sink
The iconism of antoniolupi's Borghi collection is enhanced by the sinuous curvature of their oval countertop sink. This new shape exudes an aura of magic — a capacious basin converges into a narrow base, creating a unique floating effect. Its minimal lines and sculptural silhouette create elegance in the bathroom. An epitome of contemporary design, the Borghi oval sink is light, yet rich, with exceptional aesthetic qualities and functionality.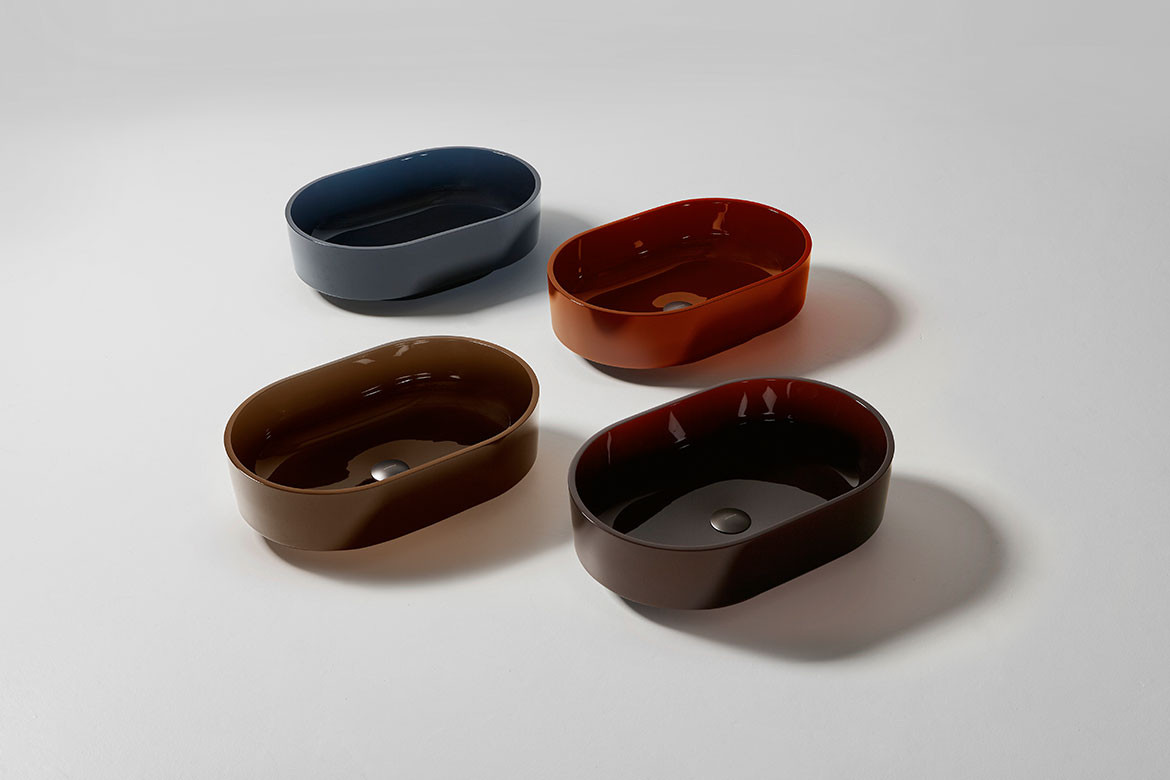 Made entirely of antoniolupi's popular Cristalmood material, the Borghi oval sinks permit a unique experience as light and water bend, reflect and refract off the resin. Cristalmood's beautiful interactions with light make the rich contours of the oval sink seem even lighter, creating a magical radiance. The smoothness of the material further emphaises the unique shape of the sink, creating true character and presence in the bathroom. The Borghi collection takes inspiration from Bolgheri — an enchanting village in Maremma, Tuscany, with the aesthetic and tactile qualities of the oval countertop sink recalling olive trees, wine and alluring horizons. Available in the entire colour range of Cristalmood, including the new rich Mostato, Barrique,Vespero and Notturno colourways, the Borghi oval sink reflects the essence of Tuscan flavours and traditions. With this multiplicity in choice, antoniolupi permits versatility and freedom in expression, giving each bathroom a bespoke quality.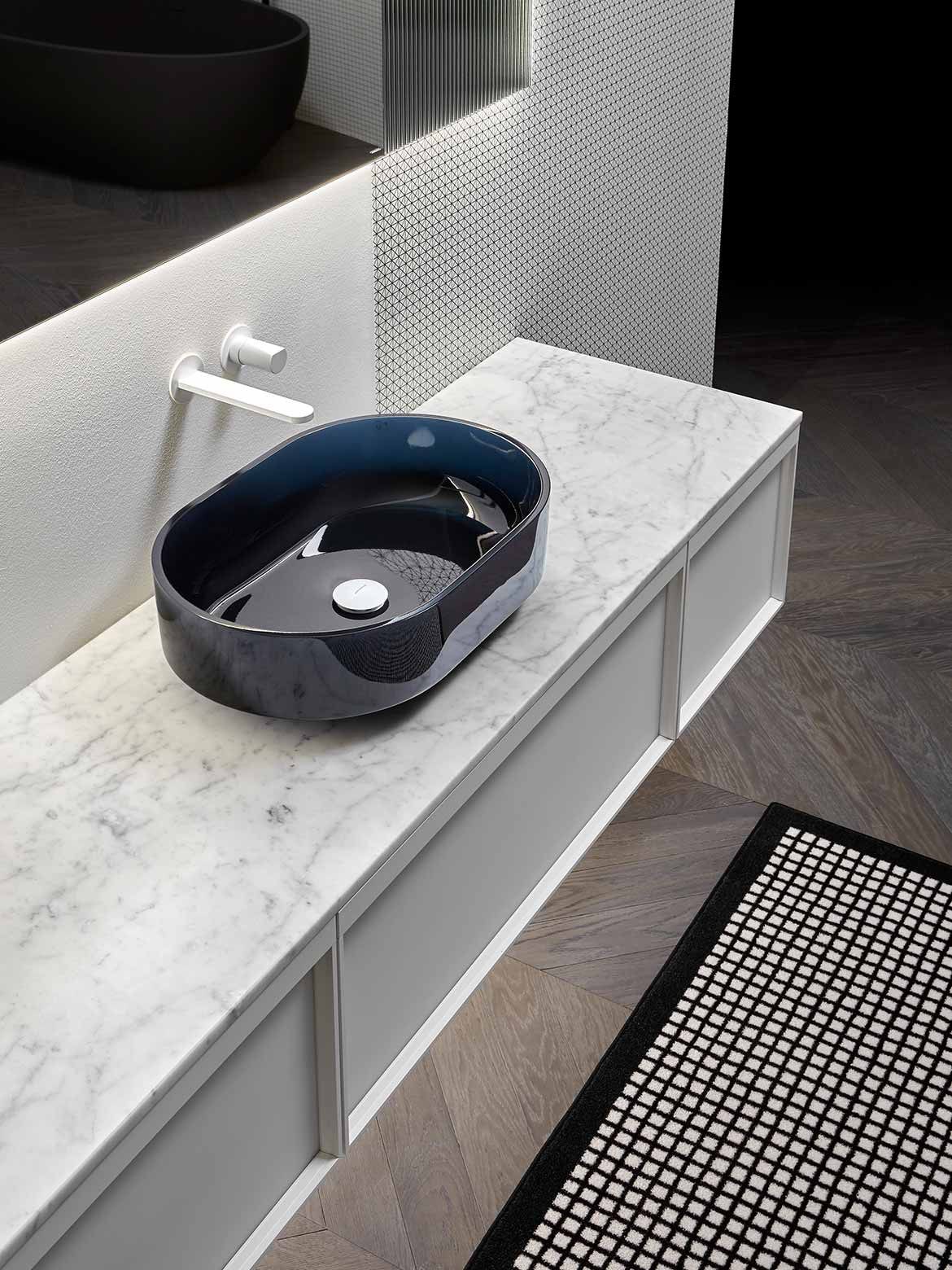 Volumi Carpet Ranges
In another stunning display of considered form and shape is antoniolupi's new line of carpets: Volumi. Designed by the iconic Gumdesign, this collection plays with perception, hereby imposing dimension and dynamism into any space it is incorporated into. Characterised by their irregular shapes, colour contrasts and geometric lines, Volumi is unique in its aesthetic and application. Gumdesign describes Volumi as "the new collection that extends the range of the Tramato carpets that trace everyday living." Inspiration from the intricate lines and graphics of antoniolupi's Tramato range are evident in the aesthetics of this new collection; in Volumi we can see a geometric perfection in the convergence of parallel and perpendicular lines, with defined areas creating dimension and a sensation of movement. Resulting optical effects reveal new elements to us at every glance.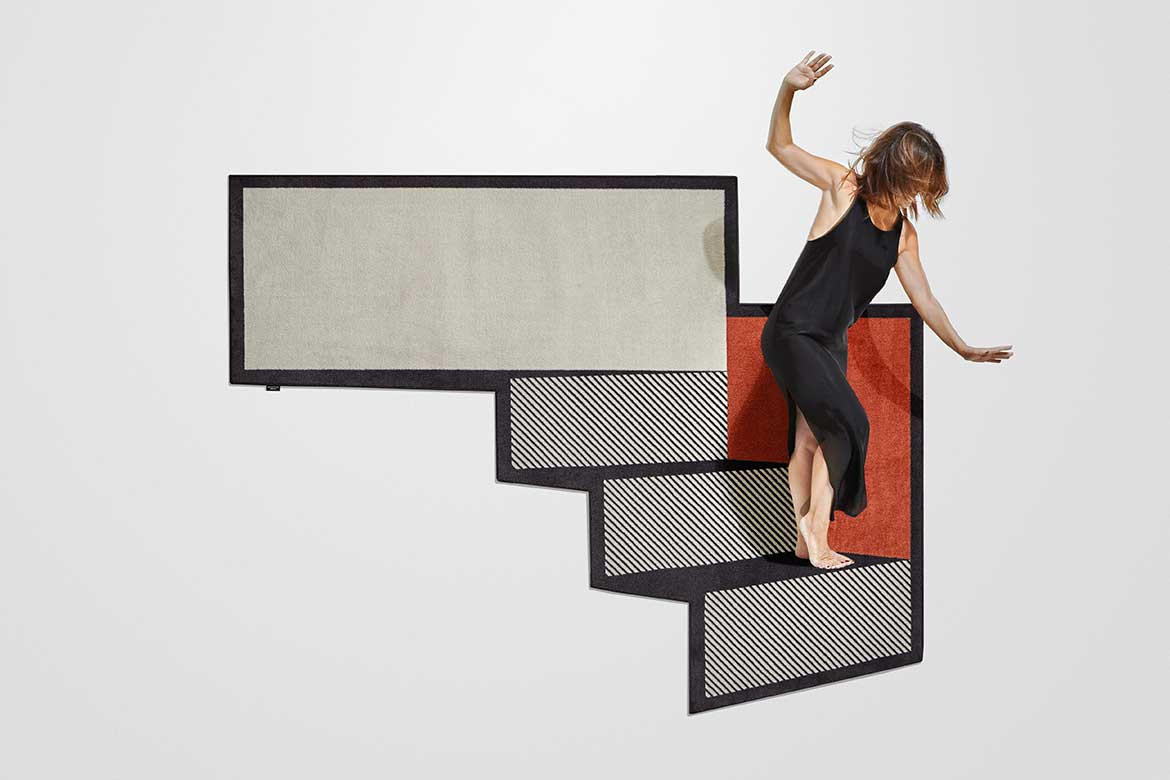 However, what makes Volumi truly distinct is its modern manipulation of colour. Gumdesign further states: "Vertical, horizontal, oblique lines intertwine with coloured backgrounds and generate unexpected spaces and perspectives, geometries that chase each other in a contrast between white, black and the antoniolupi colour palette". The timeless elegance of the black and white palette is transformed with a touch of terracotta red — the warm brushstroke of colour animates the two-dimensional surface of the carpet, adding depth and dynamism to rooms. This unexpected detail manifests almost an abstract painting, permitting the Volumi carpet range to be incorporated as wall decor and furnishes. The perfect balance of light and dark in the design of Volumi carpets create harmony and add character to spaces.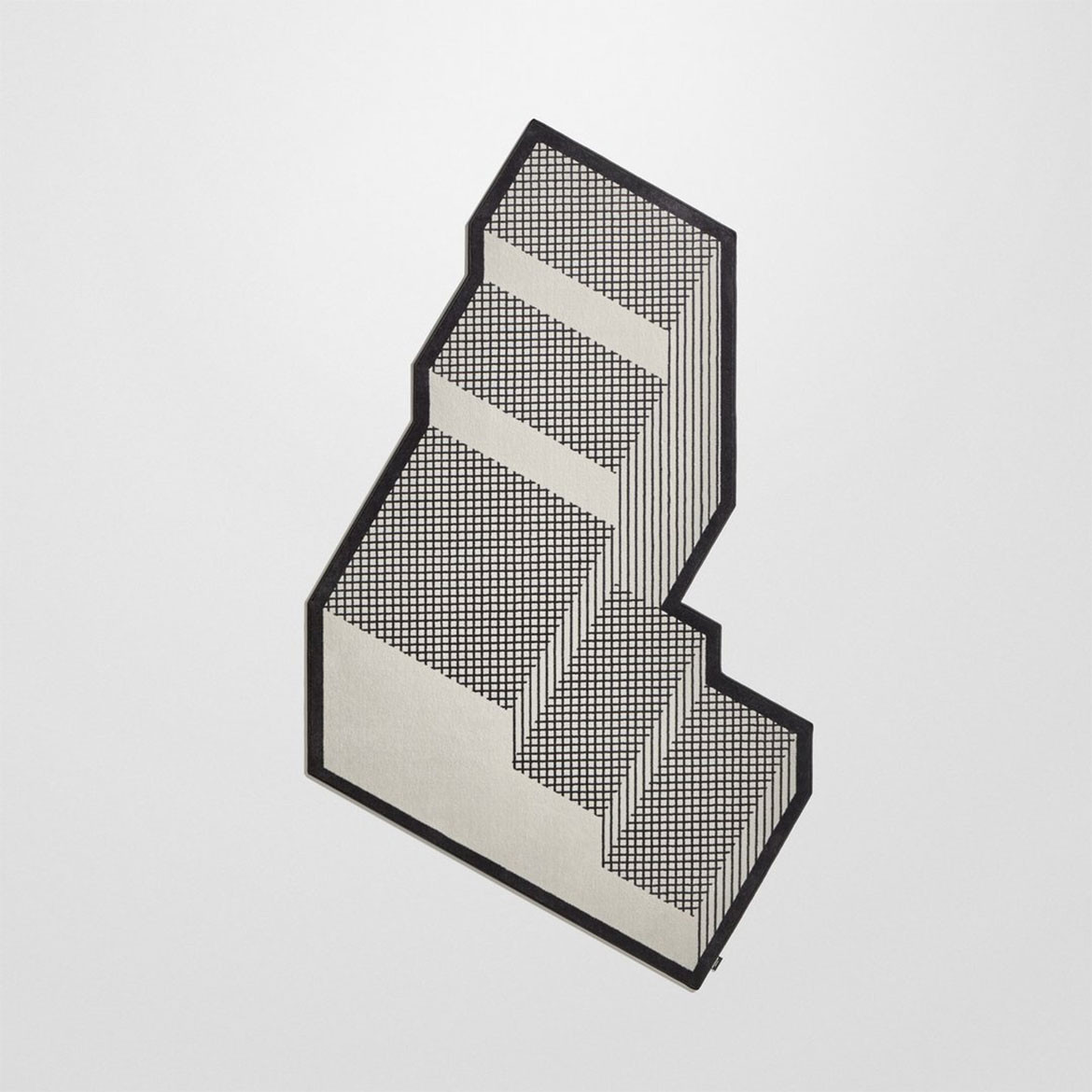 The classic rectangular, square and round formats of Volumi carpets permit freedom in composition, allowing an adoption of the even the asymmetrical and decomposed design trend. In an optical harmony of shape, line and colour, this new collection is the quintessence of contemporary design — Volumi has a unique dimensionality that creates "volumes", decorating rooms without taking up space. The resulting Volumi collection consists of 25 carpets with irregular shapes that can adapt to extremely different environments and styles, whether it be the bathroom, living room, entrance or bedroom. In antoniolupi and Gumdesign's perfect manipulation of shape and form, Volumi makes every room in the house dialogue harmoniously.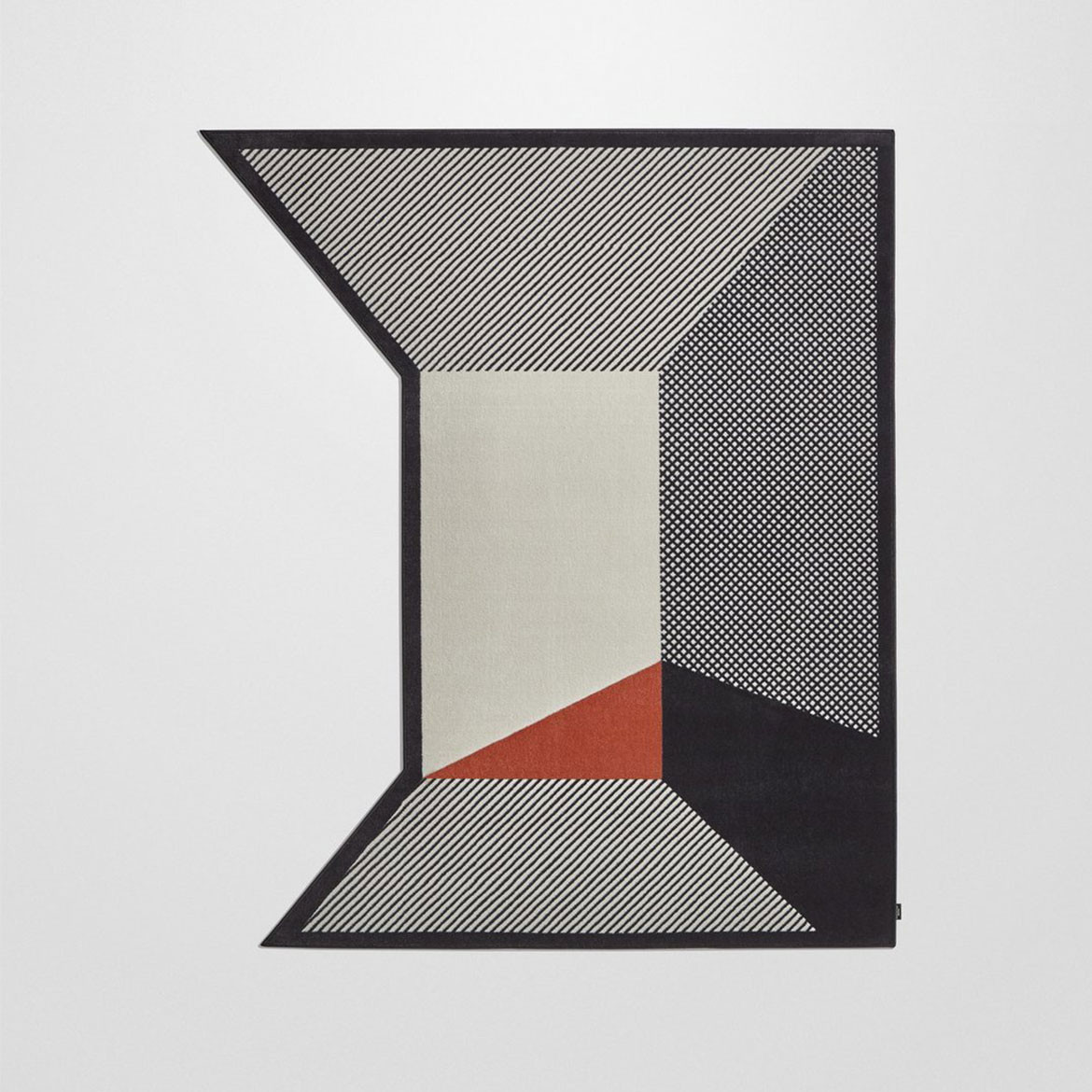 Antoniolupi is renowned in the Italian and International markets for their bathroom furnishings projects, with their continual collaborations and constant evolution further affirming their credibility. Through an understanding of the importance of shape and form, antoniolupi creates absolutely stunning products, perfect for creating harmony and balance in our homes. The magical contours of the Borghi oval sink and optical perfection of Volumi carpets are a display of antoniolupi's ability to transform spaces.
For more information on the Borghi oval sink and Volumi carpets, contact info@antoniolupidesign.com.au
antoniolupi
antoniolupi.it/en/
abc