Above: One of Stephen's paintings hangs at the entry.
After almost 25 years of creating, the trio behind Dinosaur Designs hardly needs an introduction. Their name has become synonymous with contemporary Australian design, and the prolific collection of jewellery and homewares produced since their first experiments with resin in 1986 are testament to their relevance and longevity. Stephen Ormandy is the intriguing male counterpart to the glamorous duo of Louise Olsen (his partner, with whom he has a child) and Liane Rossler. But he brings a particular element to the group dynamic that is expressed in his individual creative endeavours. Art has recently returned to the forefront of Stephen's creative psyche. After graduating from art school and due to the growing popularity of Dinosaur Designs, "there was a period of about eight years of not painting," he remembers.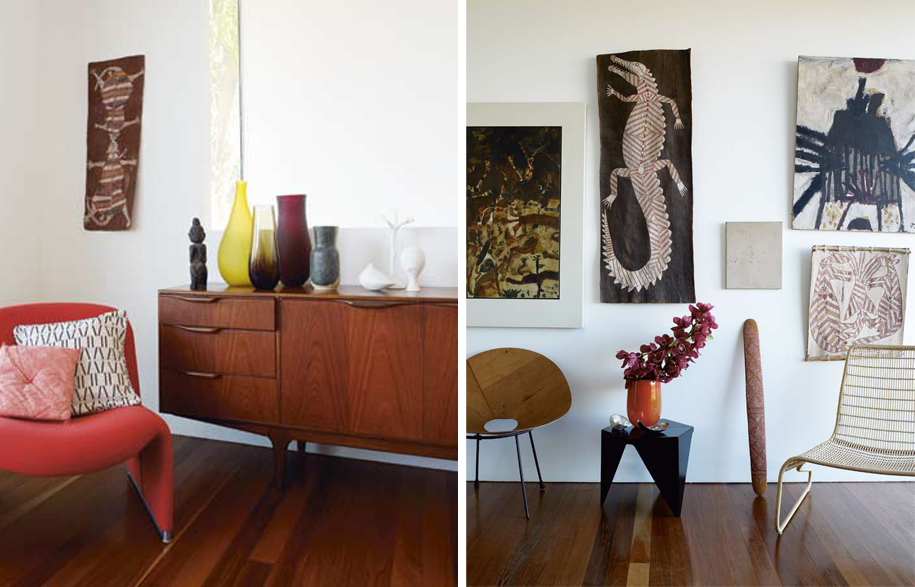 Left: Form and colour are celebrated in every corner.
Right: A diverse collection of tribal, modern and classic design and art find harmony in Stephen and Louise's home.
Then, about five years ago while drawing with his daughter, Camille (now 10), he "suddenly realised something was missing". This simple and intuitive act became the 'seed' of this return to painting. These crudely cut paper squares he coloured that day hang on the wall of his studio today as mementos of this turning point. Perhaps this realisation was also inspired by two of Stephen's favourite artists. Introduced to the work of British artist, Victor Pasmore, there was an instant attraction – "I saw his work in an art catalogue for an auction, and the minute I saw these images, I thought – 'Wow, look at that. Who's that? What's going on?' So I went straight down there to the auction and I just had to have them." The series of five paintings he purchased that very day is hung on the wall across from the dining table, where he and his father-in-law, painter John Olsen, "sit and talk about them for hours," says Stephen.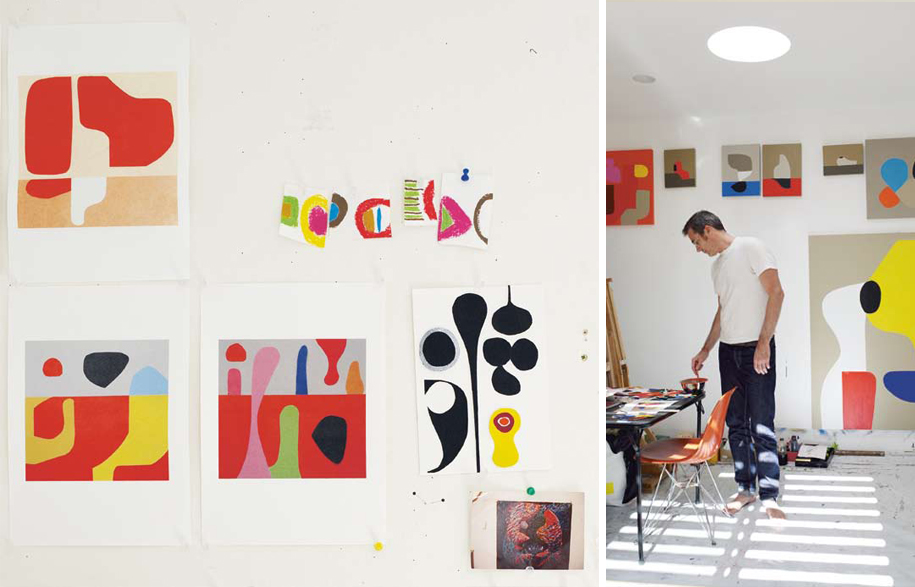 Left: A wall of Stephen's work, including the drawings that mark his return to painting.
Right: Stephen in his light-filled studio.
It is clear that Pasmore originally followed the Impressionist school, before experimenting with abstraction, which he pioneered in Britain (he also had an interest in architecture). Turning the pages of a long-sought-after Pasmore tome, Stephen explains the development in style: "Most people thought he was crazy to do this abstract stuff after his impressionism stuff. But it was so bold. I love that." Some might say that Stephen's recent refocusing on his own art practice is just as bold, but it's "all one expression" to him. The move is not exactly out of the blue – he is a trained artist deeply connected to the Olsen creative dynasty, which includes his partner, Louise, her brother, gallery owner Tim and their father, John. For Stephen, the creative process for his art and his design is quite similar, the difference being that Dinosaur Designs is a planned team event whereas with his own painting, "spontaneity and the unconscious play a large role," he says. Looking at the developing works, echoes of the Dinosaur aesthetic are clearly recognisable and he admits that his own art and Dinosaur Designs work "inform each other."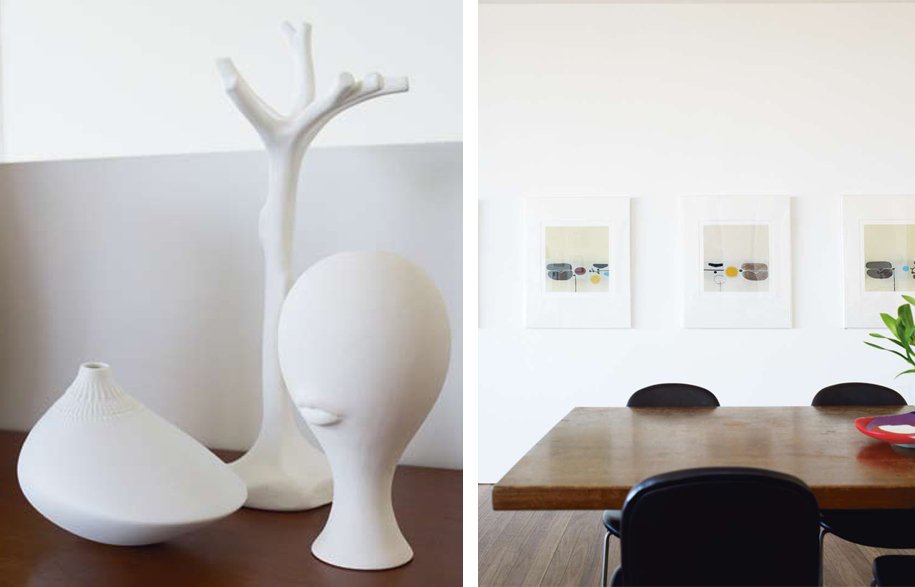 Left: Sculptures by Tapio Wirkkala in Stephen and Louise's home.
Right: The dining table faces a series by Pasmore.
Finnish designer and artist, Tapio Wirkkala, is a similar character in terms of crossing creative boundaries – in fact Stephen sees him as "an older version of where I'm headed." His works range from exclusive glass sculptures in galleries to industrial concepts with a significant commercial run, such as the Finlandia vodka bottle, iittala's Ultima Thule glass range, and the Finnish currency, the markka banknote (in use until the changeover to the Euro in 2001). In all Wirkkala's works, Stephen says, there is a particular aesthetic – "like that Aboriginal concept of songlines, the handing on of tradition, those threads that join the dots." Stephen enjoys the way that Wirkkala "took his sculptural sensibility to the everyday", an approach that also characterises Dinosaur Designs. Stephen sees people as being like bowerbirds, that industrious and selective Australian native species that search for bits of blue to decorate their home. "We as a human culture have an interest in things aesthetically pleasing to us, in putting things together. Of course, a salad bowl has to hold salad, but if it can also look sculptural and beautiful, why not?"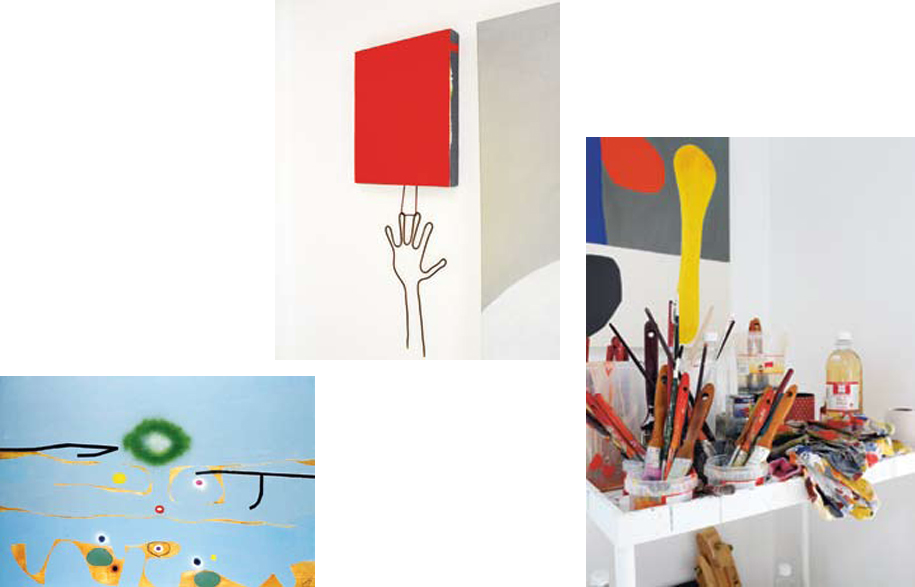 Left: 'The Garden of Eden – Blue Symphony', 1981, Victor Pasmore.
Middle: A work in progress by Stephen.
Right: Tools of the artist's trade.
Stephen has a refreshing take on Australia's design culture. "I think it's pretty dynamic here. We're lucky that modern Australia doesn't have a massive cultural cloud looming over the top of us. It's liberating – there's a certain freedom. Imagine the pressure of being an object designer in, say, Scandinavia." This optimism permeates all that Stephen does and he has an organic approach to creativity and life. He searches out inspiration relentlessly, this eternal hunt a joyful sacrament of the soul – "There are all sorts of new discoveries ahead, whole new worlds. That never stops." His simplified abstracted aesthetic is one thing. But it is his ethos, an unashamed enthusiasm for design and for life, that are the songlines of this particular bowerbird. Photography: Chris Chen
chrischen.com.au
abc