[gallery ids="47421,47422,47423,47424,47425,47426,47427,47428,47429,47430,47431,47432,47433,47434,47435,47436,47437,47438,47439,47440,47441,47442,47443,47444,47445,47446,47447,47448,47449,47450"] abc
Inspired by the reflecting and refracting beauty of a diamond, Foote's pop-up art experience combined worlds to create a unique and striking visitor experience. Launched in Melbourne in May, and planned to visit Sydney and abroad in the future, Diamond Lab transports guests to a creative world dreamt up by the Australian artist and designer. The diamond concept serves as the design basis for everything in the space, from unique diamond cocktails with diamond shaped ice cubes served by wait staff with diamond inspired hair and makeup to diamond styled tables and seats, and food that challenged to the definition between sculpture and culinary design. Recalling much of Ryan Foote's work, Diamond Lab draws from popular culture and trend culture; large installations and event-based artworks are the norm, creating social spaces that engage and challenge all the senses. Like the many facets of a diamond, Diamond Lab's sides reflect upon interplay between nature and culture, raw and refined, and ultimately the natural world and the manmade and how these things can seem worlds apart, while still being intrinsically linked. The Diamond Lab reflects on Australian cultural identity and its modernity. Built on a notion of digging up the earth to ship it off, Australian has been fascinated by diamonds since birth, and this fascination comes to a front in Diamond Lab. The work ultimately reframes Australia's cultural identity from a mineral wealthy country to a country wealthy in diamond like creativity and cultural product – from our arts, design, fashion and culinary taste Diamond Lab
diamondlab.net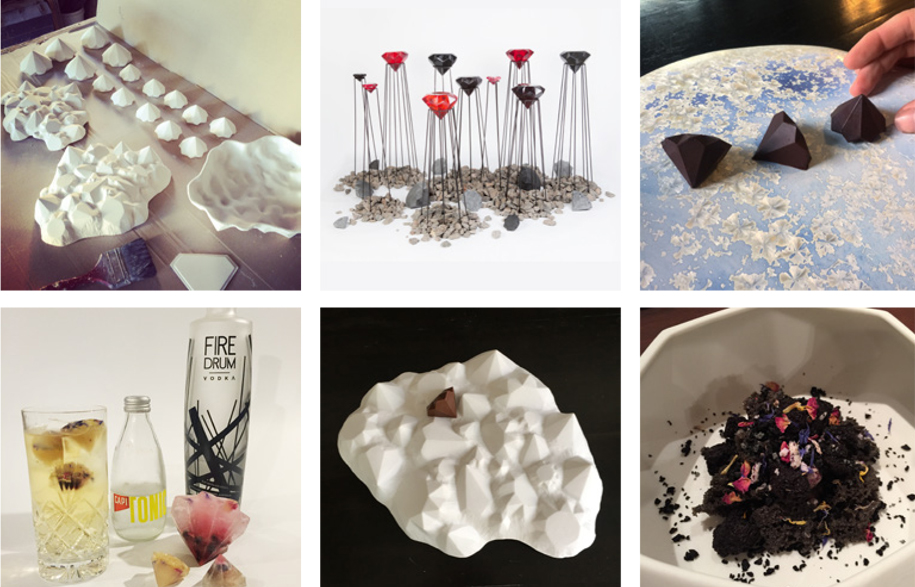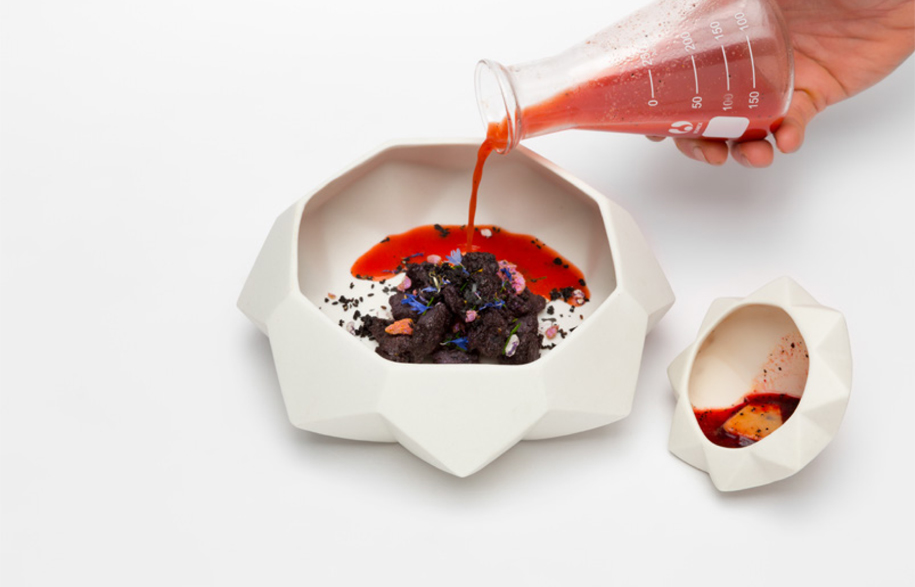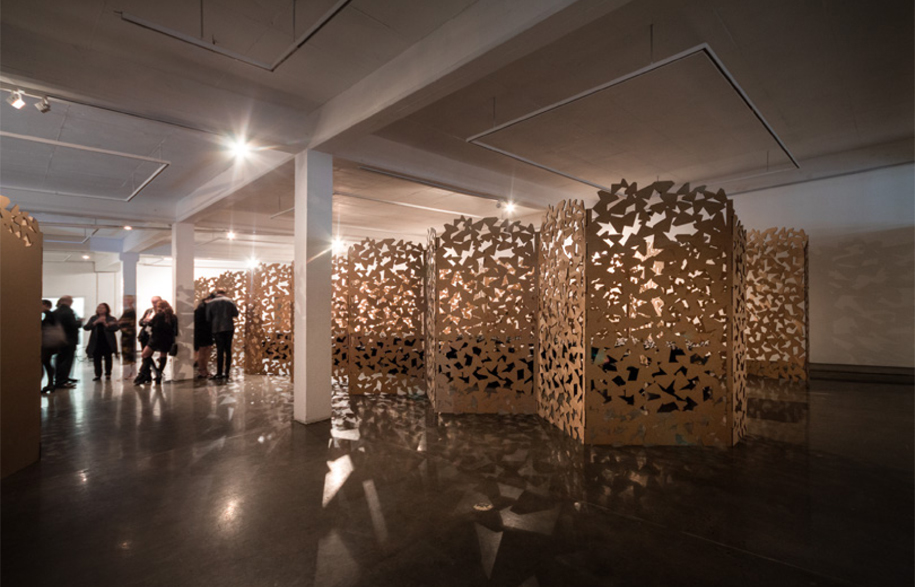 abc
Now located on the third floor of Crown Towers Melbourne, the 120-person dining room overlooks the iconic Melbourne skyline across the Yarra. The space itself formerly housed a six-month residency of Heston's trademark Fat Duck restaurant, Dinner by Heston Blumthal marks the first time the international superstar has established a permanent dining restaurant outside of the UK. Upon entering, guests' eyes are immediately drawn towards an animated kaleidoscope, accompanied by a signature aroma based on the notes of damp moss, wood smoke and leather. A concealed, Japanese-style sliding panel reveals the restaurant and show kitchen in full. This experiential and avant-garde approach to design reflects Blumenthal's own cooking design – there is experiment in the design, but a sense of familiarity grounds things in the real. Bates Smart paid particular attention to the lighting of Dinner by Heston Blumenthal, working with renowned lighting designers Electrolight to craft a series of custom fittings in order to properly set the mood of the dining experience. The result is a series of sumptuous pools of light, which focus on the areas that are most likely to feature guests; dining areas, cocktail lounge and private dining spaces. This allows details such as food presentation, table tops, bar and kitchen to emerge from the darkness. Inspired by the Tudor rose, the textured ceiling pattern is drawn from a motif originally used in the design of the chandeliers in Heston's London restaurant, tying the two spaces together thematically. A custom illustration surrounding the chef's table, designed by English artist Dave McKean, completes the atmosphere of Dinner by Heston Blumenthal, and depicts a series of Australiana iconography.
Bates Smart
batessmart.com
Crown Towers Melbourne
crownmelbourne.com.au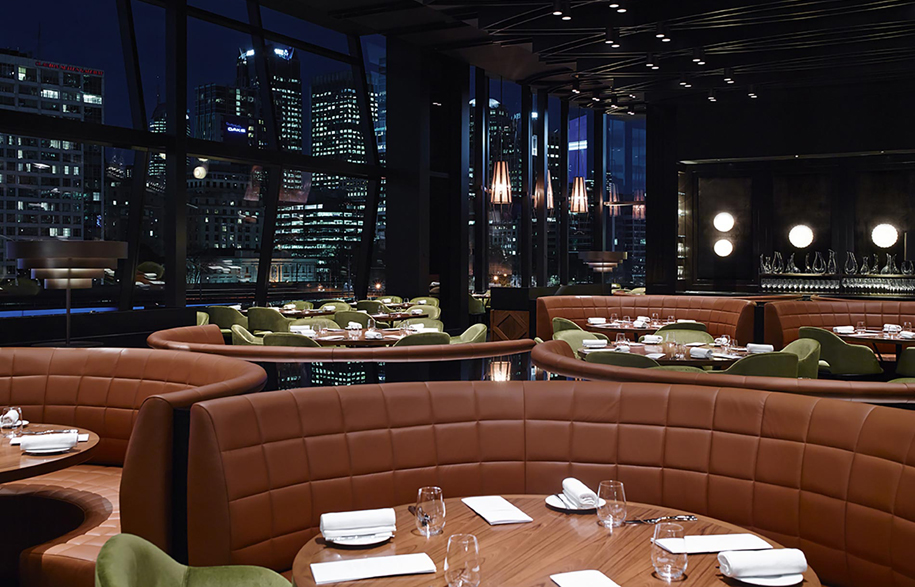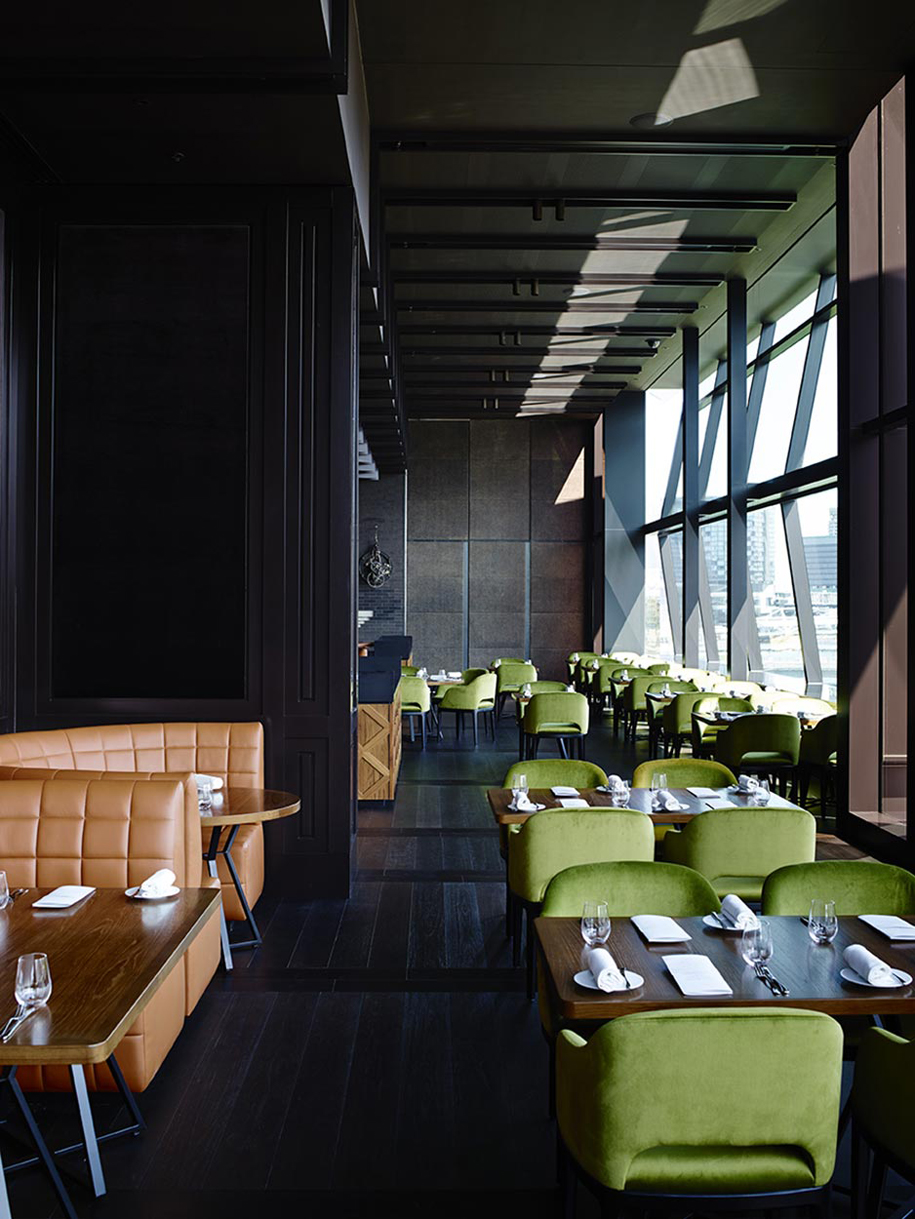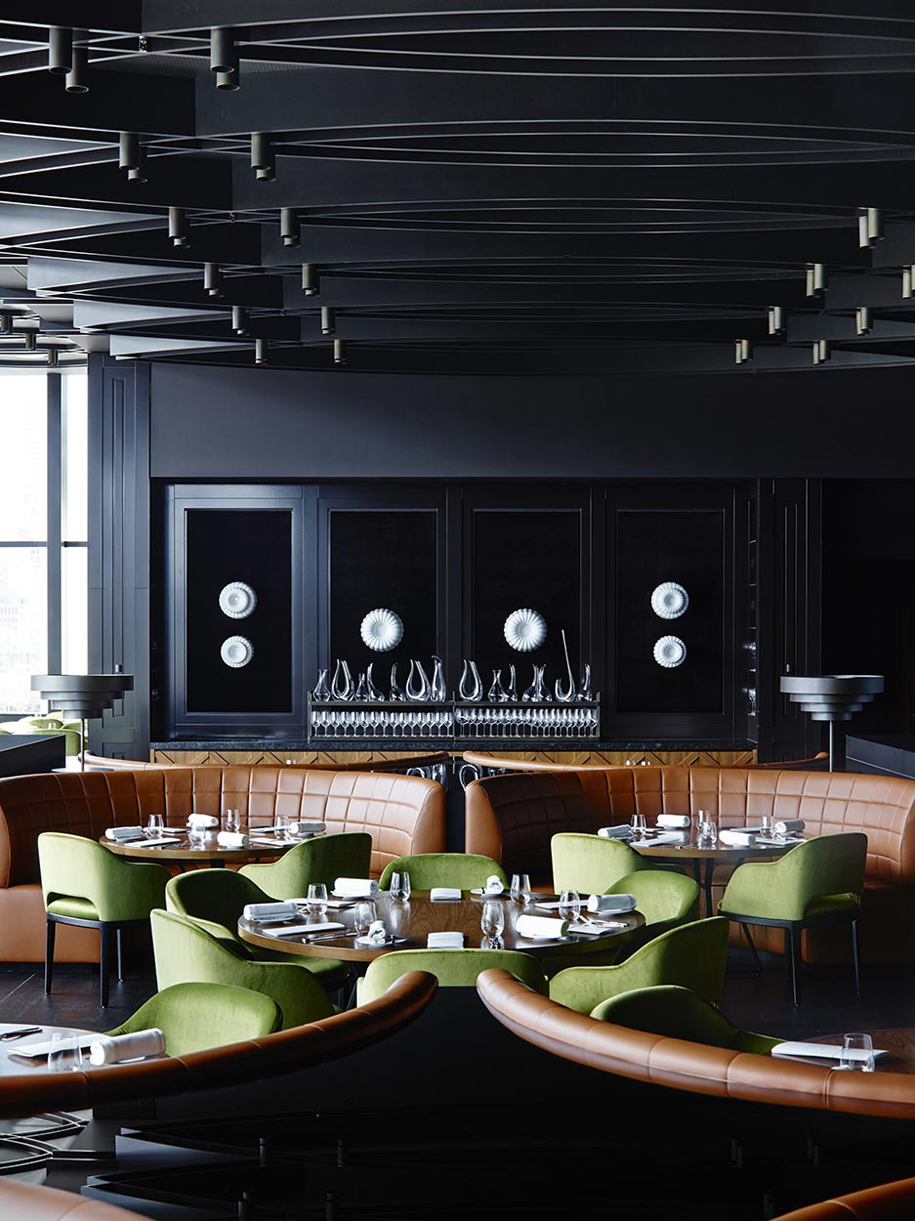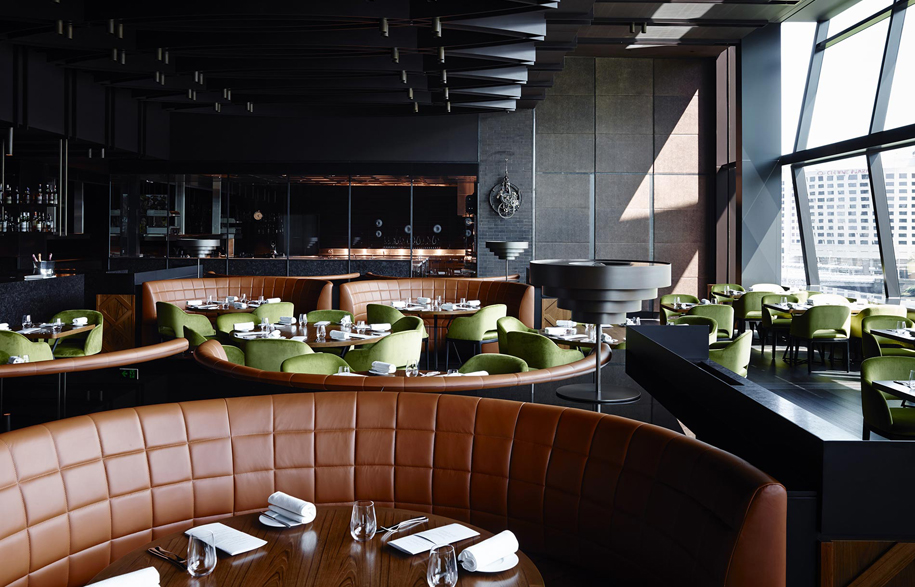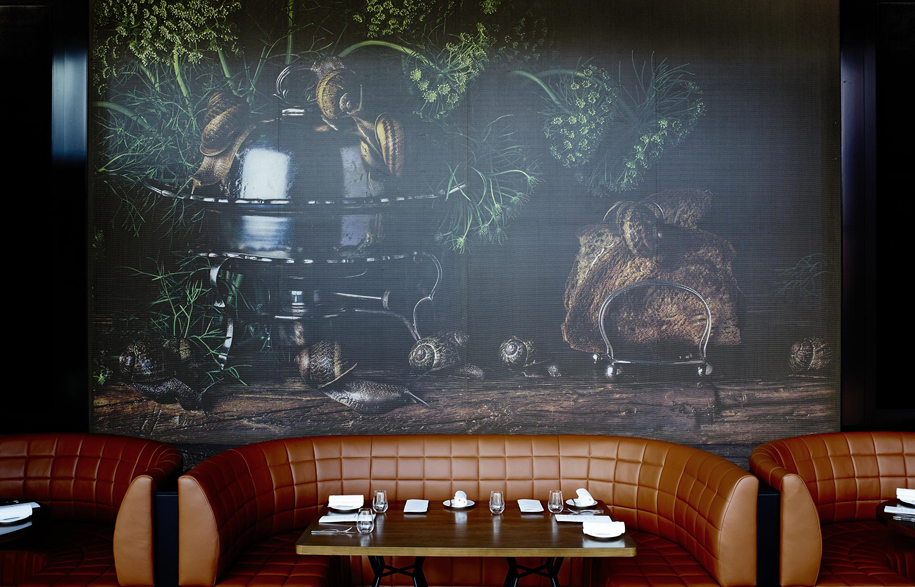 abc
The Geberit Sigma60 flush plate offers a timeless, minimalist design to suit a variety of domestic and commercial applications. Designed by Swiss-born and now London-based watch and industrial designer Christoph Behling, the flat, flush-with-the-wall design of the Sigma60 has been pared down to its finest features. The actuator plate is made of high-quality die-cast zinc and the two large buttons easily fold open and give ample access to the cistern for any necessary maintenance. The Sigma60 flush plate can be paired with either the Geberit Sigma concealed cistern or Sigma 75 wall hung or back-to-wall pan, maximising space in the bathroom. Geberit
geberit.com.au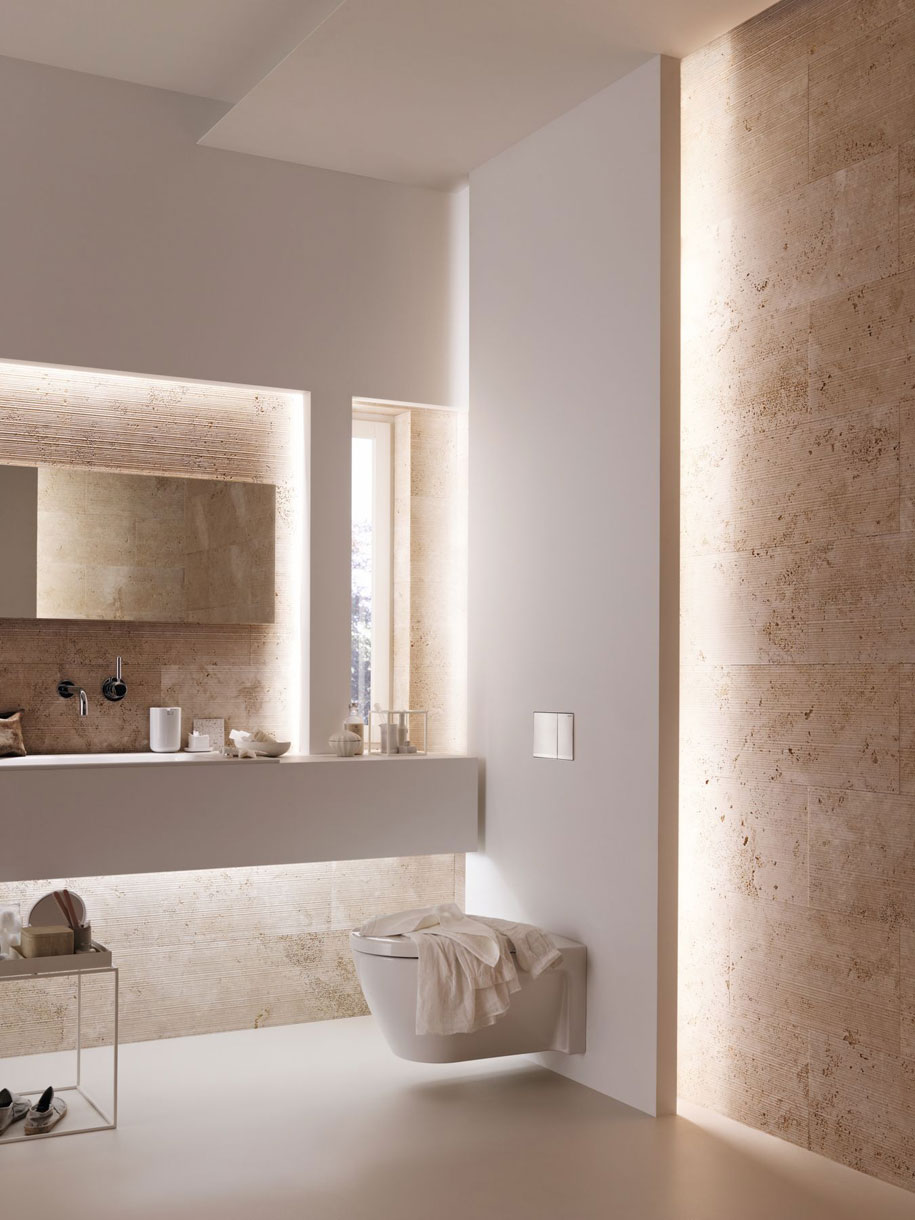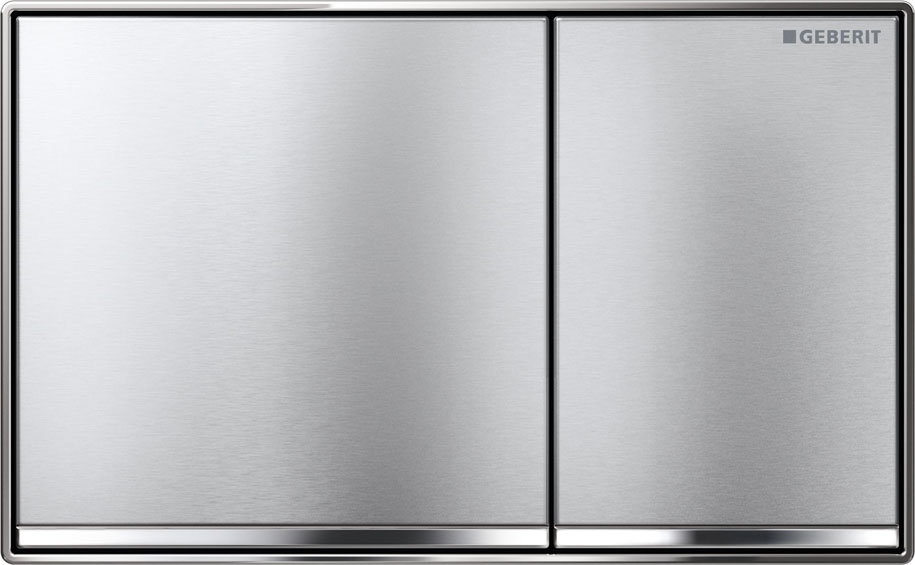 abc
The Big Design Market will feature over 230 stallholders across homewares, textiles, stationery, fashion, lifestyle and kids products, which are based on principles of original design and ethical production. Crafting an interactive shopping experience across three days, The Big Design Market will feature free creative workshops, a new champagne bar, gourmet food and craft beer, exclusive designer showbags and kids activities.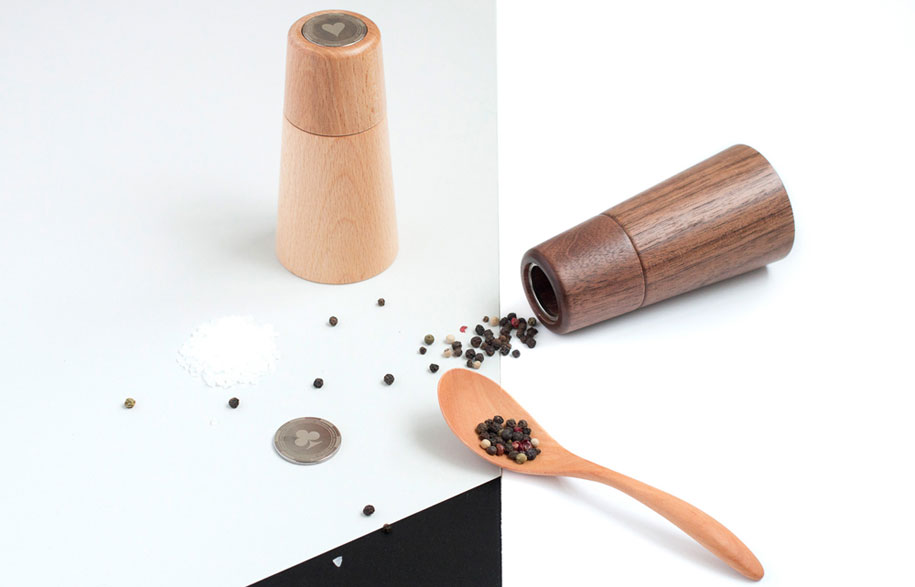 Salt and Pepper Mill No. 1 by Sands Made in sustainably sourced black walnut and beech, designed in Melbourne.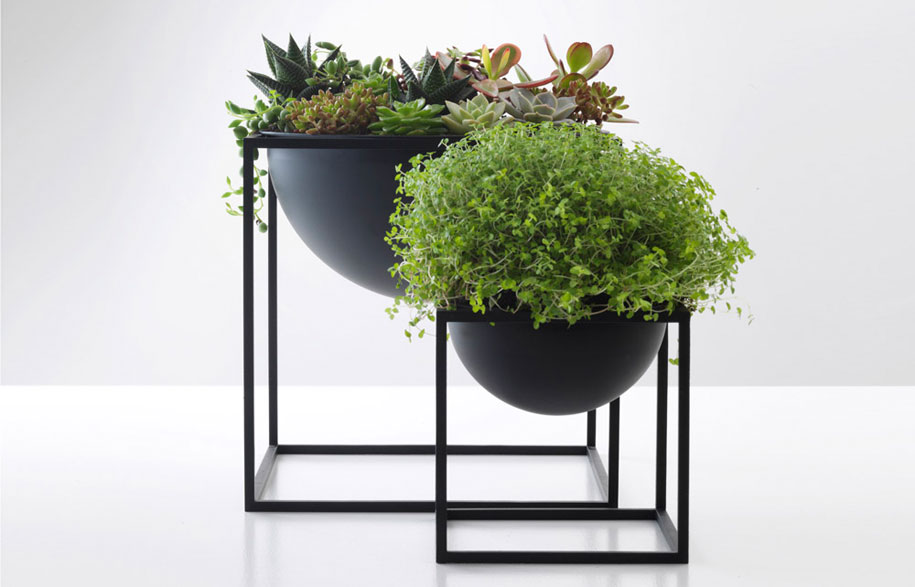 By Lassen Kubus bowl from Designstuff, produced in Denmark with a focus on high quality and solid craftsmanship.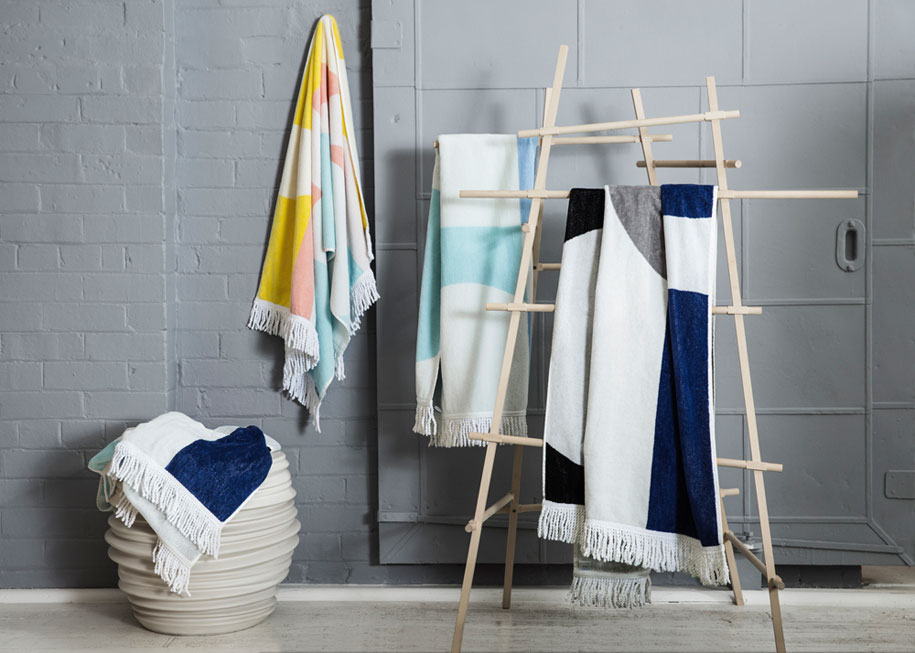 The Great Escape beach towel range in pure cotton, terry velour by Kate & Kate, designed in Sydney.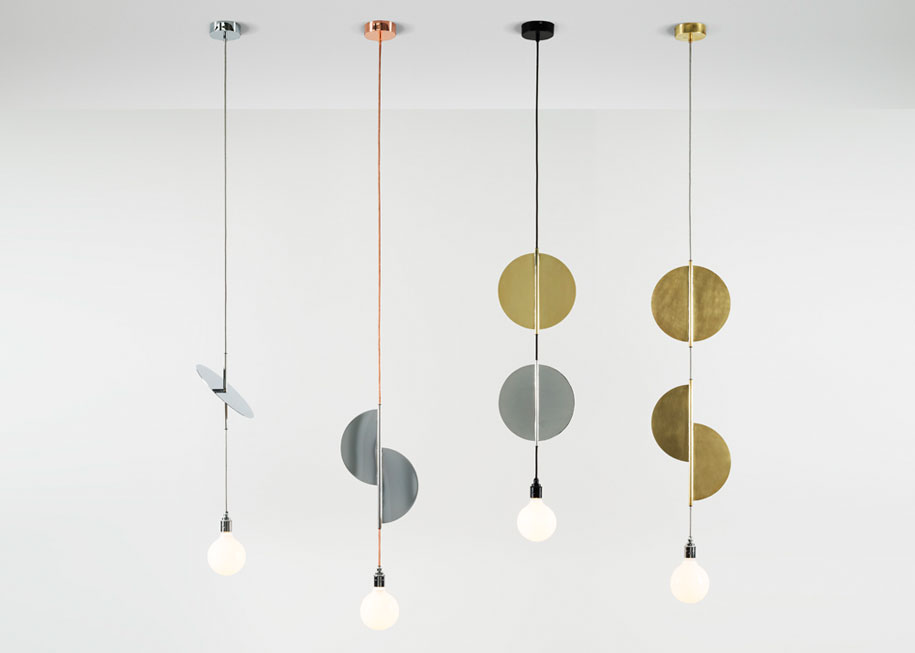 Flipside interior lighting by Volker Haug featuring abstracted levitating discs suspended on braided metallic cable, made in Melbourne.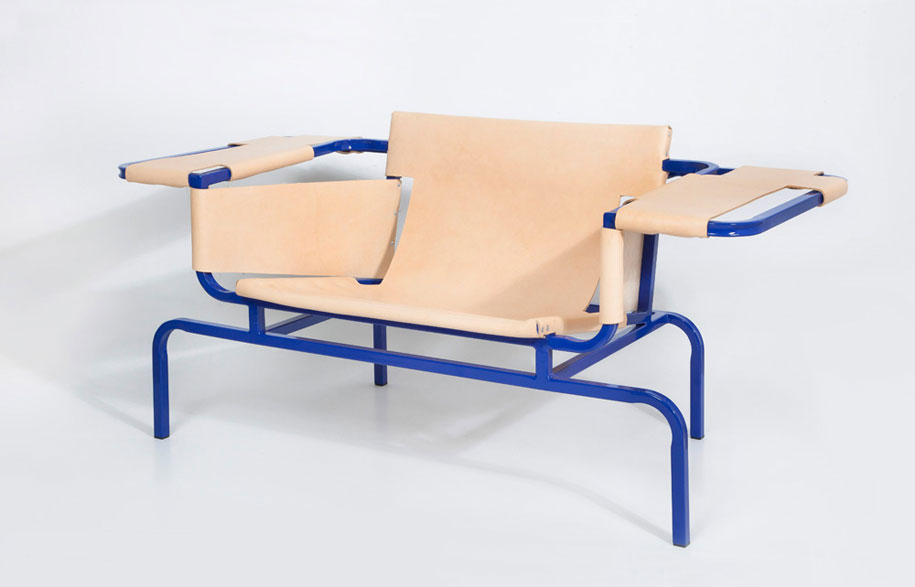 Steel and leather occasional chair by QueenSo, made in Australia. The QNSo07 made its debut at the London Design Festival in September.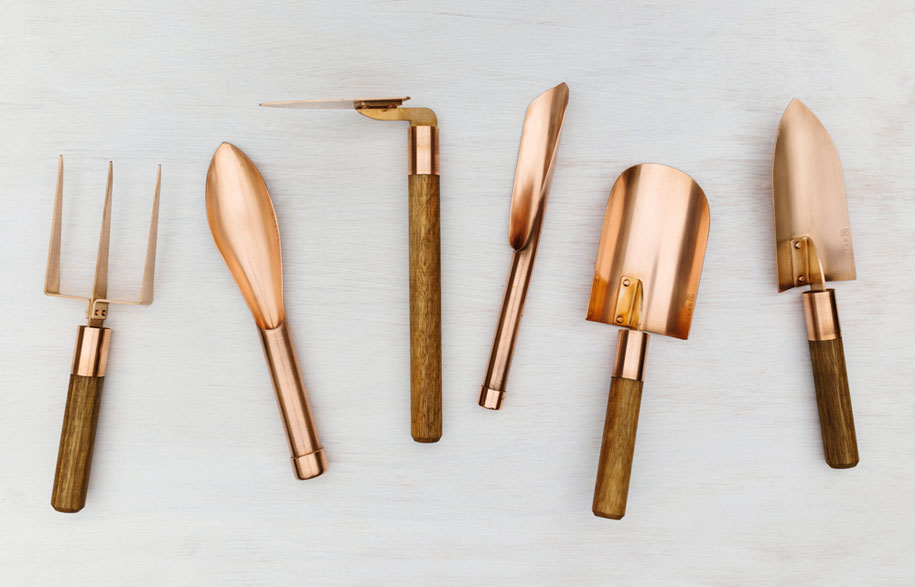 Garden tools by Grafa in bronze, spotted gum eucalypt and up-cycled copper, made in Melbourne.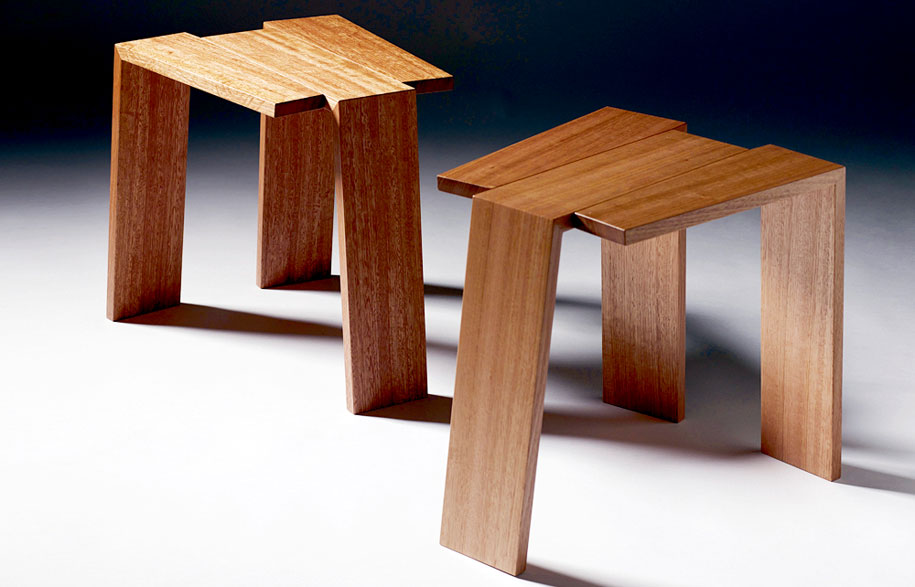 TED Stool in oak by Jye Edwards from Tasmania By Hand, made in Tasmania.
The Big Design Market thebigdesignmarket.com
abc
The Artex Kitchen is a modernist kitchen system from CR&S Varenna, design with a contemporary aesthetic in mind, yet working in cooperation with a decidedly naturalistic visual palette. Constructed with ample surfaces and grounded with the strength of rigorous and essentialist lines, the structure and assembly serve as highlights for the quality of the materials. Artex is serviced by a detail-orientated design, with a 26mm thickness door that serves to create a continuous shadow line between the cabinetry and the worktop. This, along with a material palette of gloss lacquers, natural timbers, steel and bronzed glass, have the Artex Kitchen system offering endless opportunities to personalise. The kitchen system revolves around the notion of avant-garde hardware solutions and personal stylistic choices, making this kitchen an ideal choice for the contemporary living space. The maximum freedom in compositions enables original proposals, which are defined by a wide range of materials, finishes and colours. Artex is available in Australia through Poliform Poliform
poliform.com.au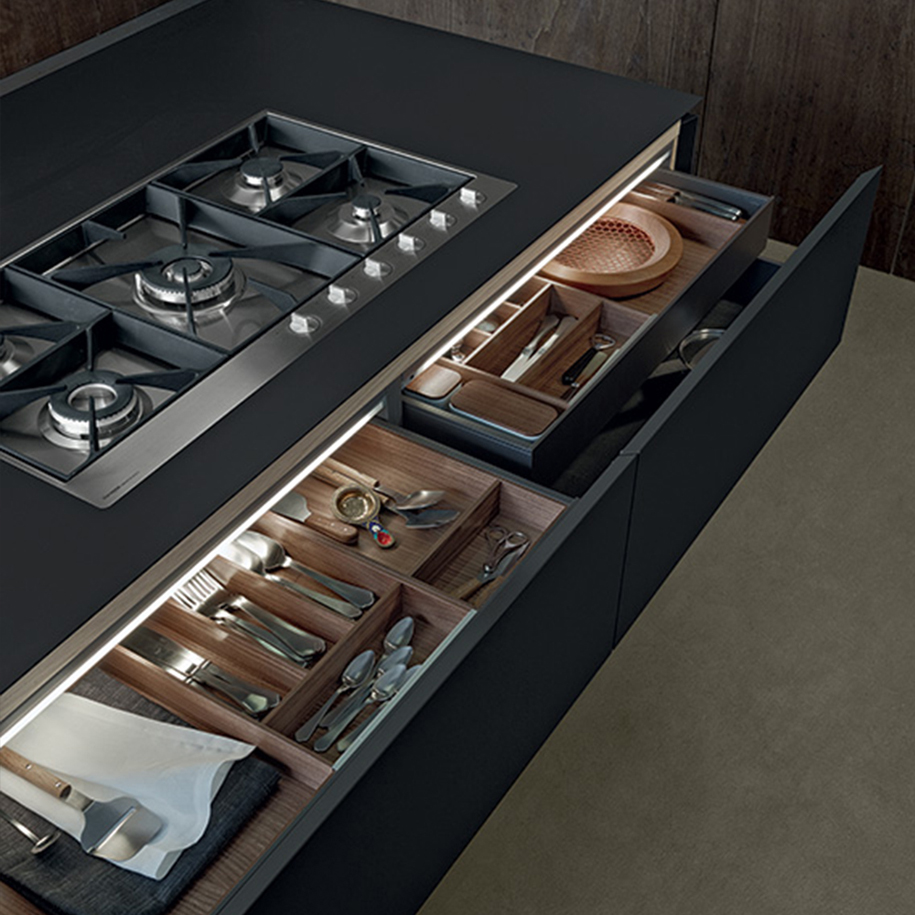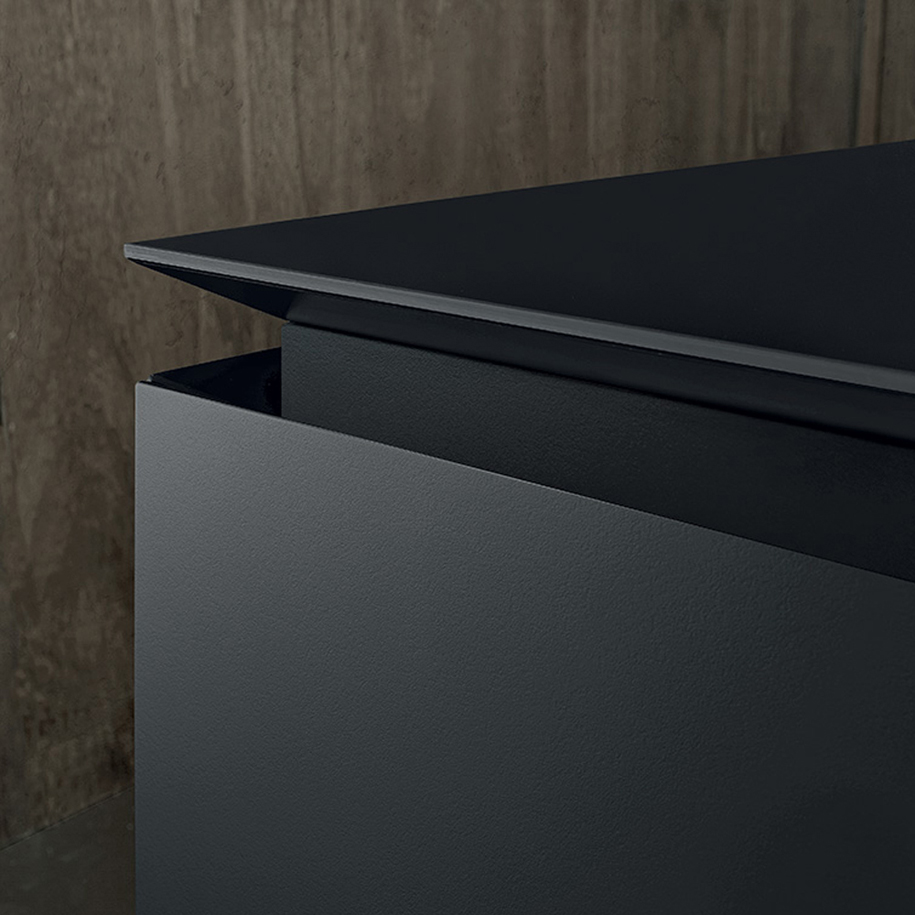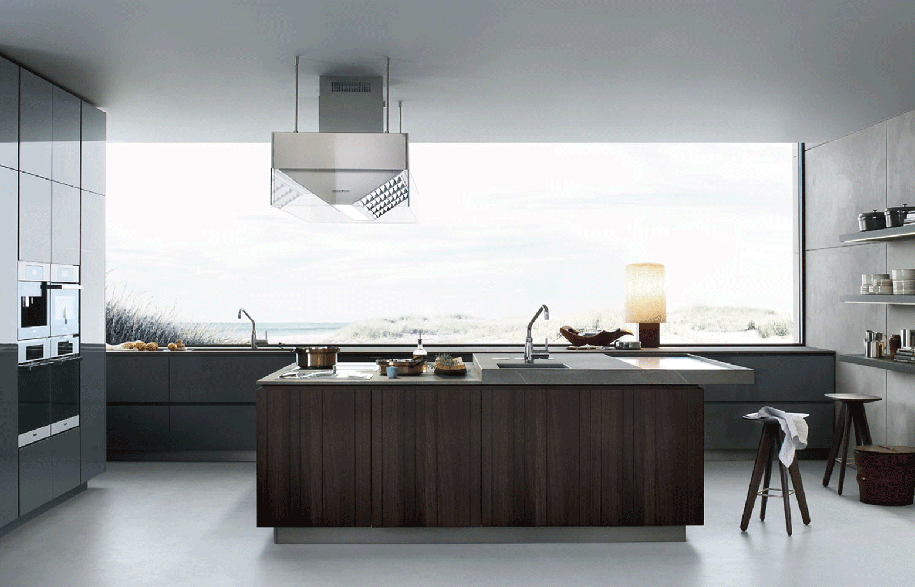 abc