The completion of Schiavello's new headquarters, located in Tullamarine, Melbourne, in 2005 provided Schiavello managing director, Peter Schiavello, with the perfect opportunity to engage his passion for art through a unique collaborate with design luminary Mari Funaki. It was a collaboration that started small and would finish in a 'monumental' gesture. Japanese by birth, Mari arrived in Melbourne in the 70s where she would study, work and later set up the world-renowned Gallery Funaki. Her jewellery and object designs were renowned for their delicate, insect-like forms, always mathematical in precision, and dynamic and activating in their relationship with the body and the built environment.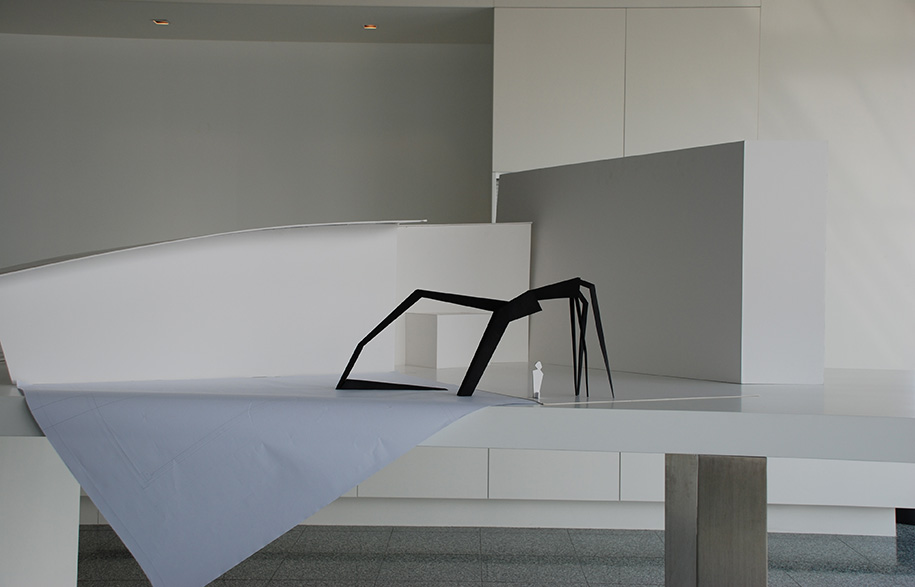 Captivated by Mari's work, Peter commissioned her in 2007 to create a piece that would welcome guests to Schiavello's headquarters. She, in response, handcrafted a 1:22 scale maquette of the proposed full scale sculpture. "Schiavello has long prided itself on design quality and excellence," comments Peter. "When selecting the designers that we work with at Schiavello we always look for design distinction and a unique approach. It is important to us that we work with those whose values are similar to ours." Having worked with numerous international and Australian designers, (London studio Doshi Levien, Italian architect-designer Mario Bellini, and Melbourne designers Helen Kontouris and Joost Bakker – to name a few), Schiavello takes great pride in producing designs that stand the test of time from both a quality point of view, as well as market relevance.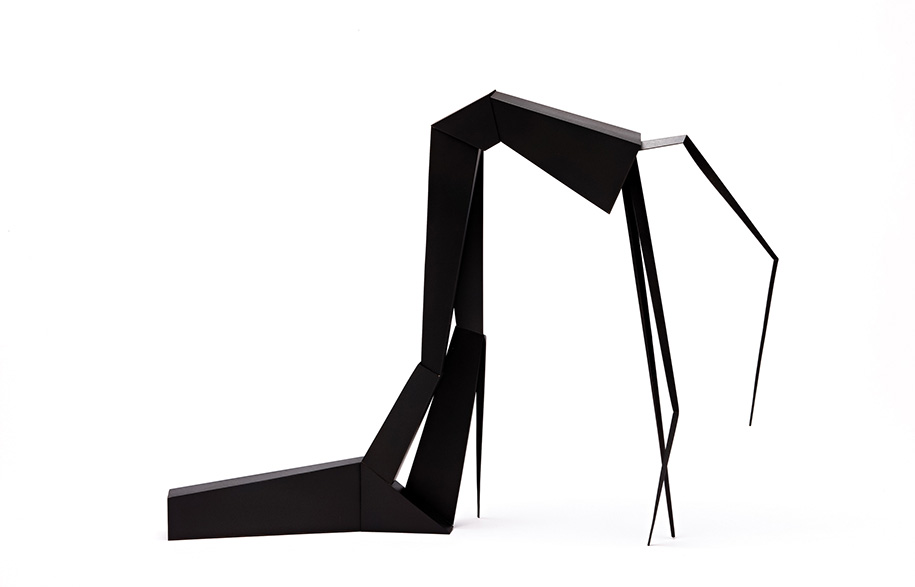 The collaboration between Schiavello and Mari's was a first for the company and unique in its scope. Mari's skilled craftsmanship and unerring eye, combined with Schiavello's uncompromising approach to manufacturing excellence: "It was with great pride that we were able to fabricate this extraordinary work," says Peter. The sculpture was produced in-house at Schiavello's 70,000sqm manufacturing plant in Melbourne and erected at the Schiavello HQ in 2011. Monumental in scale and materiality – it reaches 5.7 metres high, 13.6 metres long and weighs 2.6 tonnes, the sculpture echoes Mari's early discovery of paper thin blackened mild steel. This she would blacken it to the point that it seemed to absorb light, enhancing her objects' fragility.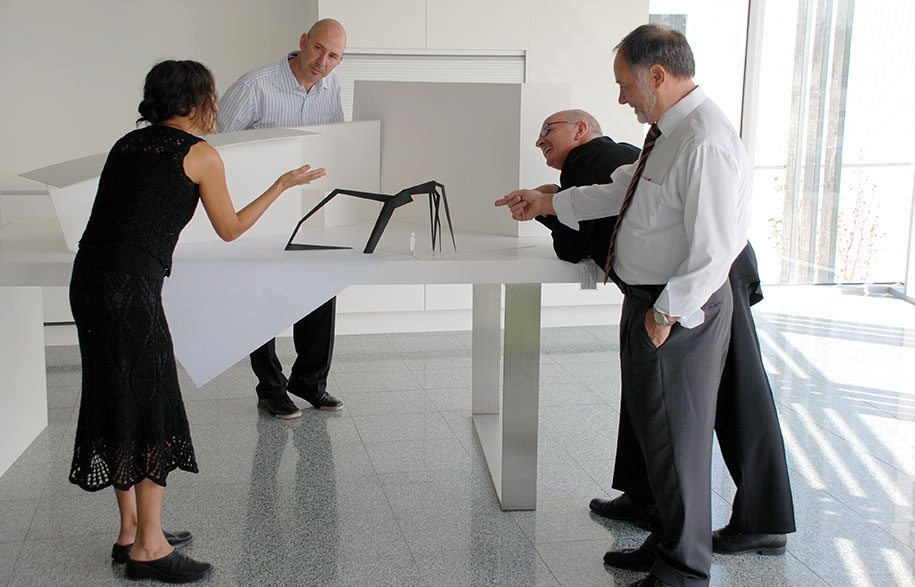 Peter Schiavello, Tony Schiavello, Mari Funaki and Peter Geyer
Schiavello's culture of design quality and attention to detail in manufacturing were integral to recreating a monumental sculpture that stayed true to Mari's vision, and the depth and delicacy of that original maquette. Her untimely passing in 2010 makes it all the more meaningful in its homage to a lifetime devoted to great design. In 2016 Schiavello looks back at its most monumental moments as it celebrates 50 wonderful years of outstanding design and manufacturing in Australia and abroad.
Watch the making-of movie,
click here
.
Explore more of Schiavello's 50 monumental moments over the last 50 years, click here.
Schiavello
schiavello.com
Gallery Funaki
galleryfunaki.com.au
abc