Conscious of the significant lifestyle change the move would provide for the residents, architect Sam Rigoli of Studio [R] worked seamlessly with the owner to create a new family home, far away from home. Creating compact living that simultaneously feels expansive was at the heart of the refurbishment, with Rigoli navigating within the pre-existing structure and original layout of the apartment. The colour palette is neutral, with a mix of white backdrops and a black background for the central communal hub: the living room and kitchen. In response to the major change in environment and lifestyle, Rigoli decided on the dark backdrop with the intention of it acting "as a way to calm the vibrant cityscape outside."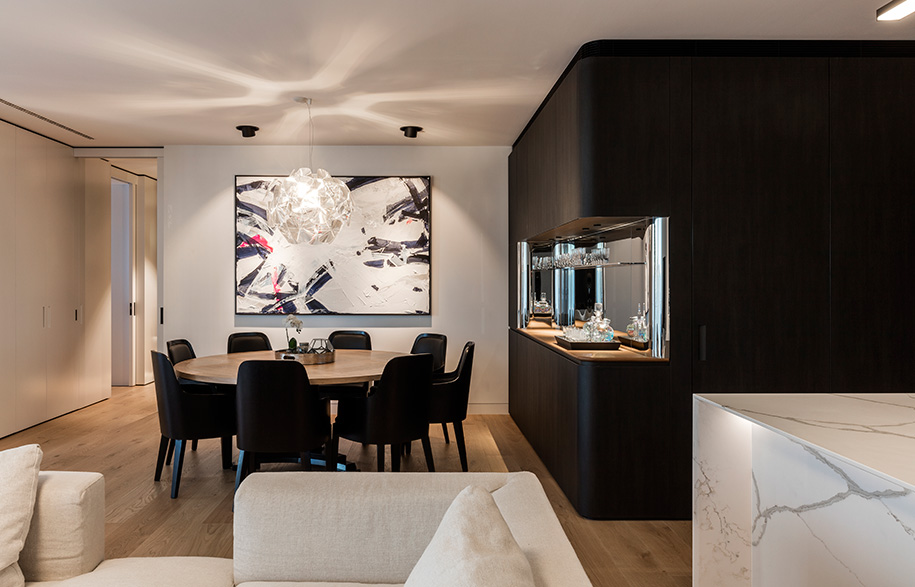 The interior is fitted out with bleach blonde timber floorboards, which complements the clever joinery that Rigoli worked with the client to create – a useful perk when the client owns a high quality joinery company. Rigoli enthuses: "we worked to ensure that the storage and less attractive parts of 'living' were concealed or easily put away when an unexpected guest arrived.  The powder room and laundry, for instance, are hidden away in a joinery pod behind the bar."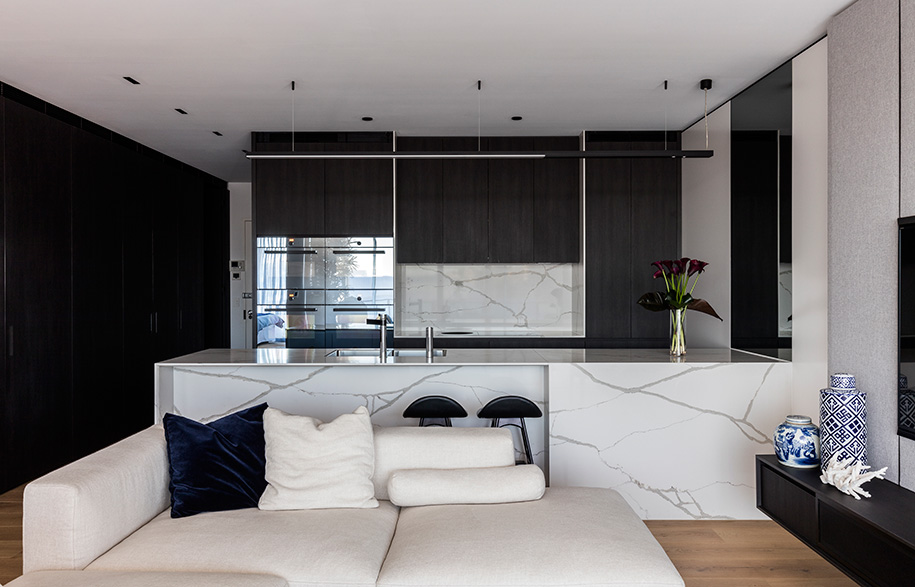 A polished, curved mirror surface for the bar unit is designed to reflect the gleaming city lights at night-time that filter into the apartment, and liven up the living and kitchen spaces, with the kitchen at the top of the residents' priority list. For Rigoli, the bar's stitched leather top nicely complements the curved mirror, "adding colour and drama to the space without the need for a multitude of materials."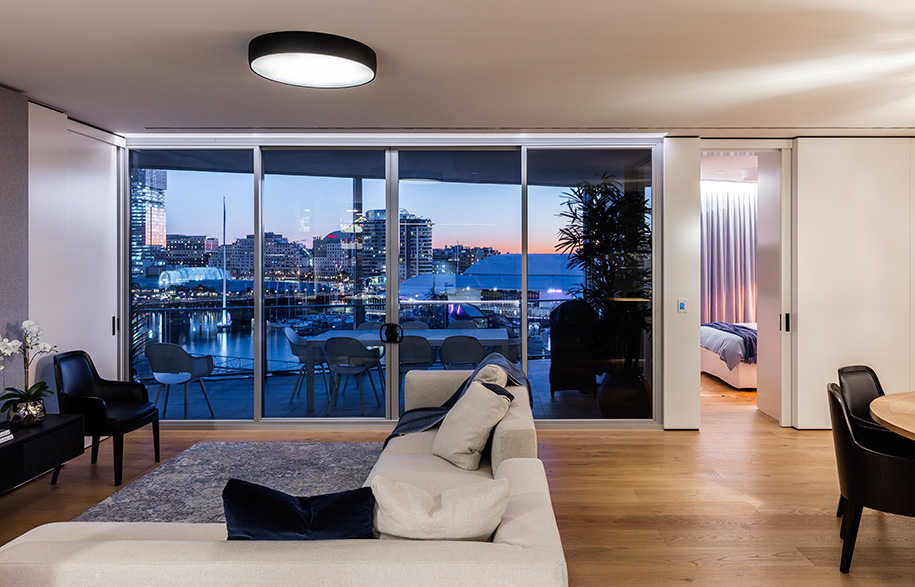 "Our aim was to provide the kitchen as the central space for the layout where the family and friends could interact as a lovely meal was being prepared," continues Rigoli, "The kitchen can be used for preparation, eating at, and also as a work space."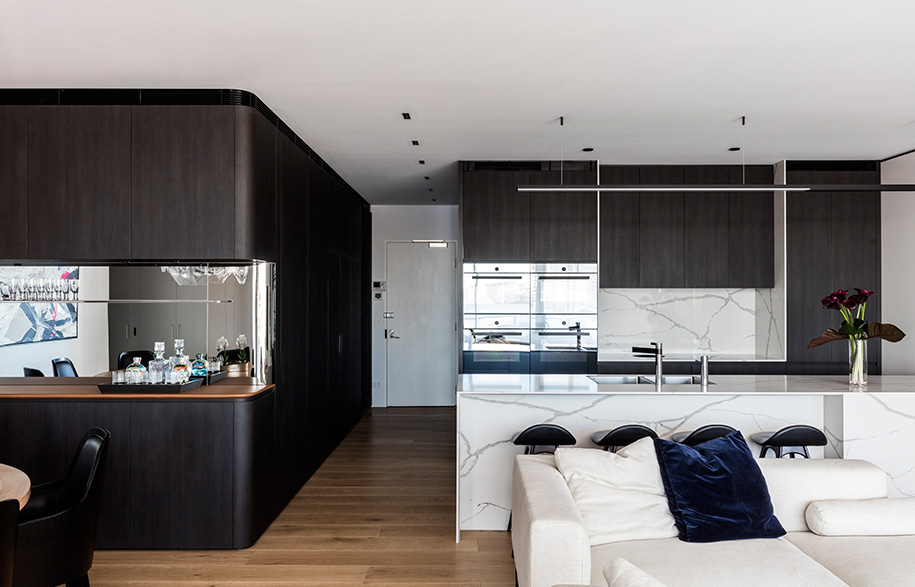 Deeper inside the apartment, the bathrooms continue the darker palette of the kitchen, fitted out with black tiles and pale grey marble with black veins. The sleek colours offer a sense of reprieve from the busy city surrounding the apartment, and for the selected fixtures, Rigoli took his clients to Rogerseller, seeking similarly elegant and slim lined products, selecting the Catalano
Premium
and
Verso
washbasins and
Sfera
toilet,
Apaiser Sublime
bath, the sophisticated
Fantini Levante
tapware and
Fantini Fukasawa
hand shower, as well as accessories from the
Cosmic
and
Hewi
ranges.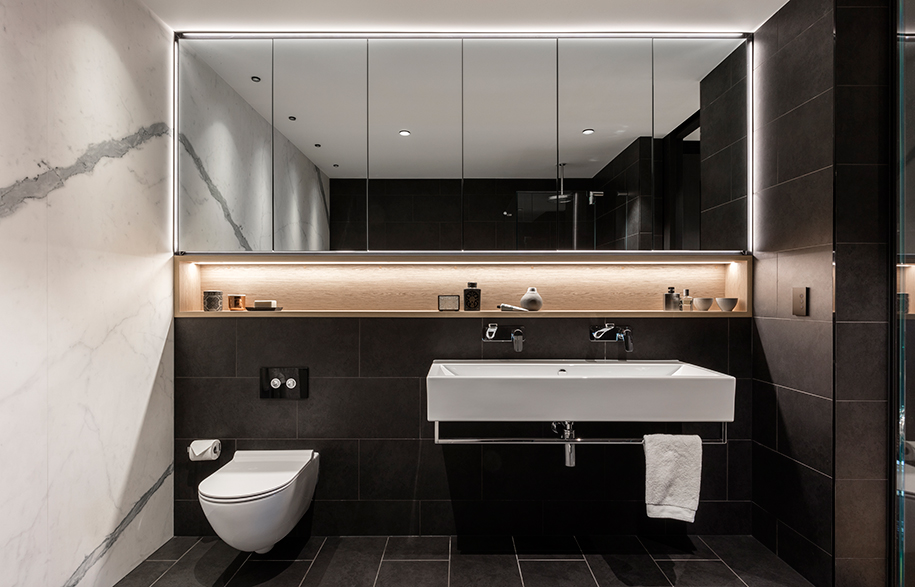 "We selected the pans first, as the thin seat element was something that set them apart from most other products," says Rigoli, "We then worked to select components that complements that sleek look. The process was very easy." The resulting apartment is a cosy space of refuge from the city with a pared back interior that makes the home feel much more expansive than it is. Beautiful notes of contrasting finishes, from the marble to the reflective mirrors, balance the mix of black and white backdrops, harmoniously reflecting the cityscape outside, and truly creating a family home that is perfect for this new stage in its residents' lives.
Studio [R] Architecture
studior.net.au
Rogerseller
rogerseller.com.au
Bree Allen, Poppy Design
0499 777 867
Words by Christina Rae
Photography by Tom Ferguson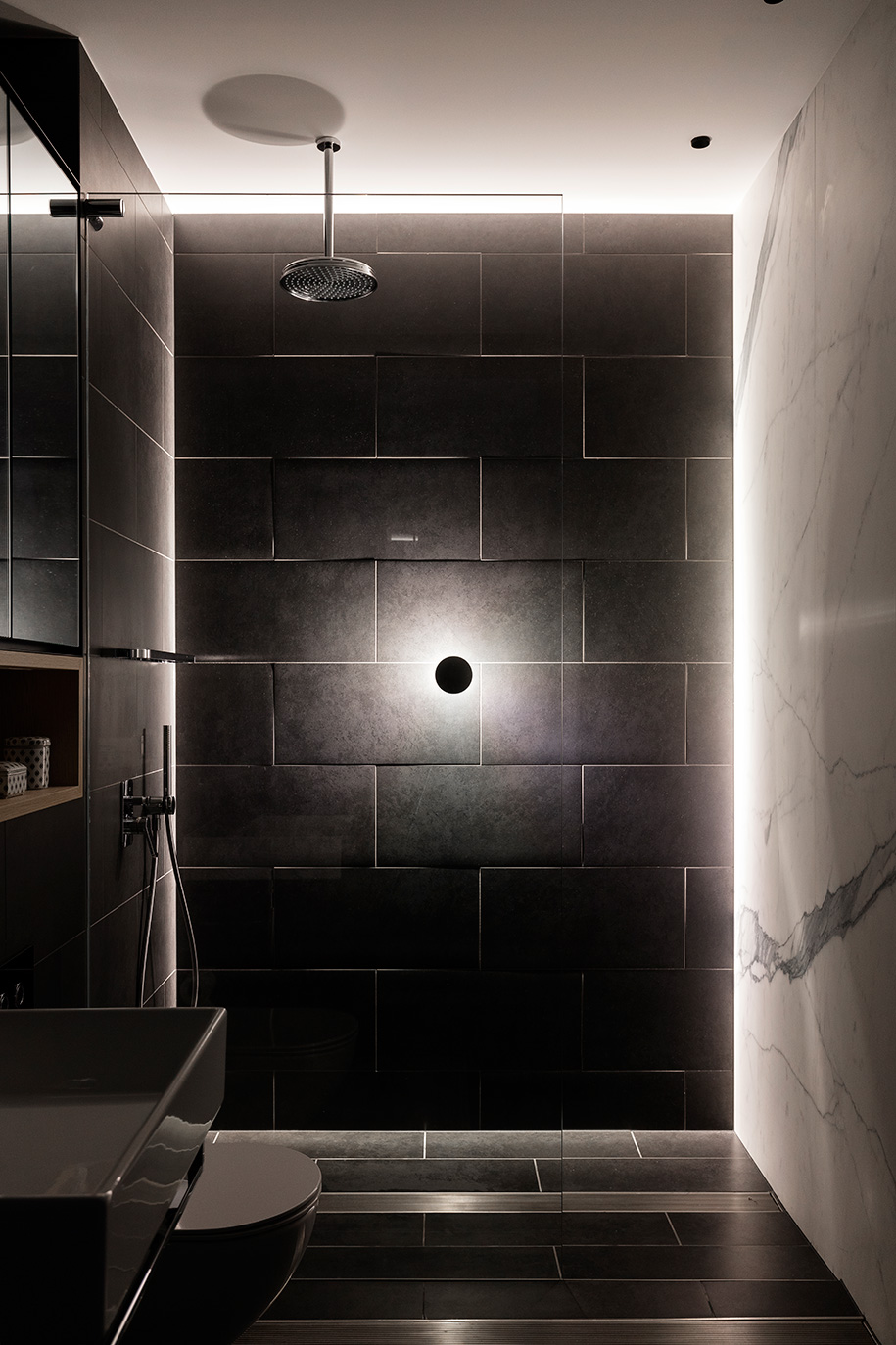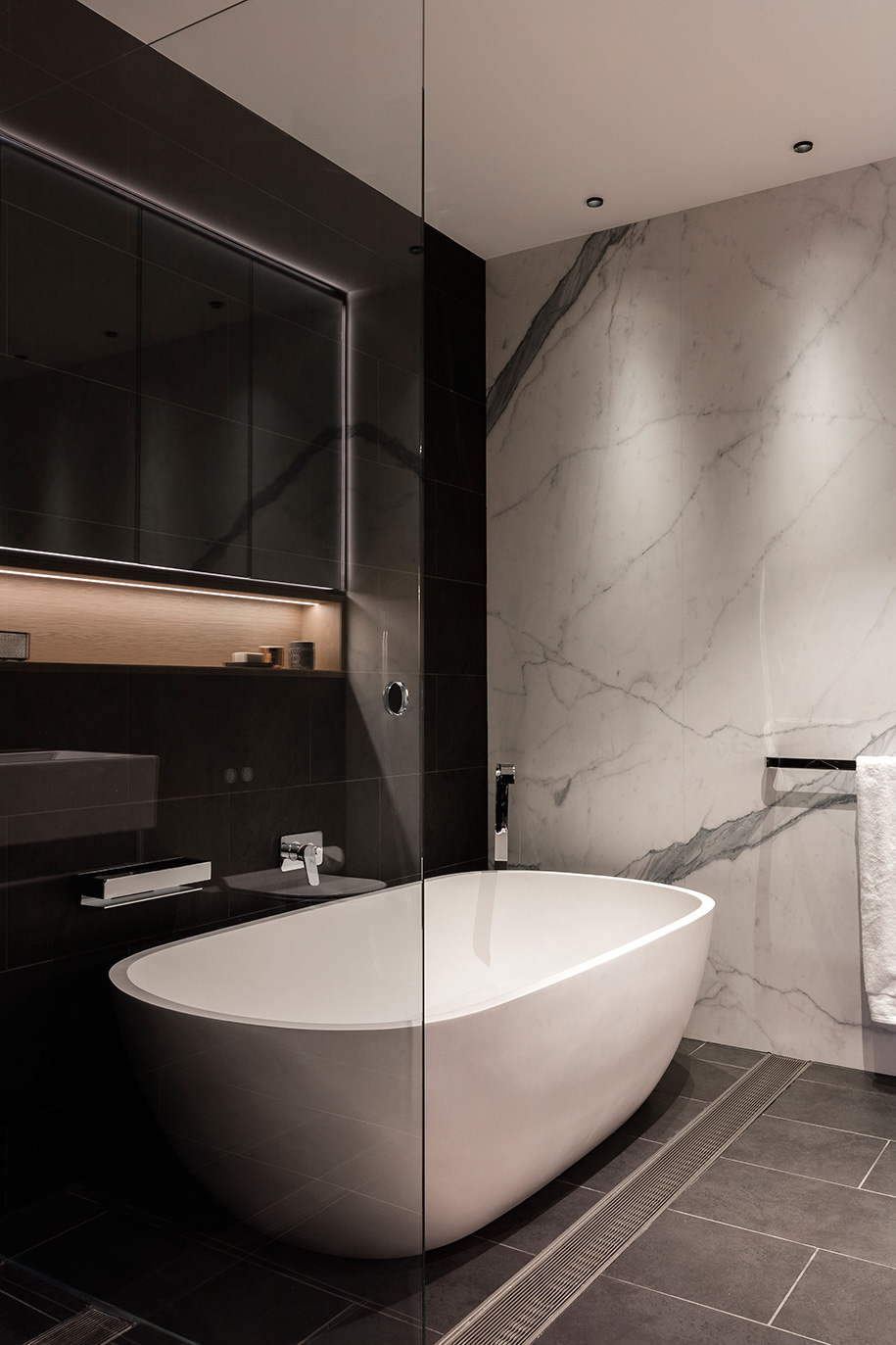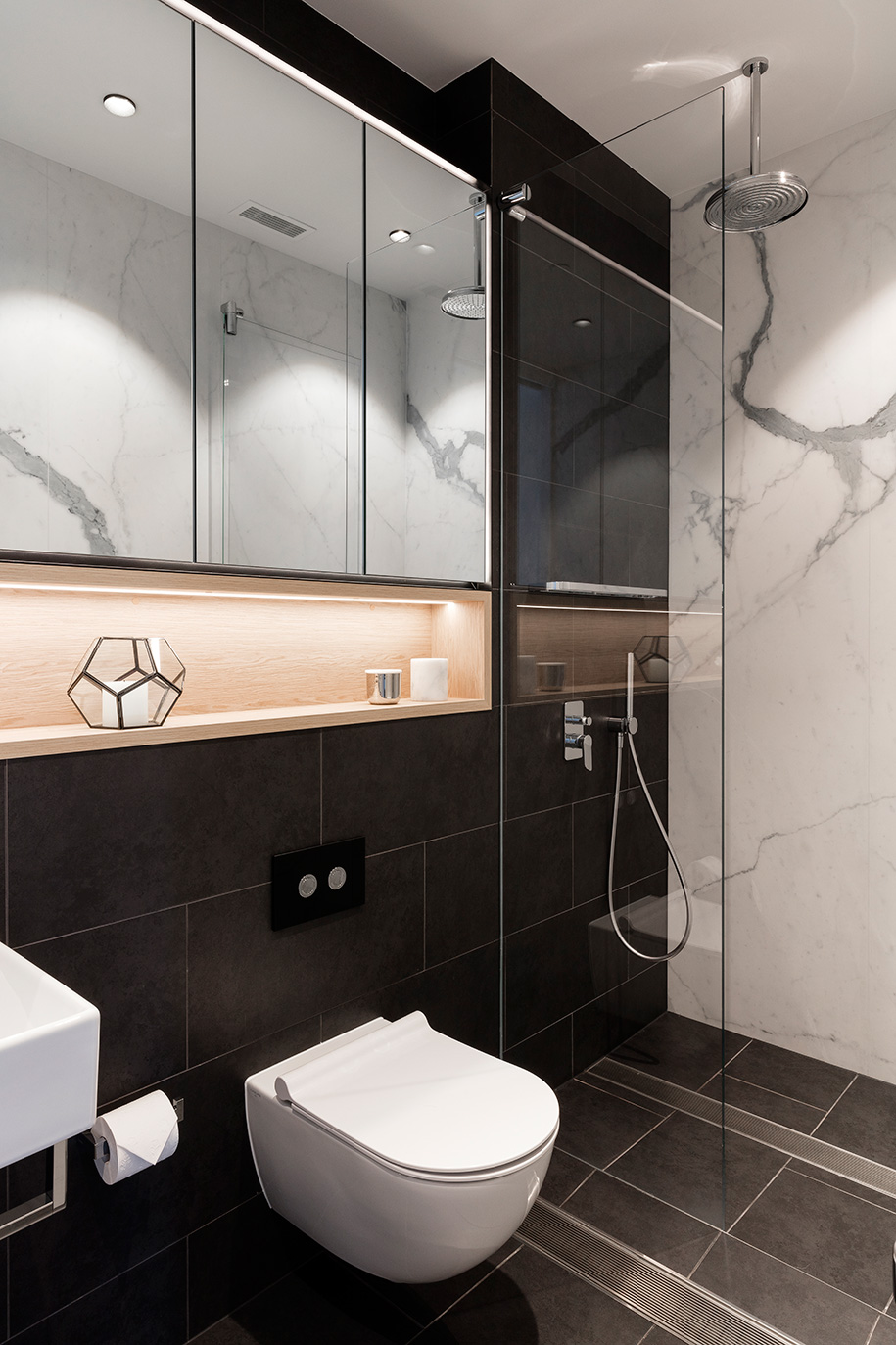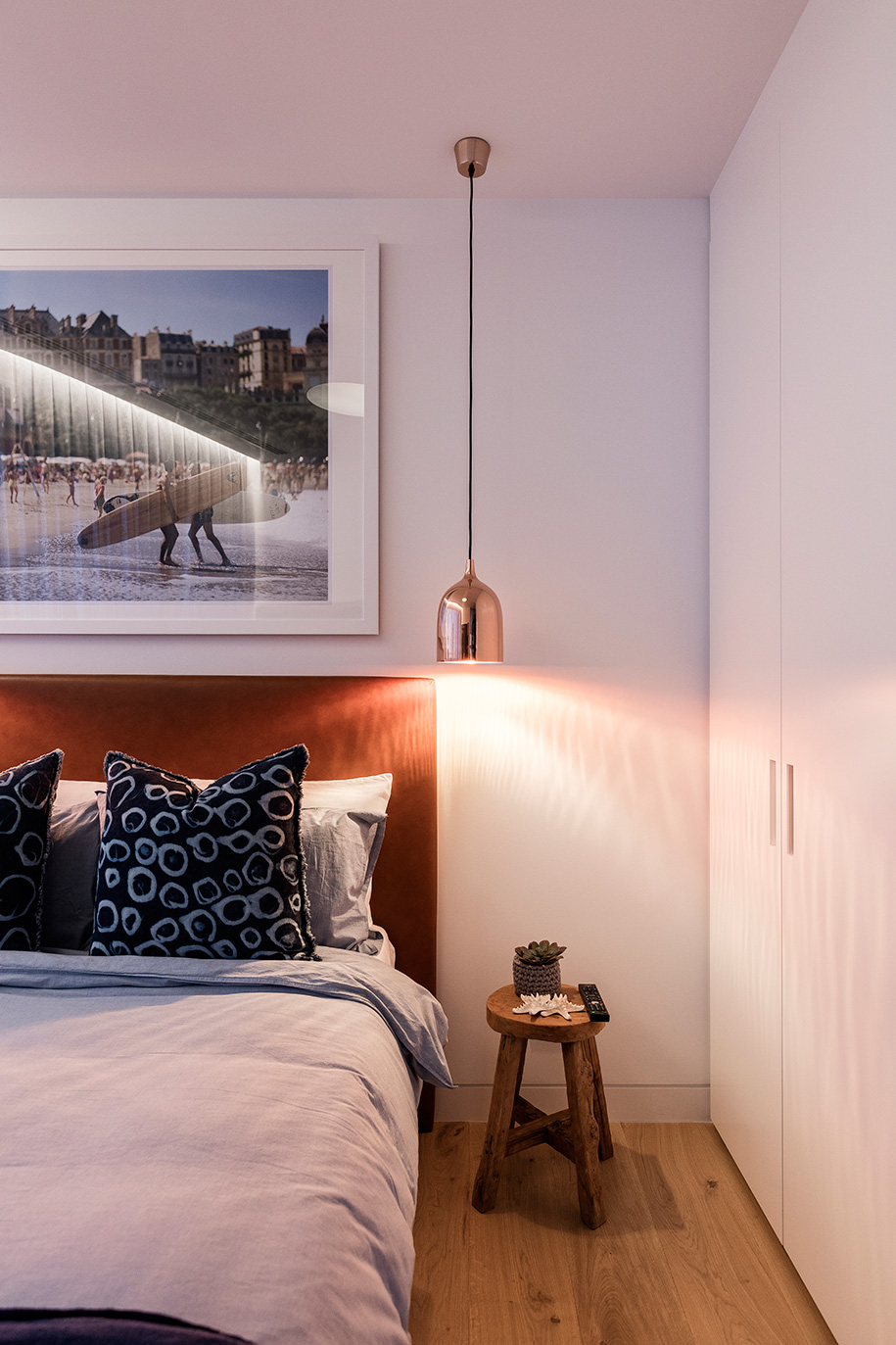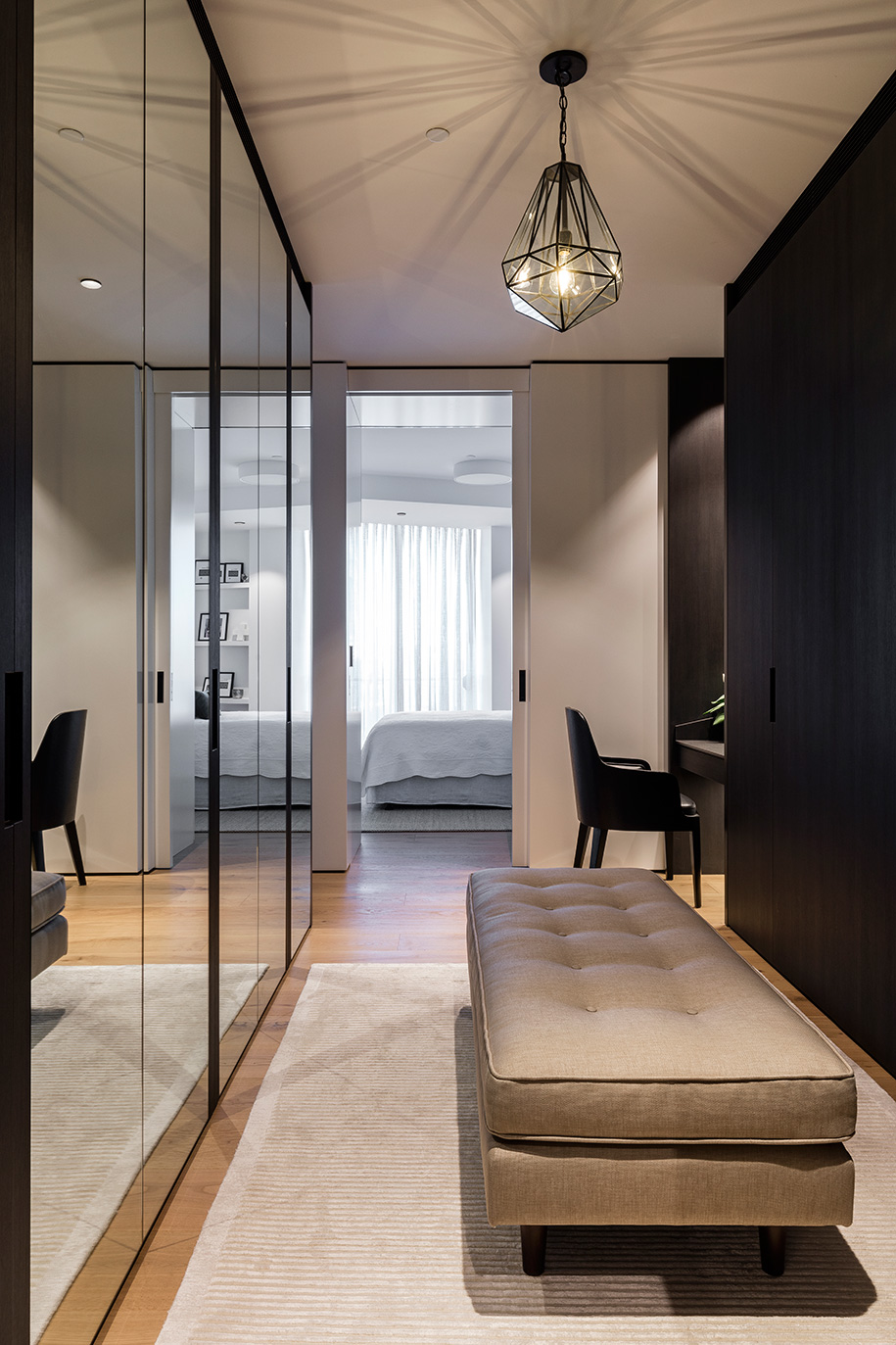 abc