While buzzwords such as sustainability, biophilia and passive design dominate the western architecture and design discourse, they are conversely less present in the Indian architecture and design conversation. Not because Indian architecture is ignorant of the relationship between built environment, natural environment, and human wellbeing, but perhaps because it is so deeply embedded in practice, that simply it goes without saying.
Vaastu Shastra
is an ancient Indian system of architecture said to trace as far back as the Vedic period. Based on the humanistic desire to be connected to one's surroundings (otherwise known as biophilia) and drawing from the mindful principles of Hindu and Buddhist beliefs, the teachings of
Vaastu Shastra
are concerned with the physical, psychological and spiritual order of things. Much like
Feng Shui
in traditional Chinese architecture and Japanese notions of
Zen
,
Vaastu Shastra
seeks to inform built environments that coexist harmoniously with nature, provide inhabitants with energetically auspicious spaces. For the most part, these eastern methodologies have generally been shunned as mythologies by western culture. Though through the lens of design for wellbeing, could it be that they bring a level of mindfulness and respect for natural surrounds that goes unprecedented in western architectural standards? Here are five examples of Indian residential architecture that are modern in expression, yet deeply rooted in an age-old integrative worldview, and impeccable examples of residential design for wellbeing.
Courtyard Villa, MORIQ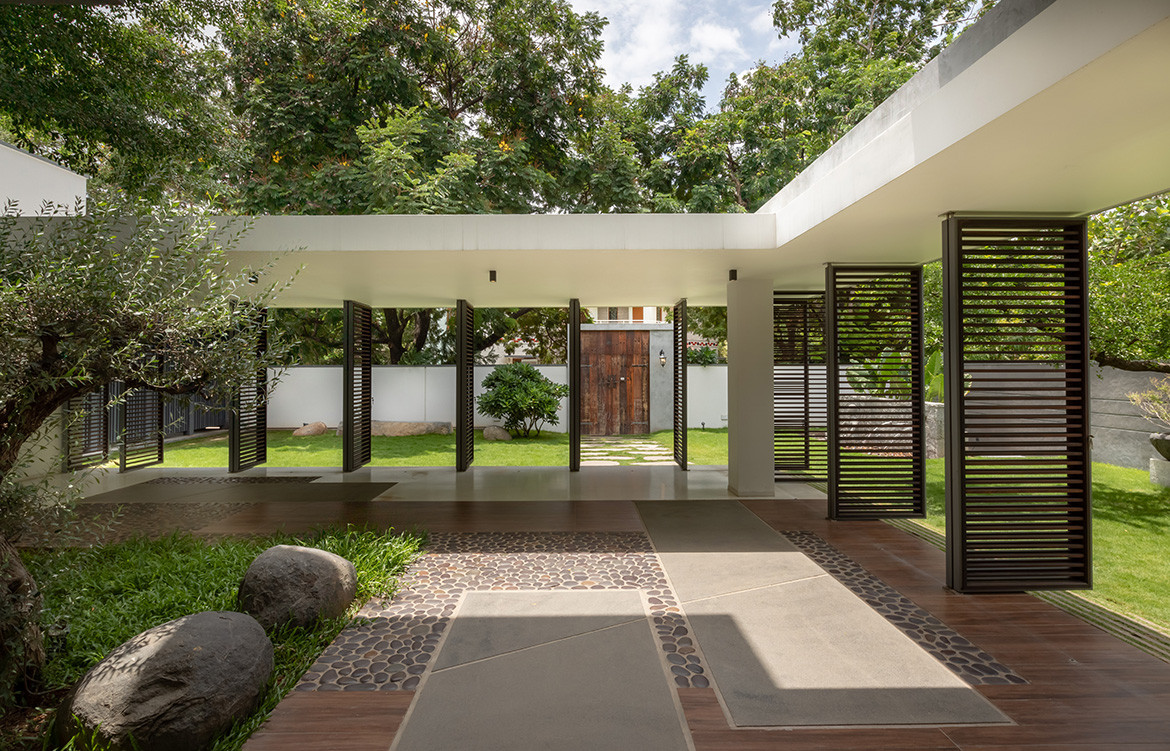 This four-bedroom family residence rests on north-facing plot in the municipality of Hyderabad. As to be expected in India's fourth most populous city, neighbouring homes are in close proximity to the east as well as the west, making privacy a considerable design priority. Architecture firm MORIQ mitigated Vaastu requirements for a north-eastern positioned living room conflicting with the desire for privacy by configuring a screened courtyard into the property's fore. This partially covered courtyard functions as an extension of the living area acts as a threshold between the built and natural environments. Operable timber louver screens offer opportunities to create privacy or openness, as desired. Passive design principles are also inherent throughout Courtyard Villa's design. With three sides open this scheme is full of natural light and ventilation. The western opening is recessed deep to keep direct sunlight away only taking the reflected light off the floor which is very welcoming during summers avoiding the harsh direct sun. [gallery type="rectangular" size="medium" ids="97615,97617,97616"]
Photography courtesy of MORIQ
Skybox House, Garg Architects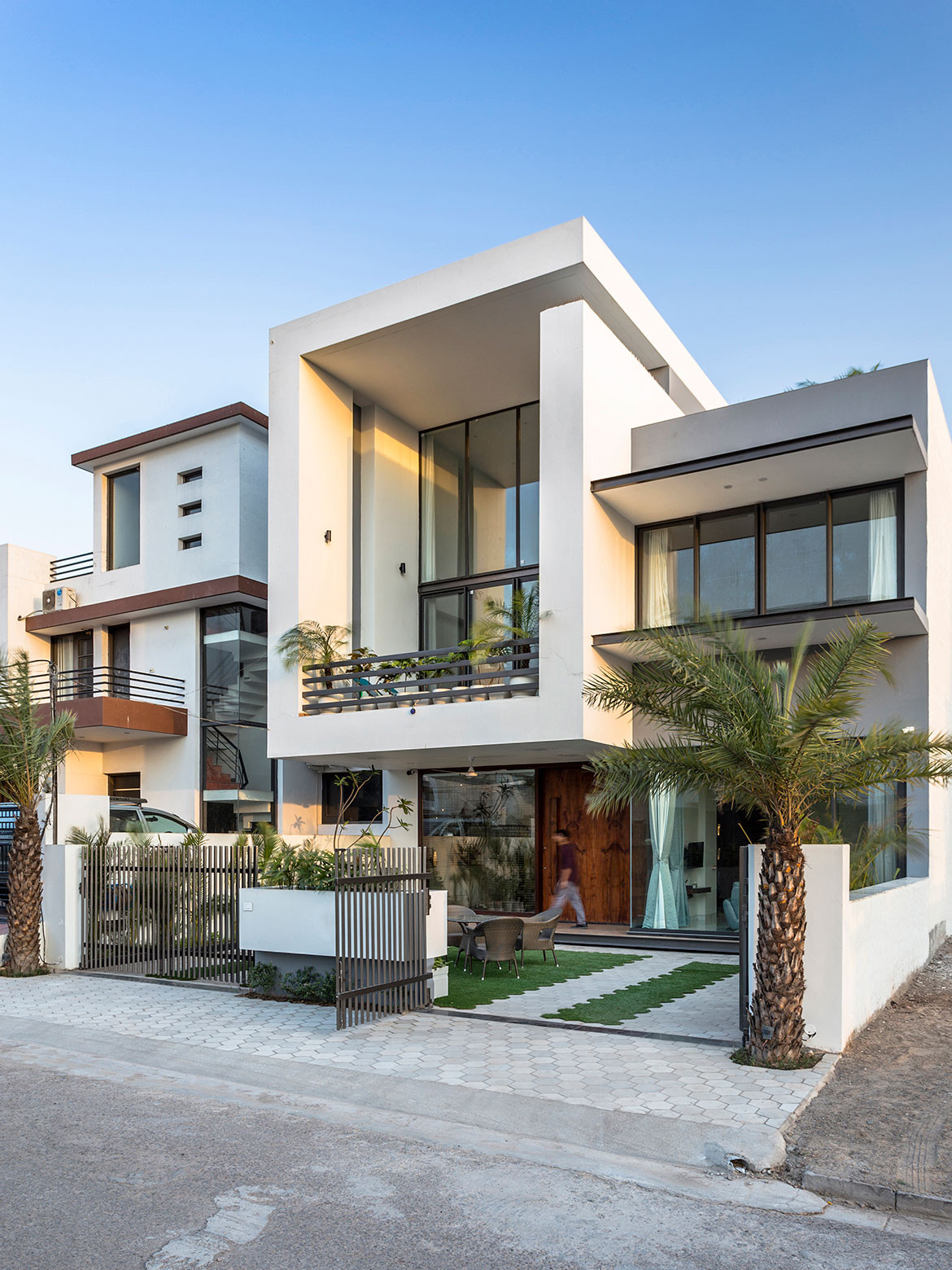 According to Vaastu Shastra, a house's front door is fundamental to stimulating a positive flow of energy – after all, it is the channel through with most energy enters the dwelling, and this first impression sets the tone for the flow of the rest of the house. As such, the entrance to Skybox House is both grand and thoughtful by design. 7-feet-wide and 10-feet-high, the main entrance door is clad with veneers of vintage teak from Burma, not just appreciated the elegance of the fore frame, but also adhered to the clients' anthropometric requisites. The exquisite hand- grip was made from scrap wood which camouflaged with the door. Floor to ceiling height glass windows facing outside, provided in the first-floor bedroom, are horizontally lineated by ledges to obstruct the direct visibility into the interiors. On the inside, it offers a view of the entranceway and facilitates plentiful natural sunlight and fresh air flowing freely throughout the abode. [gallery type="rectangular" size="medium" ids="97621,97620,97618"]
Photography by Purnesh Dev Nikhanj.
Chavvi House, Abraham John Architects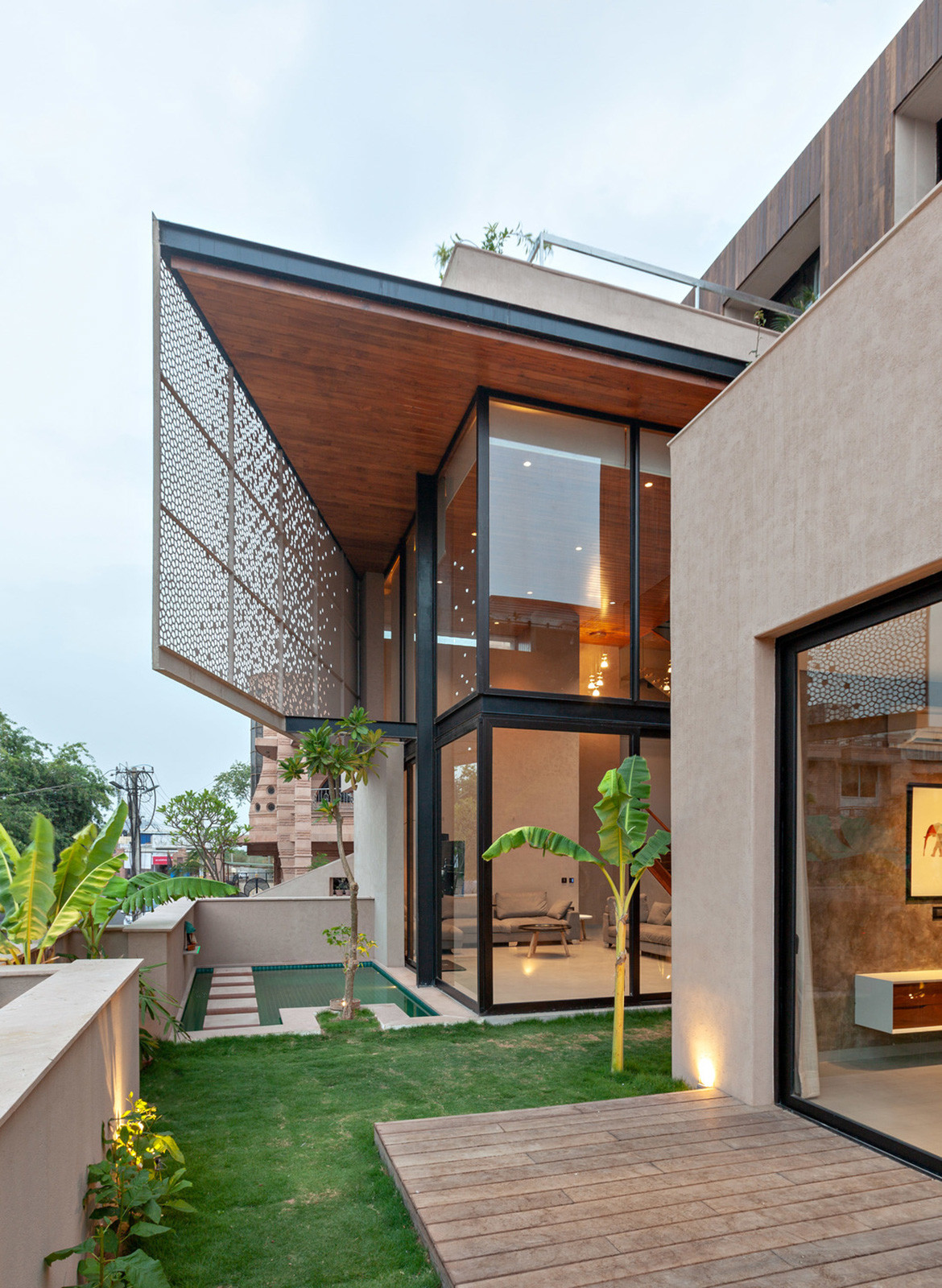 In accordance with Vaastu shastra, the entrance and prayer room are at the northeast – a highly charged place – where floating steps mark the entry gate and the temple projects over a courtyard. The living area is in a double-height space where it looks out to a body of water, with the dining room having a more intimate feel, with large sliding doors to close it off from the kitchen. "The dining, kitchen, living and garden form a public area that looks very different at night, with mood lighting and a waterbody, landscape and a beautiful, authentic and traditional wooden sculpture," says Alan. All furniture is bespoke and made by the architects and client who is a professional furniture maker and exporter. Modern jaali screens, courtyards, and landscaping create privacy from the neighbours while still allowing views and connection to outdoor spaces, such as gardens, decks, water features and balconies to enhance the spatial feel. [gallery type="rectangular" size="medium" ids="88273,88279,88276"]
Photography by Alan Abraham.
Traditional Affinity, Thought Parallels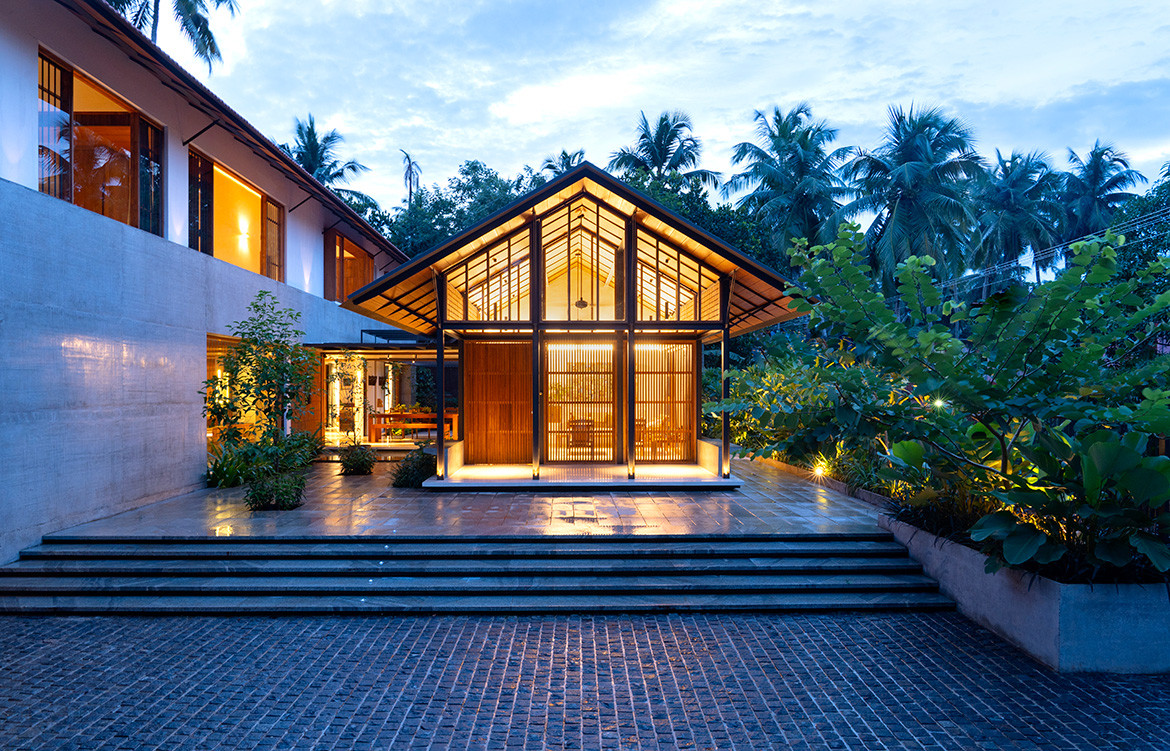 Thought Parallels designed the layout of Traditional Affinity in accordance with the elements. The entrance takes place in the residence's north eastern Air Zone, the kitchen is located directly opposite the entrance, in the south eastern Fire Zone, while the bedrooms are primely situated in the south western Earth Zone. The spatial flow of the house takes into consideration the family's desire to segregate public spaces from private. A straight flight of stairs – formed by a folded plate of teal-coloured steel – leads to the two bedrooms and covered terrace that reside on the upper level. Dedicated to shared spaces, the ground floor is comprised of a living room, dining room, pooja room (meditation room), entertainment room, two kitchens, and a guest room. The open plan nature of these shared spaces – which are demarcated from one another by sliding bi-fold doors, or in some cases, no barriers at all – evokes a sense of infinity as one moves through. The centrally located open-plan kitchen, dining and living space boasts ventilation from all four sides of the room, enabling it to act as the lung of the unit, breathing air to the different zones of the house. [gallery type="rectangular" size="medium" ids="96908,96918,96910"]
Photography courtesy of Thought Parallels.
Centre Court Villa, Pomegranate Design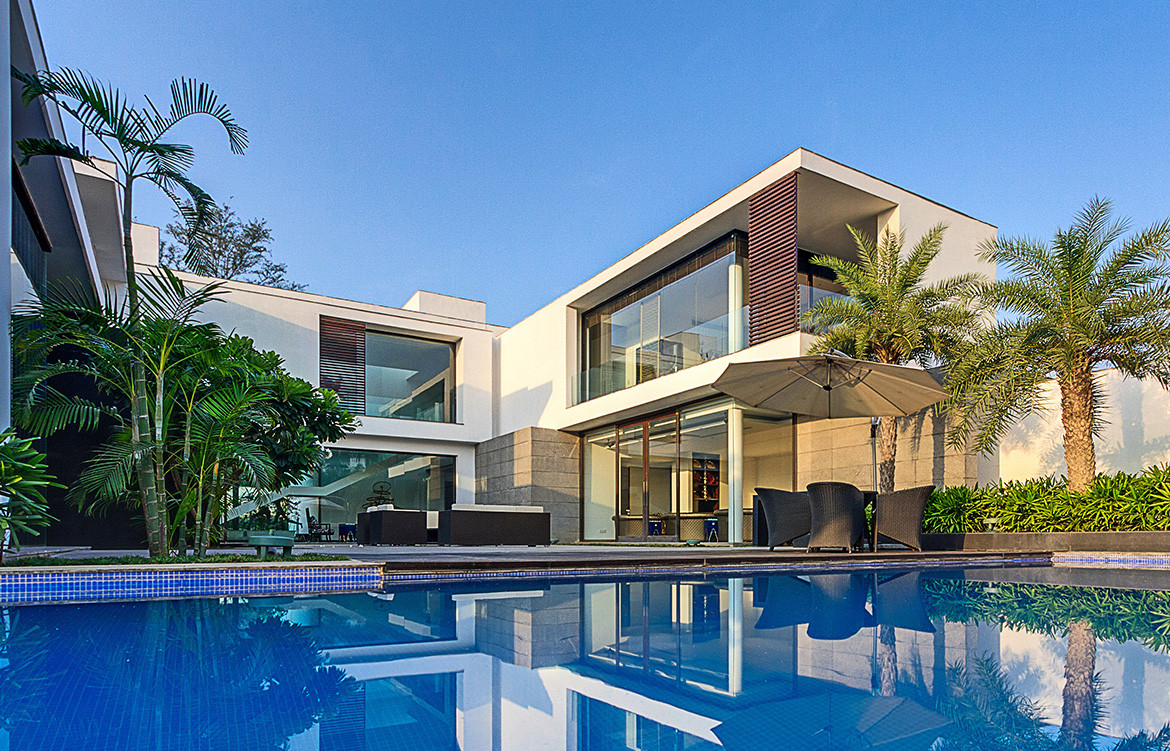 Situated amidst a dense urban area of concrete masses and boxed structures, The Centre Court Villa is catered to accommodate for the multiple lifestyles of a large family with a mix of traditional and modern values. With design strategies seeking to curate a built environment that connects with its surrounding, Pomegranate Design uses voids to break up the mass, earthy tones to give the residence a neutral balance and transparency between each space to allow for connectivity throughout. As one space unfolds to another, the public areas of The Centre Court Villa are grand with bold blue furniture accents and pearl tables. Contrarily the more private rooms boast a mono-textured approach with leather furniture pieces, rooms that have been painted in white and accents of crimson seen in the bedhead and sofa chair. Decorating the halls, the owner's human-form sculptures underscore an artistic vibe and subtly hint to the double height ceiling. At night, the residence is lit up with an abundance of Victorian Chandelier and striking pendants, endorsed by the sheer volume of each room that it occupies. [gallery size="medium" type="rectangular" ids="84500,84501,84507"]
Photography courtesy of Pomegranate Design.
We think you might also like subtle cues taken from Eastern garden design
abc