Isolation has been a long journey of adapting to new lifestyles, finding spurts of creativity and having time to reconnect with our surroundings, whether it be inside or outside. With the unprecedented changes to our lifestyles today, our relationship with nature and the outdoors has never been more prominent. For some, experiencing the true essence of the Australian landscape has been difficult, where the only substitutes are open windows and an extravagant collection of plants. To others, it's just outside their front door. In the last few years, we've seen an abundance of residential architecture coexisting with their natural landscape and contexts. To be fully immersed in nature and its elements is a revitalised way of living; one that many homes in Australia celebrate on a daily basis. Through considered and intelligent design; raw, textural materiality; and a new and slow livelihood, isolating in and amongst nature's elements has never been more peaceful. Balancing contemporary residential living with the land is one that requires a sensitive and considered design approach. Each of the following residences embodies this beautifully and when that balance is achieved, the resulting relationship between architecture and the natural world provides an inimitable living experience that captivates the soul – bringing a moment of restfulness and calm to this chaotic new world.
Elemental House by Ben Callery Architects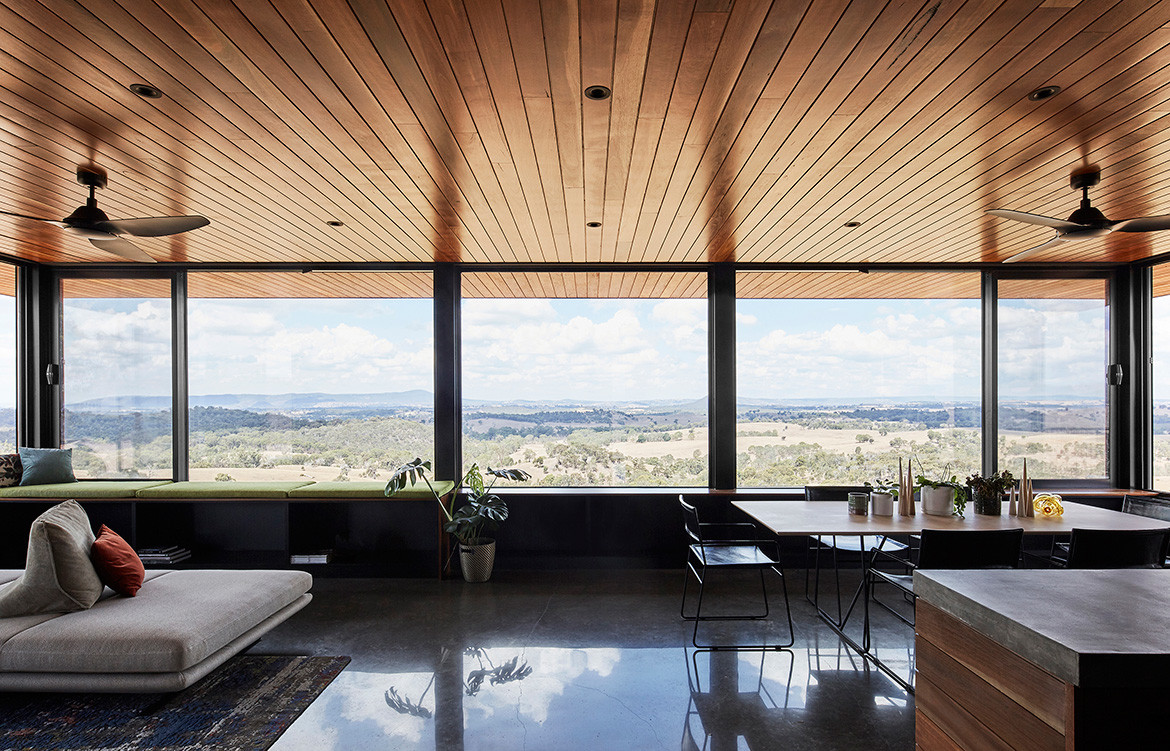 Featuring Spotted Gum timber cladding and decking from Hurford. Photography by Jack Lovel and Dave Kulesza. 
Ben Callery Architects celebrates the breadth of the Australian landscape with this picturesque off-grid home. Perched on the top of a steep hill in High Camp, Victoria is Elemental House – the ultimate retreat that lets you breathe in the outdoors and immerse yourself in the elements. This 100metre footprint home invites the land in with its raw, earthy materiality and dark interiors to create a sense of shelter and intimacy indoors. Completely exposed, the residence is designed with superior functionality – allowing passive solar gain in winter, and natural ventilation throughout the whole home in the warmer months. The clients, Jim and Sue, craved an isolated haven built to endure the country's seasonal changes and finding a sense of freedom in escaping the lifestyles of a crowded, fast-paced city. Elemental House is design simplicity at its best; with its form beautifully complementing the landscape and its interiors embodying a sense of adventure and comfort.
Read more.
Blackwood Rest by Bijl Architecture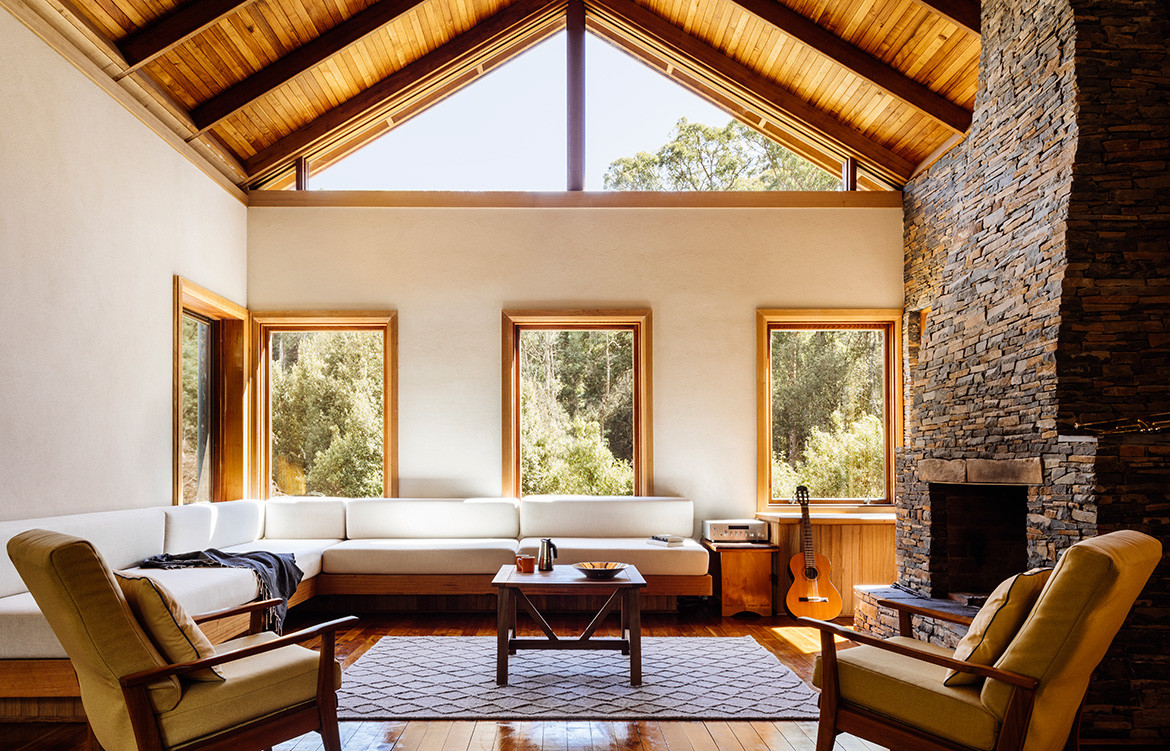 Featuring Nectre N50 wood burning fireplace. Photography by Adam Gibson. 
Looking to transform the modest "Aussie bush shack," into a revitalised piece of contemporary architecture, Bijl Architecture breathed new life into Blackwood Rest. After being partially destroyed due to freak flooding in 2016, this quintessential North West Tasmanian oasis was ready for a new chapter. The result of the flood had altered the landscape of the riverbank, inspiring the interior renovation of the bushland dwelling. To capitalise on the natural views, the bedroom was enlarged with a new deck and the living area extended with a fire-side dining area – maximising the time spent at taking in the scenery outside. Bijl Architecture incorporated a robust and material palette with local timber and stone chimney to celebrate the simplicity and ease to life in the Tasmanian bushland. The residents were adamant on not designing a space for entertaining, rather a place to escape and bask in an uncomplicated, relaxed and slow lifestyle and ultimately, a home that captures the spirit of the bushland dwelling.
Read more.
An Architect's Home by Max Pritchard Gunner Architects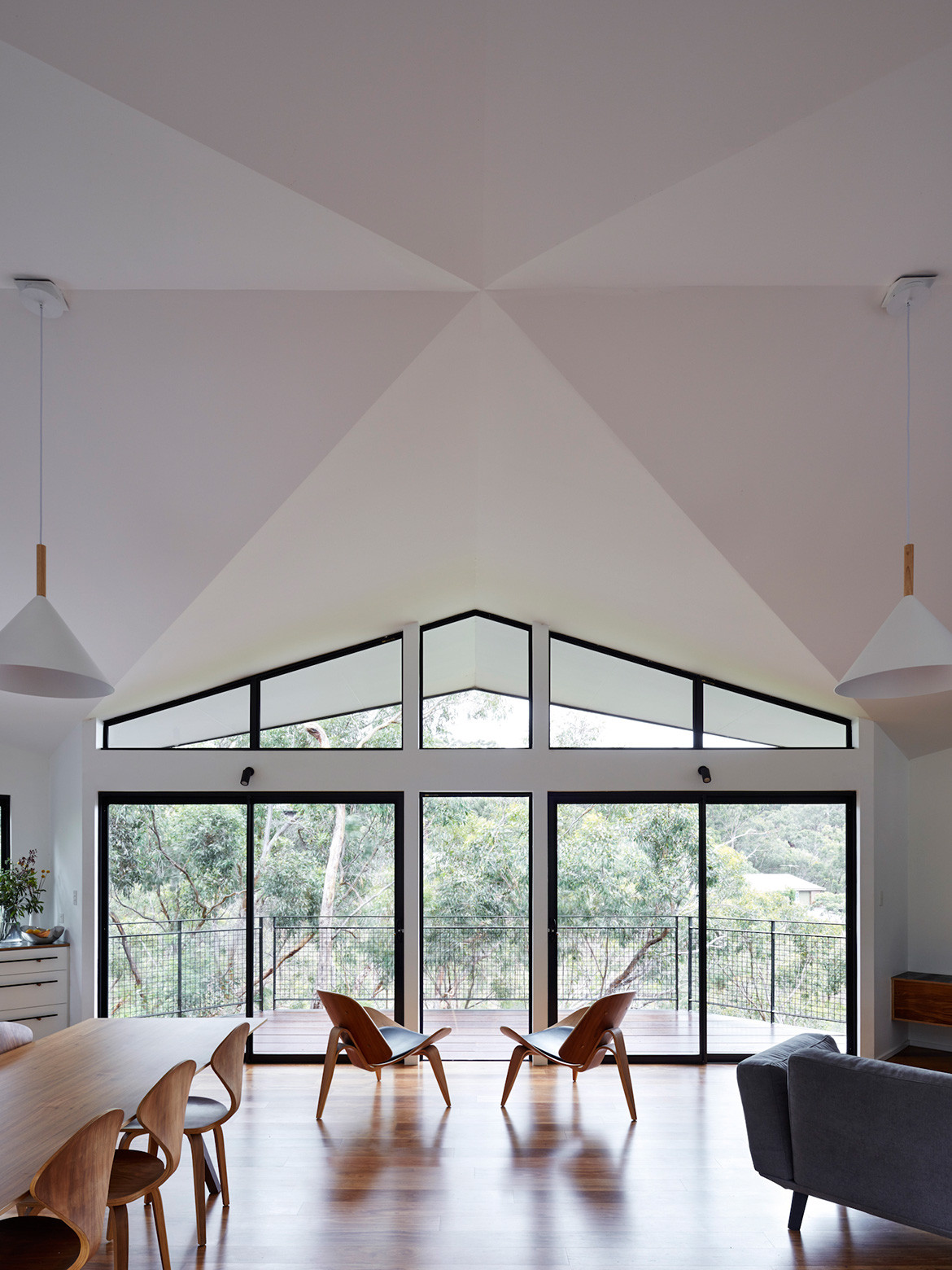 Galvanised steel cladding by Revolution Roofing and Blackbutt engineered flooring by Parmate. Photography by Sam Noonan. 
It is always impressive to see an architect's own home; to step inside the daily space of a creative mind; and to see that they do indeed practice what they preach. Co-director of Max Pritchard Gunner, Tess Pritchard shows us her environmentally responsive, architecturally self-designed home in the Adelaide Hills. Situated high in the treetops, Tess kept the home's footprint small by building up, integrating folded planes for the roof and extending the corners to capitalise on the location for the two-storey volume. The stretched out floor plan paired with a clean, comfortable colour palette and modest materiality in the galvanised steel exterior allowed Tess and her partner to be fully connected to nature as much as possible with minimal disruption to the natural settings. The home is generous, inviting and beautifully textural, while allowing the treetop home to coexist peacefully with the surrounding landscape.
Read more.
Exoskeleton House by Studio Takt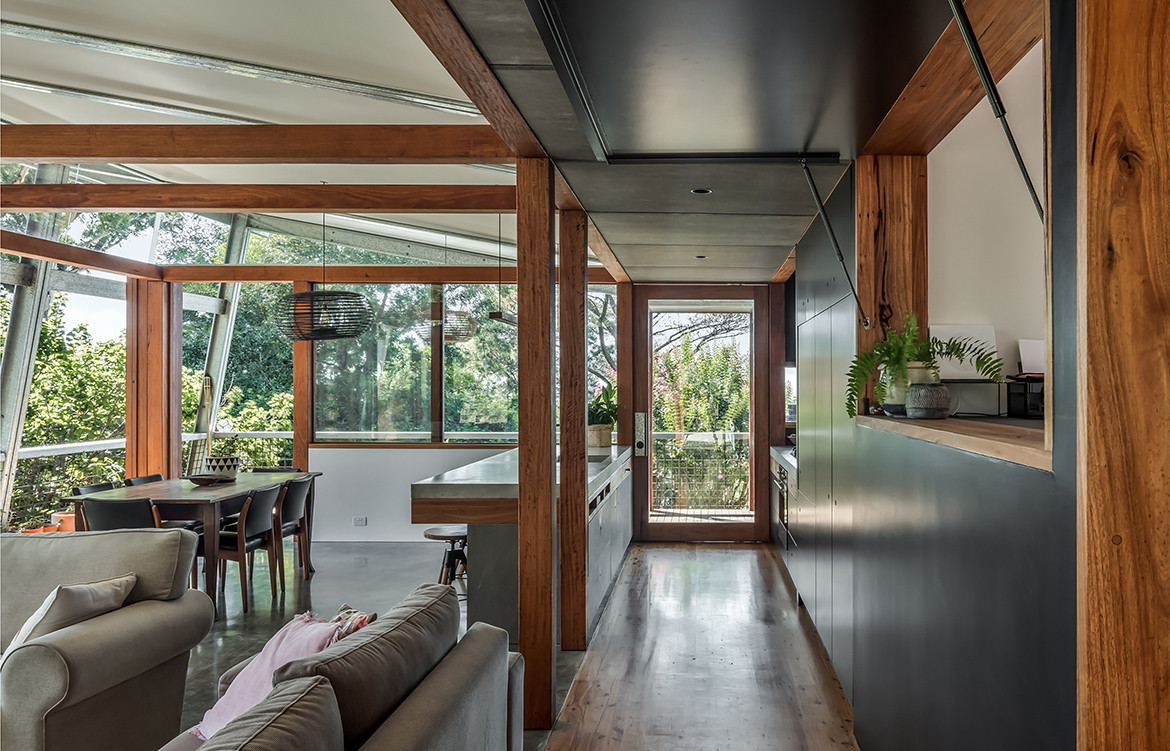 Kitchen and joinery by Jason Miles. Photography by Shantanu Starick. 
Nestled within the Illawarra landscape in the south coast of New South Wales, Exoskeleton House by Studio Takt is a refined, considered and restored 1950s brick bungalow that creates a unique relationship to its local context. The owners wanted a home that celebrated their love for cooking and entertaining and their two curious young children, while adapting to the natural surroundings of the site. Instead of demolishing and starting anew, Studio Takt chose to champion their lifestyle with a strategic and sustainable solution to transform the existing building and revive it to support a contemporary way of living. The new north-facing living area and pavilion extends and reaches out to embrace the sweeping surrounds of the Illawarra escarpment – removing any barrier between the residents and the treetops. From the outside in, the materiality of Exoskeleton House plays on the natural hues and textures of the landscape, creating a harmonious balance of concrete, steel and timber to accommodate the living functions, while being sensitive to the outdoor scenery.
Read more.
Dandenong Ranges House by BENT Architecture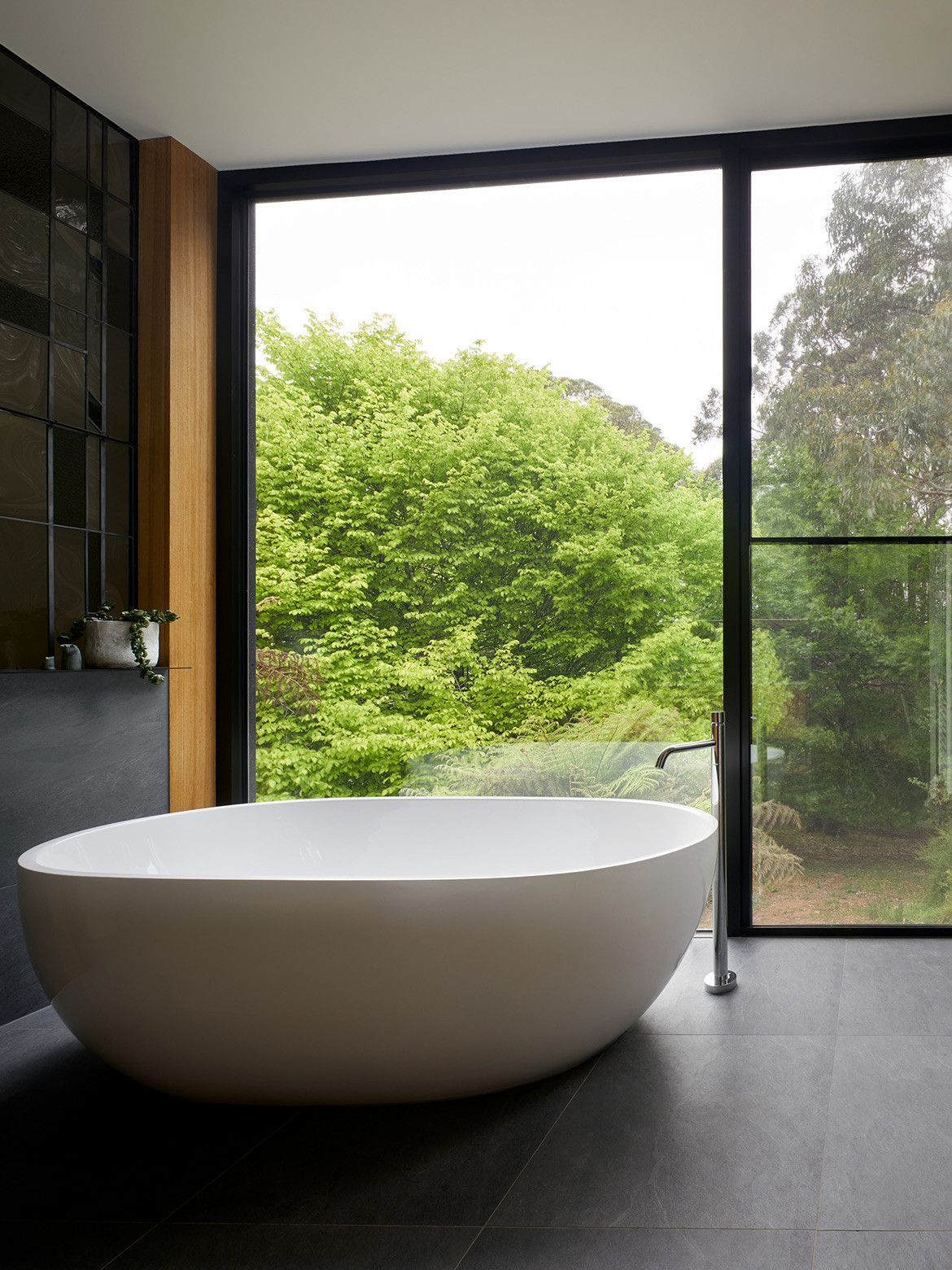 Featuring ACS bathrooms Chloe Freestanding Bath. Photography by Tatjana Plitt. 
To live in harmony with nature is a pleasure that many of us in Australia are lucky enough to experience from time to time. For homeowners Matt and Leanne, this is their everyday reality in the bushy and scenic Dandenong Ranges in regional Victoria. As avid green thumbs and gardeners, Matt and Leanne wanted a piece of architecture that peacefully cohabitates with the landscape in a mutually beneficial relationship. BENT Architecture delivered a long, narrow house that optimises passive solar design to create an efficient and liveable interior throughout the warm and cooler months. The open, split-level interior is sheltered with captivating views of the outside, ultimately enveloping the residents in an abundance of greenery.  "It is impossible to visit this site without being overcome by its natural beauty. The key challenge was to design a house that would limit site disturbance whilst also working in harmony with its natural setting and employing efficient passive solar design principles," says director of BENT Architecture, Paul Projazoski.
Read more.
Paddington Courtyard House by Aileen Sage Architects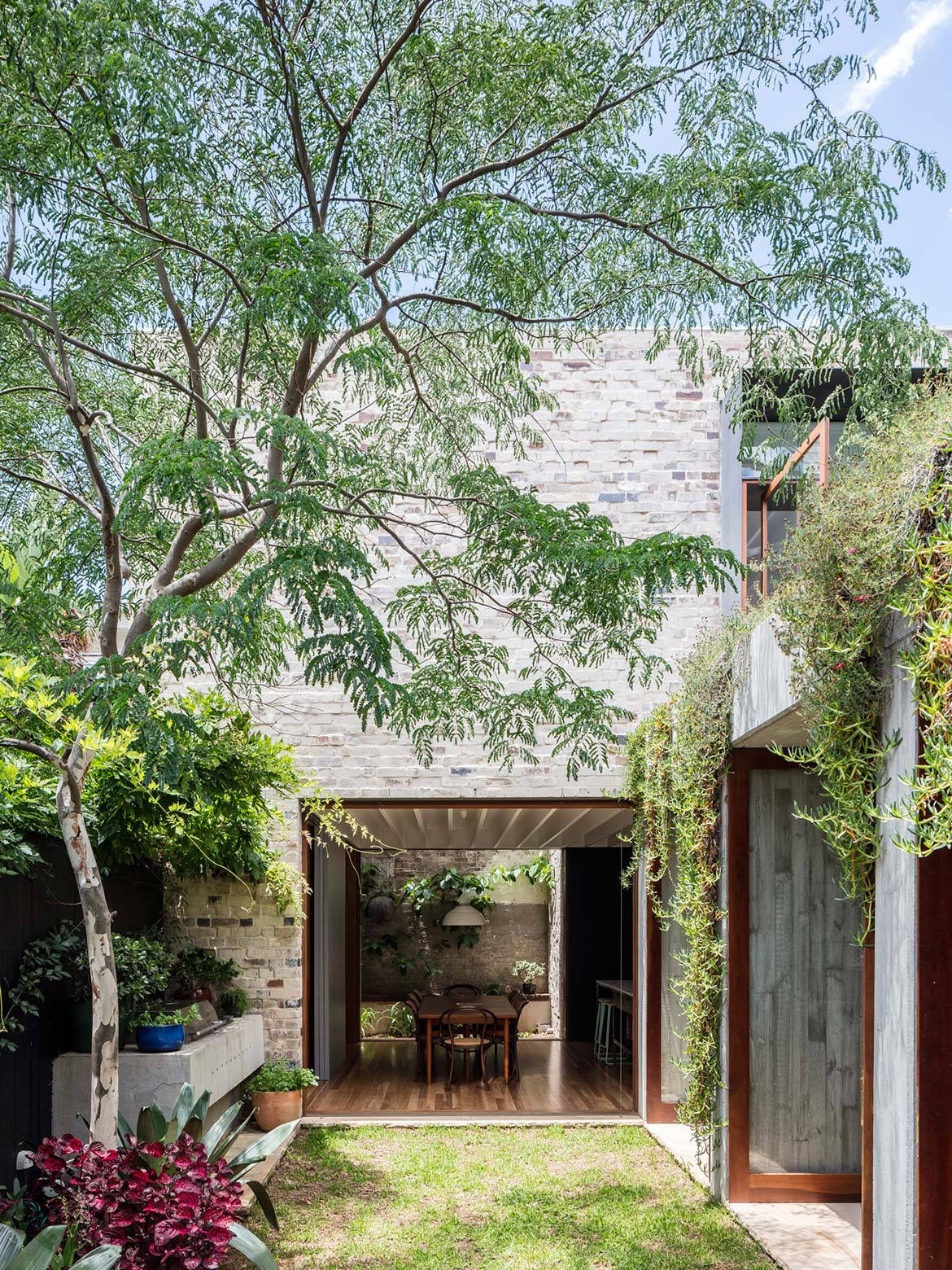 Featuring Recycled Brick from The Brick Pit. Photography by Tom Ferguson. 
For city dwellers, there isn't much room for sweeping bushland landscapes and treetop views. Especially in Sydney, where space is sacred, finding hidden pockets of nature is something to be celebrated and Paddington Courtyard House does just this and more. Designed by Aileen Sage Architects for architect Amelia Holliday, this Eastern suburbs gem reinvents the Victorian terrace with a secret internal courtyard. This multi-levelled retreat ultimately invites the surrounding environment into the home as the residence wraps around a large internal void of greenery to bring a sense of relief from the extended time indoors. Each of the living spaces have a distinct relationship to the garden, as rooms interweave into the next without compromising on the views to the "outdoors." Aileen Sage Architects maximised the suburbian-sized footprint by avoiding redundant spaces through innovative design and re-connecting the residents with the outside world in the comfort of their own home.
Read more.
abc