According to the popularly imparted adage, the sole constant in life is change. Contrary to this cliché, there are two bearings perennially present in Australian residential design vernacular: coastal contexts and an affinity toward mid-century design. Having colonised the coastline of Victoria's Port Phillip Bay since the heydays of modernism, Portsea Beach House boasts the best of both. Blessed it may be in site and heritage, until recently, something about Portsea Beach House was amiss: the aged design and build was ill-suited for contemporary creature comforts.
Portsea Beach House hit the desk of Studio Esteta in the form of a well-defined yet not restrictive renovation project brief. Wanting for spatial reconfiguration and some design TLC, the original volume was to be transformed into a light filled, six-bedroom family home. Destined to set the scene of many fond times with family and friends yet to come, the clients' sought spaces fit for sharing and entertaining more than peace, quiet and respite.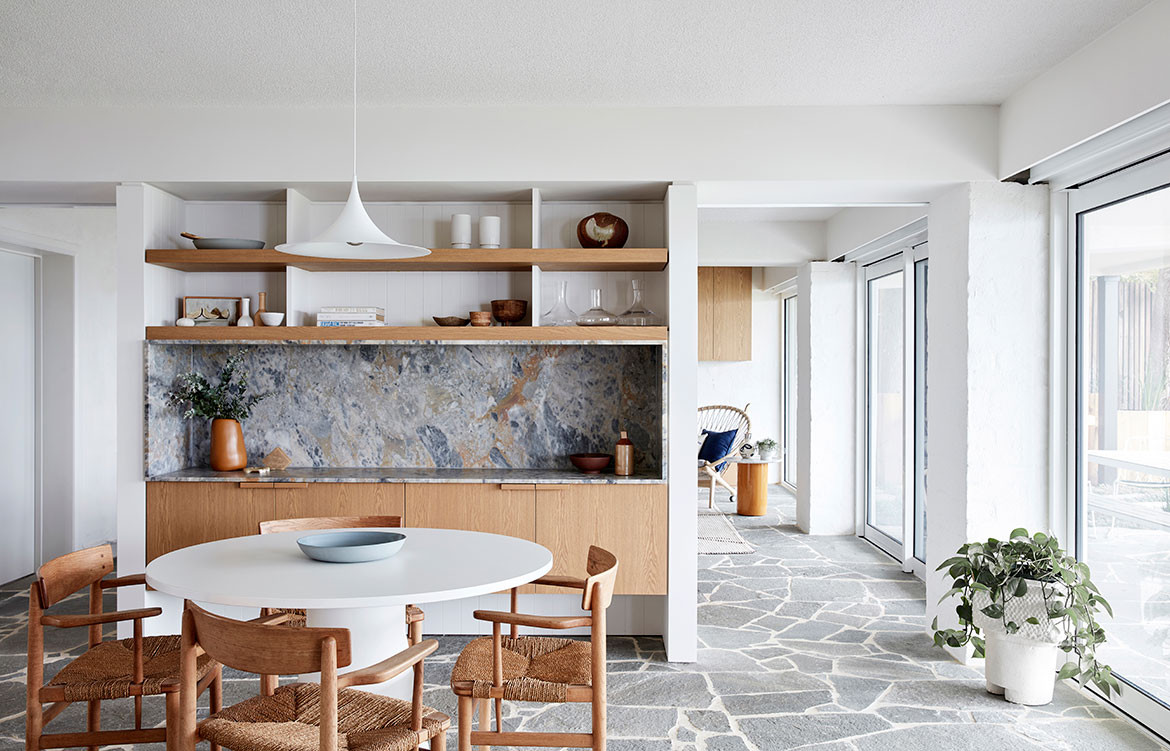 Studio Esteta was entrusted to realise this vision with just two reasoned edicts holding the architects' response shy of carte blanche. First, to keep the redesign within the existing built footprint; and foremost, to cultivate the mid-century charm of Portsea Beach House's lineage while bringing contemporary sensibilities to its updated design. The resulting residence is modern and casual, yet with a deep sense of nostalgia and soul.
Consisting of slatted wall panelling, bagged white walls, warm timbers and accents of natural stone, the tactile palette works to create a cohesive, unpretentious and modern seaside home. The use of Crazy Paving articulates the kind of uninterrupted transition between outdoors and in that is synonymous with antipodean life, promoting a sense of continuity between the previously separate environments.
Previously a vacuous space, the reimagined entry foyer is defined by a bespoke, mid-century inspired staircase. Studio Esteta has coupled this prominent design feature with views through to the bar and the coastal aspect beyond for an impactful first impression. The existing kitchen, dining and living areas were maintained to the first-floor level maximising the coastal aspect and adjacent spacious terrace. The bar provides a relaxed entertainment area, incorporating a high benchtop and operable window that maximizes views and cultivates a connection with the Portsea Pier.
In keeping with the clients' preferences, Studio Esteta ensured that heritage mid-century details were retained, wherever possible, or used as a point of reference whenever not. This included the reuse of unique wall hooks and existing glazed mosaic tiles that, although couldn't be salvaged, inspired the palette direct for the five individual wet areas. Meanwhile, the use of Zip HydroTaps in relevant wet areas acts as a refined nod to the contemporary comforts now enjoyed at Portsea Beach House.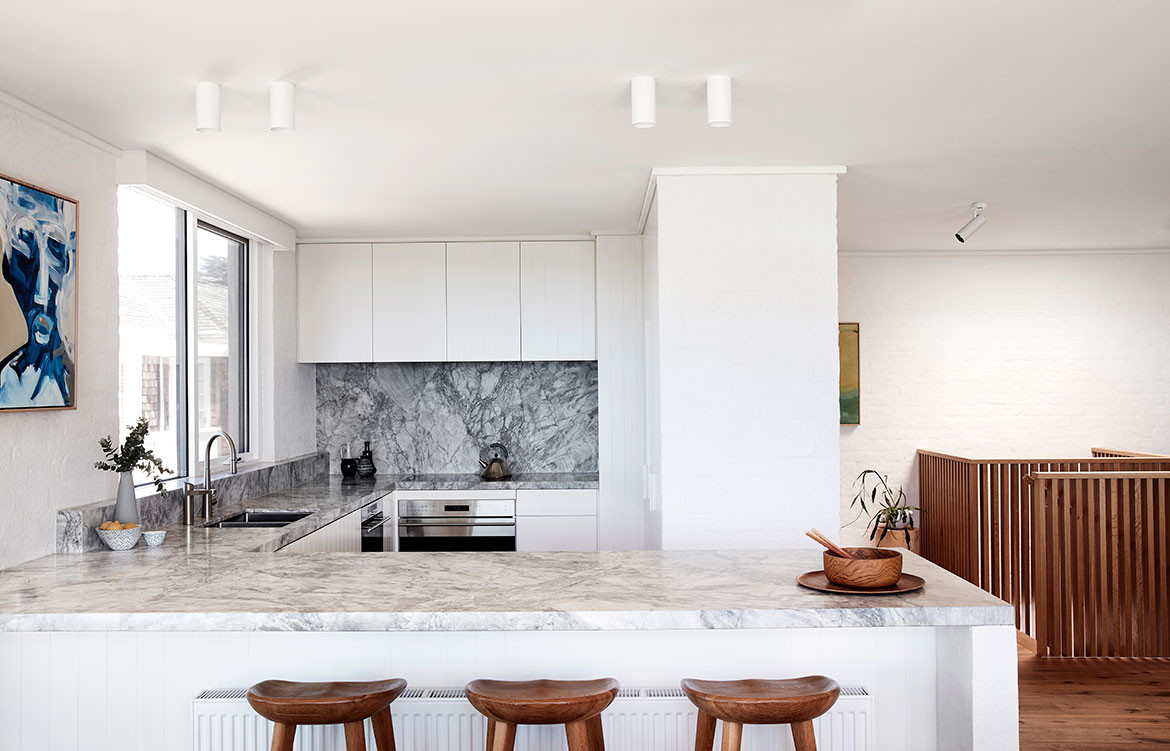 "Innovative and unique to this project was the commitment from our clients and ourselves, as the designers, to cautiously alter the existing home whilst remaining true to, and enhancing, the stylistic significant of its mid-century undertone," says Sarah Cosentino, co-director of Studio Esteta. "The resulting home has now become a sanctuary where our clients can find a shared respite in their beloved beachside property with friends and family."
Zip Water
Tags: beach house, Comfort, Contemporary, hydrotap, Portsea, Studio Esteta, Zip Water
---