Overlooking a creek, this unique block is tucked away in a quiet pocket of Blackburn, shielded from the busyness of the greater suburb by an atmosphere of country-style living. Upon arrival at the property, "you feel instantly like you're miles away", comments Clare Cousins of Clare Cousins Architects.
Given the extraordinary nature of the location, client Oanh Harding and her family were looking for an architectural response that would be timeless and unique to the site, clever in spatial planning while also supporting their vision for a comfortable and sustainable family home. "With a modest budget and size, we needed communal spaces to work hard and multi-task without compromise," says Oanh.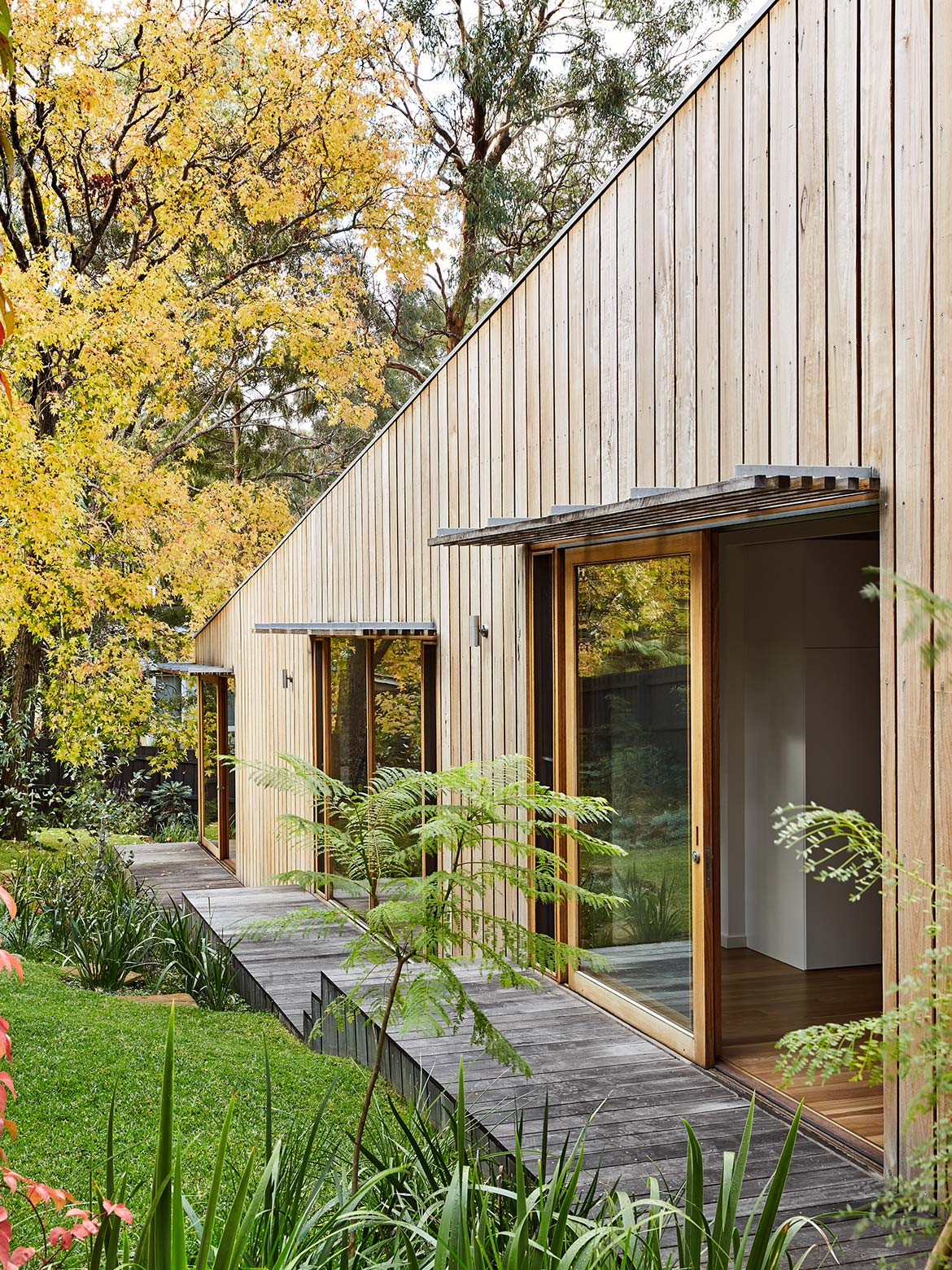 The overarching concept was a north-west oriented block, with the front of the house facing the west. The site itself is fairly steep, the topography falling to the back of the block. "For us the natural progression was a long, linear, extruded form. We really wanted it to step with the topography and sit quite lightly with the landscape," comments Clare.
Inside, Clare has played with spatial efficiencies. To the back of the house are the bedrooms which line the long, north-facing corridor and spill out into the hallway and the garden beyond. To the front of the house – the main entry point, is the kitchen/dining zone, tucked smartly beneath a mezzanine level. The kitchen is neatly sandwiched between dining and living, connected by a "luxuriously generous" 8.6-metre-long bench. "This spans along the back wall from the dining area to the kitchen, providing traditional kitchen storage as well as homework space," notes Oanh.
Sustainable living is core to Oanh and her family's home life. From an architectural perspective it called for a timeless design and clever spatial planning; day-to-day, it came down to the appliances used in those essential living zones of kitchen and laundry.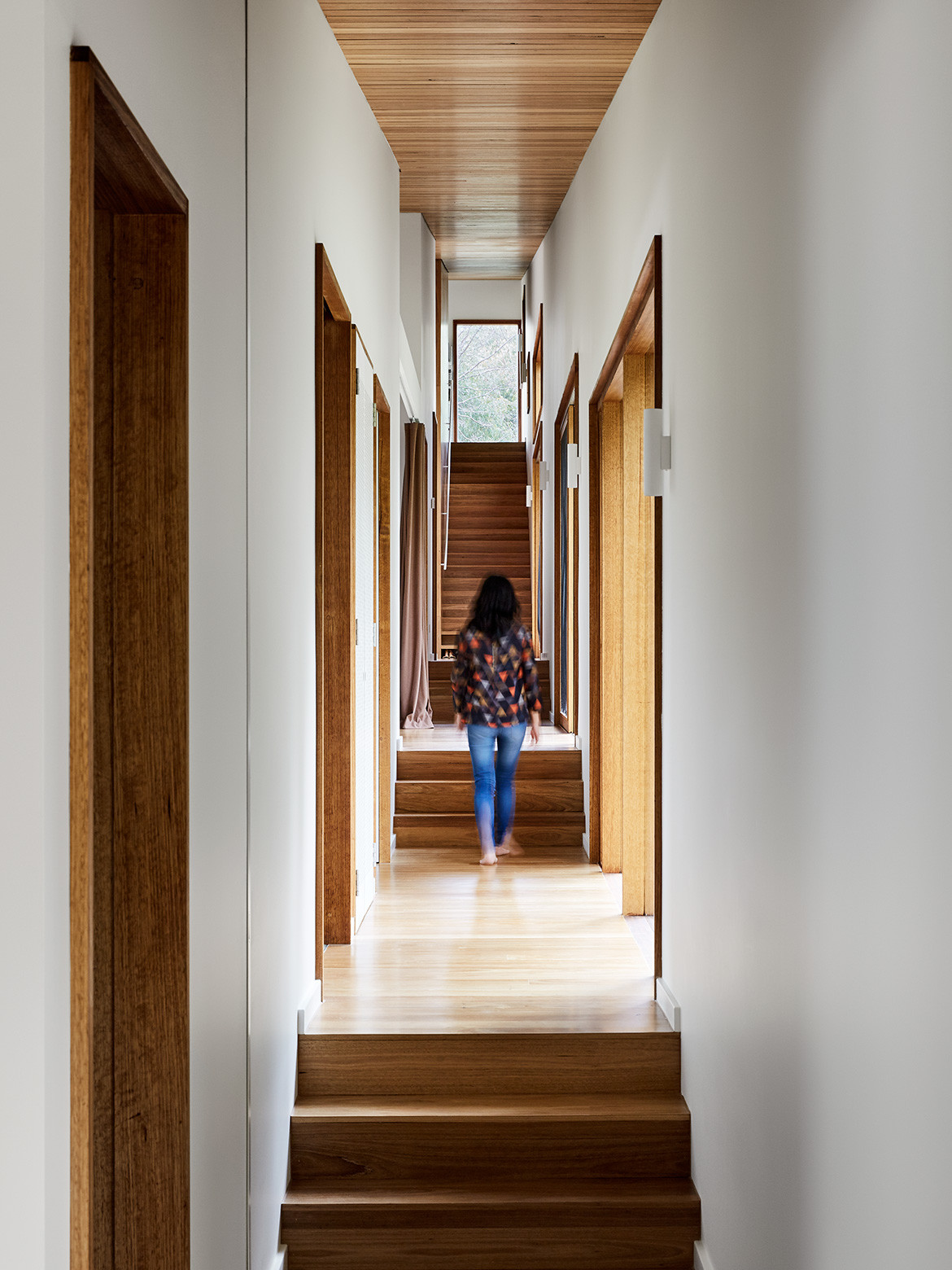 "V-ZUG had the strongest sustainable credentials by far, which aligned for us," says Oanh. "V-ZUG just ticked all the boxes for us; they were quiet and understated but the results seemed outstanding in both form and function." On top of this, the appliances are electric rather than gas-run, allowing Oanh and family to 'green power' their kitchen using solar rays.
The compact V-ZUG combi steam oven is the "beloved workhorse" of the kitchen and, aesthetically, fits well with the scheme of teal-green joinery (influenced by Eucalypt tones), and granite bench tops – selected for their lovely stone-like quality. The induction cooktop, too, integrates seamlessly, flush-mounted into the benchtop. The perfect integration of architecture and appliance.
Together these communal living spaces create a sense of family retreat, with the kitchen dwelling at their very centre. "The house is like a getaway, allowing us to get through the daily grind in the most beautiful and warm spaces," says Oanh. "As our home, it allows us to connect with each other and the natural environment in the most privileged way."
Taking this one step further, Oanh and family have also fit out their laundry zone with V-ZUG, whose laundry appliances are the most energy-efficient on the market thanks to an innovative heat pump feature. A full-circle approach to living comfortably and in the most sustainable manner possible. As Oanh comments: "This is our forever home and we couldn't be happier with the fundamental choices we have made."
Clare Cousins Architects
clarecousins.com.au
V-ZUG
vzug.com
Photography by Tess Kelly
We think you might also like Ruskin Elwood by Fieldwork Architects and HIP V. HYPE
Tags: Alice Blackwood, Clare Cousins, sustainable house design, Vzug
---