Above: Locals couldn't quite determine what was being erected on the Kew site.
Neither a house nor a museum, this is a 'housemuseum' in Kew, Melbourne, with elements of both. Some of Australia's most significant contemporary artists, including Howard Arkley, Patricia Piccinini, Tim Maguire, Callum Morton and Brook Andrew are displayed in the home of architect, Corbett Lyon – a home he shares with his wife, Yueji, and their two teenage daughters, Carlin and Jaqlin.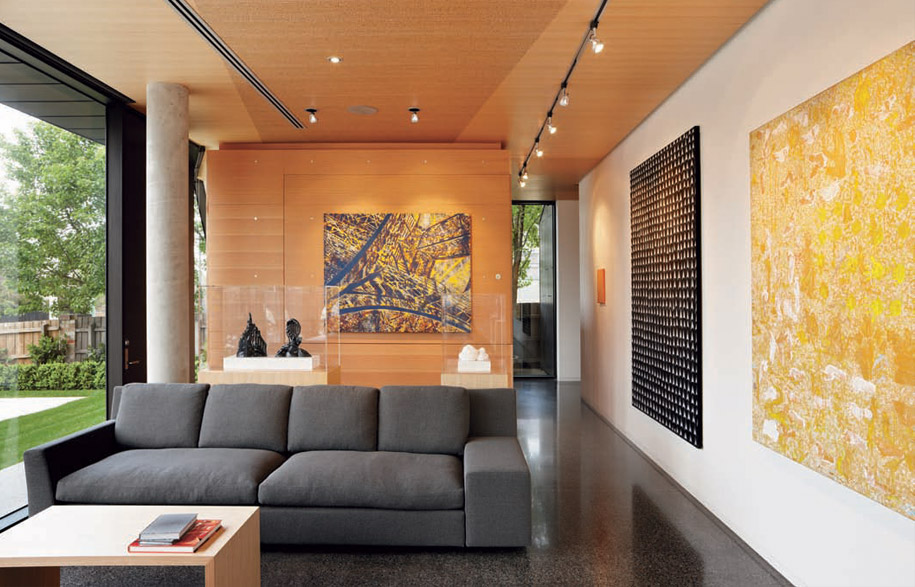 The lines are blurred, with the formal lounge forming part of the gallery.
Collecting since the late 1980s, Lyon was looking for a place to display and share his art with the public. Mindful of the need for accessibility to the housemuseum, Lyon was enticed by this prominent corner site on the 109 tram route. Lyon's first domestic design (and initial drawings) were knocked back by council. "Our first scheme was essentially a museum with a small portion set aside for living on the first floor. But given it's a residential area, we were asked to considerably expand the domestic component within the building," says Lyon, who is one of five directors of the prominent Melbourne architectural practice, Lyons.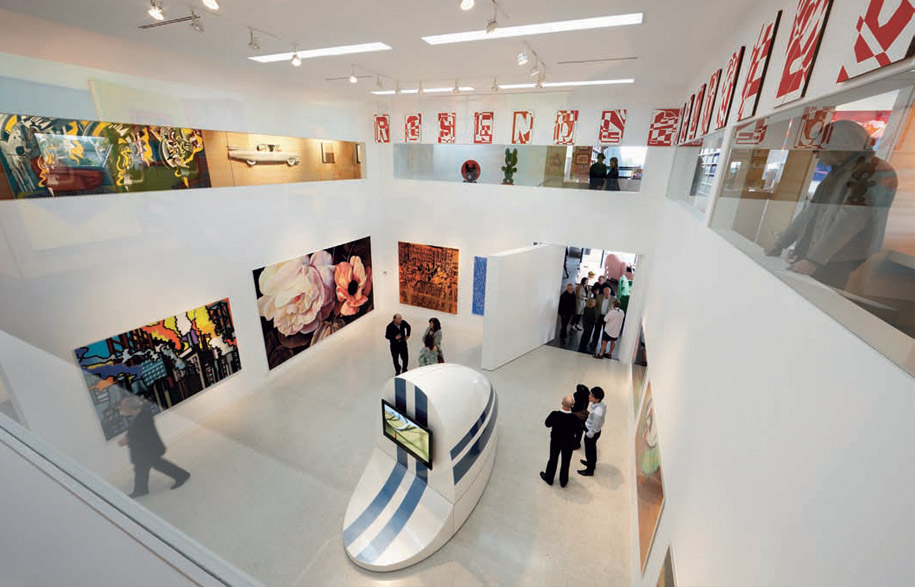 A dramatic void can be appreciated from two levels.
As the zinc-clad building took shape, neighbours approached the builders. "Some people wanted to know when the penthouse was coming on to the market, thinking they was apartments. Others thought it was a factory or warehouse. There was even the idea of squash courts," says Lyon. He is used to his architecture, as well as the contemporary art he collects, being questioned saying, "We've always been attracted to unconventional ideas, whatever the artistic field".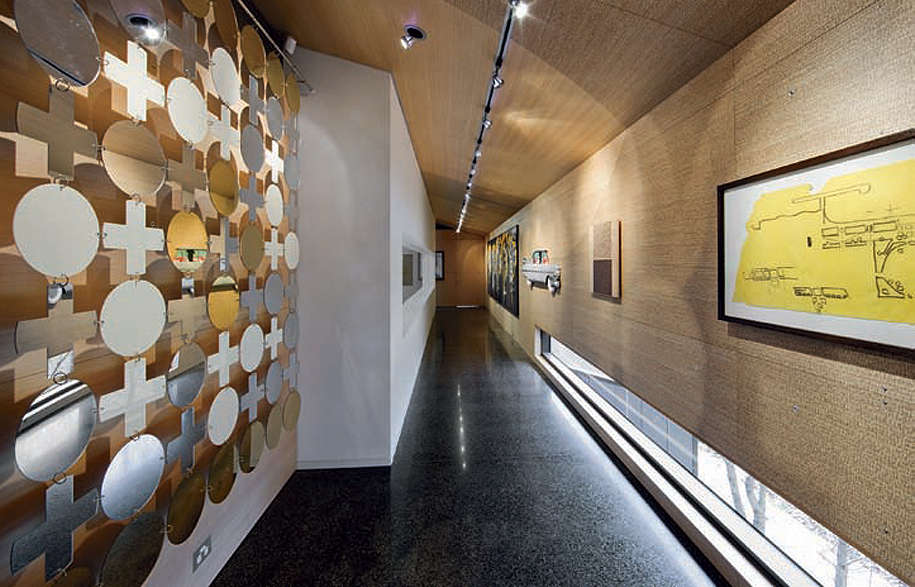 The passage leading to the bedrooms is lined with paintings and installations.
While the building includes the traditional hallmarks of a house, such as a front door, the entrance contains elements more akin to that of a gallery or museum. A dramatic staircase with cantilevered balustrade also functions as a reception desk. A built-in bench provides a place to wait before a tour commences. And a set of flush timber doors open to reveal empty shelves, "designed specifically for schoolbags," says Lyon. Juxtaposed to these functional forms are domestic features. The folded plywood ceiling, for example, features text conceived by the family. It includes words from people who have made an impact on them, scores of music and simple recipes. "It's quite a baroque idea to reclaim the ceiling," says Lyon.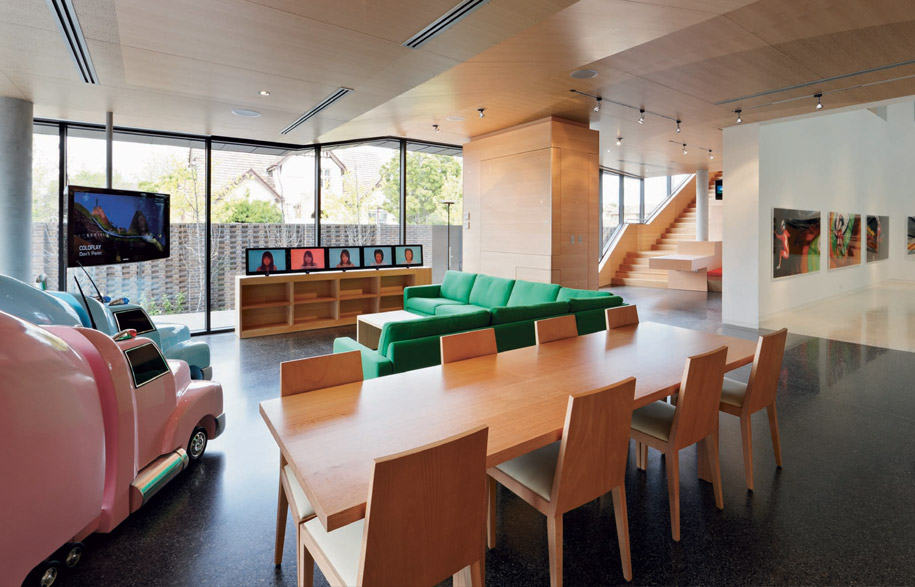 The dining and informal living area share space with Patricia Piccinini's 'Baby Trucks'.
The kitchen and family room also blur the distinction between home and museum. While there are comfortable lounges and a television set, there are also two of Patricia Piccinini's earliest works, 'Truck Babies', one powder blue, the other pink. "These [1999] pieces were quite radical at the time. They are Piccinini's interpretation of what a baby truck might be," says Lyon who, like the artist, appreciates the way materials are used and technology explored.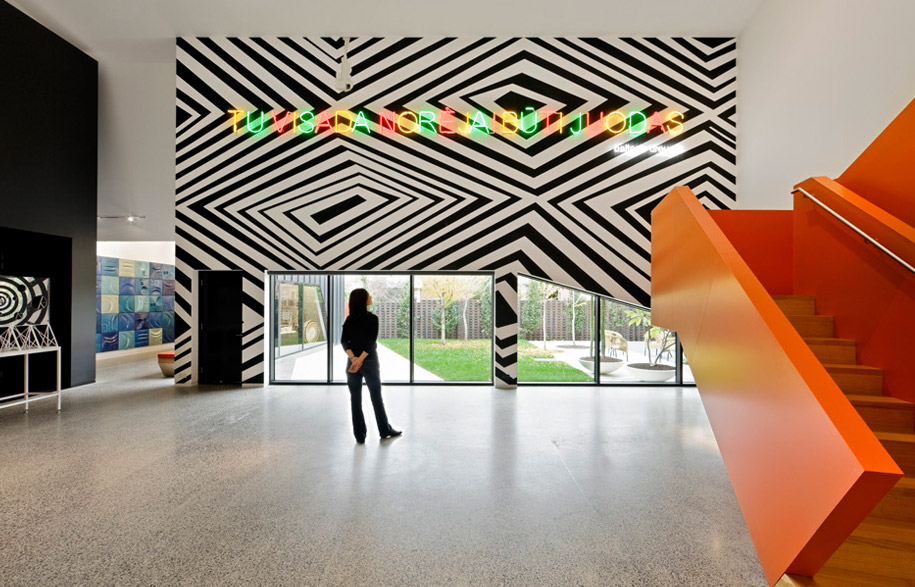 A Brook Andrew installation animates one of the gallery spaces.
Although 'Truck Babies' takes centre stage in the informal living area, there are the usual domestic elements as well, such as a galley-style kitchen to one side. Featuring stainless steel benchtops and timber joinery, the kitchen is purposely recessive. "When we hold functions [once a month]," says Lyon, "the kitchen takes on a more museum-like role."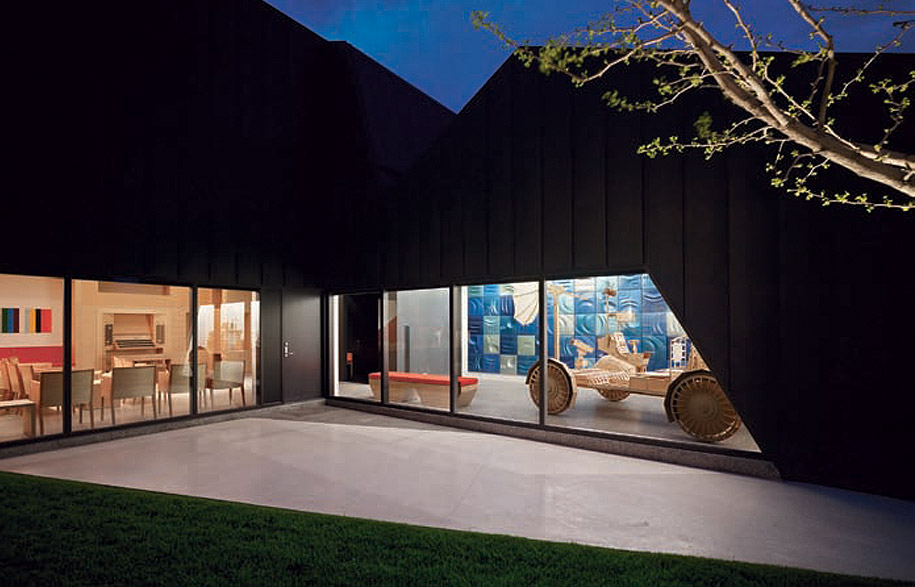 Peter Hennessey's 'My Lunar Rover' is visible from outside.
Lyon designed the spaces in the housemuseum in a hierarchical manner. There are the privates spaces, such as the three bedrooms (including the main bedroom) upstairs. This zone also includes a 'quiet' library, without a television set. The middle tier of spaces is a combination of private and public spaces: the kitchen and informal living areas. And then there are the public spaces, one of which is referred to by Lyon as the 'white box', a cube in the centre of the building with a dramatic seven metre-high ceiling. Featuring artists such as Tim Maguire, Louise Forthun and Patricia Piccinini, as well as Howard Arkley, it is a space that allows the dimensions of the housemuseum to be fully appreciated. "The 'black box' [a separate space currently dedicated to Piccinini's work] and the 'white box' create the two anchoring points in the design. It is not unlike the idea of [architect] Robin Boyd's courtyards. But this is an internal landscape," says Lyon.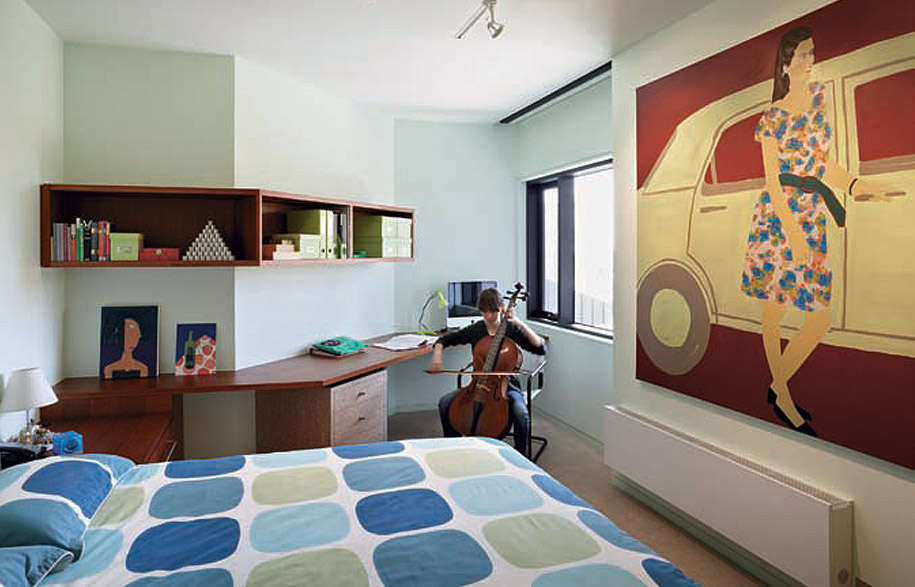 Even the childrens' bedrooms are filled with art.
Other artists in the collection have been literally 'carved' into the building. Callum Morton's 'Habitat' has its own nook along one passage. And the late Howard Arkley's iconic paintings occupy what could also be interpreted as the home's formal lounge.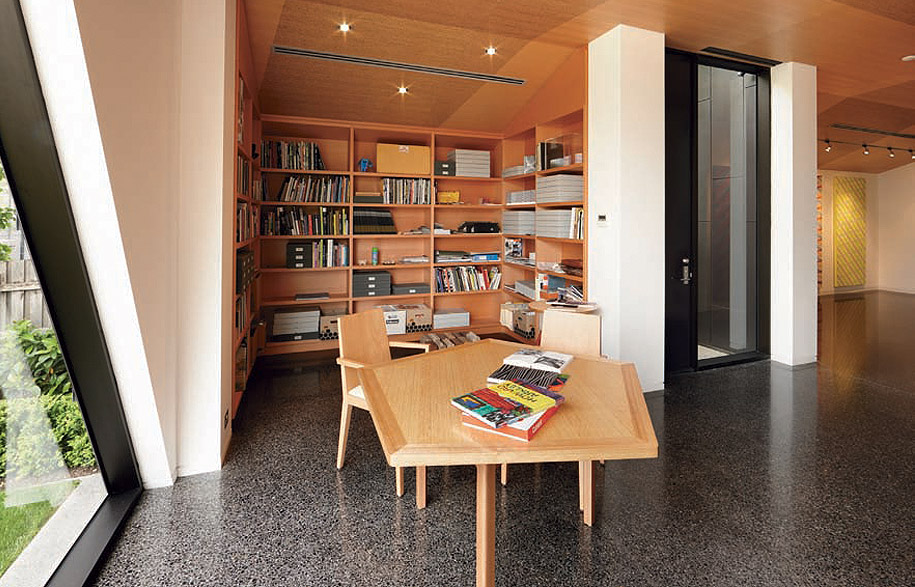 The library includes material on artists featured in the housemuseum.
The dining area on the first floor is a case of art driving architecture. Arkley's 'Fabricated Rooms', comprising 17 panels (the artist's last major work and shown at Venice Biennale in 1999) fits precisely into the elongated space. "Most people would locate a dining area next to a kitchen, but we have a dumb waiter to take up the meals. How often do you get to dine completely surrounded by Howard Arkley?" asks Lyon, who consulted with Arkley's partner, Alison Burton, on this installation.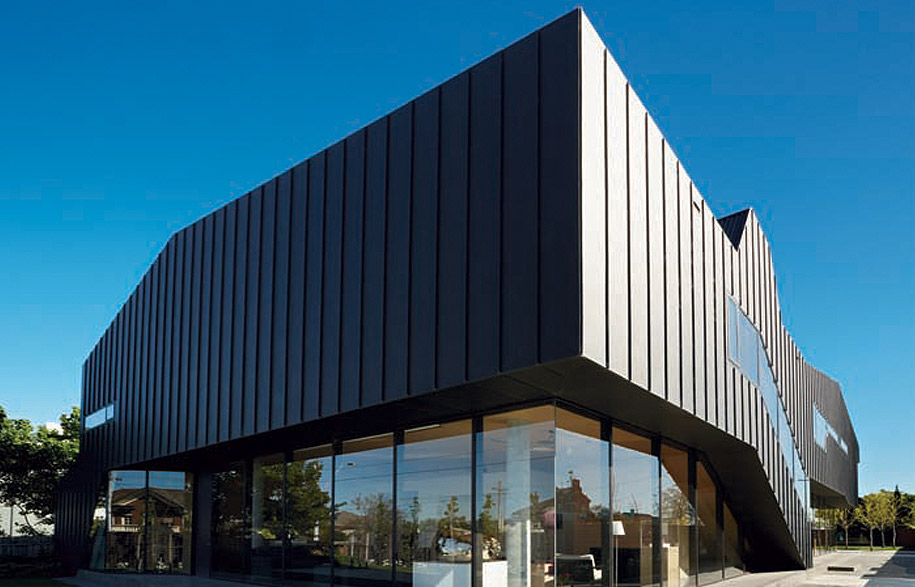 Views of the courtyards and outdoor sculptures are maximised throughout.
While the focus is on paintings and sculpture (including a wonderful Chris Langton in the front courtyard), the central music room space has been set up for organ music, with the organ designed by Lyon himself. "We also intend to hold music concerts," says Lyon. Those fortunate to attend recitals, will be mesmerised by Brook Andrew's striped wall installation 'YOU'VE ALWAYS WANTED TO BE BLACK (white friend)', as well as Peter Hennessey's 'My Lunar Rover', parked nearby.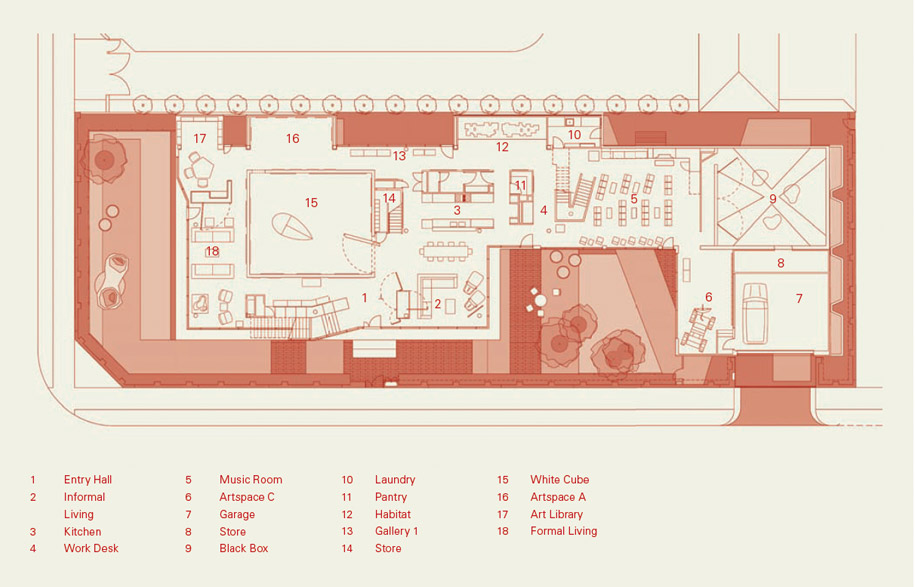 Ground floor plans
Living with art on this scale is unusual. Peggy Guggenheim's home in Venice is one example. Closer to home is the Heide Museum of Modern Art in Bulleen, Melbourne, a gallery/home designed for art patrons, John and Sunday Reed. While the art collections and architecture of the Lyon housemuseum are vastly different, there is a similar philosophical approach. As Lyon says: "There are those who treat art like 'trophy hunters' [kept locked up for only the owner to admire]. Then there are the 'investors'. The third group, are people like us, 'custodians', sharing art with the public. Like architecture, we feel it's important to be able to see art in the right context."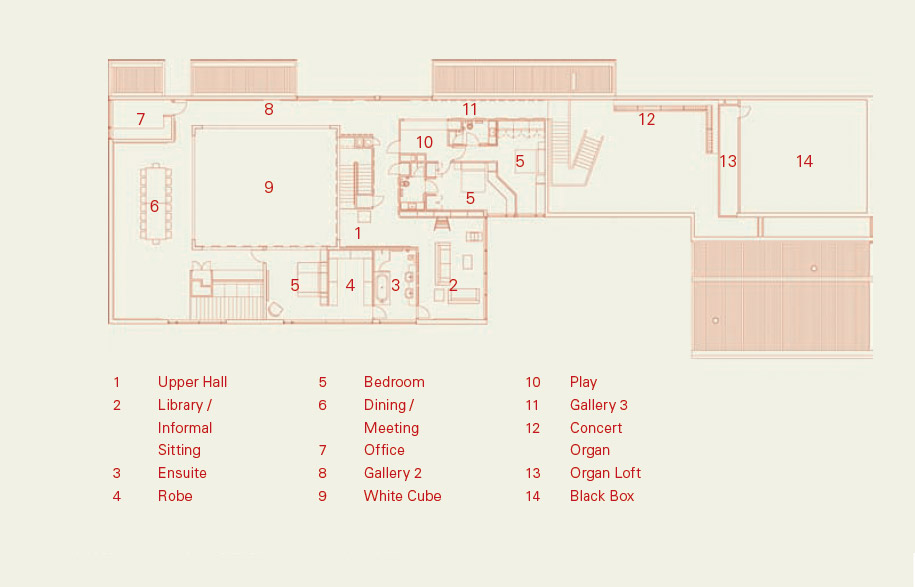 First floor plans
Photography: Dianna Snape
diannasnape.com.au
Details regarding tours, events and concerts at the housemuseum can be found at lyonhousemuseum.com.au
Architect:
Lyons Builder LBA
Construction Structural and Civil Engineer:
Bonacci
Acoustic Engineer:
Marshall Day
Electrical Consultant:
Umo Lai
Hydraulic Engineer:
Rimmington & Associates
Landscape:
Lyons Town Planning
Consultants:
Urbis
Cost Consultant:
Slattery Australia
IT /AudioVisual Consultant:
Urban Intelligence
Total Floor Area:
1,058m2
ARTWORK
Living Truck Babies, 2001 and Big Sisters Video, 1999, both by Patricia Piccinini. Sitting centre wall, Eiffel Tower, 1989, Louise Forthun, right hand wall, Sing the Sailors, 1990, Janenne Eaton, and Sitting Bull, 1990, Tim Johnson. Bedroom Spearmint Baby, 1989, Jon Campbell. Music Hall on right hand wall, YOU'VE ALWAYS WANTED TO BE BLACK (white friend), 2006, Brook Andrew. Dining Area Fabricated Rooms, 1998, Howard Arkley. Downstairs Gallery Panel Work, 2000, Patricia Piccinini, and My Lunar Rover (you had to be there), 2005, Peter Hennessey. Hall Original drawing by architect Robert Venturi. White Box at top, Rose Nolan 2000/2001, 2000-2001, Rose Nolan, and from left to right, Shadow Factories, 1990, Howard Arkley, Untitled 99 U20 Diptych, 1999, Tim Maguire, and Orange Building Site, 1990, Louise Forthun.
FURNITURE
Sofas from Space Furniture, spacefurniture.com.au, Siekaup, siekaup.com.au, and Poliform, poliform.com.au. Seating in Music Room and Museum, custom designed by Lyons, manufactured by Xilo, xilo.net. au. Vitrines custom designed by Lyons, manufactured by Xilo.
LIGHTING
Throughout track lighting by ECC, ecc.com.au, and iGuzzini, iguzzini.com. FINISHES Wall panelling printed timber veneer panels custom designed by Lyons, printed by PB Visual, pbvisual.com.au, and fabricated by Mortice & Tenon, morticeandtenon.com. Joinery in Kitchen by Mortice & Tenon, specialist joinery throughout custom designed by Lyons, printed by PB Visual and fabricated by Mortice & Tenon. Floors honed concrete. Carpet in Bedrooms by Velieris, velieris.onlinegalleries.com. au, and in Art Space #2 from Supertuft, supertuft.com.au.
FIXED & FITTED
Pipe organ designed by Corbett Lyon, Rod Junor, Pipeless Pipe Organ Company, pipelesspipeorgan.com. au, Wakely Pipe Organs, pipeorgans.com.au, and manufactured by Xilo.
Tags: Home Architecture, House Architecture, Residential Architecture
---