L Architects believes that most people live in isolation without realising it. "We live apart even though we share the same address," says Lim Shing Hui, the firm's principal architect.
In a recent residential project for a newlywed couple, Shing Hui sought to address this by devising unique ways to remain connected at home while doing one's own thing.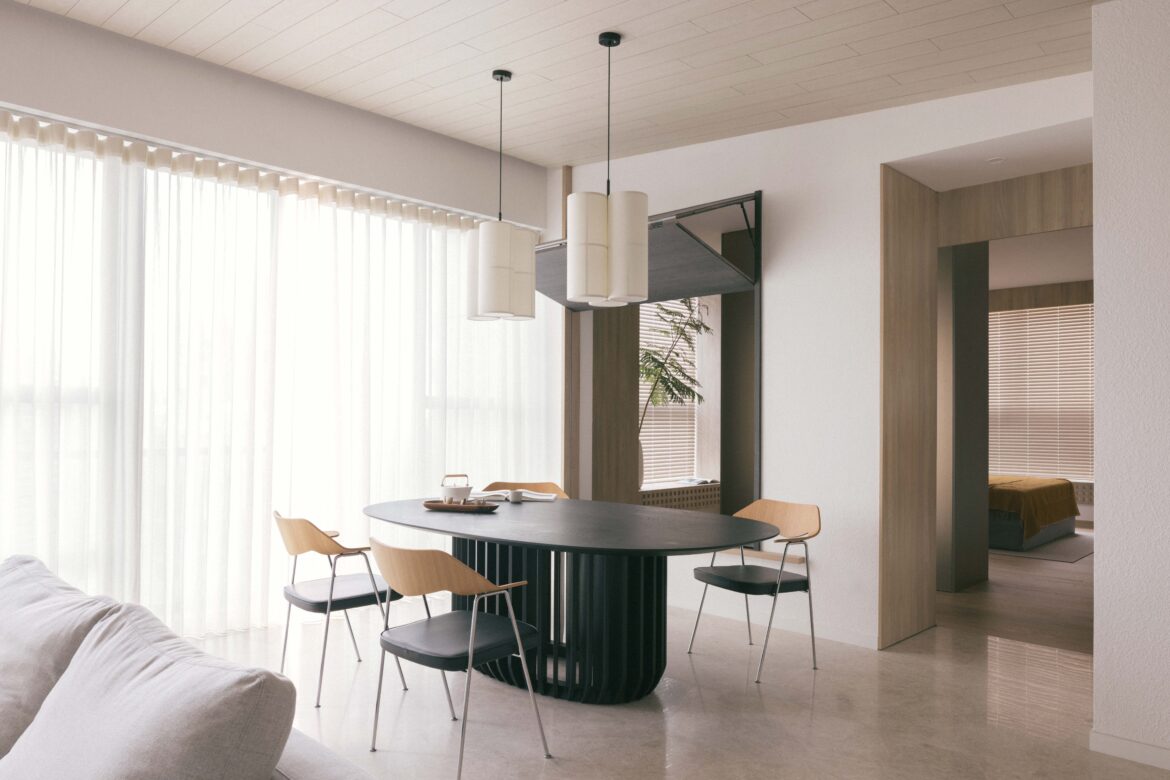 The homeowners who are working professionals in the financial and technology industries had purchased a 154-square-metre (1,658 square foot) four-bedroom condominium with an existing "dumbbell" layout where the living and dining areas were positioned in the middle, flanked by the bedrooms.
As it stood, the apartment possessed an efficient layout for the young couple who planned to have children in the near future. The architect, however, was of the view that the walls would make the home feel too isolating.
The pragmatism of closed doors, while enabling personal spaces, sacrificed connectivity and togetherness, which was not ideal for raising a family. 
"We took on this renovation project to see if we could find a sensible balance between privacy and connectivity, enclosure and openness, and seclusion and integration," says Shing Hui. Apart from the typical approach of open-concept living made possible by hacking non-structural walls, L Architects considered novel methods of expressing connections.
Windows were carved out on the walls dividing the communal spaces and bedrooms, creating meaningful moments of interaction without sacrificing personal privacy – a key requirement in modern-day homes.
"In that sense, no space is shut off completely," Shing Hui explains. Each family member is free to utilise the windows as they wish – to be alone or together with the rest of the family.
Against an interior clad in light oak surfaces, the windows in dark timber veneers highlight their purposeful existence. The position and type of windows were thoughtfully considered, corresponding to the original function of each space.
A case in point, the main bedroom is fitted with a vertical bifold window that opens out to the dining area. Combined with a custom bench, conversations can flow effortlessly between the main bedroom and dining room.
In the future kid's room, a high window opens out to the living room, envisioned as a connection point for the future child sleeping on the top bunk of a double-decker bed.
Injecting a sense of lighthearted playfulness, the entrance foyer is composed of curvy floor tiles and cream-coloured glazed subway wall tiles that lend an organic, handmade quality to an interior that is predominantly decked in matte finishes.
The bathroom features homogeneous grey tiles and perforated timber wall panels that the homeowners can decorate with plants and other small accessories. The tapered ceiling in the living and dining room enhances the 21st-storey skyline view.
In this calming environment, the use of windows lends fluidity and openness, rendering the inhabitants less isolated at home.
Project details
Architecture and interiors – L Architects
Photography and video – Finbarr Fallon
We think you may also like this minimalist apartment with a central element
---