Officially reopened on the sixth of September, the refurbished Zense Gourmet Deck and Lounge Panorama, designed by Department of ARCHITECTURE, is located on level 17 of Bangkok's Central World shopping complex. For a complete experience of the venue's impact, it is best to use the glass elevators located to the front of reception only when leaving, and instead arrive at the restaurant from the shopping centre's conventional elevators. The transition from a bustling shopping complex to tranquillity is achieved via a long corridor with full-height windows on one side, and on the other a wave of white painted metal sheet reminiscent of fabric accordion pleats.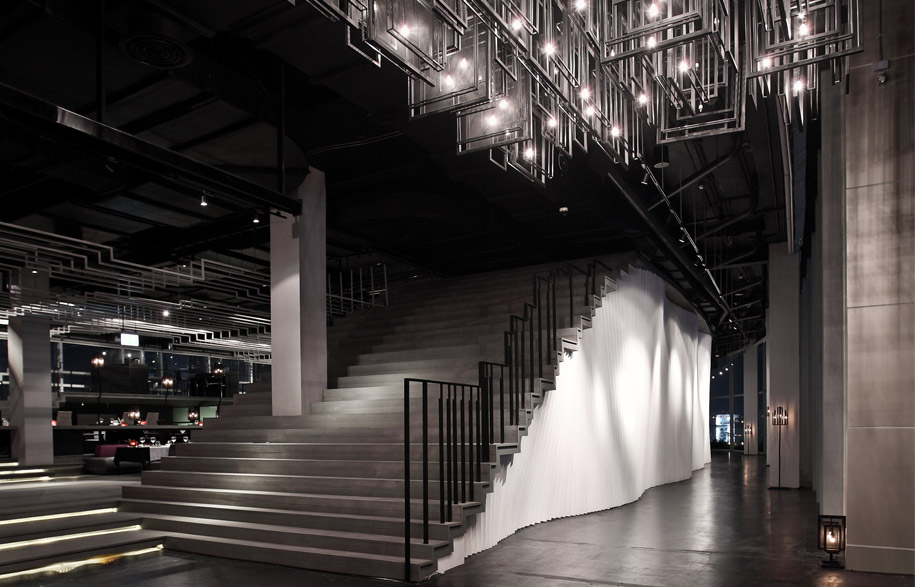 The interior and the outdoor area playfully explore the fusion of four design disciplines (fashion design, interior design, landscape, and architecture) into the spatial design, with the abstraction of fabric pleating techniques consistently applied throughout interior components.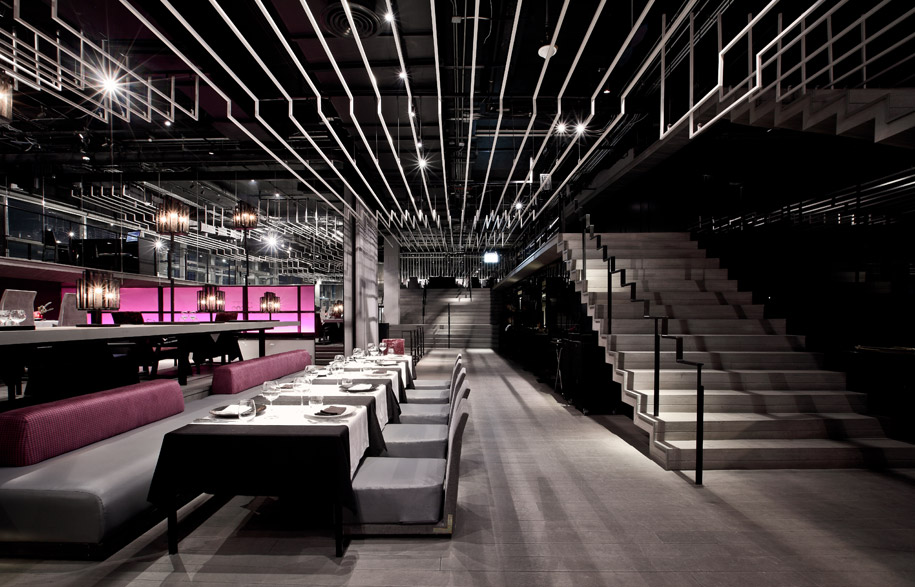 The aesthetic of the space is centred around the floating ceiling plane of angular steel tubes. These simultaneously crop the skyline beyond to create a curated visual experience, and obscure the exposed service pipes above them. Amata Luphaiboon, principal of the firm, comments that "this restaurant is neither the tallest nor best view when compared with the other roof-top dining venues in the city, that is why we need to manipulate the existing skyline scene by fabricating a new view via the abstraction from fabric pleating to be the foreground for the cityscape. This also works well to reflect the identity of the building owner in clothing and fashion design".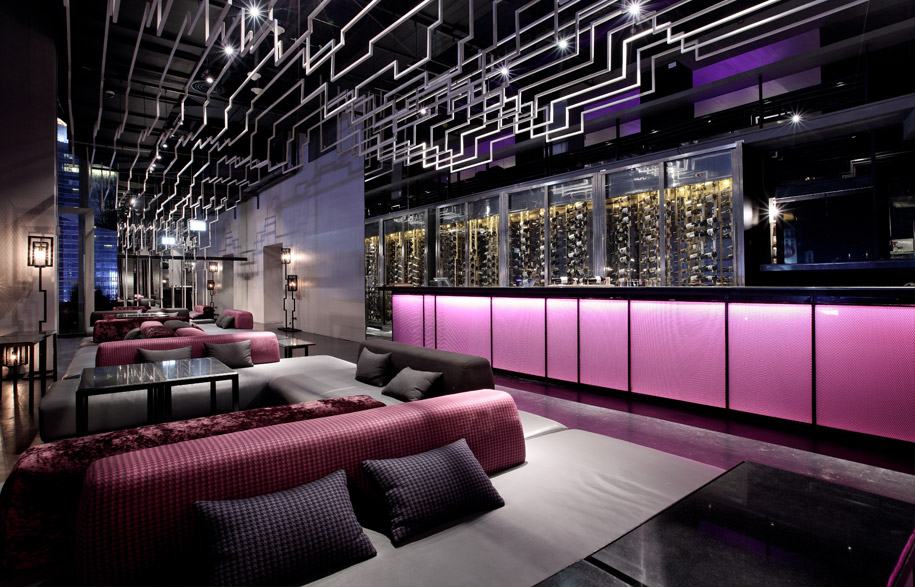 The choice of a classic duotone Hound's-tooth weaving pattern for the chairs further sustains this connection with fashion design, with the same pattern imprinted on the outdoor stone table top. The textile theme is further sustained by the layers of patterned and translucent partitions in restrooms, inspired by lace fabric.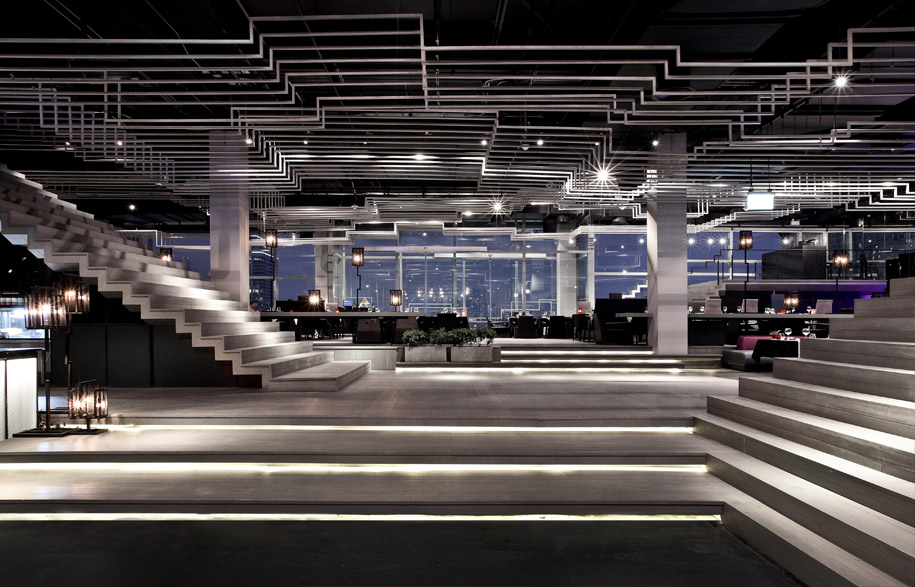 With the exception of Bangkok's historical buildings, the panoramic view of the city's skyline is minimal and diluted, lacking a defining urban landmark or dramatic natural setting. Thus Zense has sought to change the Bangkok skyline by its own design articulation, emanating from its interior, and has manufactured a new skyline experience for the diners.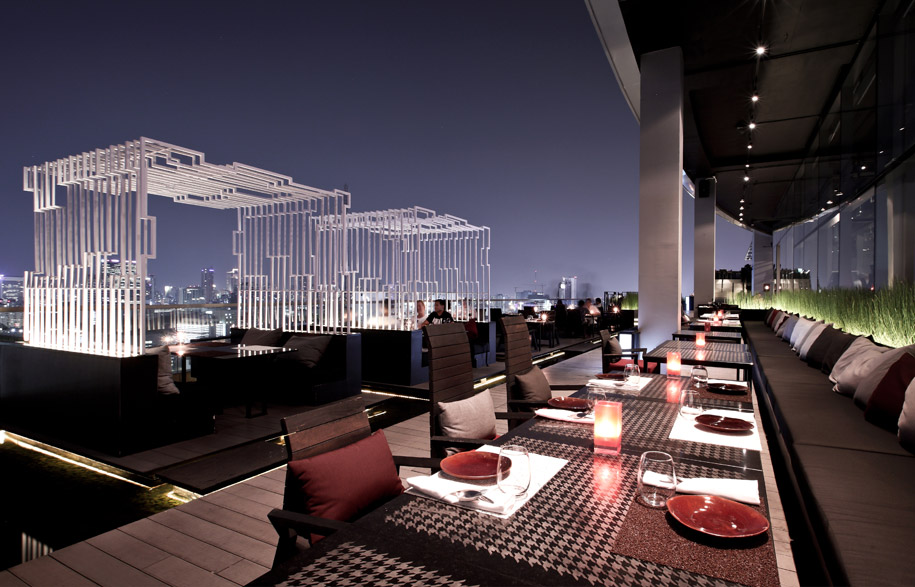 Zense Gourmet Deck & Lounge Panorama
zensebangkok.com
Department of ARCHITECTURE
departmentofarchitecture.co.th
Photography courtesy of Department of ARCHITECTURE, by: Ketsiree Wongwan
Tags: Department of ARCHITECTURE, Interior Architecture, Interior Design, Zense Gourmet Deck & Lounge Panorama
---