Situated on 20 acres of environmentally distinctive land surround by water, the Boat Shed is a spectacular riverfront building surrounded by water views. The house itself features one bedroom, a generous living area upstairs, a 250m2 carport and entertaining area, and boat port downstairs, with an abundance of natural light elevating the interior.
The builder Prior Builders and window and door fabricator KR Installations worked closely with the homeowner to realise the vision for the Boat Shed, which was to maximise the surrounding views and bring the environment's natural beauty into the home. To achieve this, the design of the home focuses on glazing with large, expansive windows and glazed roof section sourced from Schüco's range of advanced window systems.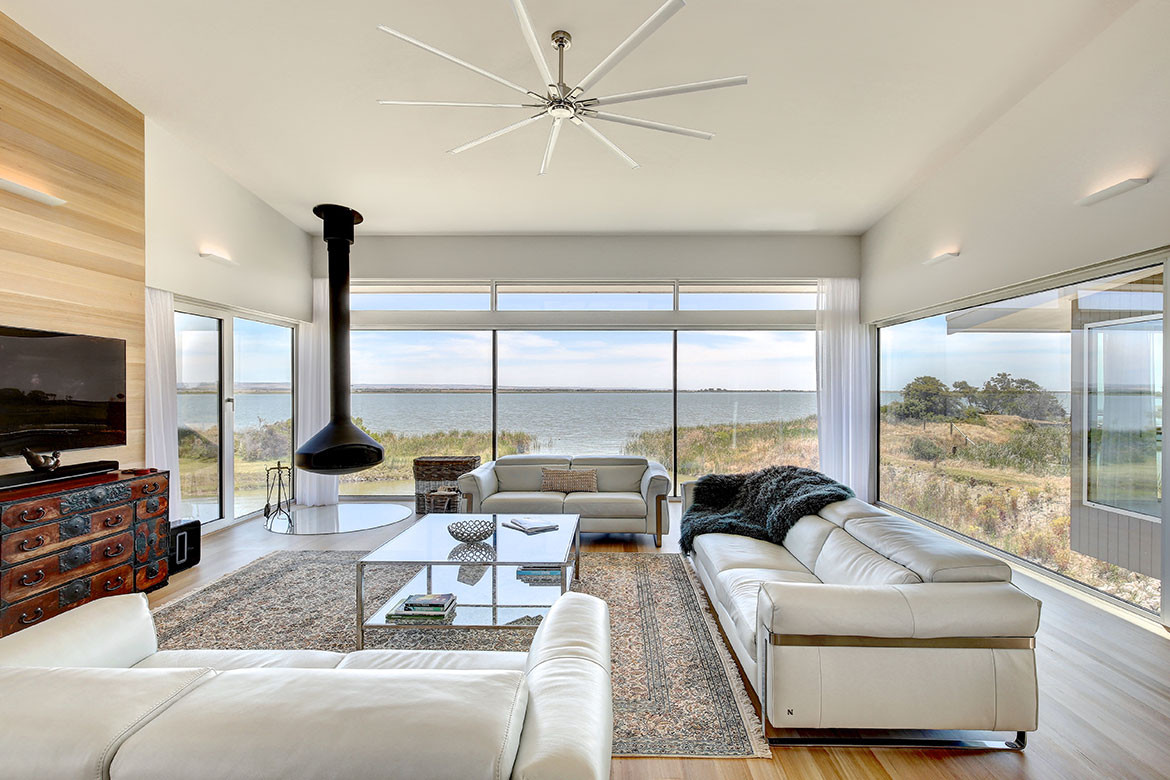 Proudly distributed in Australia by Capral Aluminium, Schüco is a renowned International brand that produces innovative window, door and facade systems that are made in harmony with the environment. Featured in this project are Schüco ASS 39 PD.NI, an aluminium sliding door designed to maximise panoramic views by concealing both the outer frame and sliding sashes into the building structure; and Schüco AWS 65, a thermally-insulated window system that is used in fixed, awning and tilt and turn styles throughout the home.
The large expanse of roof glazing situated at the house's central point took full advantage of Schüco's unique capacities. The sheer size of the window panels required care and ingenuity during installation. While most double-glazed systems available in Australia allow for glass up to 25–28mm thick, Schüco supports double glazing, at a hefty 42mm (12mm internal and 10mm external, with a 20mm argon gap). With the panels reaching 450kg, cranes, manoeuvring devices and specialised trolleys were used to move the large window panels through a challenging waterfront building site.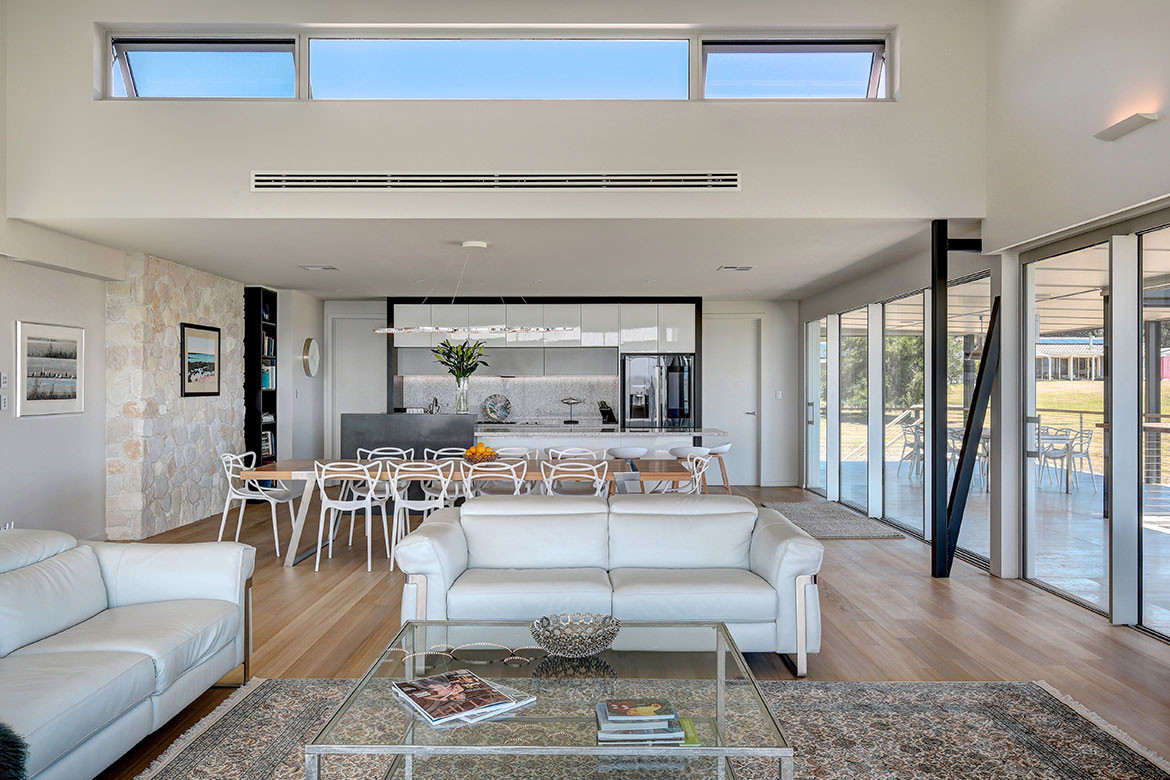 Fortunately, Schüco's internally glazed system proved advantageous as it allowed the fabricator to glaze internally. This overcame the logistical challenge of installing glazing from the outside on windows that overhang water. On a site continually buffeted by high winds, this rock-solid window system enabled the fabricator to achieve a seamless result from inside to outside, and provides residents with a feeling of safety.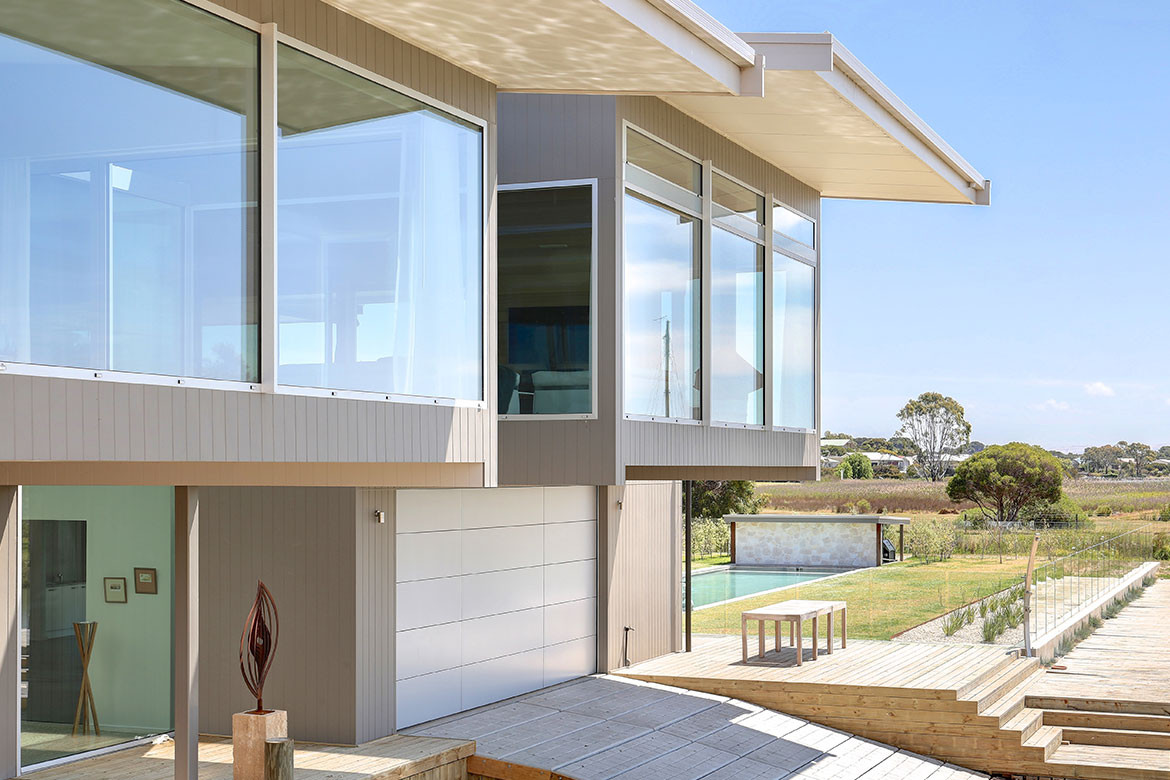 Meeting the tight energy requirements with such large expanses of glass in such a small house was another challenge faced by the project team. Schüco are known for extremely high-performance products that excel in watertightness and thermal efficiency. The Schüco AWS 65 windows used in this project are thermally broken with a very low air infiltration rate, which means they leak less air and insulate the home more effectively, without sacrificing aesthetics or design.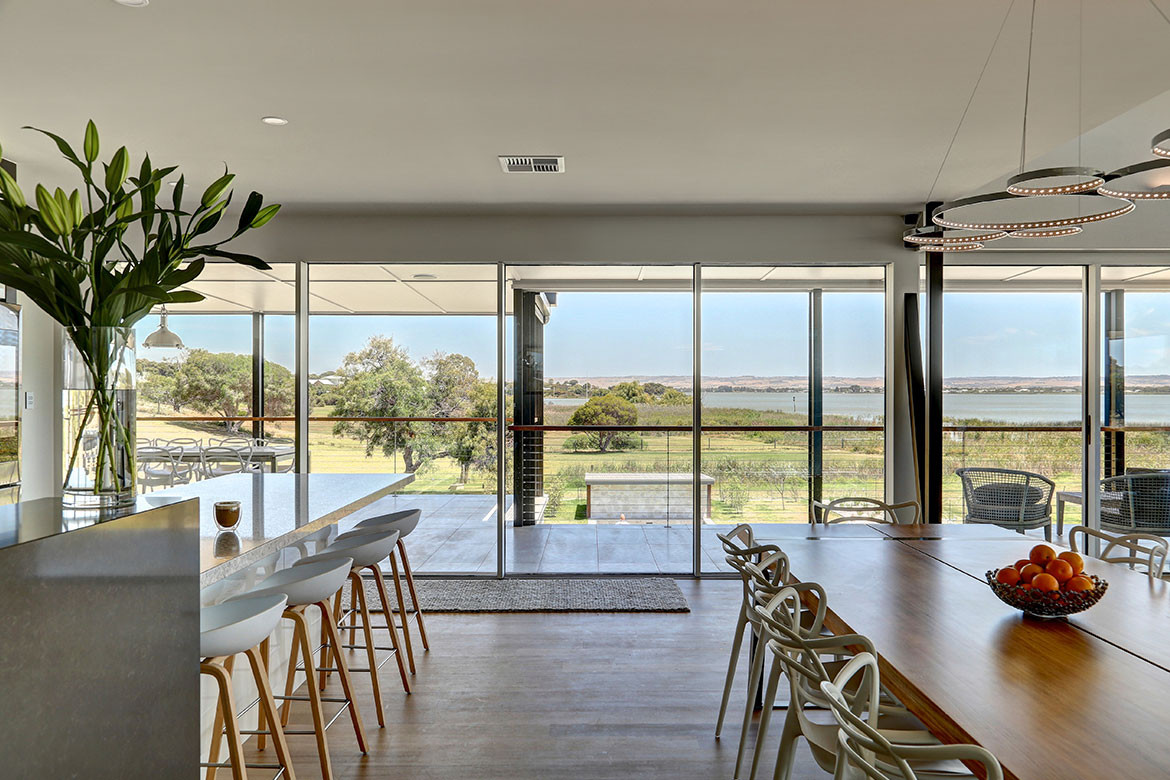 Working on a waterfront property can be demanding, but Schüco was the clear choice for an unforgiving natural environment of genuine beauty. The large expanse of Schüco windows show off the home's breathtaking views, while the product's unique capabilities made a challenging build possible.
Schüco
---