Located along Haig Road, this old HDB flat boosts an unblocked view of the east side, partially looking out to Marine Parade where the homeowner grew up. When Artistroom took over the renovation of the unit, their first instinct was to frame this meaningful view by retaining the balcony, which also brings an abundance of light into the house.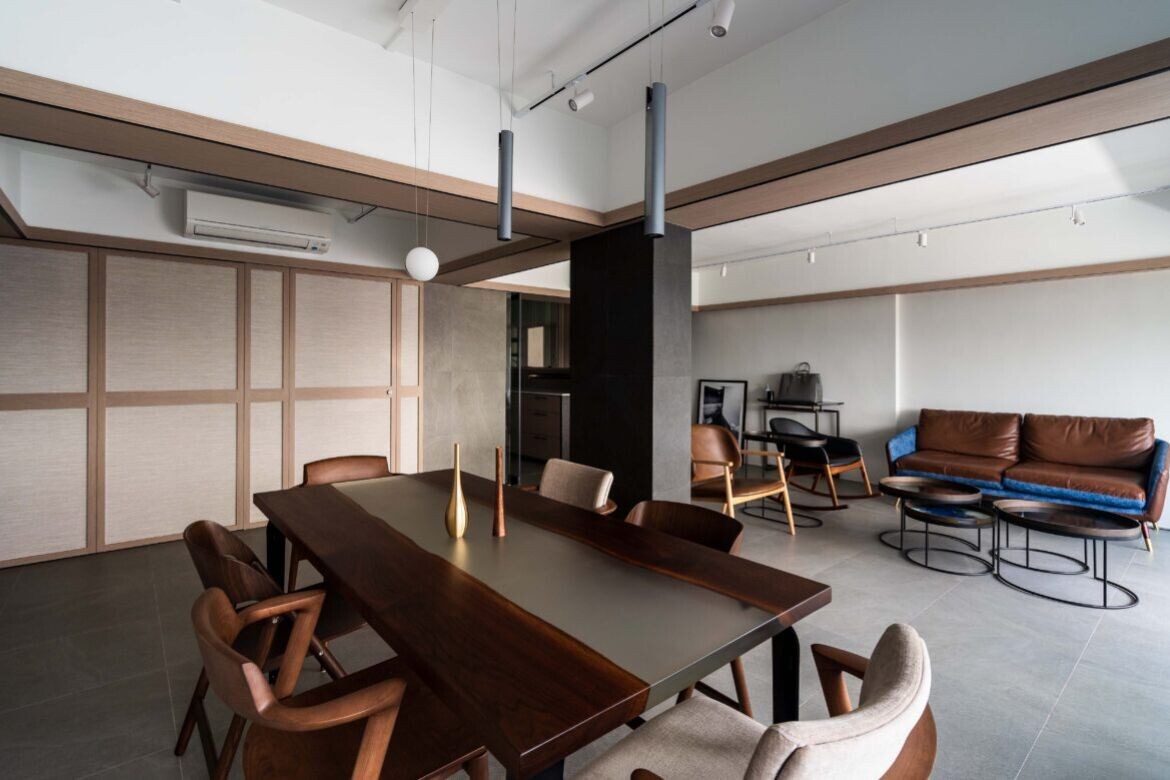 Apart from the balcony and main bedroom, everything else was reconfigured to fit the homeowner's lifestyle. Despite being a four-room flat, this 30-year-old property possesses a sprawling 140-square-metre (1,500-square-feet) floor plate with a squarish layout, creating an ideal base for the homeowner's enjoyment of art, music, tea and hosting.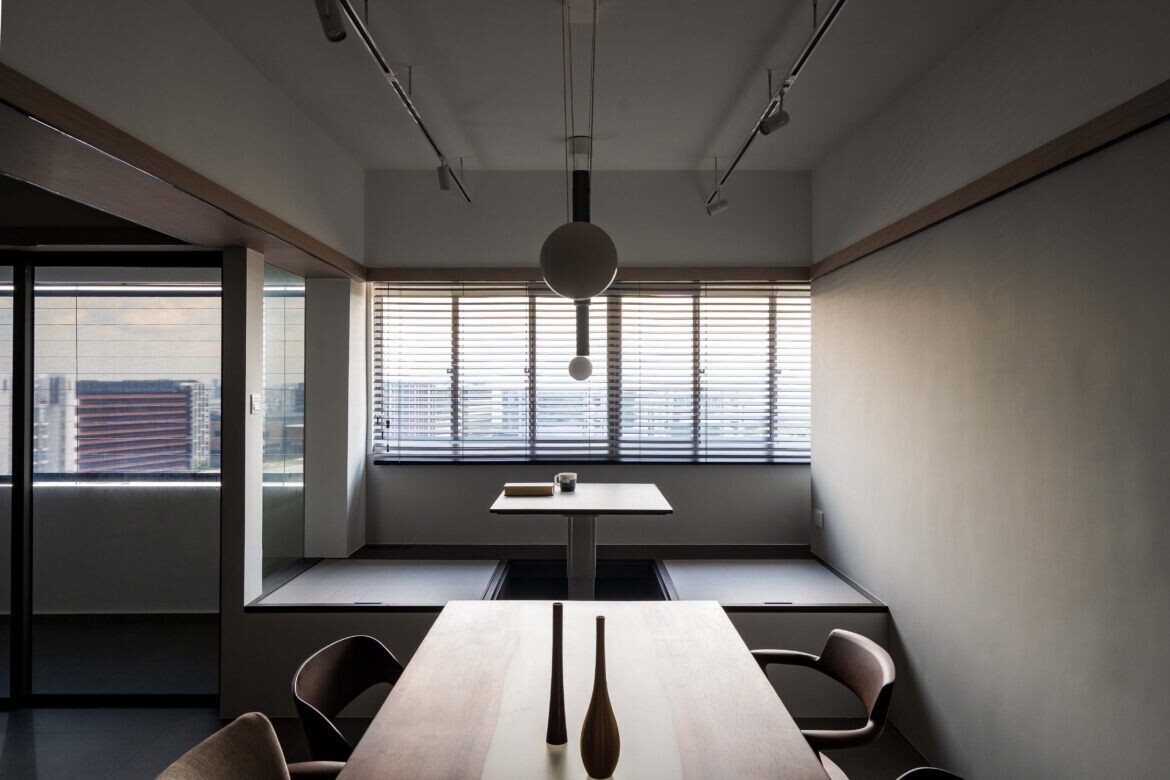 With the non-structural walls removed, an open living space has been created to host guests comfortably. Storage spaces are concealed at the periphery, freeing up floor space. As this home is only lived in by the owner and his mother, the redundant third bedroom has been gutted to make way for a spacious dining zone with an additional tea nook by the window. This enables moments of respite where the homeowner can quietly enjoy tea while reading a book. Doubling up as platform storage, the elevated tea table can also be stowed away when not in use.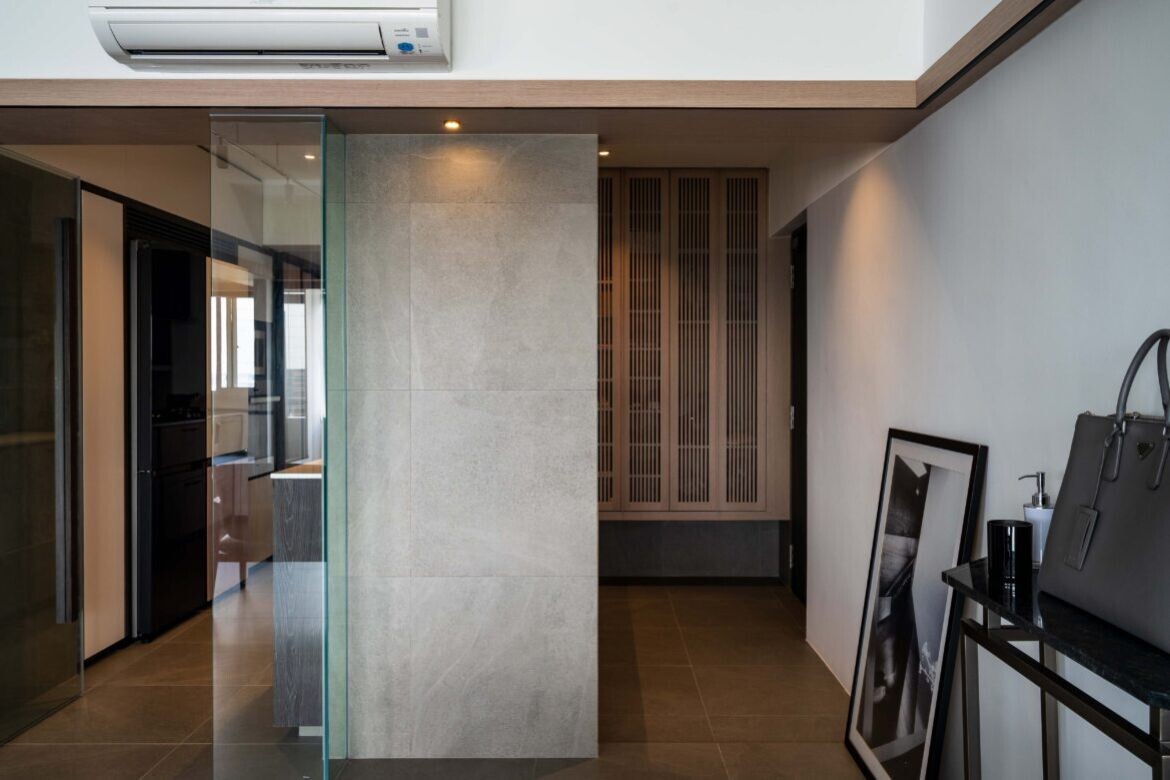 The unique aesthetic of the home was borne of the homeowner's penchant for two contrasting styles: a clean, zen Japanese aesthetic and dark, gothic interiors. Referencing the owner's unique taste, Artistroom opted for a base of dark grey, stone-look tiles with dark walnut and oak veneer cabinetry, and rattan-inspired wallpaper, which layers the entire flat with warmth.
Glass dividers further enhance the overall transparency in this zen dwelling and allow light to flow from one space to another.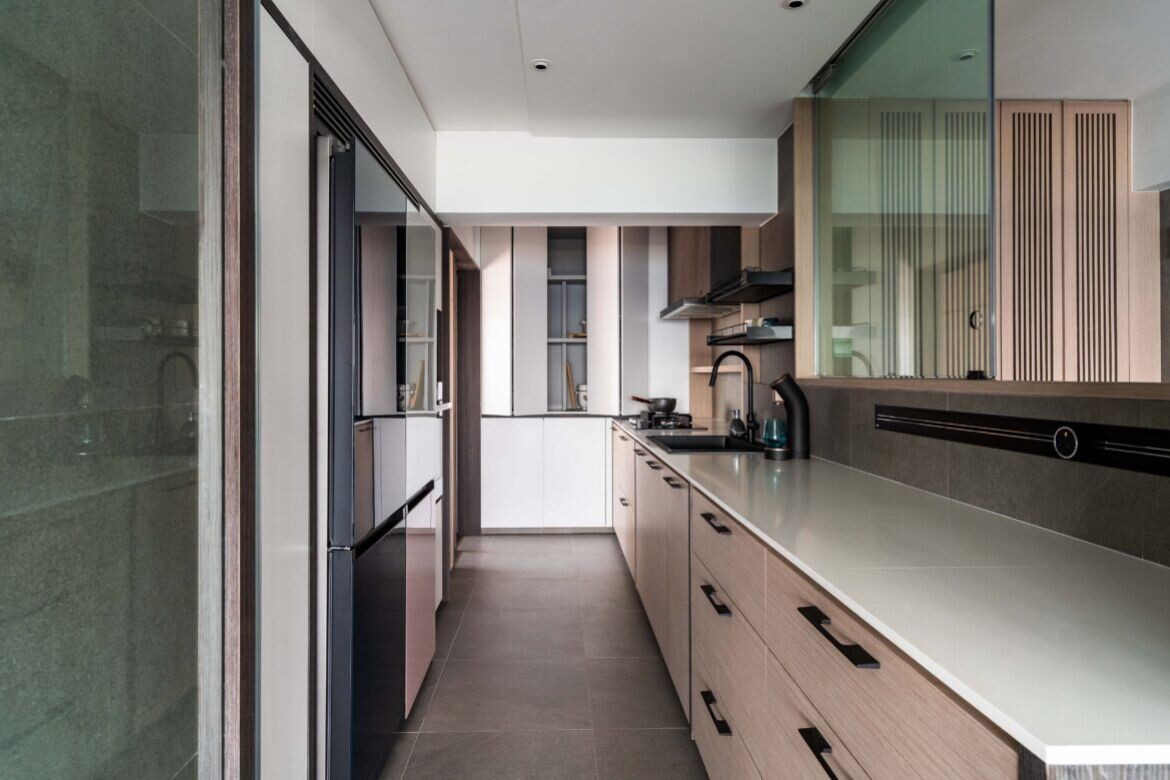 As the homeowner, a civil servant, often works from home, a separate study zone was carved out within his bedroom with a door to separate work and rest. The main bedroom, occupied by his mother, features a television, a massage chair and a spacious wardrobe.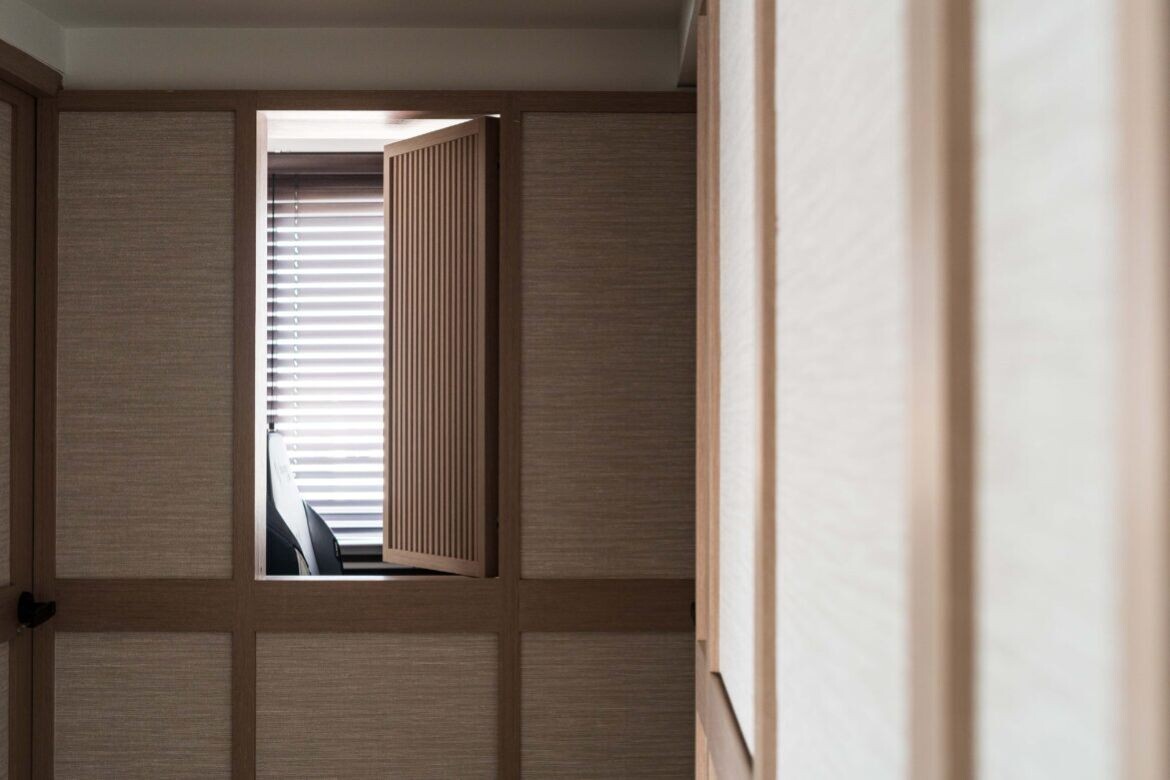 One challenge faced by the design team was having to work with inconsistent beams, columns and ceiling heights that often come with older HDB flats. The low ceiling height meant that recessed lighting was not an option, so they played with the beams around the unit, turning them into lighting features. Other light sources include suspended tracks and illuminated artworks.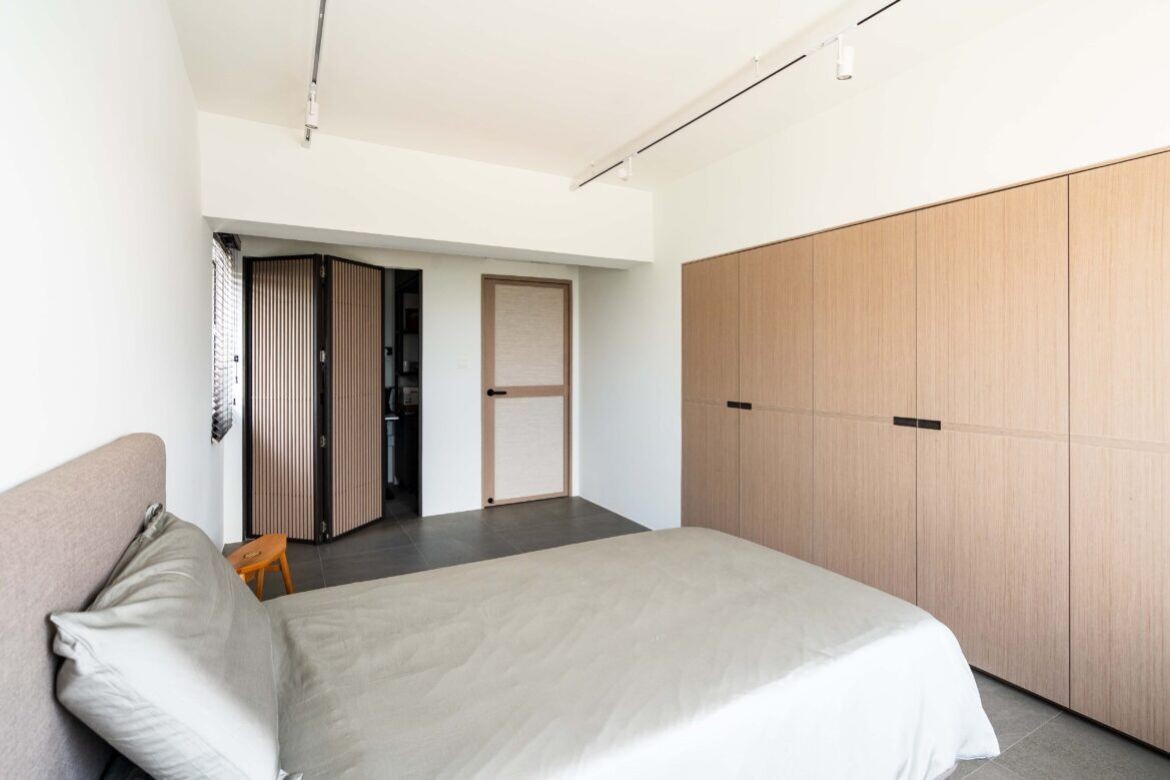 According to the designer, the furniture pieces were handpicked by the artistic homeowner, completing the zen home with a personal touch.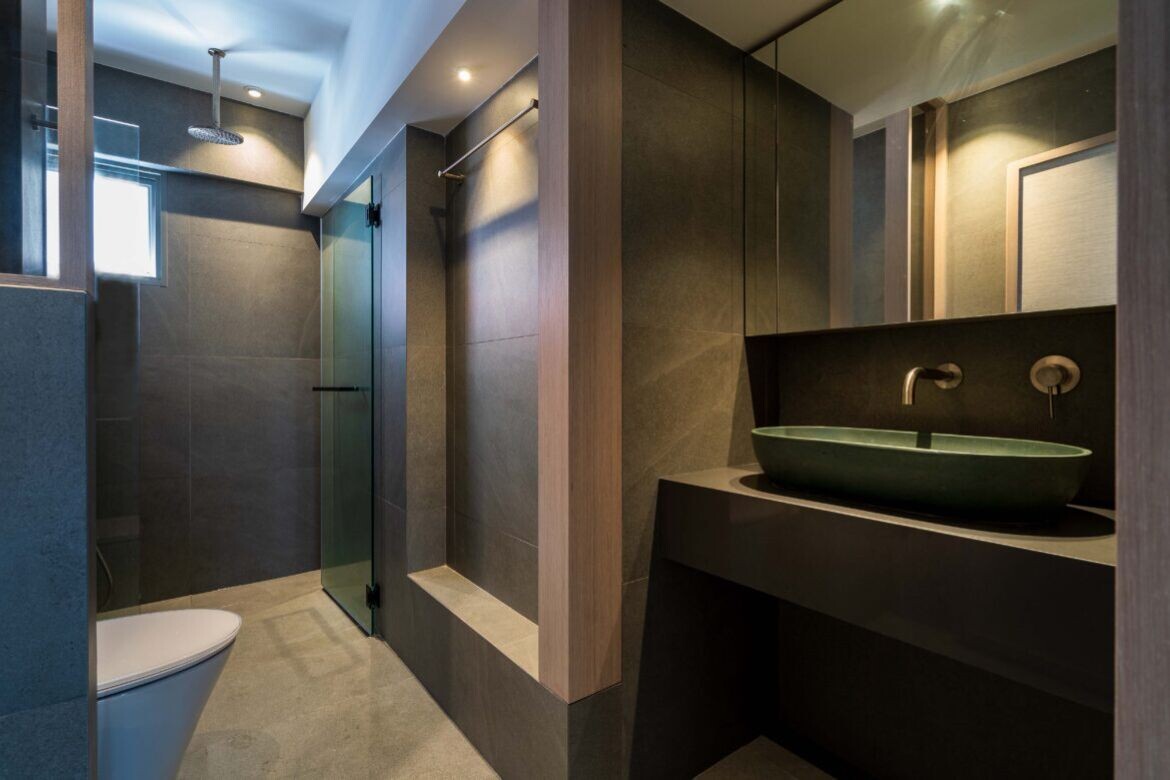 Project details
Interior design – Artistroom
Photography – Courtesy Artistroom
We think you might like this sculptural apartment, in Hong Kong, expertly crafted by Bean Buro
---