Above: Nick (left) and John (right) in front of the 10 year anniversary collection.
Denim lovers are an obsessive bunch and John Condilis, 42, and brother Nick, 40, are no exception. John recalls the pair 'tagging' other kids at school for the iconic leather labels on the back of their Lee jeans, shrinking them in the oven and punching holes in one corner to turn them into key rings (a strangely popular pastime in suburban Melbourne in the 1970s). As teenagers the Condilis brothers spent hours designing back pocket signatures for imaginary denim labels. The lads learned the intricacies of handling and manipulating denim early on while helping out their dad, Jim, in a denim laundry he managed for former client, Dachet Jeans. When Jim decided to open his own denim laundry in 1992 it seemed inevitable his sons would join him. At the time, John was working as an engineer with a global hydraulics company, but says he knew the profession wasn't for him.
In the halcyon days of the early 1990s the Condilis laundry worked with a who's who of Australian denim manufacturers, gained experience with a phenomenal range of fabrics, styles, cuts, wash effects and detailing, and built up a staff of 50. But the coming of freetrade agreements meant the whittling away of tariff protection. By decade's end, with growing numbers of clients taking their business offshore, the boys saw the writing on the wall for the laundry and decided to try their hand at design.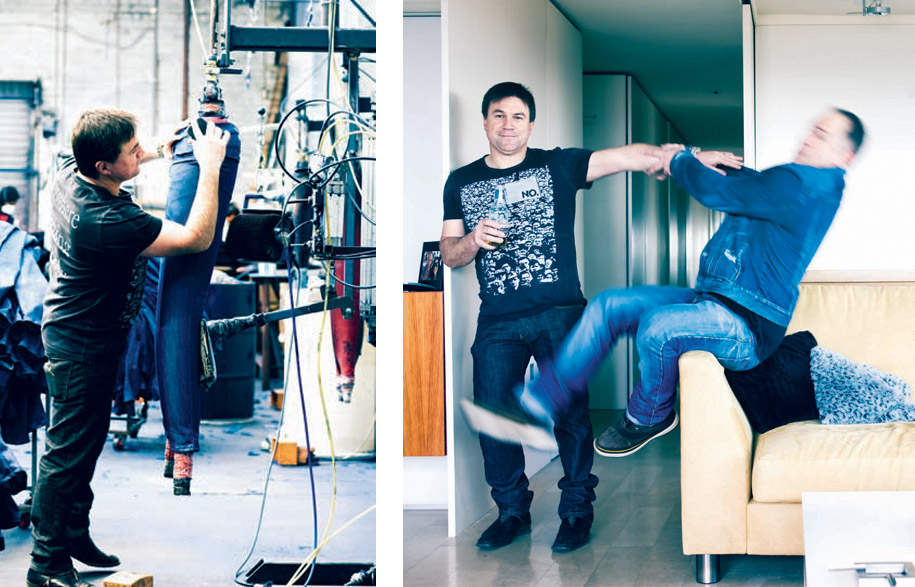 Left: John's role of laundry manager is particularly hands-on.
Right: Brothers, John and Nick are complementary opposites.
With no formal training they started small, drawing on an understanding of the medium formed in the washhouse analysing the hits and misses of other labels. Nick naturally gravitated towards design – "it's in you or it's not", he says simply – and hired a pattern maker with a keen eye for colour, fit and placement, who still works alongside him a decade later creating collections and finessing a look he describes as easy, honest and not too contrived. John's engineering skills helped him custom design massive industrial grinders and various power tools used by the trio – and as many friends as they could rope in – to hand-work every pair of jeans they produced. It was the era of sandblasted, ripped, dirtied and distressed denim, and the troops went to town.
Twelve months after launching their new label (dubbed Nobody in a nod to the absence of a 'star' designer), the Condilis brothers experienced a transformative annus horribilis. In 2000 their mother passed away, the laundry lost a pretty packet in a client dispute and the continued exodus of local manufacturing overseas forced them to lay off 40 of their 50 laundry staff. John winces at the memory but says it forced them to choose clients more carefully and taught him he could survive just about anything.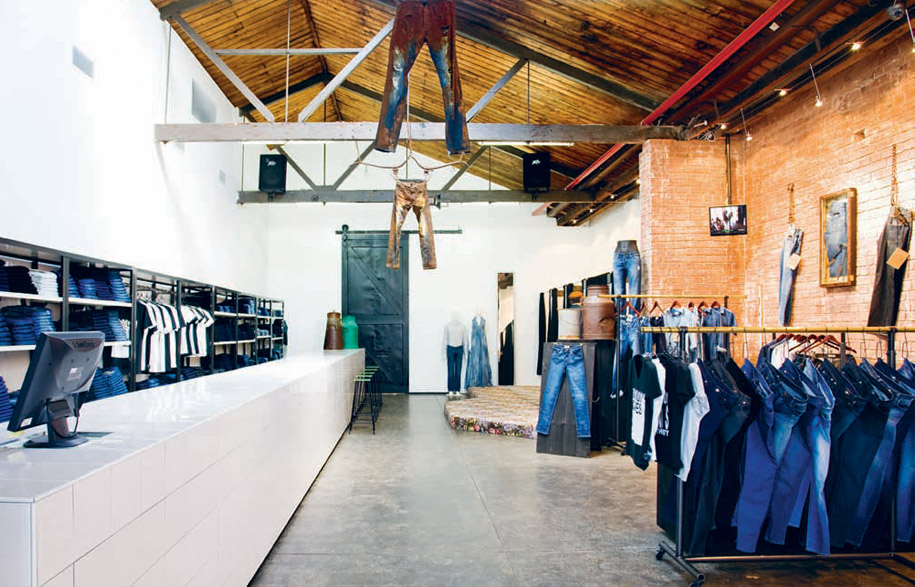 The Brunswick Street showroom.
In 2001, Nick met a 30-year-old philosophy graduate named Wesley Hartwell who had a few years' retail experience at David Jones and a head full of ideas about postmodernism, personality theories, creativity and global branding. In a move even Wesley concedes was "kind of crazy" for a label consisting of just three people (including two co-founders), the no-nonsense brothers appointed the newcomer to a role that began as sales and marketing manager and quickly morphed into creative director of their label. John recalls trying to drill Wesley initially but responding to his ideas and, crucially, trusting his intentions. "Wesley became our eyes and ears to the market – making sure we were on the money or a step ahead," John says.
In 2002, Nobody launched its first ready to- wear collection and over the next few years attracted attention locally with group and solo runway shows at Mercedes Australian Fashion Week in Sydney, seasonal collections inspired by deliberately provocative themes, including 'nihilism nothing nobody', 'vandalise the mind slums' and 'why do I love what I hate', and tongue-in-cheek T-shirts emblazoned with puns like 'Nobody loves you' and 'Nobody gives a shit'. Keen to distance the label from traditional marketing methods like billboards, catalogues and even fashion weeks, Wesley championed the launch of seasonal collections through themed books freely distributed via stockists and at celebrity-studded 'events', from nightclub parties to installations in art galleries – all created working in collaboration with a loose affiliation of artists, writers and photographers from Australia and overseas.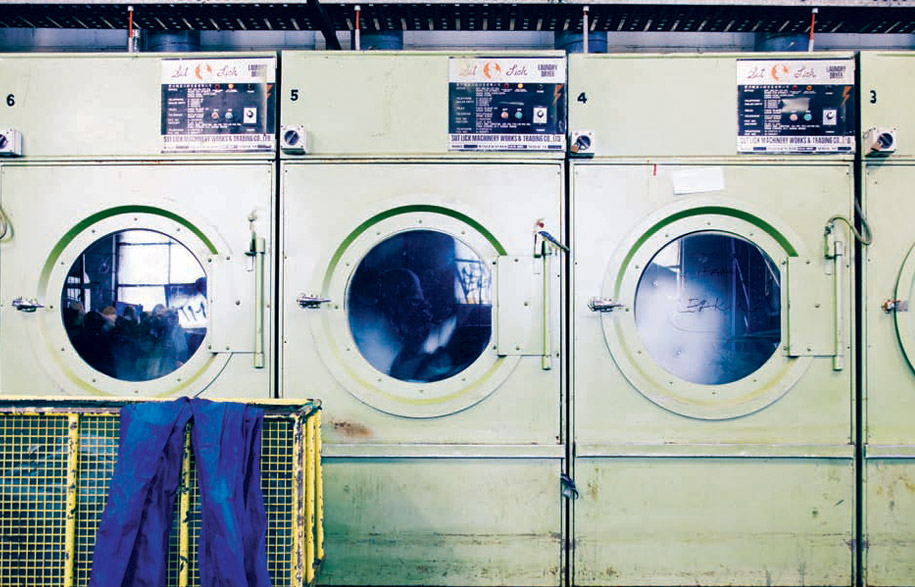 Washing, treating and dyeing other people's denim gave the brothers a unique understanding of the fabric's structure.
For critics, all this is evidence of an overpriced label taking itself way too seriously but Wesley, John and Nick insist they're sending up the pretensions of the fashion industry and encouraging consumers to be themselves. Whatever the reality, the label has attracted some high profile admirers internationally (including Lane Crawford in Hong Kong, American Rag in the US and Selfridges and Harvey Nichols in the UK) and now boasts around 150 stockists in Australia and about 300 more in 25 countries. Even detractors admit Nobody jeans are now found in some of the world's coolest stores: Atrium in New York, Ron Herman in Tokyo, Skindeep in Stockholm, Glow in Helsinki, Lileo in Toronto and even the Museum of Contemporary Art in Chicago.
Keen to expand Nobody's presence internationally, Wesley has re-located to New York, where he lives in a pared back 1920s apartment on the lower east side with 10-foot ceilings, a sunken lounge room, original floorboards and features and plenty of clean lines, overlaid with a riotous clash of colourful furnishings: a neon 'grandma' flock rug, a 1950s couch and an orange floral club lounge. It's a style he describes as a blend of industrial, modernist and baroque, and it couldn't be in greater contrast to the Spanish Mission-style home John shares in Kew with his wife and young daughters – all tasteful timber furniture, neutral tones and family portraits. Both homes are a world away from Nick's high-rise apartment in beachside St Kilda West, with spectacular views across Port Phillip Bay, minimalist interiors blending midcentury and contemporary furnishings, and a kick-arse telescope he hasn't quite mastered yet.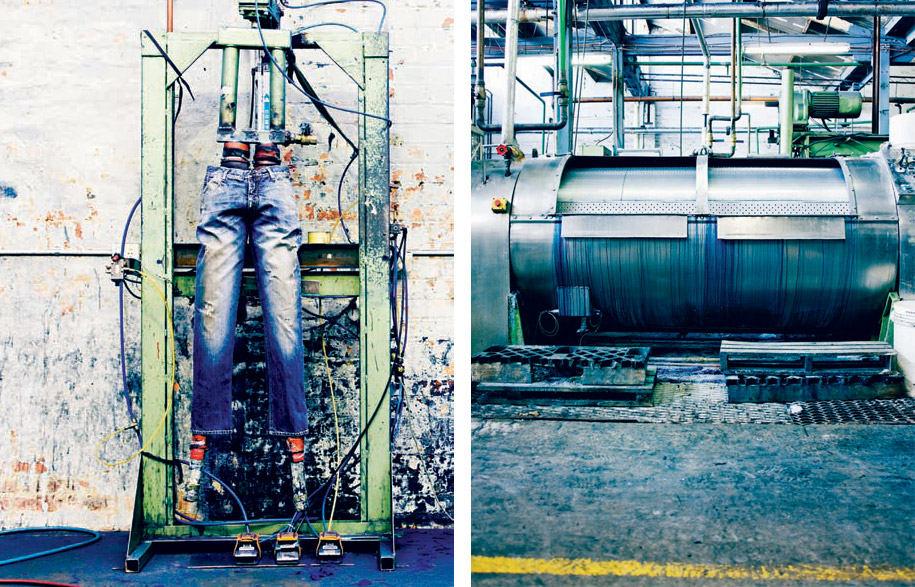 Left: Each pair of jeans is scored, scarred and distressed by hand.
Right: Denim runs into the drains and through the veins of the Condilis boys.
The trio's personalities are just as divergent. John describes Nick and himself as opposites who complement each other, characterising himself as a cautious, methodical, "behind-the scenes man" and problem solver, and Nick as an instinctive, carefree, gregarious "front man". Wesley is a philosophical thinker and persuasive communicator, he says. Wesley sees himself as a creative, big picture man and both brothers as genuine and passionate. "Nick is like a character who always reminds us of the essence… of why we're doing it," Wesley says. "We're not doing it to kill ourselves working hard all the time, we're doing it because we love it and have a lot of passion and fun."
Inspirations differ too. For Nick, ideas flow from all directions: Nobody's burgeoning creative team, denim diaries he's used to research their 10th birthday Heritage Collection, the expressive individuality he spots daily on passers-by in Brunswick Street (home to Nobody's flagship Fitzroy store and design studio), or amazing fabrics he sources from denim mills in Japan. Ultimately, it seems, what unites and inspires all three is the dirty great industrial laundry where the label began. It's an atmospheric, slightly surreal space, full of clouds of steam that billow like dry ice, swirls of airborne blue fluff and teams of men in masks and overalls roughing up sexy jeans with huge, unwieldy grinders. It's a far cry from the glamour of runway shows and VIP parties, and a place that easily accommodates all their disparate personalities, tastes and ideas.
Nobody
nobody.com.au
Photography: James Geer
jamesgeer.com
---