Above: (framed room) Domain (2014). Installation View. Photo Credit: Tawfik Elgazzar

Joe Wilson has a calm, collected air. On first glance you might assume his fine hands and piercing blue eyes, belong to a surgeon or scientist. Yet hidden beneath the surface, is a considered artist, fond of disrupting commercial art conventions.
Wilson is a Masters student of the National Art School, Darlinghurst. He works within the discipline of painting, and extends his practice to include installation. His work is subtle and ironic. It prompts us to consider commercial art galleries and the presentational modes in which we view art.
In exploring this idea, Wilson has gone to great lengths to create whole rooms for his paintings to sit in. He has also built furniture form scratch and artfully deformed easels in order to twist the viewers gaze.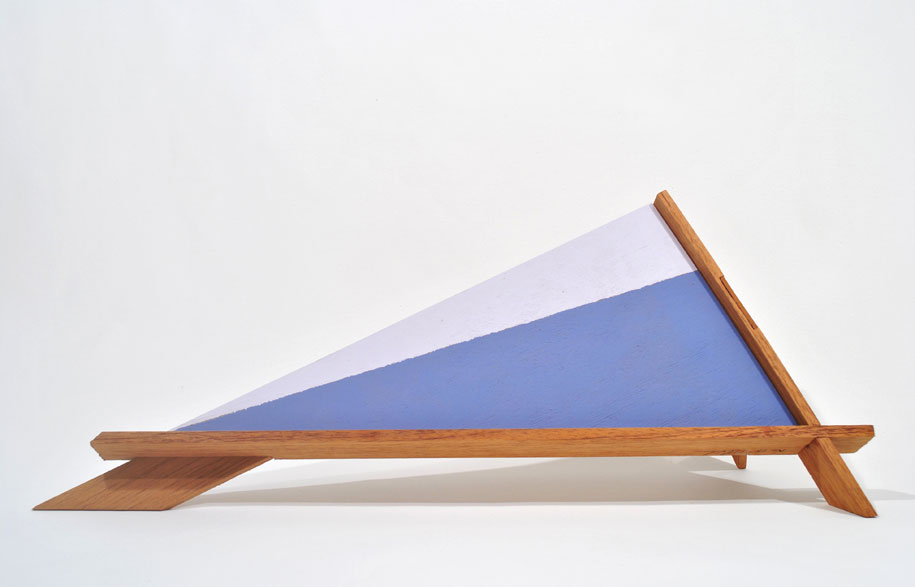 Above: Joe Wilson. Easel Painting 19, 2015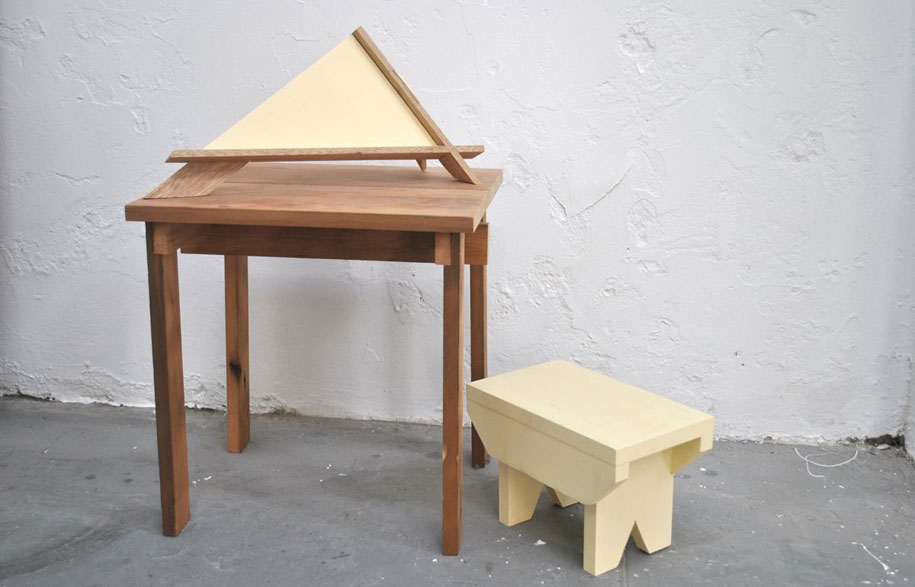 Above: Bedside Ensemble 2014 (cluster). 2014. Mixed media: Joe Wilson

His latest work is a fresh collaboration in the form of two installations, which will be on show at BANG, at Walsh Bay on 12 March 2015 from 6-9pm.
"In all art I find there is this tipping point between an artist's practice. Aline between whether they're really creating work for themselves or for their audience. I like to chew on that problem," Wilson says.
The idea of housing his work in a whole room first came to him when he was invited to include a single painting at an artist run space. He was running out of time to get it done and so ended up transporting his entire studio into the gallery, with the painting included.
"On one level, the big installations are great marketing tools for the paintings. They show a good investment in my work and along the way I have worked to do things that are, in some ways, quite ridiculous," says Wilson who calls himself a craftsmen at heart. But he says that taking art out of a stuffy commercial gallery setting is very liberating and necessary at times. It highlights the artists need to be flexible and able to multi task.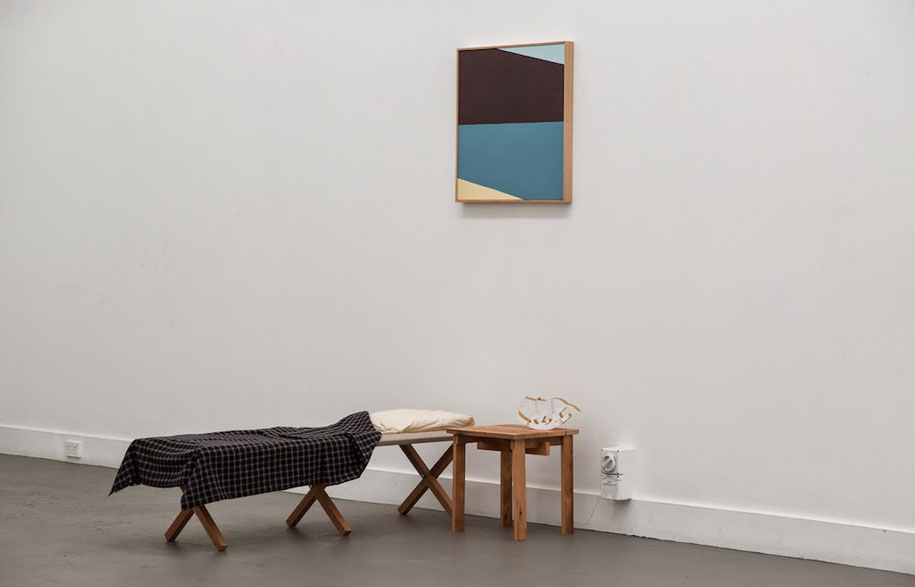 Above: Bed Ensemble (with stretcher bed). 2014. Mixed media. 160 x 100 x 160cm
With an academic knack for cracking cool concepts and sheer perseverance to achieve perfection in his "product", Wilson is now known around town for creating enticing fabricated spaces that offer viewers a pleasant irony. Precise to the point of clinical, his work has won him fans with everyone little-bittie galleries to advertising agencies.
For his latest group show BANG, Wilson will join forces with talented partner Chanelle Collier, an Honours National Art School assemblage artist.
Chanelle Collier is a Sydney-based artist whose works on paper includes sculpture, printmaking, collage and installation. Collier likes to explore the transformative possibilities that are self-contained within object or are auto-referential. A recent body of work for example was a series of intricate book scluptures that were prepared with a million cuts made with a surgical scalpel.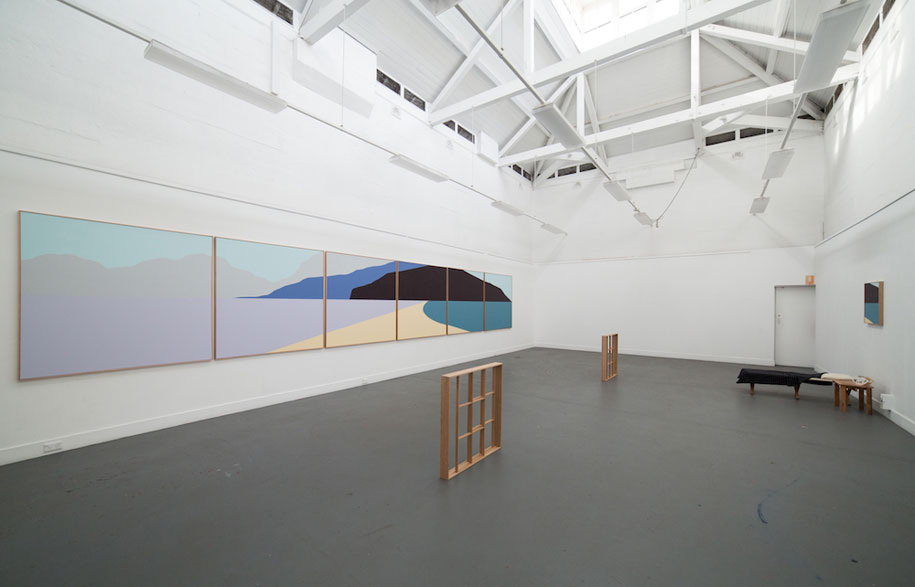 Above: Large Painting in Six Parts. Year:2014. Medium: Acrylic on canvas. Size: 160 x 1000cm (1.6 x 10m). Joe Wilson
For their next show BANG Wilson and Collier have created two separate installations specifically for the Pier 2/3 venue. The first is a freestanding wall with couch, painting, and wall light. The second a large wall of painted boxes for Product Pack.
"This work which is called 'Imperative 1' dispels all the problems associated with finding an artwork to match your couch," says Joe Wilson.
"The artwork in its totality comes fully equipped with a wall, sofa and matching painting," he says. Adding that this is a 21st century "plug in and play" approach.
The second installation for the show is called 'Product Pack' and like its companion piece it emphasises the commodity of art. "Product Pack has it roots in Andy Warhol's Brillo box and the tendency to serialise things and to repeat things again and again," says Wilson.
Made from a series of stacked objects, it seeks to undermine contemporary consumerist notions of the everyday, by providing the audience with all package and no product, a pithy crack at modern advertising.
Joe Wilson's latest work will feature as part of BANG contemporary art show (http://spectrumnow.com.au/events/event-title-single-6/) in Sydney on 12 March, when he teams up with assemblage artist Chanelle Collier.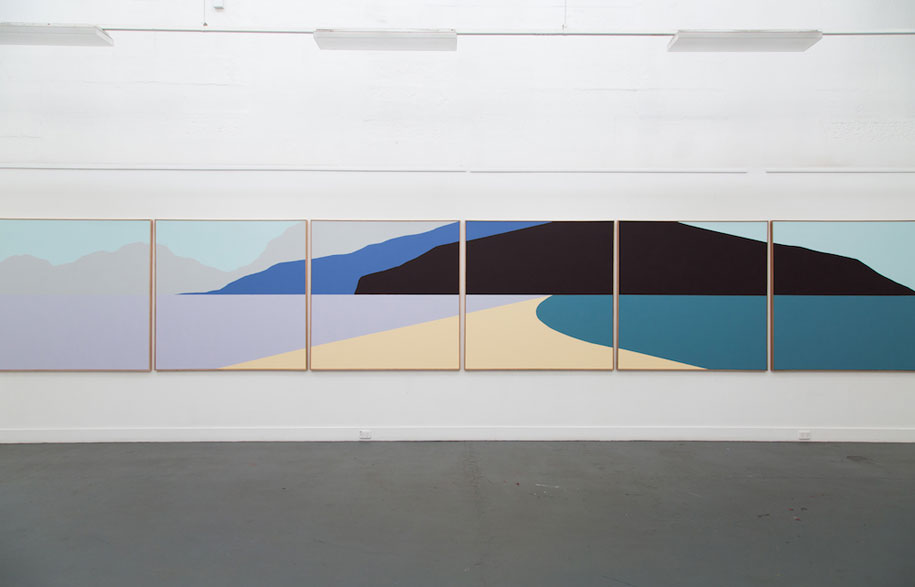 Above: Large Painting in Six Parts. Year:2014. Medium: Acrylic on canvas. Size: 160 x 1000cm (1.6 x 10m). Joe Wilson
Joe Wilson
Joewilsonblog.blogspot.com.au
Chanelle Collier
chanellecollier.wordpress.com
Spectrum Now
spectrumnow.com.au
---