– How would you describe your work?
These are some keywords I would use: architecture, spatial perspective, fragmentation, subconscious, associations, memory and painterly abstraction.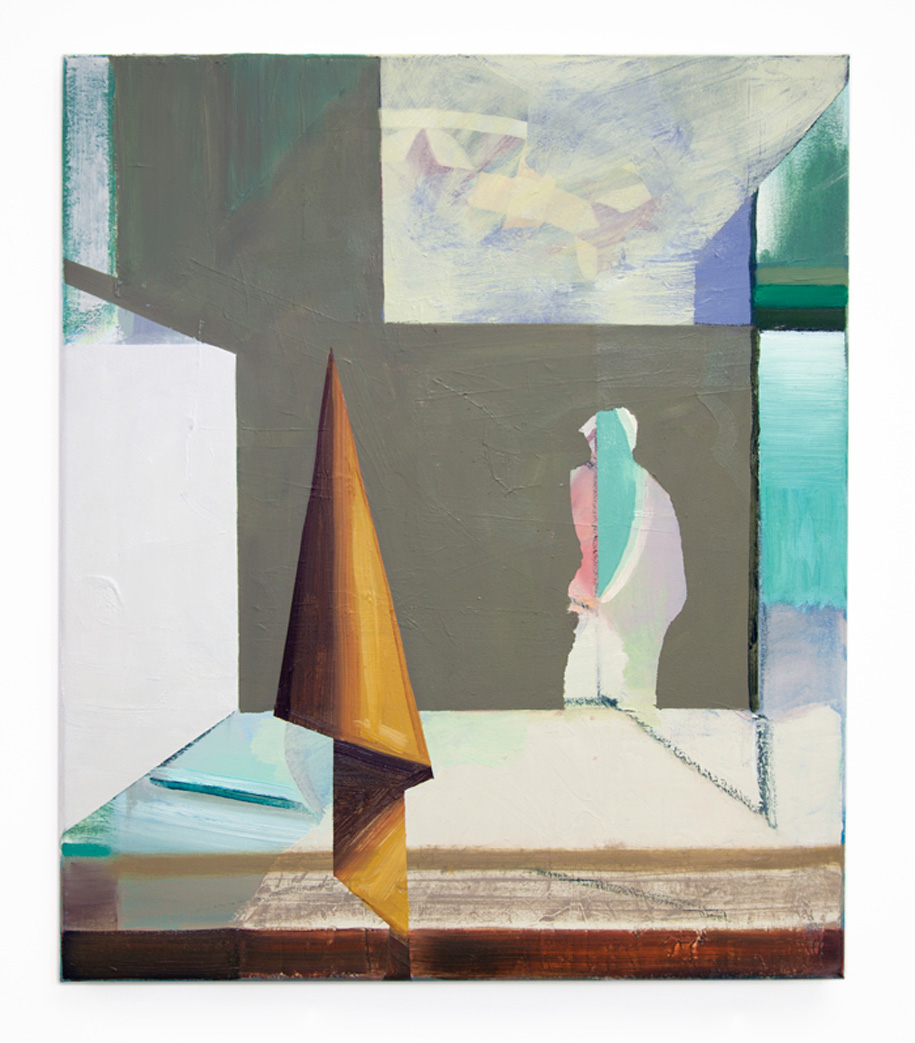 Atrium, 2015, oil on canvas, 56 x 46 cm
– Are there certain ideas or subjects you are most interested in?
I'm interested in the idea of 'architectural memory'. Built spaces, whether they are real or imagined, have the potential to hold certain memories. This idea can be traced back to ancient Greek times before the invention of text, where orators instructed their students to imagine objects within the spatial context of a room in order to help them recall information. Ruins and fragmented buildings in particular have this uncanny potential to create mnemonic associations.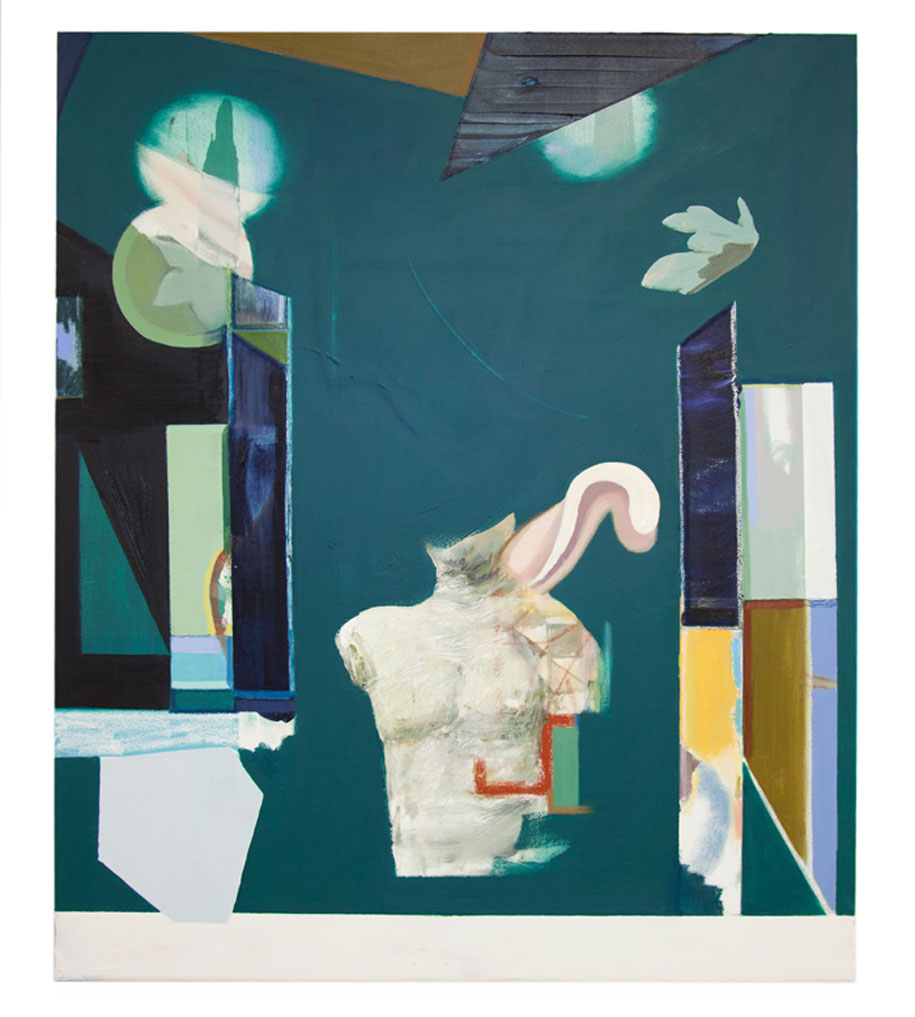 Thinking Slow, Paining Fast, 2015, oil on canvas, 84 x 71 cm

– Where do you find inspiration?
These new works stem from a fascination with the various styles of spatial illusion found in Pompeian fresco painting during a recent studio residency at the British School at Rome. The many rich layers of history, architecture and painting that are visible in Rome and in its museums have given me a huge amount of material to work with. The experience of having a studio there for three months will continue to inspire me for years to come.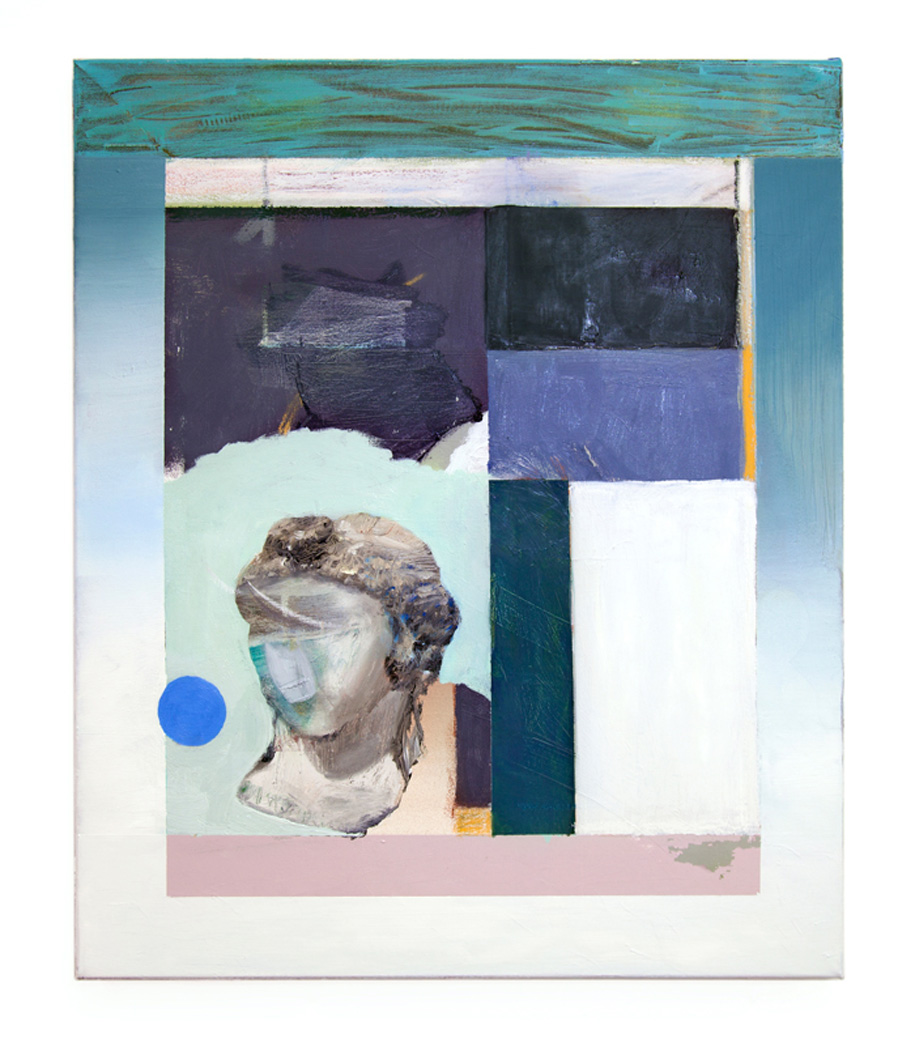 Surface/Figure, 2015, oil on canvas, 56 x 46 cm

– How does the local landscape and environment feed into your work?
Natural influences often appear unknowingly through the colour choices I make. No matter what subject matter, there always seems to be an element of aqua blue that is used subconsciously. I put this down to the environment where I grew up in Perth. Cottesloe is an area surrounded by water, situated between the Swan River and the Indian Ocean.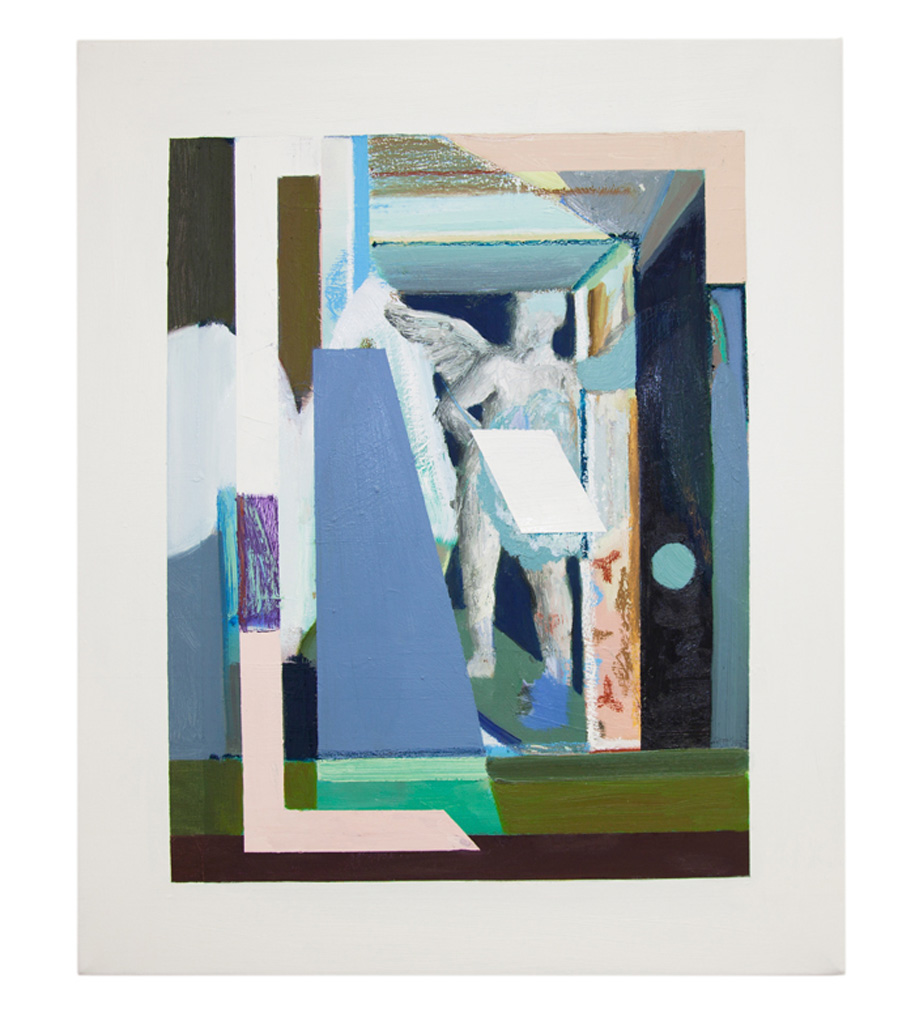 Frame/Villa, 2015, oil on canvas, 56 x 46 cm
– Can you talk about your style, what kind of process do you use and how has it developed over the years?

I mainly work as a painter using oils on canvas, but these new works are the result of experimentation with traditional fresco techniques using high-calcium lime plaster, sand and pigments on plywood to form portable fresco panels.
Painted 'fresh' into the plaster just before it completely dries, they are the products of a chemical reaction that forces the painting to become one with its architectural support. Fresco is known as one of the hardest mediums to work with, but I think the unique effects it produces are worth the effort.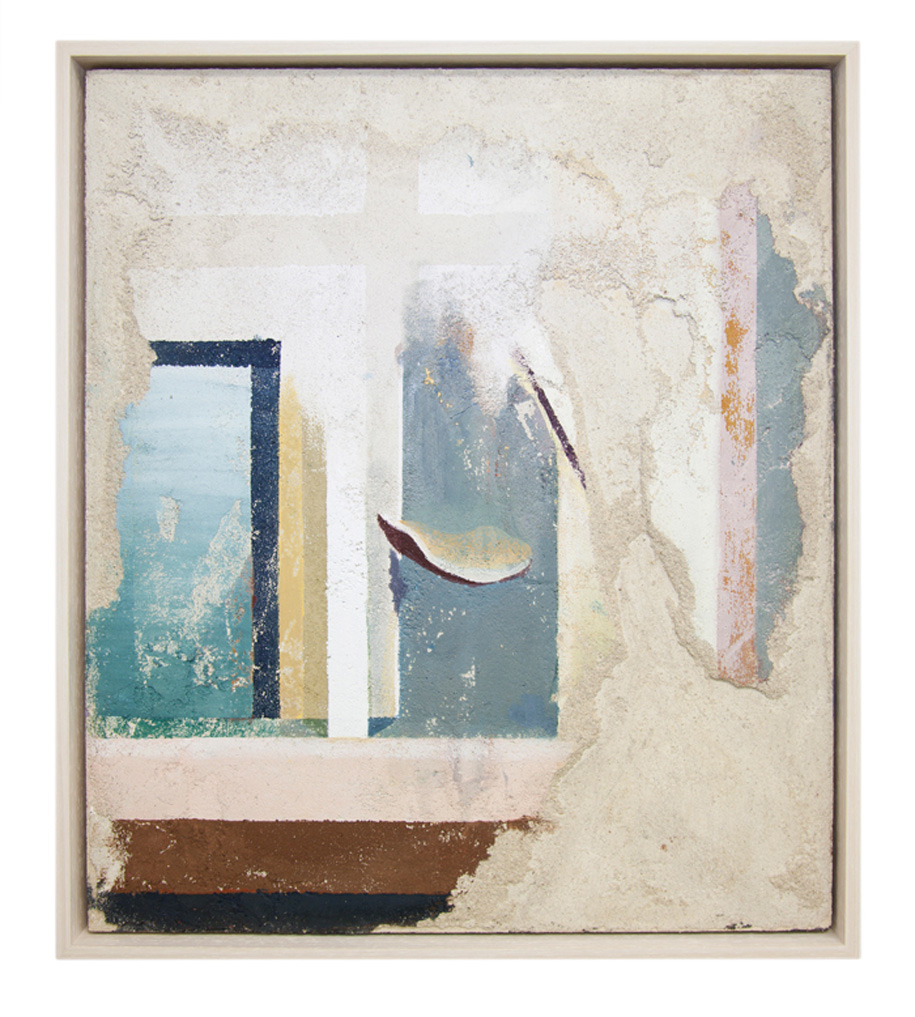 Fresco 3, 2015, pigment, sand & lime on plywood, 41 x 36 cm (framed)

– What do you enjoy most about being an artist? What are the challenges?
I have a compulsive need to create and often feel guilty if I'm not making something or developing ideas. My favorite place to be is in the studio. That said, sometimes it's really difficult to find motivation when things aren't working. The key is to accept failure as part of the process to creating something unique. It's often only through the process of doing that progress can be made. Fortunately, I enjoy the challenge.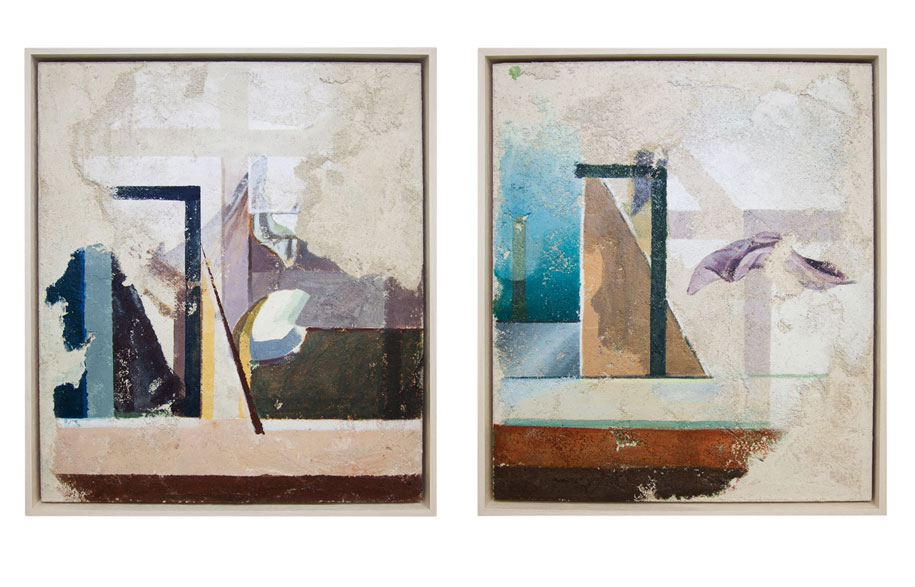 Fresco 1 and Fresco 2, 2015, pigment, sand & lime plaster on plywood, 41 x 26 cm (framed)

– Advice for aspiring artists?
It's simple – believe in yourself. Self-doubt is the creativity killer.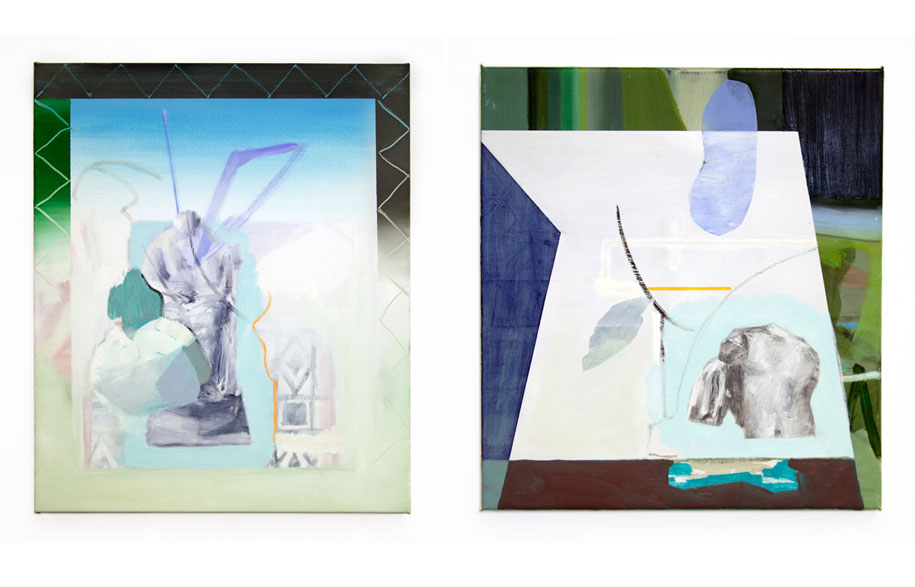 Spazi Aperti, 2015, oil on canvas, 56 x 46 cm and Green Court, 2015, oil on canvas, 46 x 41 cm

---
Photography: Courtesy the artist and Galerie pompom, Sydney.

Oltre la Vista opens this Wednesday April 1 at Galerie pompom, running through until April 26.

Galerie pompom
galeriepompom.com
Mason Kimber
masonkimber.com
Tess Ritchie
---