Fiona Hall emerged as a photographer in the 1970s and now works across a broad range of media, producing extraordinary works that transform mundane man-made materials into organic forms with both contemporary and historical resonances. Her pieces are painstakingly crafted with an attention to detail that emphasises the beauty and fragility of the natural world while engaging with issues concerning the environment, colonialism, consumerism and globalisation. Hall's visual aesthetic is alluring yet confronting, encouraging the viewer to contemplate the politically charged messages which underpin it.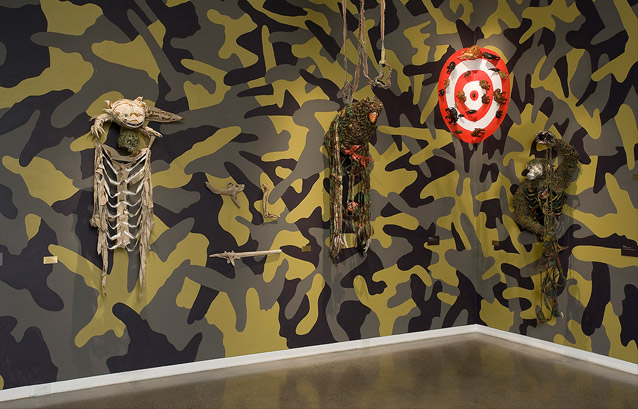 Fiona Hall: Big Game Hunting installation view, Heide Museum of Modern Art, Photograph: John Brash 2013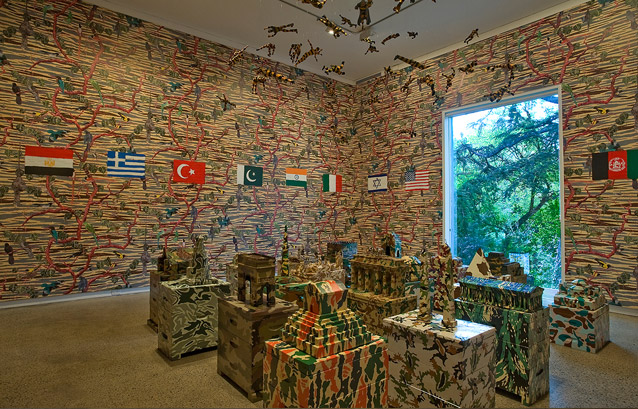 Fiona Hall: Big Game Hunting installation view, Heide Museum of Modern Art, Photograph: John Brash 2013
Described as a '21st century hunter's den', Fall Prey is a menagerie of trophy-style sculptures of endangered species from the International Union for Conservation 'Red List', rendered in military camouflage. While resembling taxidermied specimens, these larger-than-life creatures are embellished with the detritus of contemporary culture—disturbing signifiers of the cultural and ecological changes that have wrought havoc on their natural habitats and contributed to their plight. The chimpanzee from the Belgian Congo for example, holds a Blackberry phone, a stark reference to the unregulated mining of coltan in the region for use in the electronics industry. The resultant pollution, and the miners' hunting of apes for food, has critically threatened the local wildlife and natural environment. Surrounded by clusters of found objects and sculptural video works, the creatures in Fall Prey appear as part of a macabre yet wondrous wunderkammer, a cabinet of curiosities which forms the core of this compelling survey.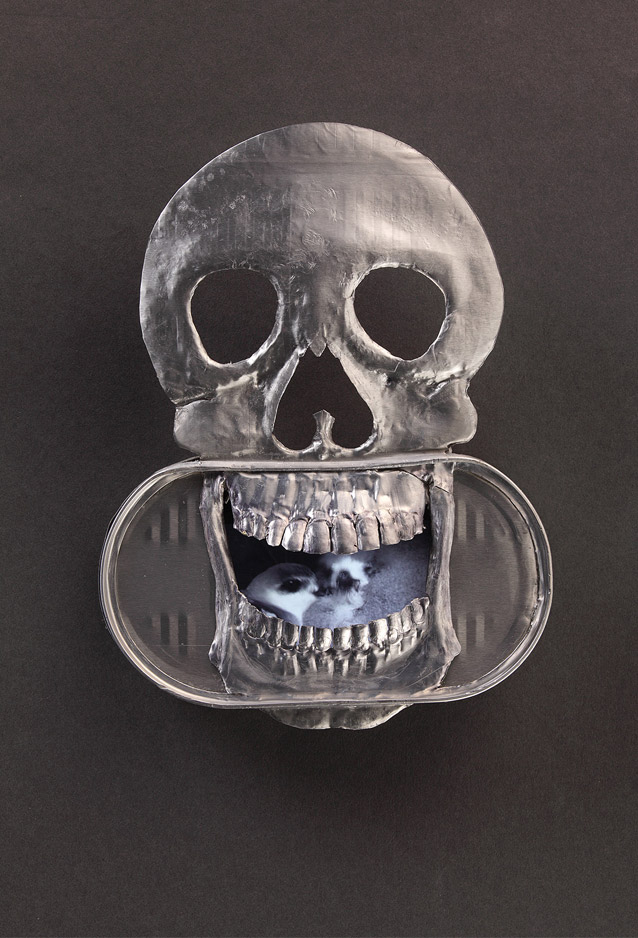 Fiona Hall, Untitled 2012, aluminium, video. Courtesy of the artist and Roslyn Oxley9 Gallery, Sydney
Also included in the exhibition is an installation of innovatively re-designed beehives produced for the 2010 Biennale of Sydney and a suite of large etchings celebrating the flora and fauna of Arnhem Land. 
Big Game Hunting runs 28 March – 21 July 2013 at Heide Museum of Modern Art. 
heide.com.au
Hero image: Fiona Hall: Big Game Hunting installation view, Heide Museum of Modern Art, Photograph: John Brash 2013
---