There's possibly no other place in the home, apart from the bathroom, where form and function require perfect unison than the kitchen. Many people spend a fair chunk of their day there so it is important the space be conducive to their particular way of living. As a result, designers and architects are committed to making the kitchen as comfortable as possible because of the effect it can have on a client's wellbeing.
How they go about this varies from practice to practice, region to region. But utilising biophilic design to facilitate positive physical and psychological impact is certainly having a moment. And with the introduction of the WELL Building Standard in 2014 – a performance-based system for measuring, certifying and monitoring features of the built environment that impact human health and wellbeing through air, water, nourishment, light, fitness, comfort and mind – the emphasis on designing for wellness is now stronger than ever. Of course, the guidelines include a feature on biophilia and the benefits of human and nature interaction in holistic design approaches.
So how are Australian designers and architects utilising biophilic principles within the kitchen? Generally speaking, the preference is for subtlety and restrained interventions, such as dotting the space with pot plants or painting a wall green. A biophilic plan features interaction with nature, nature's patterns incorporated into the design, and the inclusion of natural elements. Integral to the plan is a scheme that responds to context and has a strong connection to place. This is evident in Austin Maynard Architects' recently completed Kiah House in Melbourne's North Fitzroy.   
While the addition to an original weatherboard cottage built in 1927 may be located in an inner-city suburb, the architects have reimaged the site as an oasis, taking inspiration from the clients' affinity for Japanese gardens and the Buddhist retreats of Kyoto and blurring the boundaries between inside and outside. The kitchen, therefore, responds to a series of gardens and courtyards that allows plenty of sunlight and natural ventilation into the relatively compact space. The island bench further connects to the outdoors through a bespoke sculptural form that echoes the shape of a grand old tree trunk: it's organic in appearance and highly tactile. It also brings the outside in and gives the kitchen its most compelling biophilic expression.
The project exemplifies the direct physical connection to nature that living in a house brings. But what about high-density environments where the majority of apartments in multi-residential developments don't have gardens on their doorstep? There is nothing to say the same positive effects can't be achieved, there is just a greater reliance on elements that symbolise or evoke the outdoors. In the Clarion mixed-use development in Sydney's Alexandria, for example, SJB has incorporated finishes in the apartment kitchens that evoke nature, most notably heavily patterned grey, green and white marble for the island benches. It's an extraordinarily striking material that resembles a rocky surface or wall from one angle and an aerial landscape view from another.
The idea is that this indirect connection to nature triggers the same sense of wellbeing that a direct one does. It's a concept explored in Terrapin Bright Green's 14 Patterns of Biophilic Design: Improving Health and Wellbeing in the Built Environment, where the category of Natural Analogues discusses the use of artwork, lighting, textiles and material finishes to elicit such feelings. This type of application also works for clients who don't want to fill their homes with pot plants. Ultimately, the best biophilic design champions seamless integration and supports harmonious living.
Austin Maynard Architects
maynardarchitects.com

SJB
sjb.com.au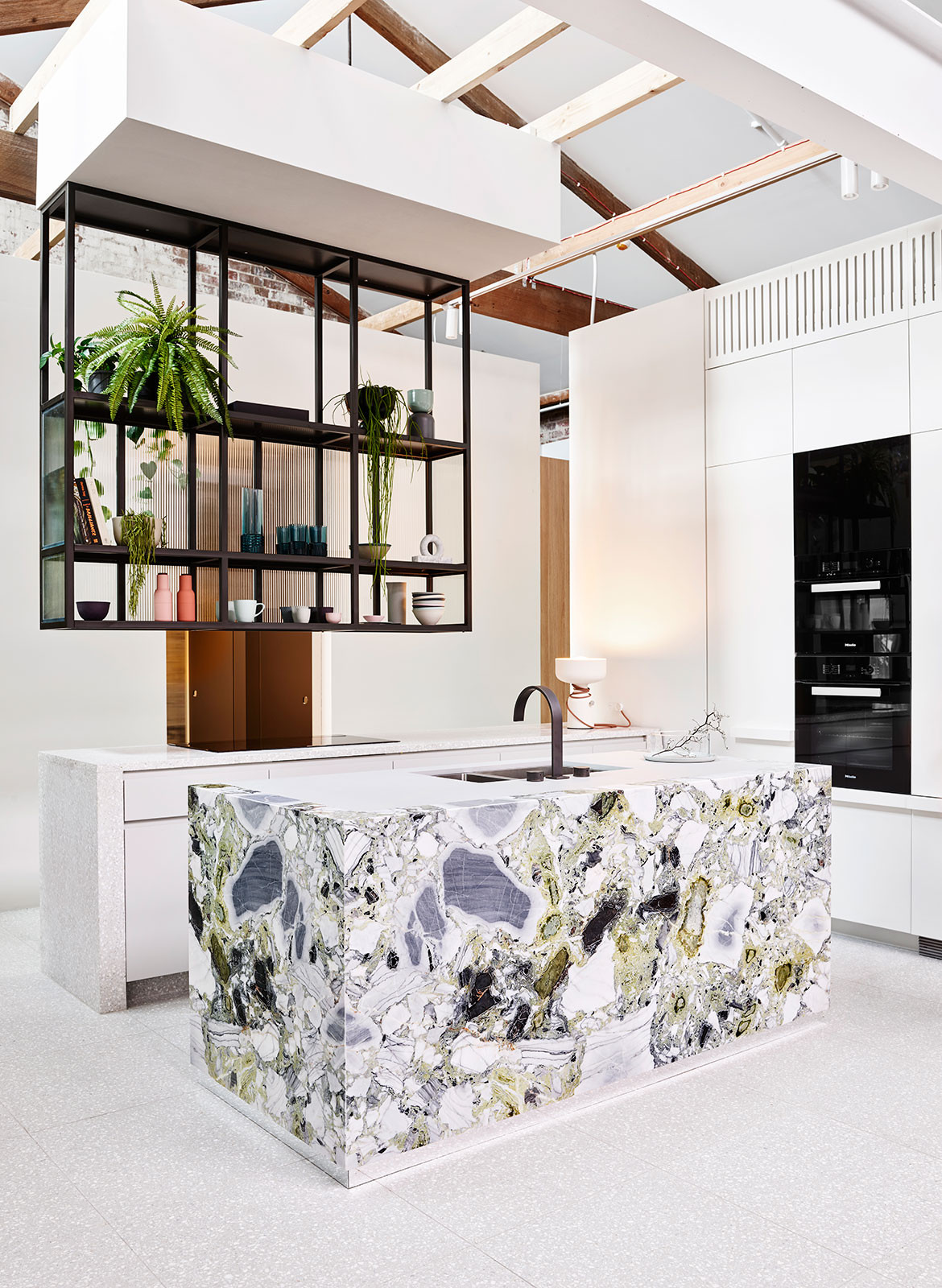 We think that you might also like Five Kitchen Designs That Connect To The Outdoors
---