There is something wildly exciting and slightly terrifying about flying over to a wintery Europe in the middle of an Australian summer, especially for someone like me who had up until very recently never seen or stepped foot in snow before.
Adventuring with KFive Furniture
I was lucky enough to be invited as a guest to this year's Stockholm Furniture Fair (SFF) by Erna Walsh, the director of KFive Furniture, located in Melbourne and with a showroom in Sydney, too. KFive was established in 2001 and is a primary distributor of contemporary Scandinavian furniture in Australia.
Walsh has been visiting KFive's European colleagues and designers at the Stockholm fair since 2005. She has a wealth of knowledge when it comes to furniture design and I could not have asked for a more adept or lovely host.
A fair with Scandinavian sensibility and design thinking
This year's Stockholm Furniture Fair was the first in three years (as a result of COVID-19). The fair had a collegiate feel about it and was a reunion for many in the industry.
It was fascinating to experience Stockholm for the first time and be introduced to Scandinavian sensibilities and design thinking in the context of this year's fair. Things struck me as being a little different over there.
I found myself drawn into conversations with designers where the key design thinking is sometimes invisible to the eye and can only be felt or understood by using a piece of furniture or touching it.
This sensitive approach to the feel and touch of furniture is inherently Scandinavian but strikes me as being particularly resonant post pandemic. Perhaps we appreciate the way a surface or material feels to touch a little more after being deprived of physical closeness outside of our home environments for such extended periods of time.
Designs of a gentle, caring nature
The design I encountered was not as ostentatious as I've grown used to in recent years. The craftsmanship was exceptional and the design thinking was intricately considered and geared towards human behaviour and interaction, sustainably and reusability. There also seemed to be a focus on play, joy, developing social interaction post-COVID-19, looking after the elderly and children along with people in their work environments.
The design I encountered was inherently gentle and caring.
The advancements in technology and materials in relation to sustainably were embedded within every piece of furniture and company mission statements. It was clear that sustainable and responsible design practice is a necessity at all ends of production and will be embraced fully in the commercial market.
Responsible and accountable design practices and production were omnipresent throughout the fair. It was also clear that recycled materials have to appeal equally to our visual and aesthetic needs. Colour and beauty is important to designers and design users. It seemed to me that the advancements in recycled materials were accelerating. The colours were bold and joyous, the materials soft to touch.
Here is a selection of highlights from SFF from some of the oldest furniture design companies in Scandinavia and some of the newest and freshest.
1. Yellowdot
This was one of my favourite stalls at the fair housed within the Greenhouse, the section for emerging and young designers. Yellowdot has created a boutique collection of pieces that are experimental and playful whilst being equally sophisticated and polished.
It has created an exquisite partition screen out of collected egg shells held in resin and a set of lamps inspired by jelly moulds. Another favourite piece was an upholstered bench seat with round bolster cushions upholstered in traditional Turkish stiffened silk fabric.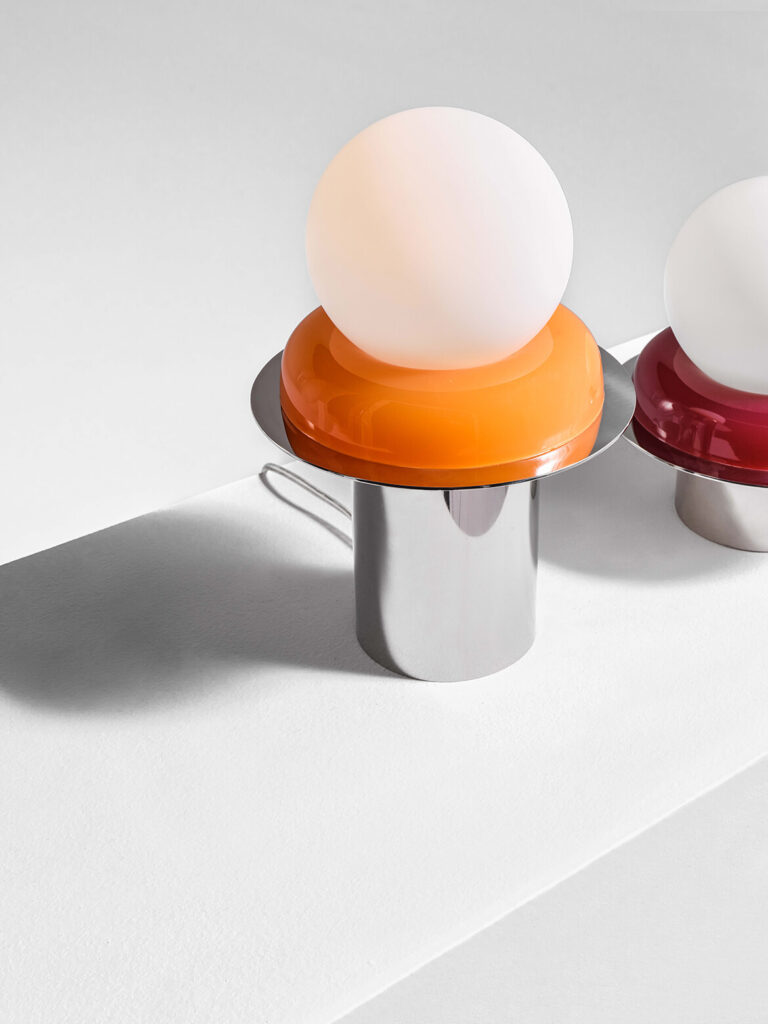 2. Ekbacken Studio
Ekbacken Studio was presented as part of the Gallery Edition showcasing artists and designers presenting in galleries in the city of Stockholm as part of Stockholm Design Week. The entire gallery space was fascinating but I was specifically struck by two side tables created by Ekbacken Studio.
The base was made using 3D printed recycled waste material and the top from reconstituted stone terrazzo. I loved the contrasting nature of these materials and palette that was put together. The material elements work together to elevate this entirely recycled product into a luxurious and unique piece.
3. Älvsjö gård
Älvsjö gård, a new platform for experimental, research driven and collectible design, was a visual and decadent feast for any design lover. The exhibition was housed in an historic Swedish manor and the intricate rooms were filled with a varied collection of independent designers' work from several contemporary galleries based across Sweden.
The works were bold, joyous, experimental and sassy. There is something especially beautiful arresting about engaging with contemporary design housed within a traditional and historic interior.
The progressions of time and history along with the advancements in critical thought and social conventions are evident and displayed when you pair the old with the new.
My favourite piece in the show was a glass light installation created by Frida Fjellman. The work was exquisite in both colour and form, masterful in technique and craft.
4. Lammhults
Lammhults is one of the oldest and most established furniture design companies in Sweden. Its stall at the fair was strikingly beautiful and drew me in with its French blue walls that created the perfect backdrop to house the colourful 1970s inspired furniture collection.
The forms were curvy, luxe and extra comfy; the palette strong. Bold primary colours have been used to upholster the furniture creating an overall feel of playfulness and fun. My favourite piece was the Bau modular seating series, which won the prestigious Furniture Of The Year Award at the Form Award 2023. Available in Australia at KFive Furniture.
5. LoOok
This Neuron Activation Pod from LoOok blew my mind. Essentially a furniture pod that allows you to lie down in the office as it sends vibrational frequencies through your body to promote deep relaxation, rest and calm. The Neuron Activation Pod is designed for office environments to give workers either a rest or a pick me up throughout the day.
I must say I was a little skeptical when I first hopped in to try out this sci-fi-looking piece but I was deeply relaxed and reset after being inside it for 10 minutes. This here is advanced technology meeting furniture design at a radical junction. Please send me one for Christmas! By the way, there is also a soundscape that cannot be heard outside the pod! Available in Australia at TCW.
Danielle Brustman
daniellebrustman.com
---