habitusliving: How was the idea for 'Man About The House' born?
Tim Ross: Ever since I was a drama nerd at Uni, I've been interested in all sorts of spaces for performing and as I'm a bit of a nutty Modernist it seemed to make sense that I use spaces that I love for a show. It seems a strange fit to put comedy and architecture together but when I began working with the Historic Houses Trust on new uses for spaces, it seemed logical that I do something in Rose Seidler House, which is one of their properties. Thankfully they are very progressive and were happy to take a chance. I have been doing music with Kit Warhurst for years and I wanted to expand the show from a straight standup/story telling event to once that has different layers so it became really important to me to have him involved.
hl: What convinced you that the combination of a music/comedy show and quality architecture would be successful?
TR: I knew it would take a while for us to get it right but I suppose I approached it with a purely selfish point of view and thought about all the houses this could get me into and I took it from there.
Obviously all the properties are the stars and we needed to present something that worked in a small space and also made sense in the space. This has and still is a work in progress because every space is different. When we took the show to Auckland and got a standing ovation I knew that we had really got it right.
What really has made me happy is that people have taken a chance and come to the show, particularly in Melbourne. My hometown really is a cracker when it comes to getting off their butts and going to see something.
I've also had great support from our Creative Producer Stuart Couzens who has a fabulous company called Alfred. They have believed in the potential of the show since day one and have put time, energy and effort into it simply because they like it. A very cool company.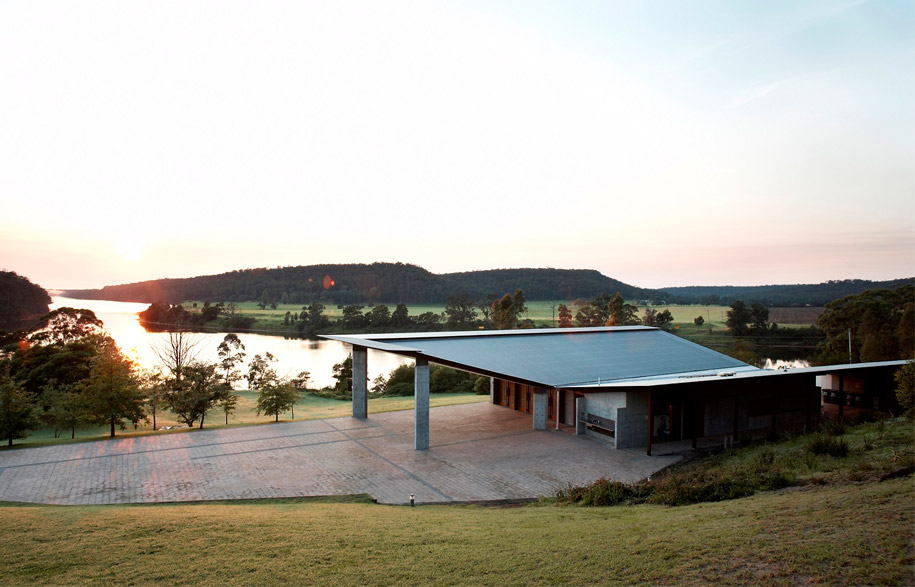 Boyd Education Centre, Riversdale, where 'Man About the House' will be performed on November 16

hl: When composing the material for the show, how did the different environment you would be performing in affect the process?
TR: Despite the houses being amazing they aren't always a dream for Kit and I to perform in. Small crowds can be difficult for comedy and we often only have forty people in the room. Some people really find things funny but don't laugh and this is heightened in a small area.
We also have a wide range of ages attend and I tend to modify the show based on the crowd. If they are design focused I tend to extend my material on the houses and their peculiarities but if it's a late show where people are there for a good time I soup up the jokes.
hl: To what degree is the material tailored for each home? Do you allow for some improvised material that links to the specific venue?
TR: For every house I tend to deliver a simple backstory to the house and I spend a bit of time researching the house. It doesn't take much to find the best and funniest stories and I focus on very relatable family stories because houses are about the people who live in them.
I also talk about our journey and the houses we've been to and the associated stories. I envision that a large amount of the show will end up being about our adventures or misadventures in wonderful homes.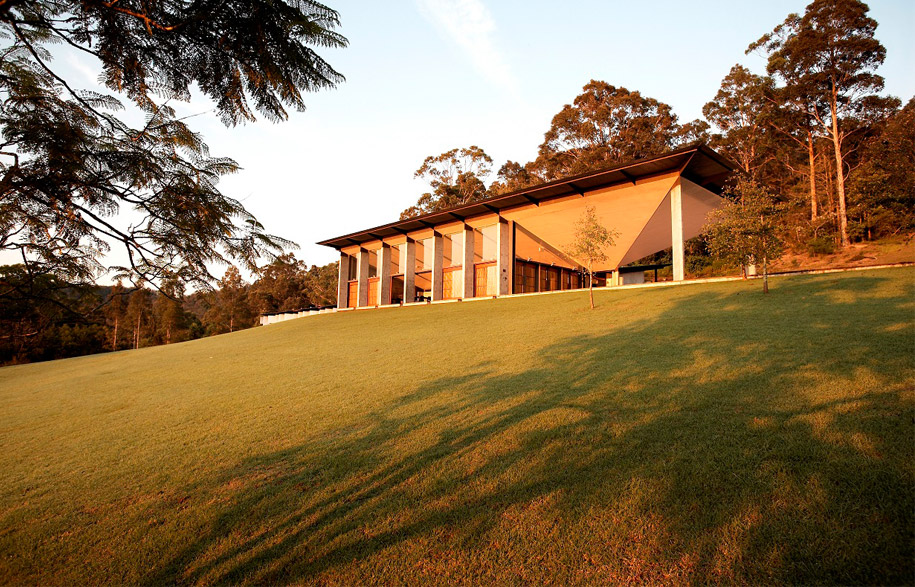 Boyd Education Centre, Riversdale, where 'Man About the House' will be performed on November 16
hl: Have there been any unexpected challenges or opportunities involved in the new format?
TR: The biggest challenge has been explaining how the show works so people get their head around it and come along. Financially it's challenging but we have been given great support from Tourism Tasmania, Tourism New Zealand and Jetstar.
hl: What has been your favourite home to perform in so far?
TR: This is hard, I love them all. As a walk-up-to-the-house and walk-around-the-house experience Rose Seidler House wins hands down. As an experience for seeing the show the Walsh St House cannot be beat. Tony Lee who is the Director of the Boyd Foundation has done a great job with assisting us put on the show and you really get the feel that you are going to a house party at Walsh St.
The courtyard is a perfect theatre so that is what makes it so special.
I also loved the Hobart Dorney house because of its view and the fact you really are walking into someone's home.
hl: Would you consider performances in other unconventional settings? Why/why not?
TR: I think we will expand where we perform. I have my eye on a couple of unique spaces that are outside our normal criteria but will have a similar feel. We believe that if we like the space others will too.
TIM ROSS – Man About the House from Toby Morris on Vimeo.
Tim Ross will perform the next instalment of 'Man About the House' on Saturday, November 16 at the Boyd Education Centre, Riversdale.
For tickets and further information visit the Bundanon Trust website:
bundanon.com.au/content/man-about-house
---