Edition, limited edition, multiple, mass-manufactured… there is a broad spectrum of production available to artists. Katie Scott has gathered together leading contemporary jewellers for New Edition that represent many making perspectives.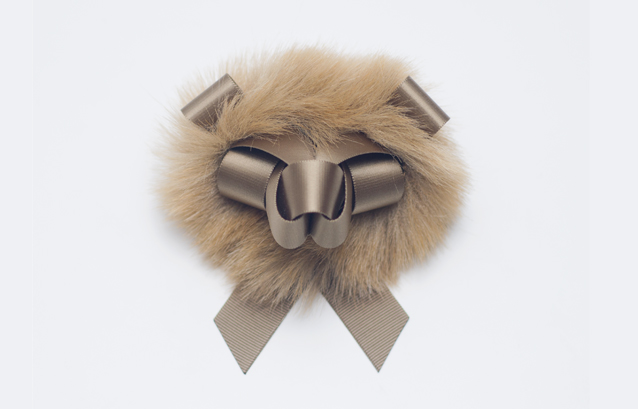 Ribbonesia, Gold Lion brooch – 2012, Coated satin ribbon, fake fur, silver
"We're not seeking a definitive statement: this is an exhibition that doesn't dictate a position or attempt a cohesive theme. It's an acknowledgement of the importance of this kind of making; conceptually for the artist, as a way of exploring ideas that may shift from piece to piece within an edition; financially for both the artist and their gallery; and at its most basic level, because it allows more people to wear something wonderful." says Scott.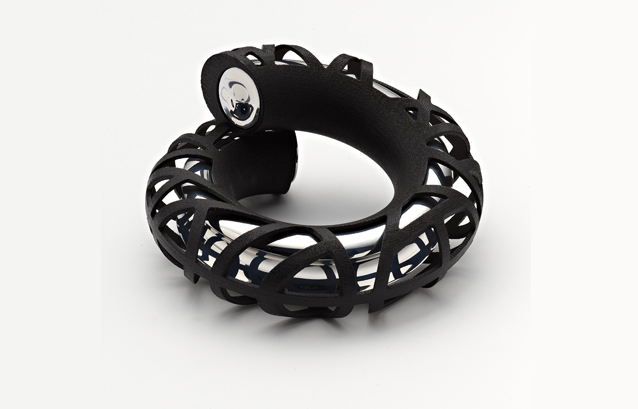 Lousje Skala, Link bracelet – 2012, 3D printed nylon, aluminium
David Bielander makes exactly 12 editions of each major work, with smaller works often designated 'unlimited' editions (well, as far as 99 copies, by which time Bielander says he is too bored to make any more). Renee Bevan's 'Lighthearted' pendants are slow and intensive to make, each one a precious investment of time and material that belies their throwaway appearance.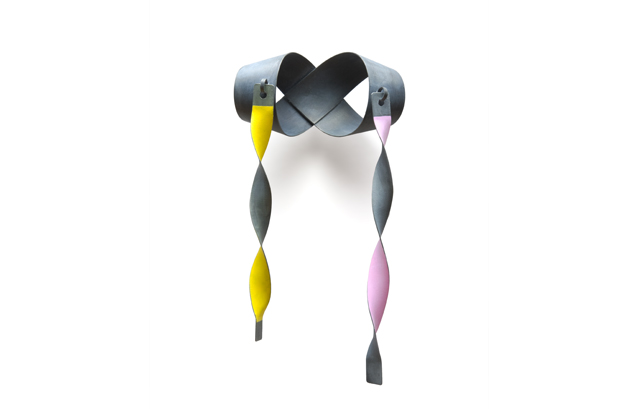 Lucy Sarneel, Loop Wearing Twirls brooch – 2012, Acid etched zinc, paint
Technology, as a way of disseminating works more widely and reducing their cost, is not necessarily a factor in the pieces in New Edition. Though it plays a key role in the jewellery of Lousje Skala, Bin Dixon-Ward, Svenja John and Maureen Faye-Chauhan, its purpose in the practice of these artists is simply to make possible what would not otherwise be. Their investigations into subjects such as reflectivity, connectivity, colour, repetition and pattern are entirely dependent on recent manufacturing processes combined with hand construction. In these cases, costs dictate the sense in producing more than one.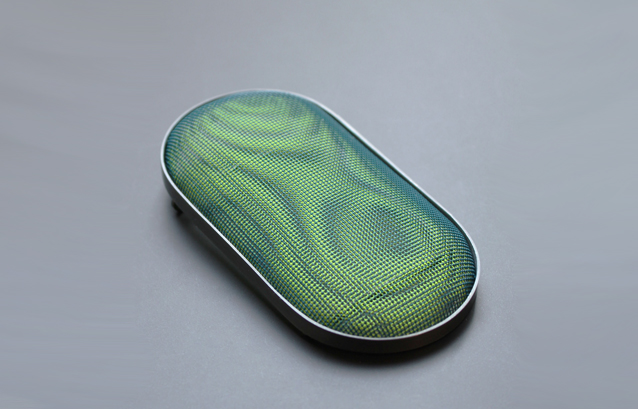 Thanh-Truc Nguyen, Neon brooch – 2011, Blackened silver, steel, paint
Thanh-Truc Nguyen uses commercial stainless steel mesh to make elegant, refined pieces that, in their precision, seem machine made but are not. Nel Linssen famously does the same thing with laminated paper. Blanche Tilden uses factory cut glass but hand finishes every piece and hand-makes every link in every chain of her architecture-inspired neckpieces. Then there are brooches by Lucy Sarneel and Manon van Kouswijk, whose connection to the hand of their maker is direct, joyful and obvious.
Jewellers include David Bielander, Gijs Bakker, Jiro Kamata, Lousje Skala, Lucy Sarneel, Manon van Kouswijk, Marc Monzo, Nel Linssen, Renee Bevan, Ribbonesia, and Thanh-Truc Nguyen.
New Edition runs 23 April – 11 May 2013 at Gallery Funaki, 4 Crossley St  Melbourne VIC.
Gallery Funaki
galleryfunaki.com.au/gf
Hero image: David Bielander, Koi bracelet – 2012, Leather, drawing pins, silver
---