Many travellers would concur that the best way to see a city is by foot. This intimate mode of travel allows for aging walls to be stroked, concealed laneways to be stumbled upon, strangers befriended and the sounds and smells of the destination to be experienced. This was a thought that came to mind after the Open House Perth weekend.
Open House Perth is a not-for-profit global event which showcases architectural masterpieces that would not typically be open to the public. Most spaces- residential, commercial and food and beverage destinations- are cleverly clustered so they can be travelled to by foot.
The two day event has been getting bigger and better since it hit the streets of Perth in 2012, increasing its impressive line-up yearly and hitting 220,000 visits since its inception in WA. A few months prior I was offered an ambassador gig by superwoman, aka: Carly Barrett (director and founder of OHP Perth, architect, new mum and poodle owner).
To Carly, my spruiking of the state's spectacular homes across social media and in my work as a design journalist was doing the local architecture community a favour. But in reality, being lucky enough to have unprecedented access to spaces, and speak to the architects behind them was my absolute privilege.
So, how can you achieve the ultimate staycation in just two days?
Never fear, below is an ambassador's guide on how to make the most of your next OHP weekend.
STEP ONE: Have a sticky beak inside the homes
To get to really know a city it is important to see how the people who inhabit it live.
Recently Tim Ross highlighted Perth's "McMansion" predicament in his ABC program, Streets of Your Town. Admittedly WA does have pockets of the state that have been invaded by formidable homes (larger in fact than our US residential counterparts) which follow a strict "the bigger the better" design philosophy. Yet the 14 residential spaces open for OHP told a different story: these cleverly designed abodes proved you don't need a wealth of square meterage to live the great Australian dream.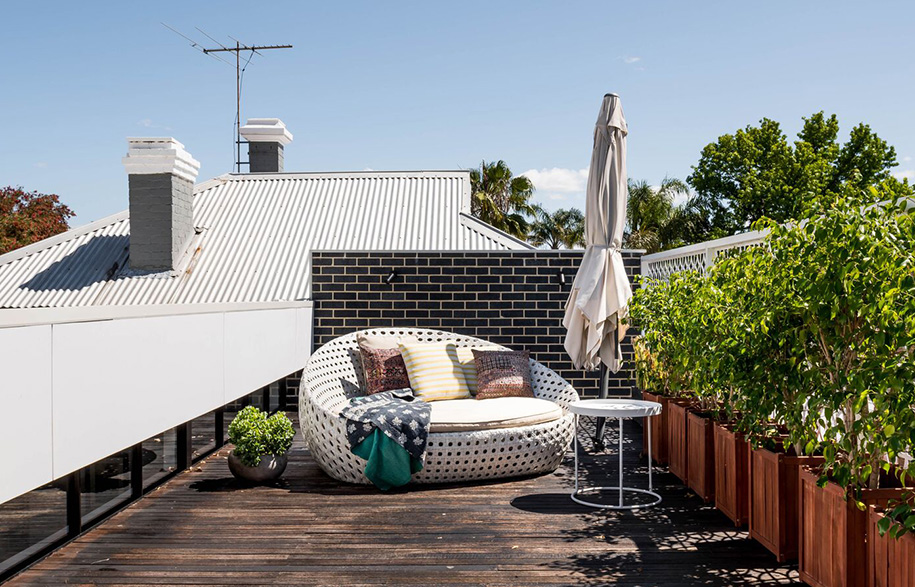 West Leederville Cottage
A highlight of the line-up was the West Leederville bungalow respectfully restored by Studio Atelier's Kimberley Tan and Jeff Swinyard. The duo renovated and added to the 1903 rundown cottage, which had a long, sordid past of being the resting place for some questionable characters. The result is a natural light-flooded space, with a cottage style façade at the front and modern glass rear leading to a rooftop terrace to the back.
In North Perth the Dolce Lane home by Klopper and Davis was a crowd favourite, if social media posts are anything to go by. The dynamic team have an astute eye for designing new homes that feel as though their four walls have a long story to tell, when in reality the letterbox was put in place just months before. Inside, the heavy dark face brick of its façade flows through its interior brightened with floor to ceiling glass walls, raw concrete flooring and warming timber features.
The salty suburb of Cottesloe lured in the masses with its two offerings, one being the Beach Box designed by architect Gavin Hestelow of Weststyle Design and Development. Covered in a striking bronzed armour and split into two separate realms, the home impressed from the outset. Inspired by the quintessential beach shack, Gavin has meticulously considered each design choice, from the strategically placed louvers to draw in the sea breeze through bay windows.
STEP TWO: Explore the heart of the city
The pulsing heart of the city is typically where a tourist's journey begins. Yet in a haste to check into the hotel, or make the 7pm booking, we don't stop to take in the buildings we are rushing past.
The old Palace Hotel first opened its doors in 1897 continues to stand out amongst its shiny skyscrapers neighbours in the CBD. Inside sit the offices of global architectural firm Woods Bagot which has restored the building into a monochromatic masterpiece. The offices themselves are a combination of lengthy desks and streamline lockers, with their staff coming in each morning to take whatever desk tickles their fancy. This is all complemented by the structure's original majestic high ceilings, flooring and features.
STEP THREE: Mostly importantly, eat and drink!
Every savvy traveller knows they need a stomach full of delicious sustenance, and liquid energy on hand, to cover as much distance as possible. The 12 food and beverage destinations made sure no tourists went hungry across the weekend.
Undoubtedly, the one stop shop on this year's line-up was The State Buildings. Home to the second best hotel in the world – COMO the Treasury – and the recipient of countless national architecture and heritage accolades, the 140-year-old building is a testament to the world-class architecture that WA has brought to the design world. From Telegram for coffee, Sue Lewis Chocolatier for heavenly hand-crafted morsels and Petition for a well-deserved Denmark Riesling, the grande dame was the perfect final resting place for any tourist, new or old, to put up their feet.
Open House Perth
openhouseperth.net
Words by Jade Jurewicz.
Photography by Dion Robeson.
Claisebrook Design Community by Coda Studio.
Boulevard House by Officer Woods Architects.
West Leederville Cottage by Studio Atelier | Styling by Anna Flanders.
---