Crabbes Creek is a 20-minute drive from Byron Bay and is a leafy backdrop for builder Sam Reynolds' home.
With care for the details, Reynolds is often appointed as the builder on houses with many award-winning architects, including the Federal House by Edition Office (Habitus House of the Year winner, 2021) and with practices such as, AC-H and Vokes and Peters. Reynolds chose the latter to design his own place.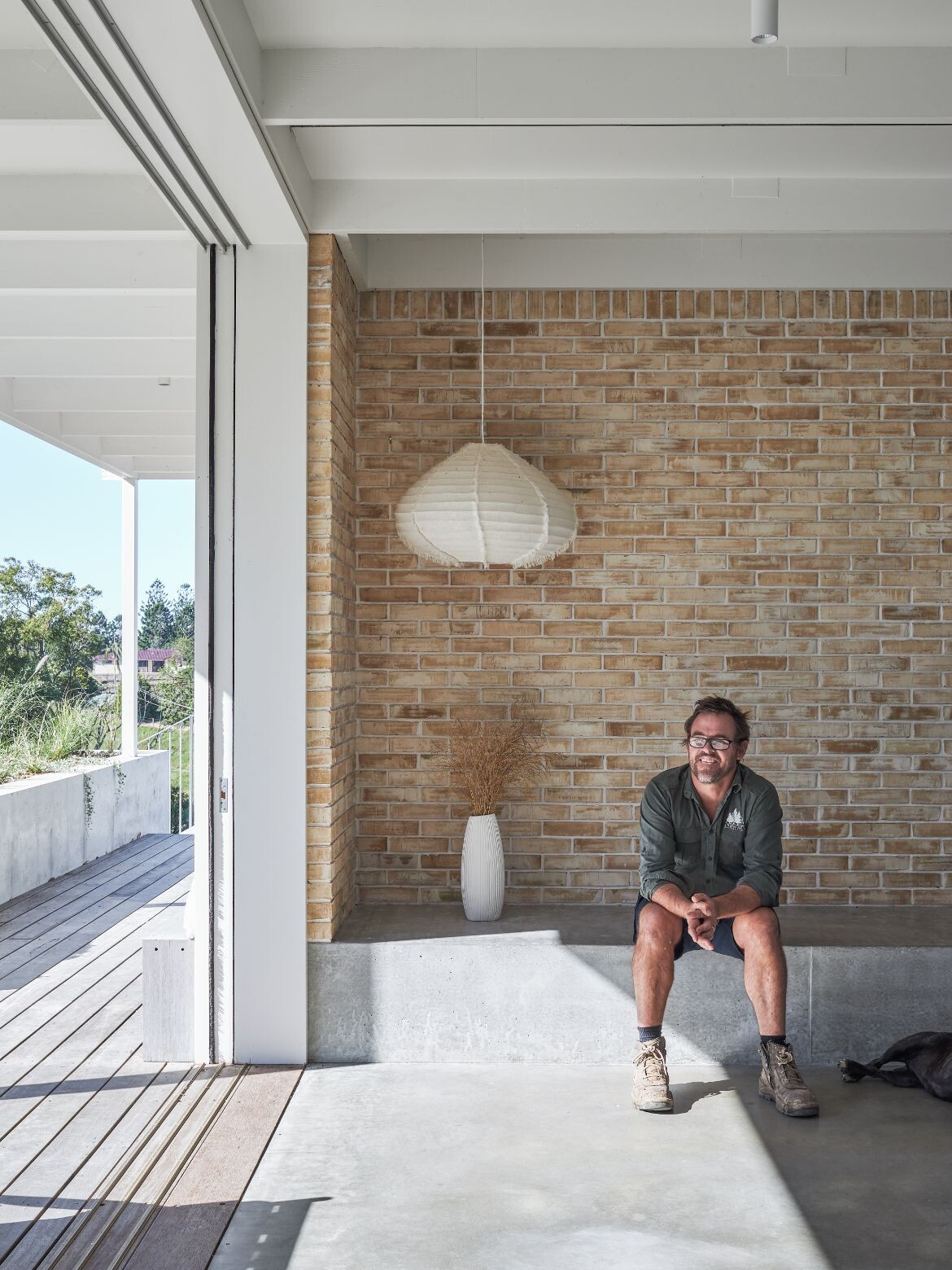 "I worked with Vokes and Peters on Casuarina House (recipient of the prestigious Australian Institute of Architects' Robin Dodds Award), which is a Queenslander-style home, so I thought they would be the right fit for my home, having been built in the late 1940s," says Reynolds, who established his building company SJ Reynolds Constructions 25 years ago.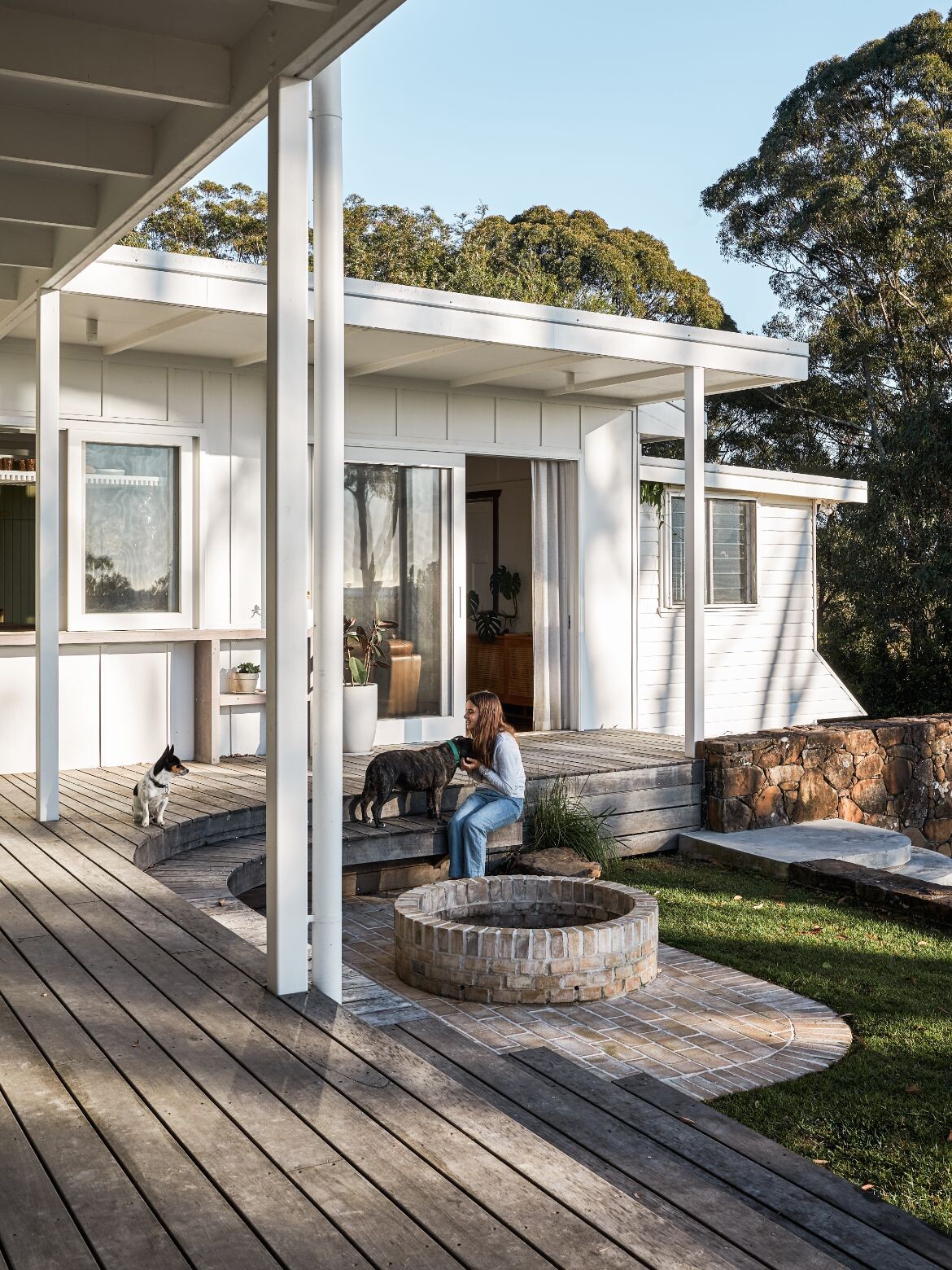 The residence is now a three-bedroom home, with a separate study and two living areas, as well as a large open-plan kitchen, dining and living area.
With such lush surrounds, views of the rainforest are thoughtfully framed through large picture windows and generous sliding doors, which lead out to a large outdoor terrace and swimming pool.
"The kitchen is the heart of the house, where we all come together," says Reynolds, who lives here with his wife Nerissa and their two children. Here, as with many of the period home renovations he works on, the past and present are fused together. For the Crabbe Creek House, the children's bedrooms and living area occupy the original footprint, while the new wing, including the parents' domain, form a contemporary addition.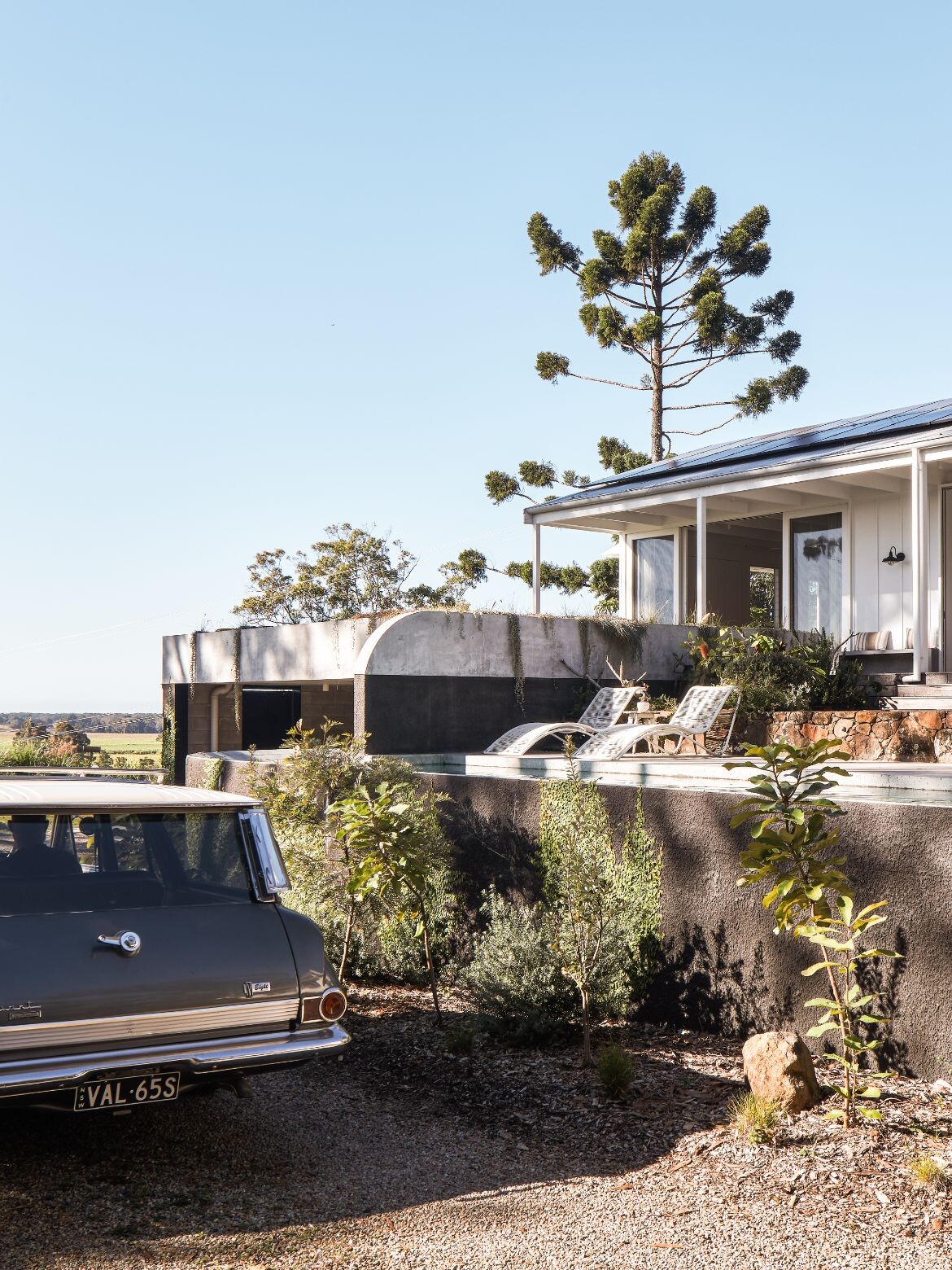 For Reynolds, who grew up in Avalon on Sydney's Northern Beaches, connection to the environment has always been paramount. "I was a keen surfer but I also enjoyed driving around the wide and leafy streets, in particular looking at the houses, many of them being architect-designed."
His late grandfather Jerry was also a builder. "When I came across certain houses that were impressive, I'd often say to myself that one day I would build houses like these," says Reynolds, who like many budding builders, also enjoyed his woodwork classes in high school – later getting into the surfboard industry sculpting boards.
While his grandfather predominantly worked on art deco-style apartments around the Mosman area where he resided, Reynolds' business focuses on architect-designed houses together with bespoke alterations and additions.
"I wouldn't be satisfied building project homes. I want the houses I build to respond to the way people live and to make sure each one is light and well-ventilated," says Reynolds, who doesn't have air conditioning in his home, instead relying on the southern winds to cool things down during the warmer months of the year.
Early in his career, Reynolds worked in London on a number of heritage-listed houses, a factor that also strengthened his enquiring mind. "I probably ask too many questions but I never assume anything and I'm a stickler for detail," he says. One such example is the timber detailing throughout – timber windows and shelving, built-in lounge – done by SJR carpenters, a relationship that is very in sync having evolved over many timber projects together.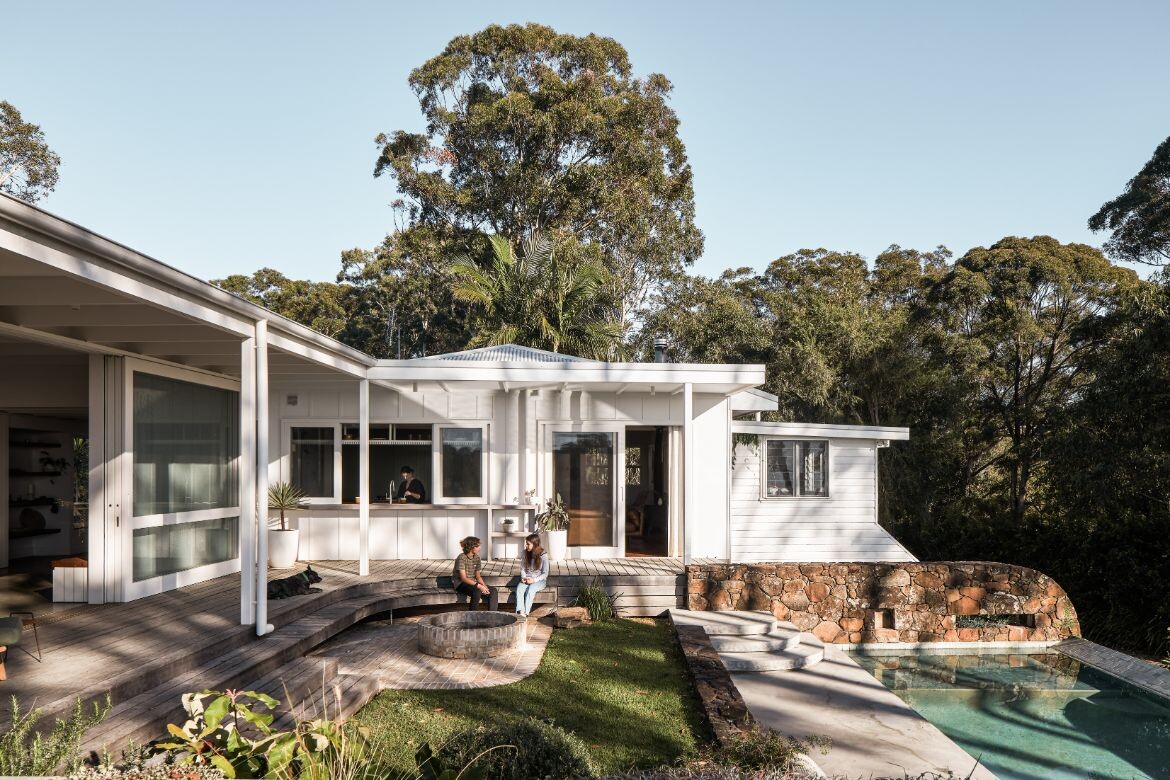 The concrete floors in the new wing also had to be just the way he wanted them: without any aggregates to ensure a smooth and seamless finish. Other decisions were similarly driven by Reynolds' keen design eye, such as a green roof on the garage. "We could have gone with a traditional steel or tiled roof for the garage, but I wanted to enjoy seeing greenery from every vantage point."
But not everything had to be new. Reynolds very much wanted to retain the home's modernist post-war feel, which was in alignment with the architect. Both were keen to include a brick feature wall in the open-plan kitchen and living area as well as use chunky timber beams that drew one's eye out to the view of the rainforest.
Reynolds enjoys waking up every morning and looking out at the views from the eastern windows in the bedroom. There are glimpses of the ocean and generally a soft warm breeze in the summer months. During the few colder months of the year, the northern sun warms the concrete floors in the living areas, acting as a thermal heat bank.
"We made sure the eaves were only a couple of metres deep to make the most of the sun's rays," says Reynolds. He also enjoys the way the materials have been 'stitched' together, from the original timber floors to the painted grooved plywood used for the kitchen joinery. Painted in an olive hue, these cupboards have a honey- like glow when the light is low in the morning. "There's not one material that dominates the palette that we've used. It just seems right," says Reynolds.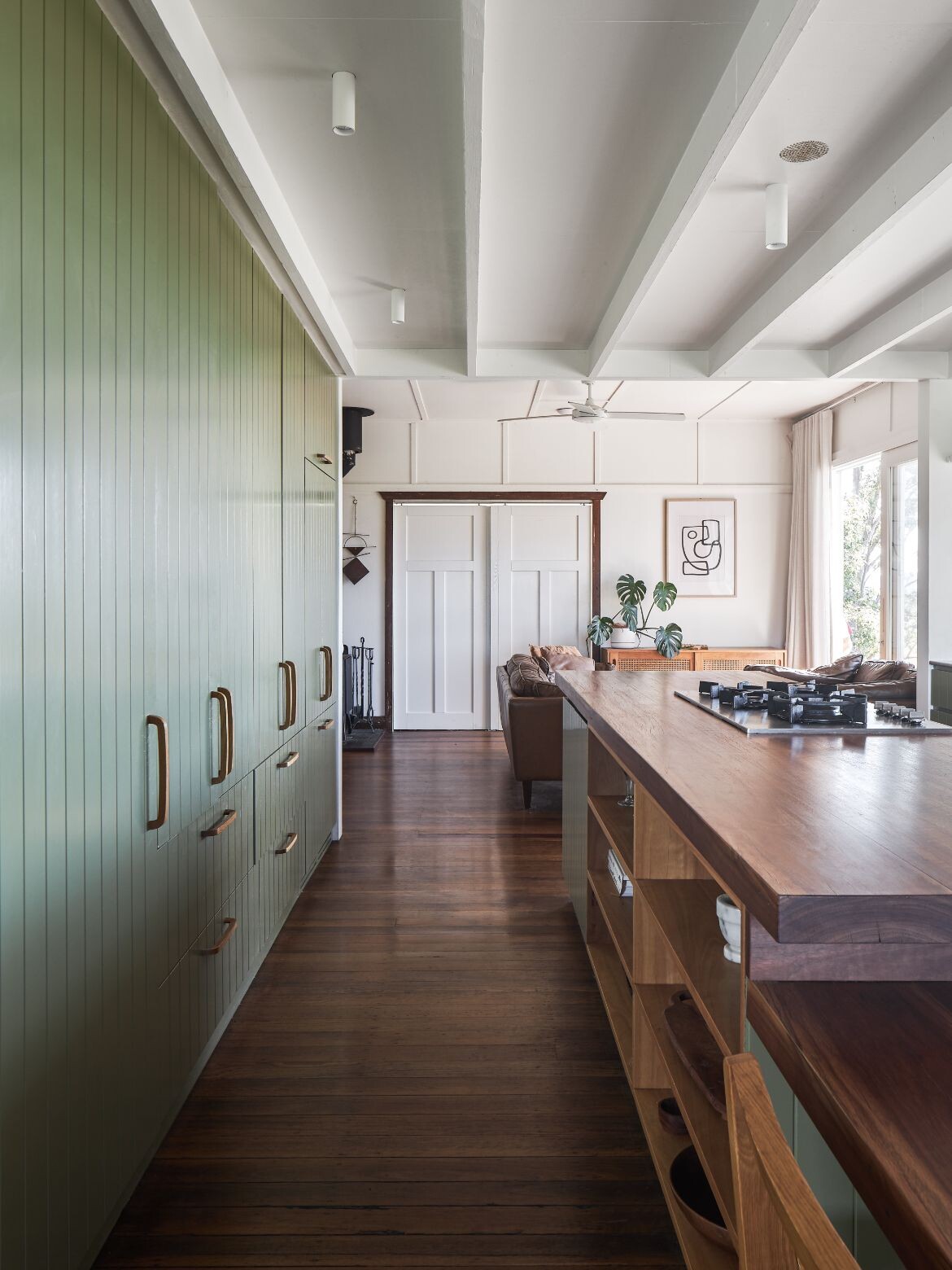 With Nerissa and a staff of four working with him in the business, Reynolds is more assured of what needs to be done with every project. "I've always enjoyed problem-solving and you could say that I'm fastidious. I want the original design to be fully honoured and brought to fruition rather than compromised in any way, whether it's my own home or any house that I work on," he says.
The care and attention to producing high-quality work go hand-in-hand with experience that only comes with time and, importantly, working with some of Australia's leading architects. And this home is made to suit the Reynolds family perfectly.
Details
Location – Crabbes Creek, NSW
Traditional custodians – Bundjalung Country
Builder and homeowner – SJ Reynolds Construction
Photography – Andy Macpherson
This article originally appeared in Habitus #57, the Kitchen & Bathroom special – see back issues here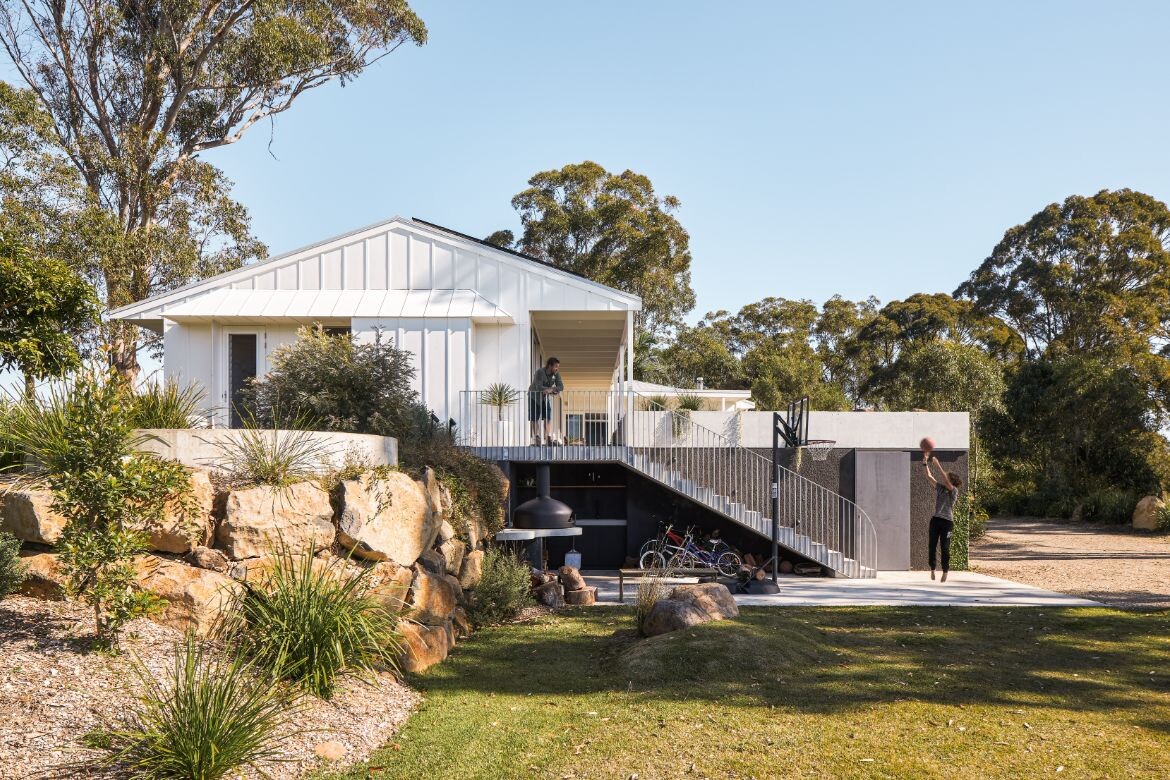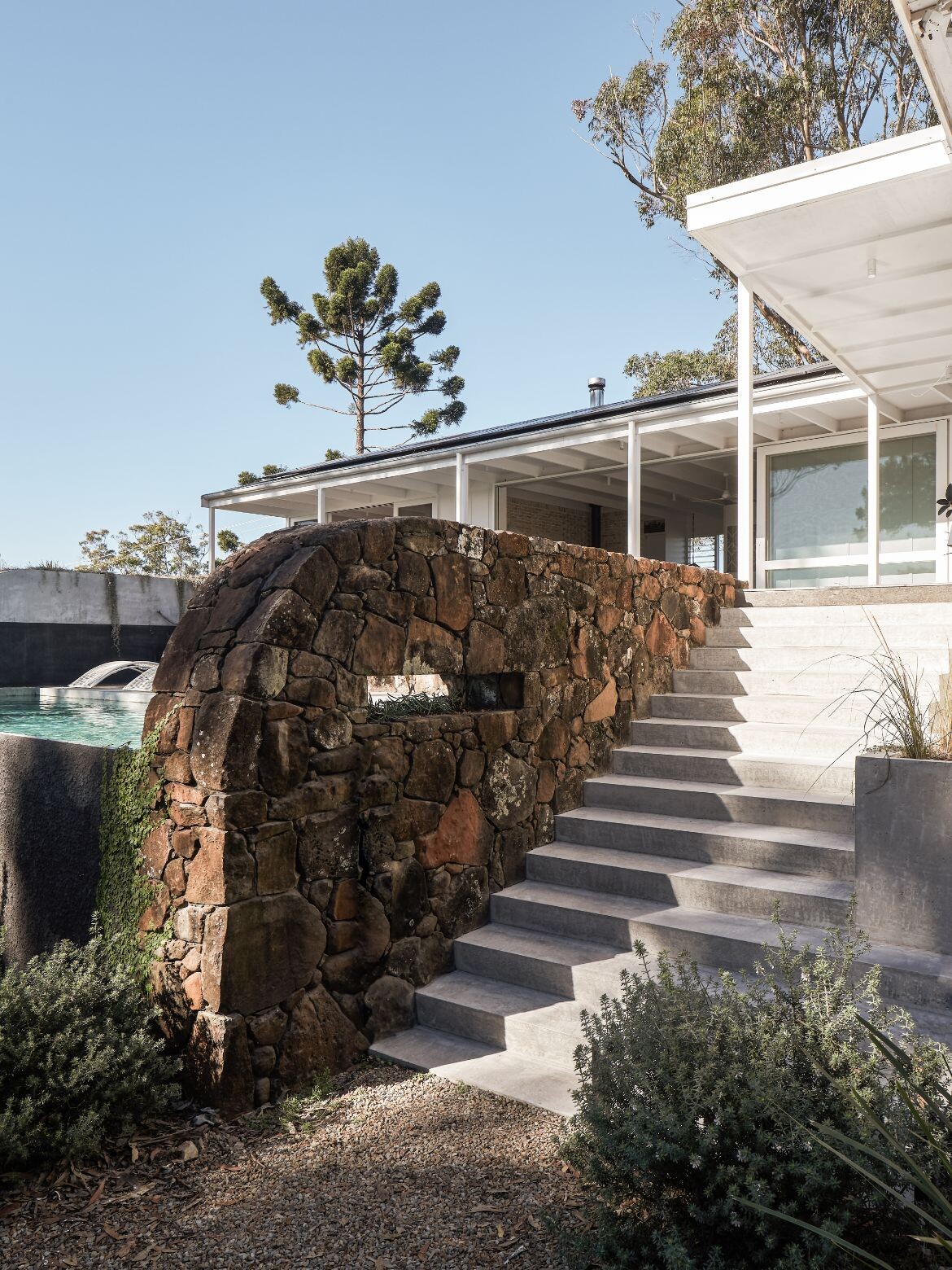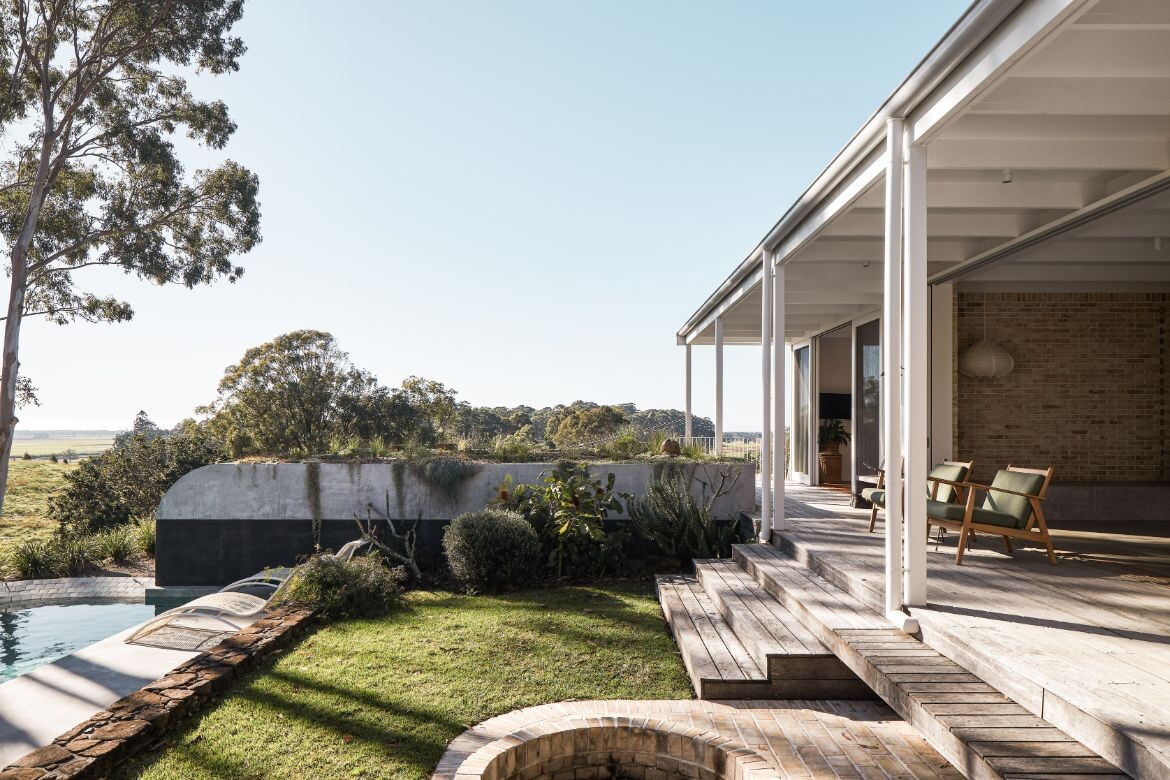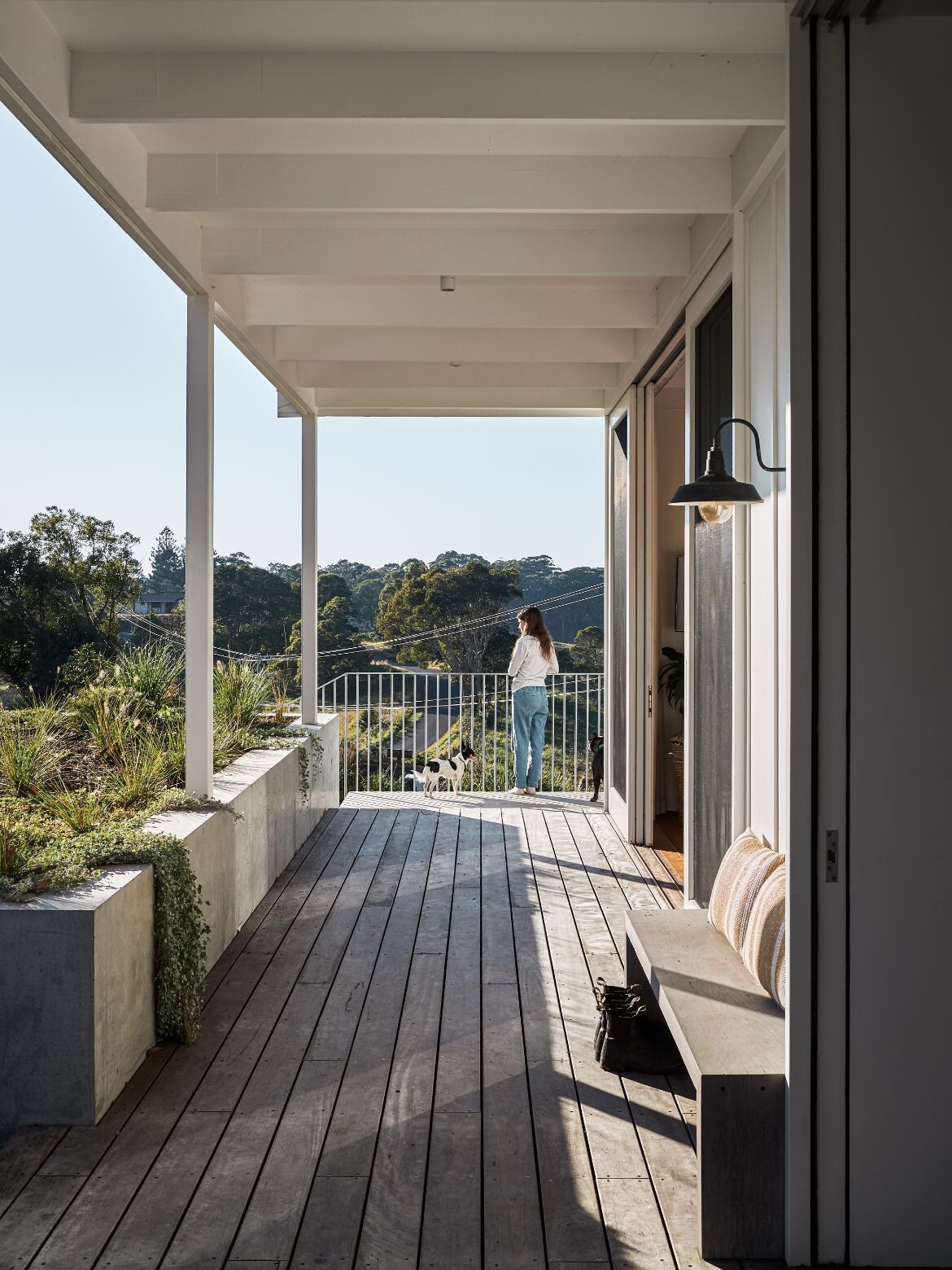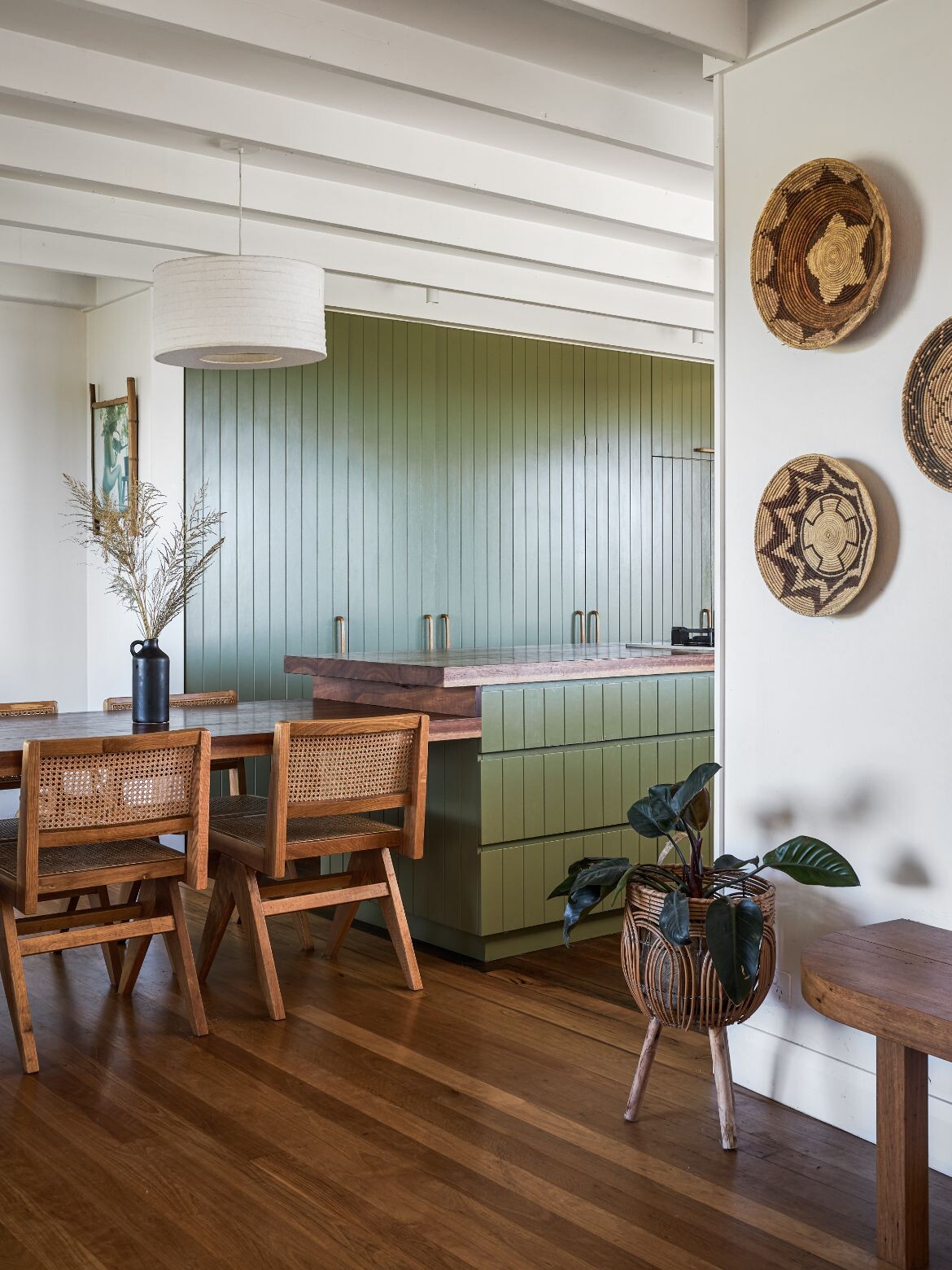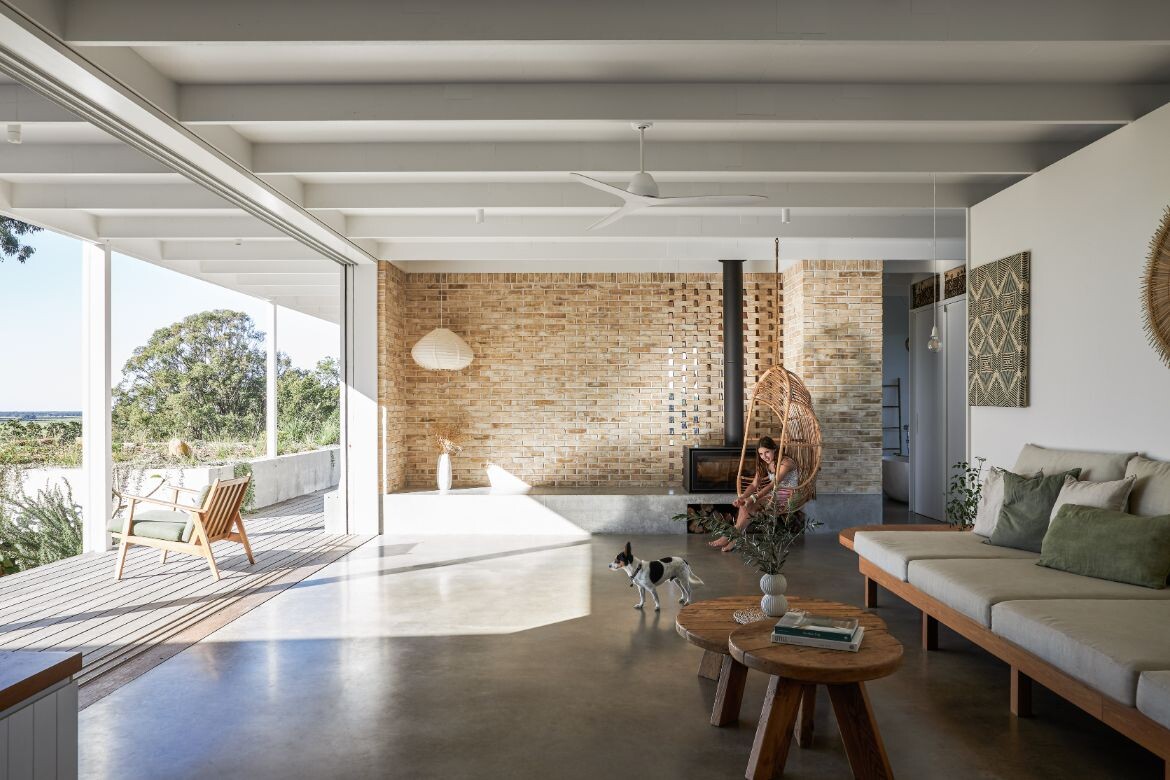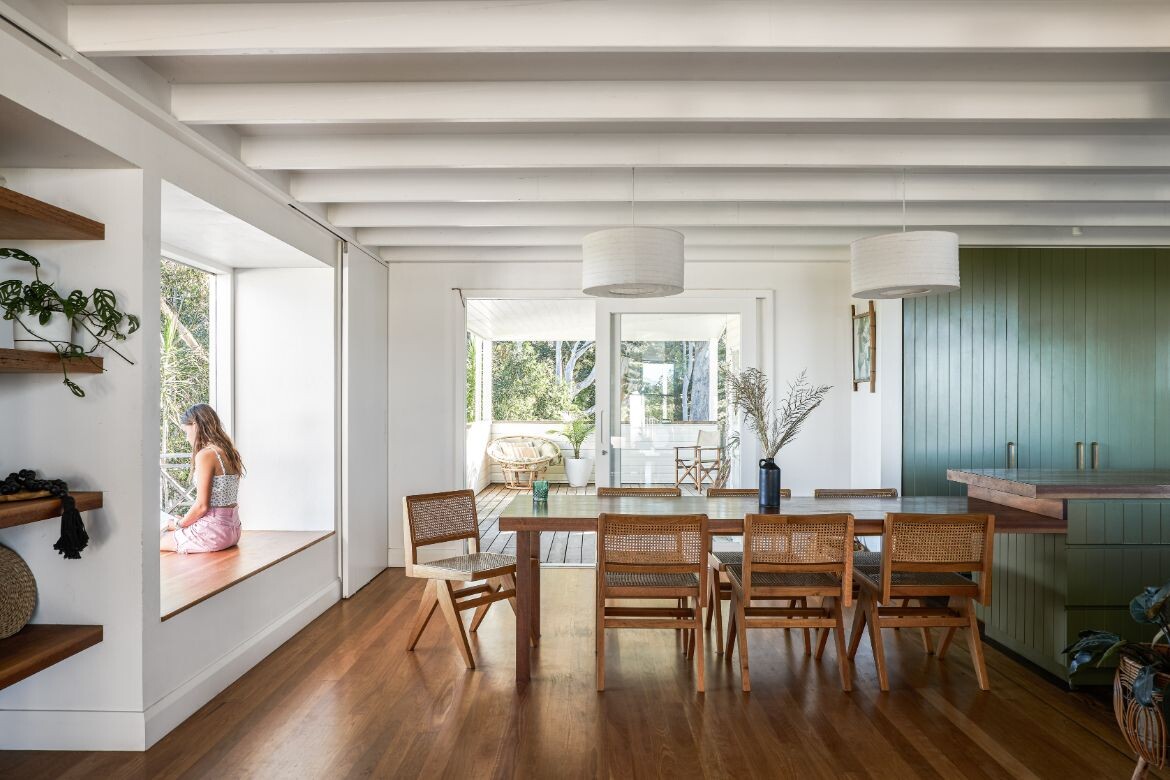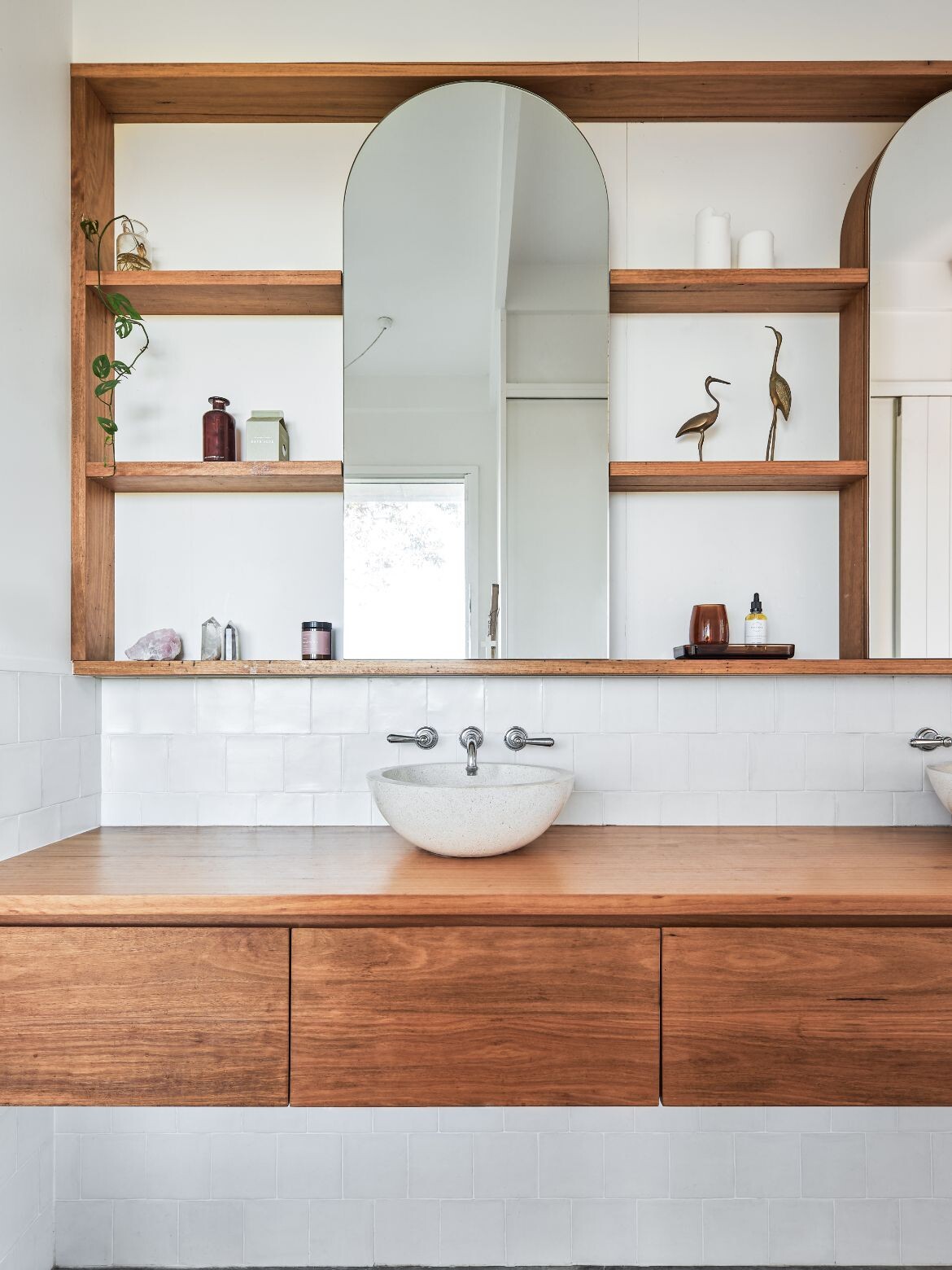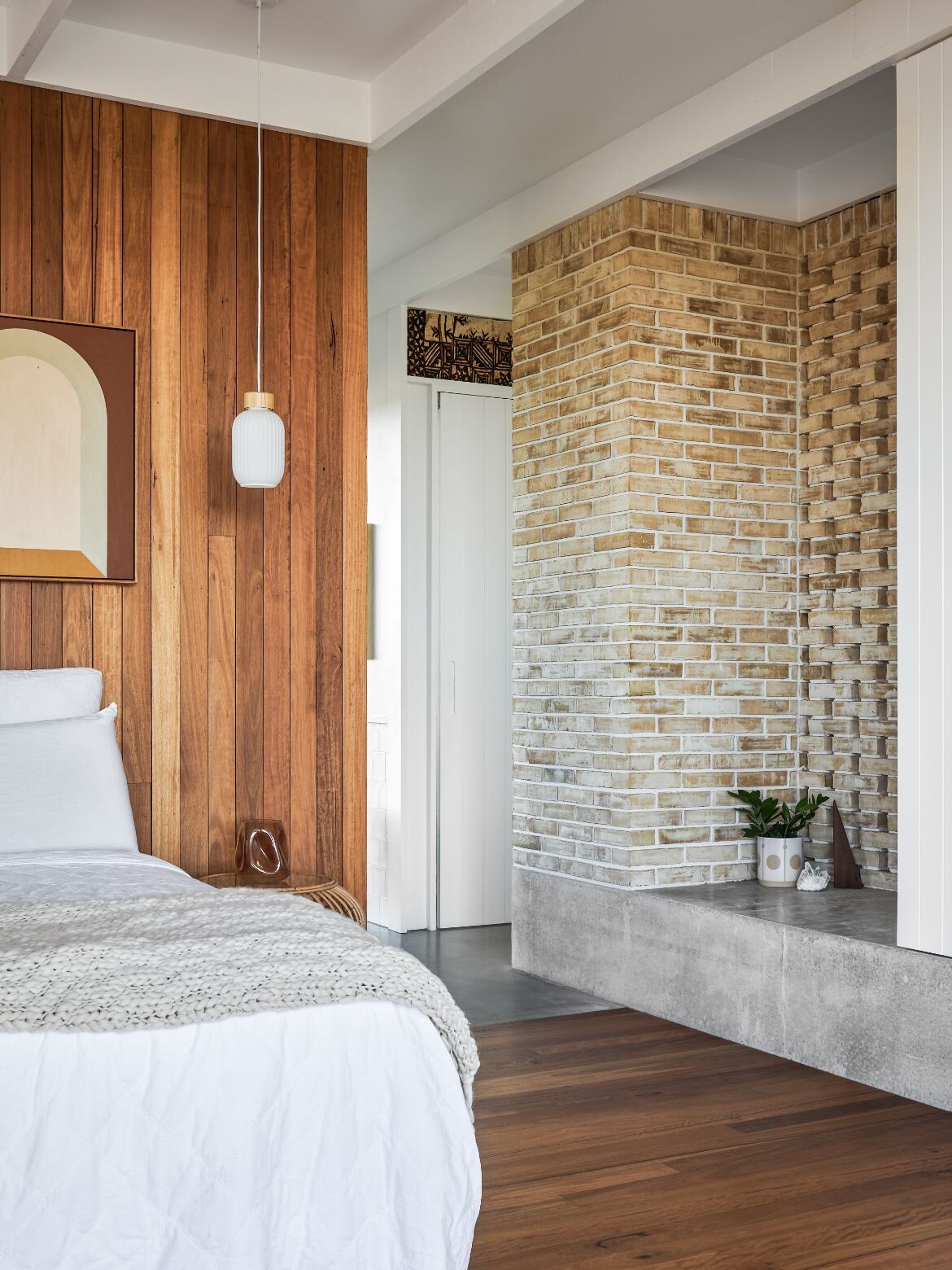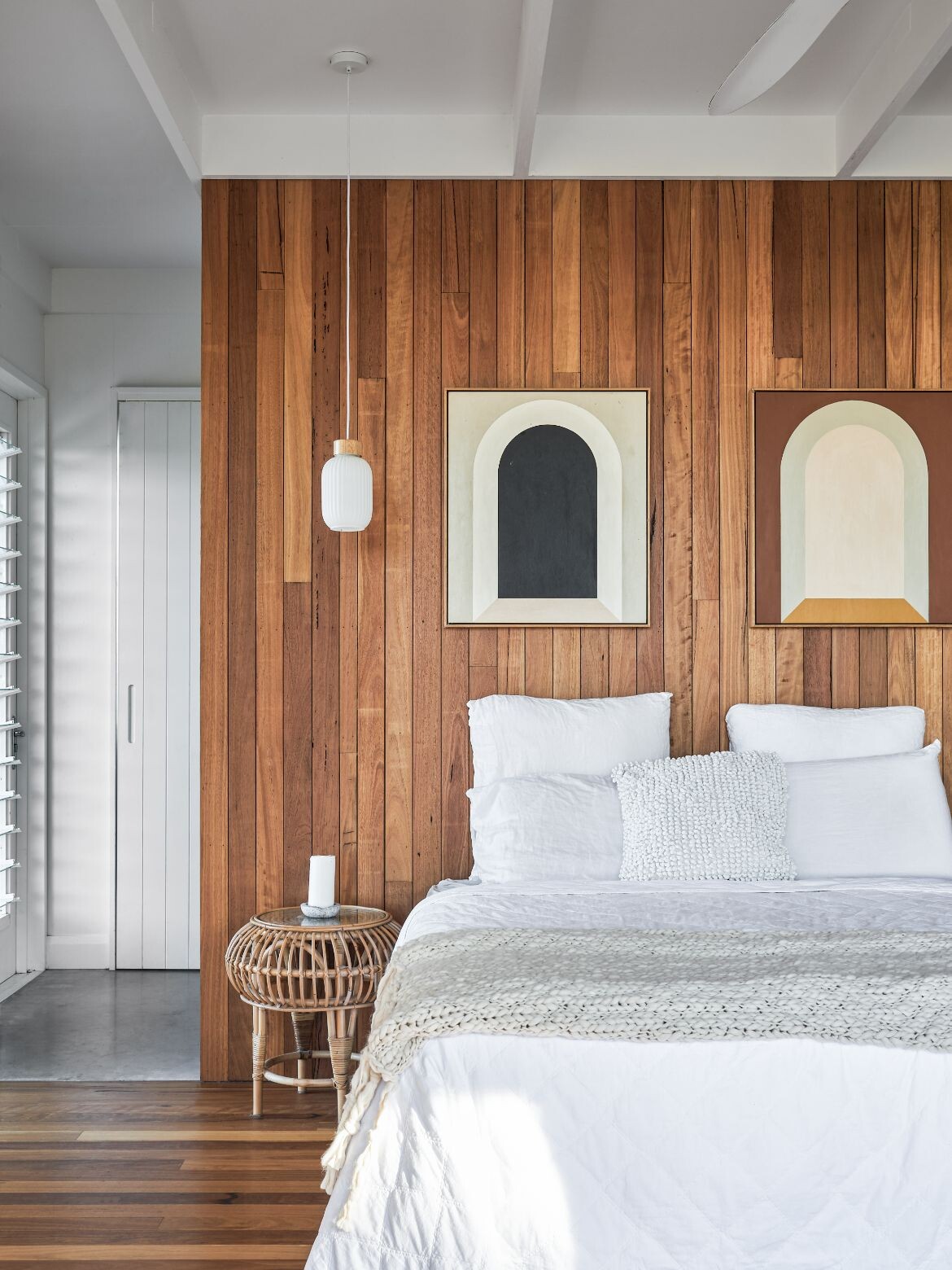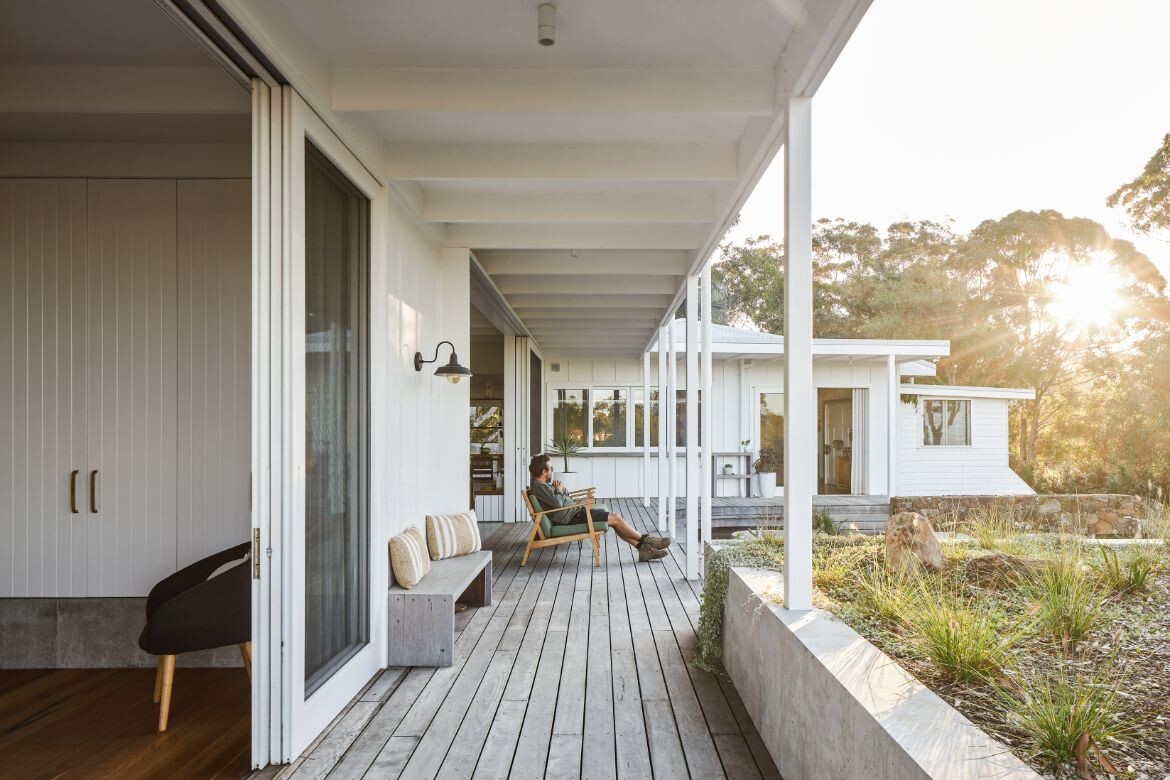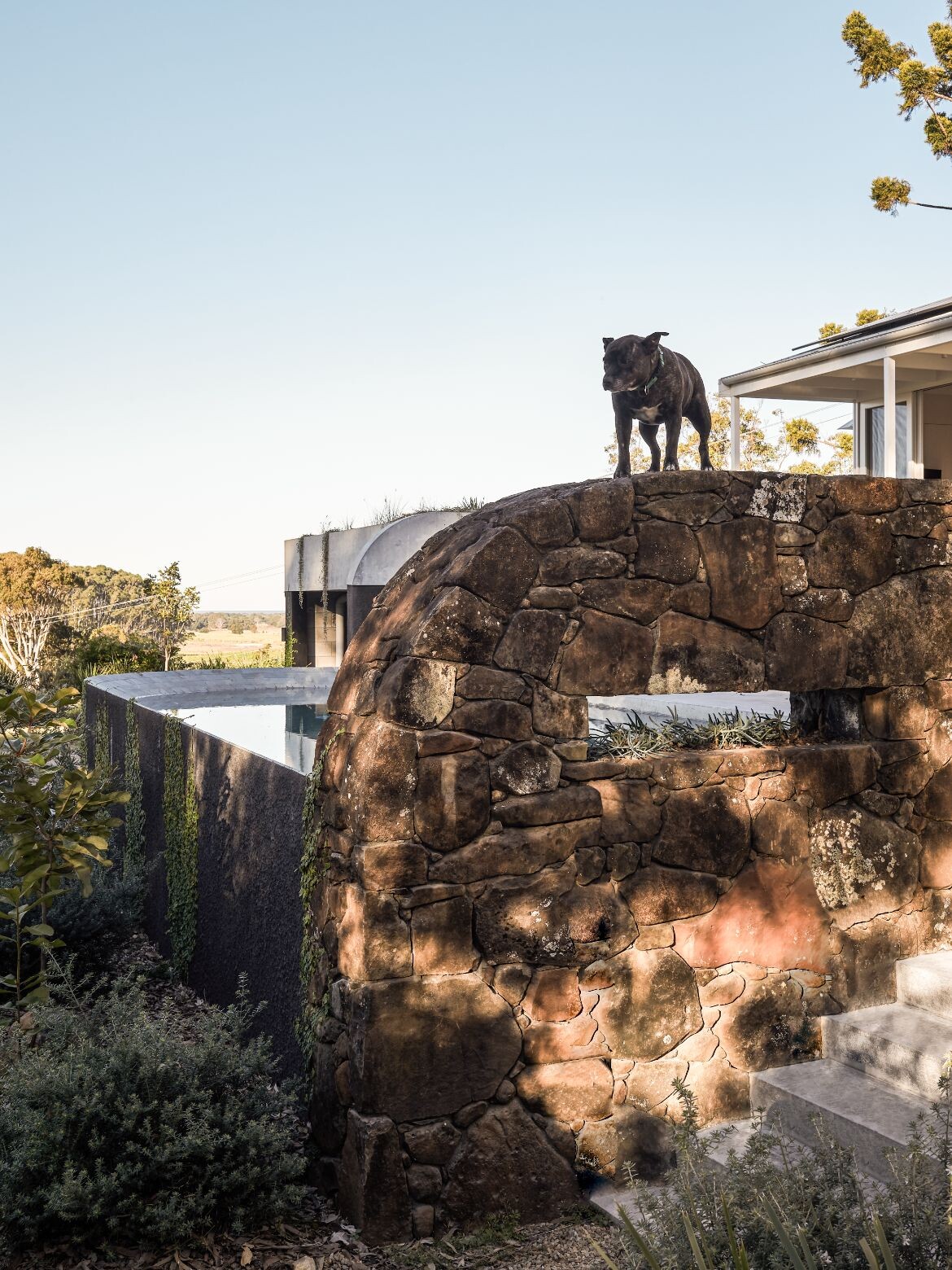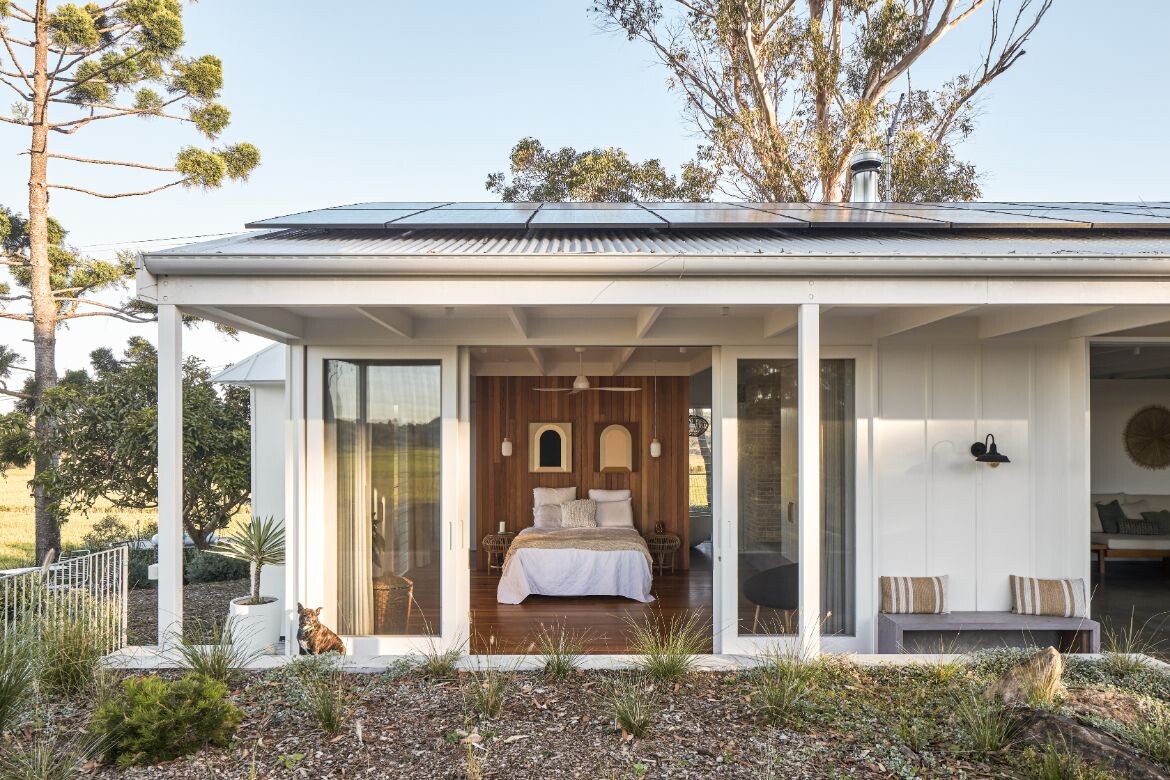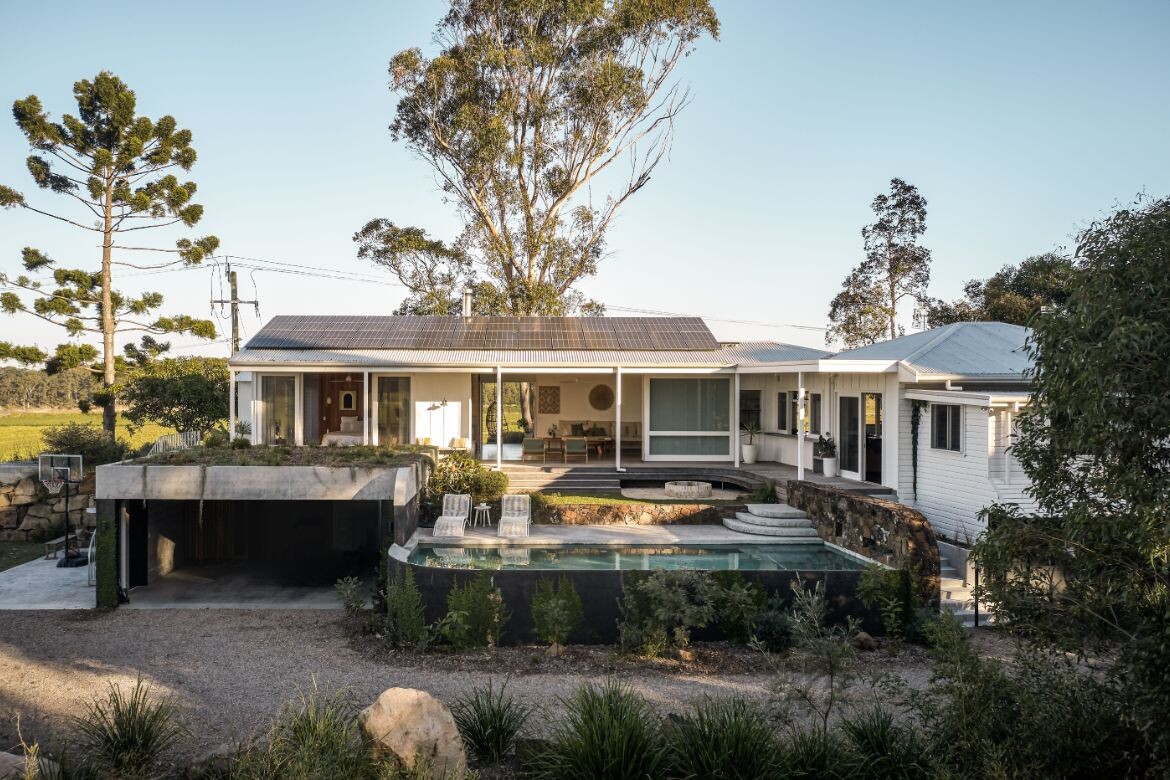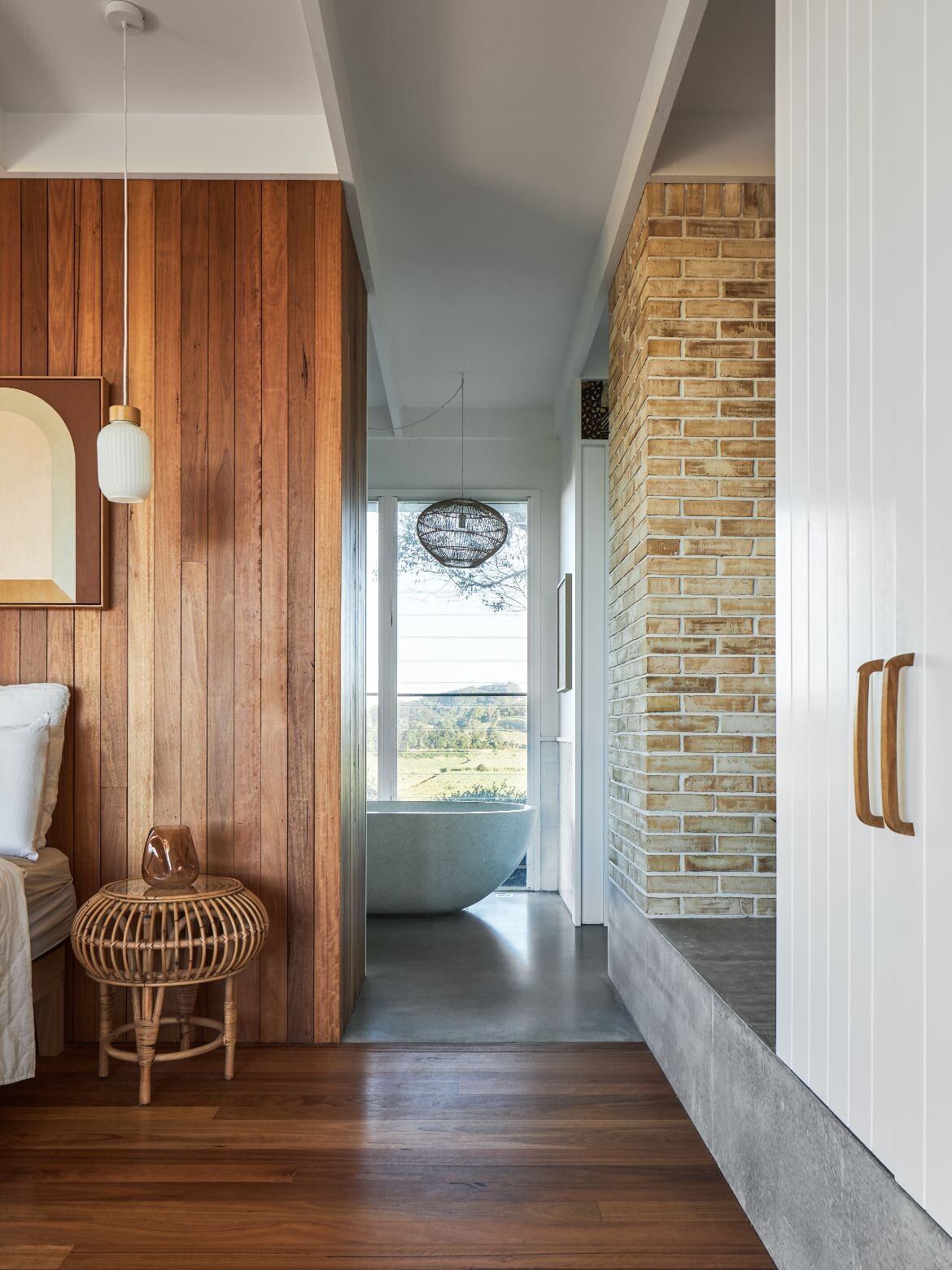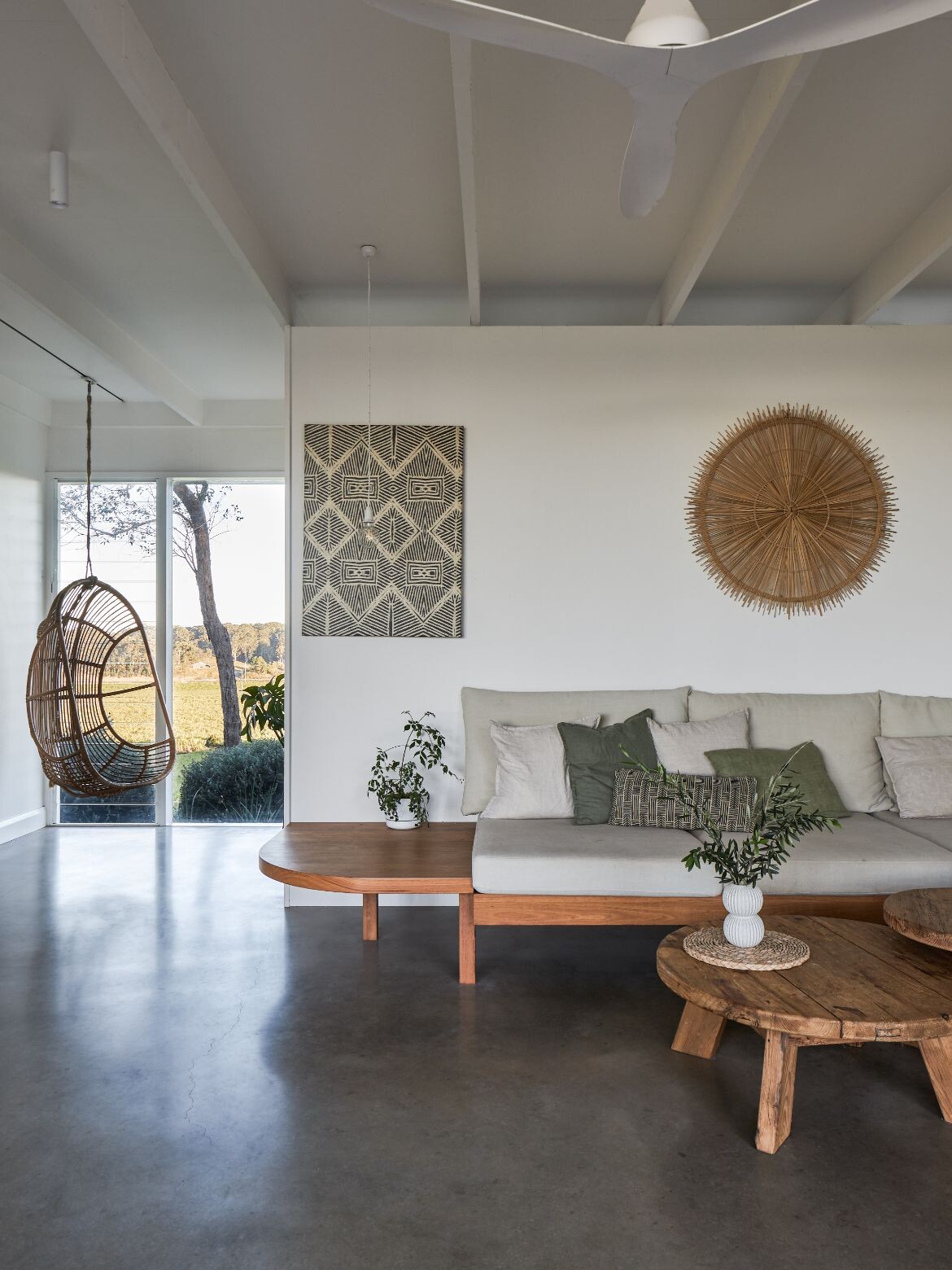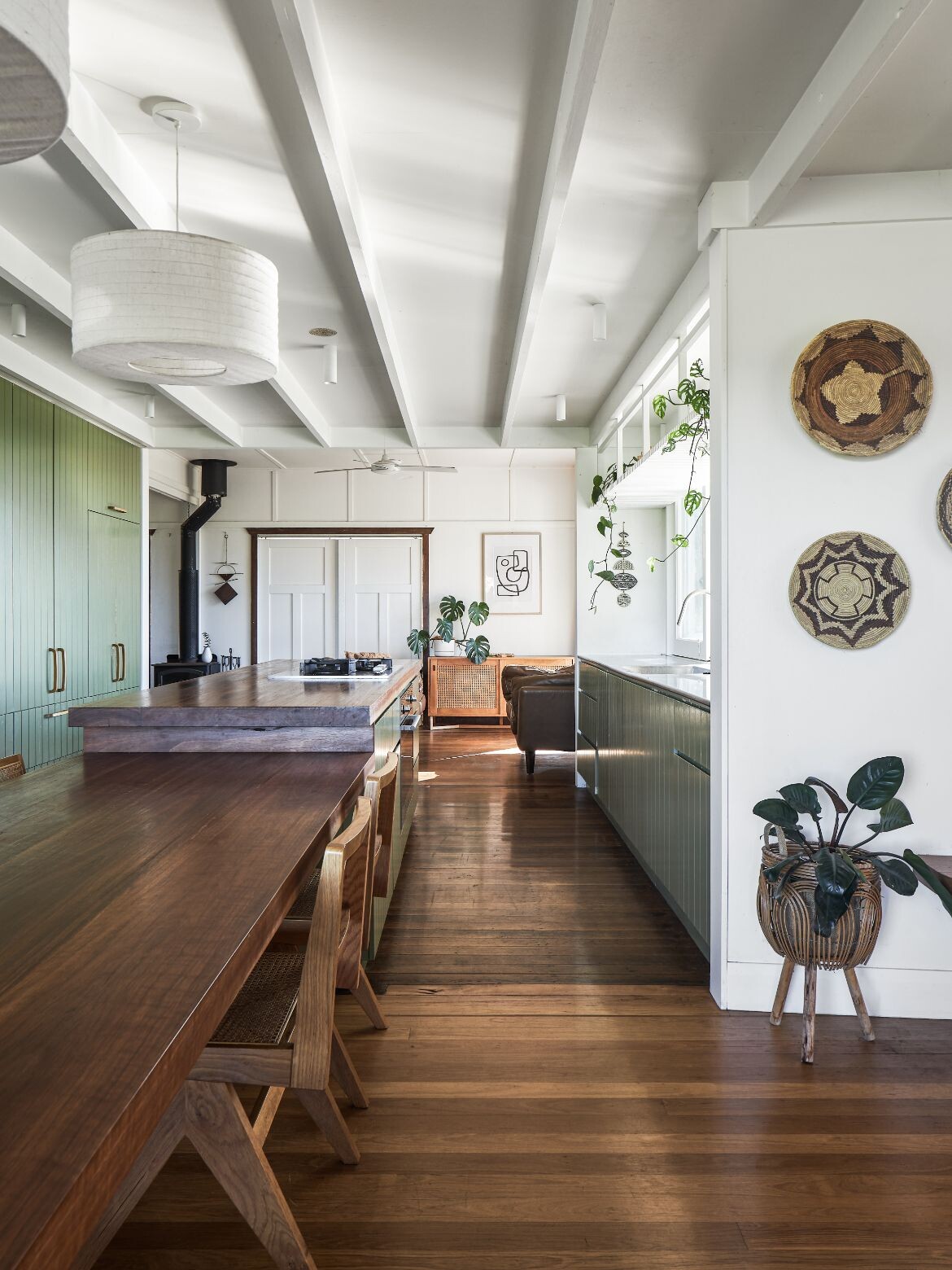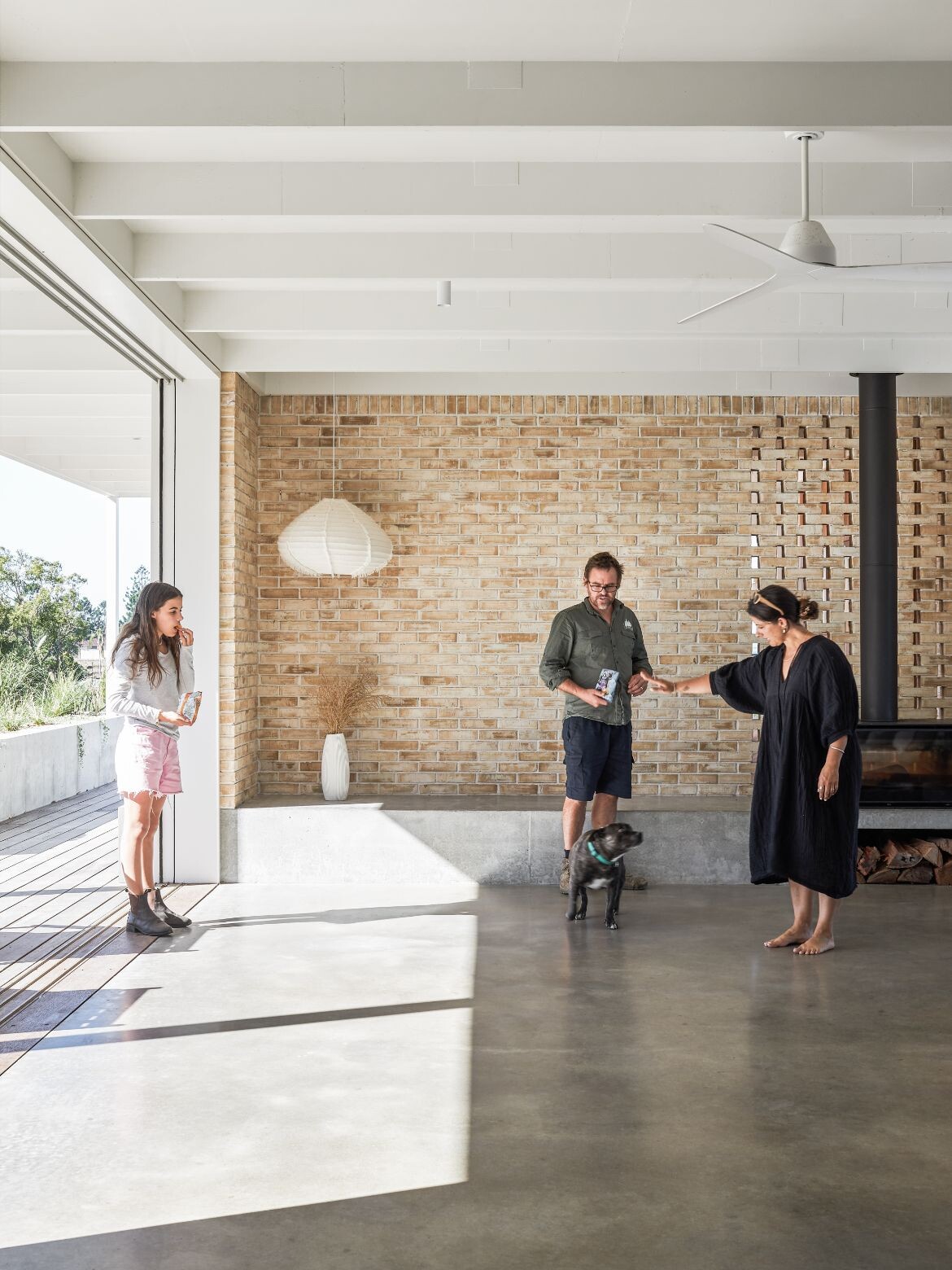 ---