Green House by Zen Architects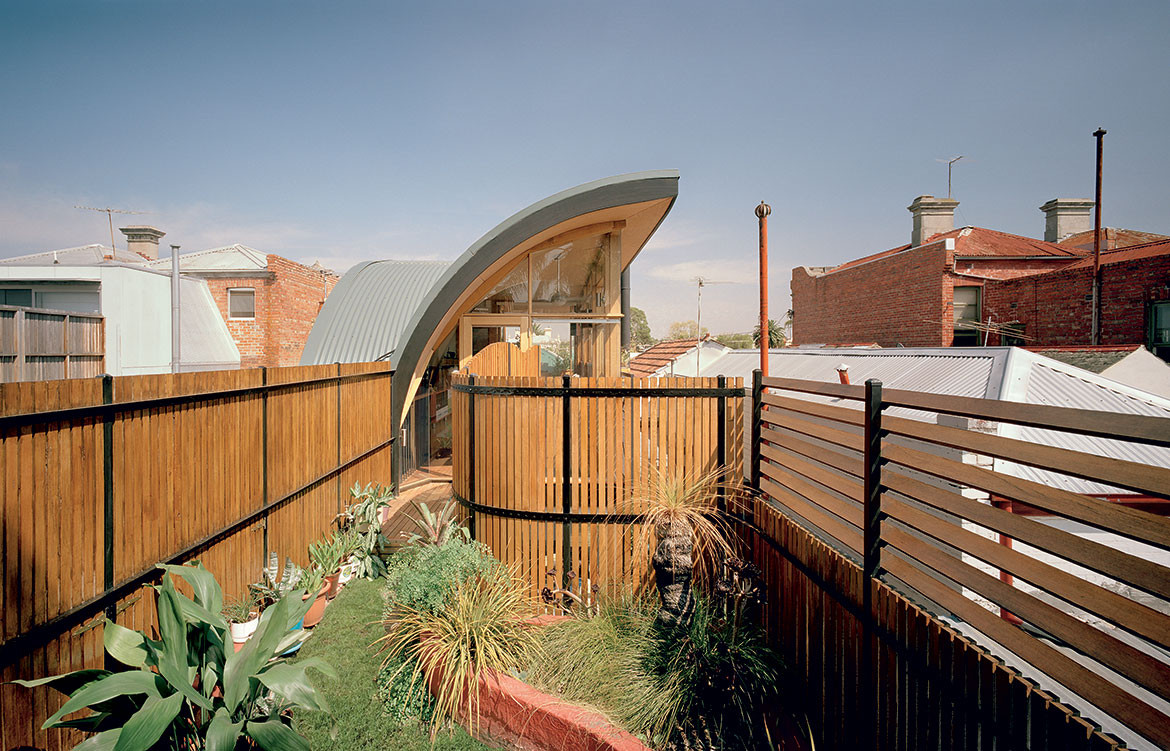 Plants are a simple way to design more sustainable architecture, improving indoor air quality and contributing to thermal comfort by providing shade in summer and allowing for sunlight in winter. North Carlton Green House by Zen Architects is an environmentally sensitive extension to a two-bedroom Victorian terrace house. The client wanted to increase both the house and garden space, while aiming to minimise resource and energy use. Zen Architects tapped into the client's passion for her garden as a way to increase the local ecological diversity and absorb carbon dioxide.
"Wherever possible, green space has been maximised and incorporated into the home," says architect Luke Rhodes. "Plants are integrated into the building to create a living, breathing, sustainable space that is a delight to inhabit, and the occupant has a constant and intimate connection with the immediate landscape and the broader environment."
Two plant-filled courtyards protrude into living spaces, with tillandsia air plants filtering light, and deciduous plants, such as wisteria, provide summer shading while allowing winter sun to penetrate. First-floor planter boxes double as privacy screens, and pond plants filter animated light reflected onto the ceiling. A roof garden insulates the kitchen and dining ceiling and reclaims green space that would otherwise be lost to the increased building footprint. It also provides an oasis amidst the urban environment, attracting insects and birds.
Photography by Emma Cross
Zen Architects
zenarchitects.com
Lean-to House by WARC Studio Architects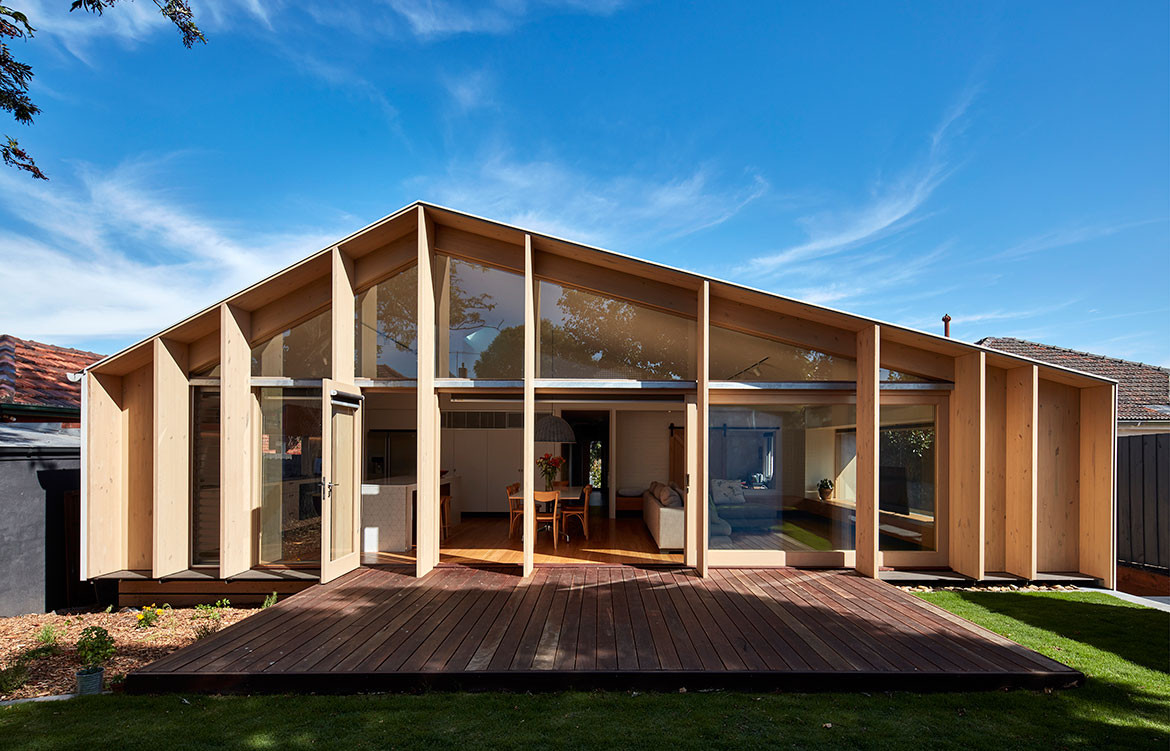 Lean-to House by WARC Studio Architects is an alteration and addition to a 1960s house, providing new rear living spaces as well as some internal modifications and rectification work to the existing residence. The design program was driven by resource efficiency, with minimising the use of materials reducing cost and embodied energy.
"Lean-to House has sustainable features that often fly under the radar of the more vaunted bells-and-whistles approach to sustainability," says Andrew Wilson, director of WARC Studio Architects. The lean-to form of the addition with off-centre pitched roof enables a very low surface area to volume ratio, which means fewer materials and less exposed façade. "Rather than a standard flat ceiling at 3-plus-metres high, the ceiling starts at 2.2 metres, then extends up to a 3.6m high cathedral ceiling. While maintaining a spacious volume, this translates to less material capital consumption and less ongoing resource consumption from heating and cooling," Andrew explains.
Instead of a steel portal frame, the structural system consists of laminated timber fins that also provides structure, finished surface and sun shading. The timber has extremely low embodied energy in contrast to steel and has been sourced and harvested locally from sustainable plantations within four hours of the site, reducing the cost and environmental impact of transportation. Only minimal steel was used in the project and the roof was lined with white steel sheet lining to minimise heat gain in summer.
Photography by Aaron Pocock
WARC Studio Architects
warc.com.au
Smart Home by Green Sheep Collective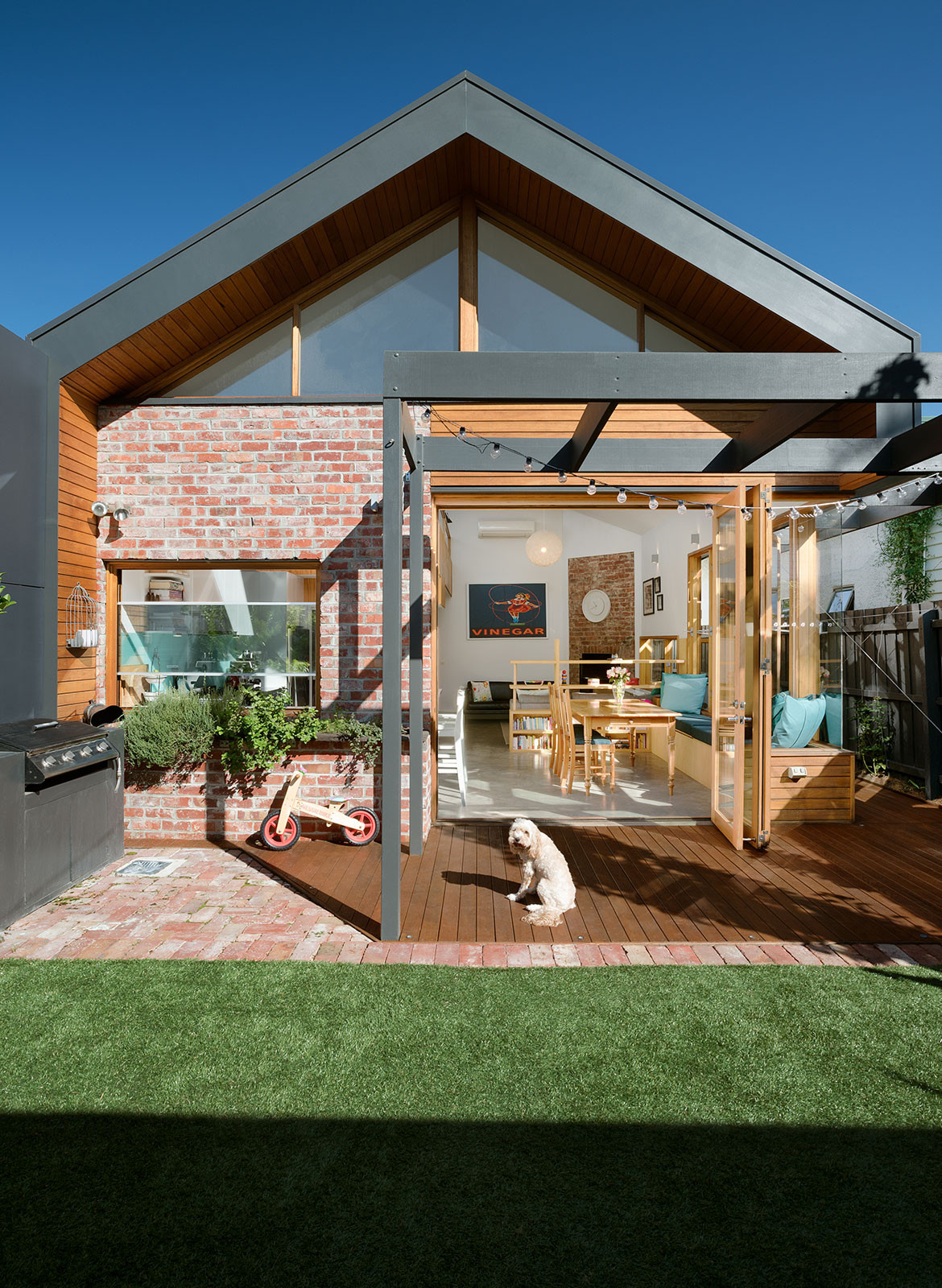 Australia has a lot of existing building stock before and after the turn of the twentieth century. While these houses often no longer provide functional spaces for contemporary living, they do provide a foundation for creating a modern, smarter home. Residents typically want to build up or out, adding more bedroom and living space and forging a stronger connection with nature. These extensions, however, entail more than just material costs and have wide-ranging environmental, spatial and fiscal costs.
"Thrive Research has shown that every 12-metre-square room built in Australia creates the equivalent of 80,000 kilometres worth of car exhaust emissions, consumes 90 years' worth of drinking water for four persons, and costs $24,000 AUD in construction and energy bills over its lifetime," says Shae Parker, director of Green Sheep Collective.
Green Sheep Collective renovated this two-bedroom Victorian cottage to create a thermally comfortable home with more living area, a new kitchen, bathroom and laundry and a better connection to the outdoors. The client also wanted to add a second storey to accommodate a third bedroom. "Our clients were unaware of the costs of "going up:" the additional space to house the staircase and circulation spaces; hidden costs for labour, scaffolding, insurances, materials, engineering, and design to accommodate overlooking legislation; heating, cooling, cleaning and maintenance requirements and ongoing costs, and so on," says Shae.
Instead of adding a second storey, Green Sheep Collective inserted a mezzanine and extended the house horizontally, adding 20 per cent more usable indoor space with only 13 square metres additional footprint.
Photography by Emma Cross
Green Sheep Collective
greensheepcollective.com.au
Recyclable House by Inquire Invent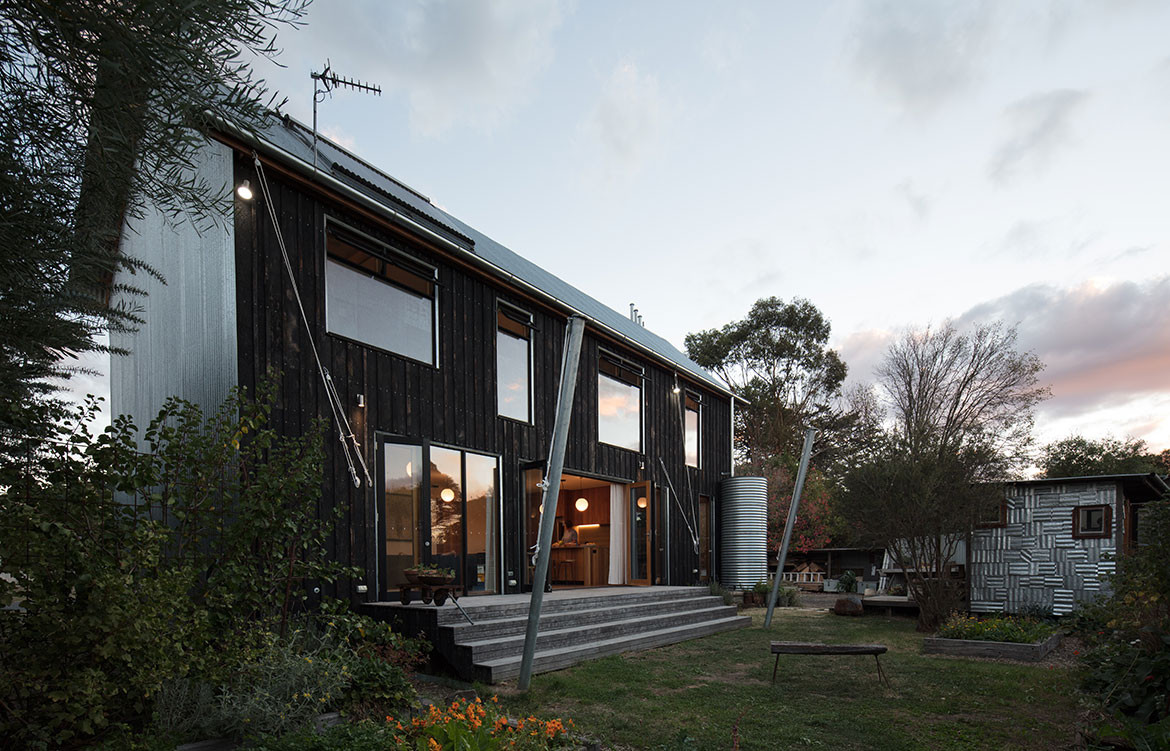 Recyclable House, designed and built by Quentin Irvine of Inquire Invent, uses experimental, closed loop ("cradle-to-cradle") design and construction methodologies to reduce waste and future landfill. It is made with recyclable materials screwed and nailed together and built using a variety of techniques to improve recyclability, thermal efficiency, building longevity and indoor air quality. "Although the components of this house are either biologically or technologically recyclable, it has been built to last and is of exceptionally high quality," says Quentin.
Inspired by the iconic Australian woolshed, it has an external façade of galvanised steel and locally milled timber that Quentin torched using Yakisugi, a traditional Japanese technique. The walls are wrapped in recyclable polypropylene breather wrap, which is vapour permeable to keep the wall cavities and the home dryer, mould free and healthier. The interior walls are fully compostable, using older-style plasterboard with natural paint, and recycled timber is used for floorboards, wall linings and joinery, finished with natural oils. All materials are screwed and nailed together, and wherever glues, paints or sealants have been used, they are natural and biodegradable in all but one or two instances.
Quentin built the bathrooms using similar techniques to roof building, screwing cement sheet with recycled content to the floor structure. Stainless steel floor and shower trays act as a waterproofing layer, with floating decking boards in one bathroom, and pebbles/pavers in another. In the kitchen, he used PureBond Plywood (with formaldehyde-free soy-based glues), Plaspanel (recycled plastic panel) and re-machined recycled timber dressed with natural oils and cement sheet.
"A by-product of designing a house built with natural materials and finishes for their recyclability and biodegradability is the sensational indoor air quality. Therefore, this design philosophy is also compatible for those afflicted with sick building syndrome (SBS), multiple chemical sensitivity (MCS) and people who are sensitive to environmental toxins," says Quentin.
Photography by Nic Granlesse
Inquire Invent
inquireinvent.com.au
Franklinford by Modscape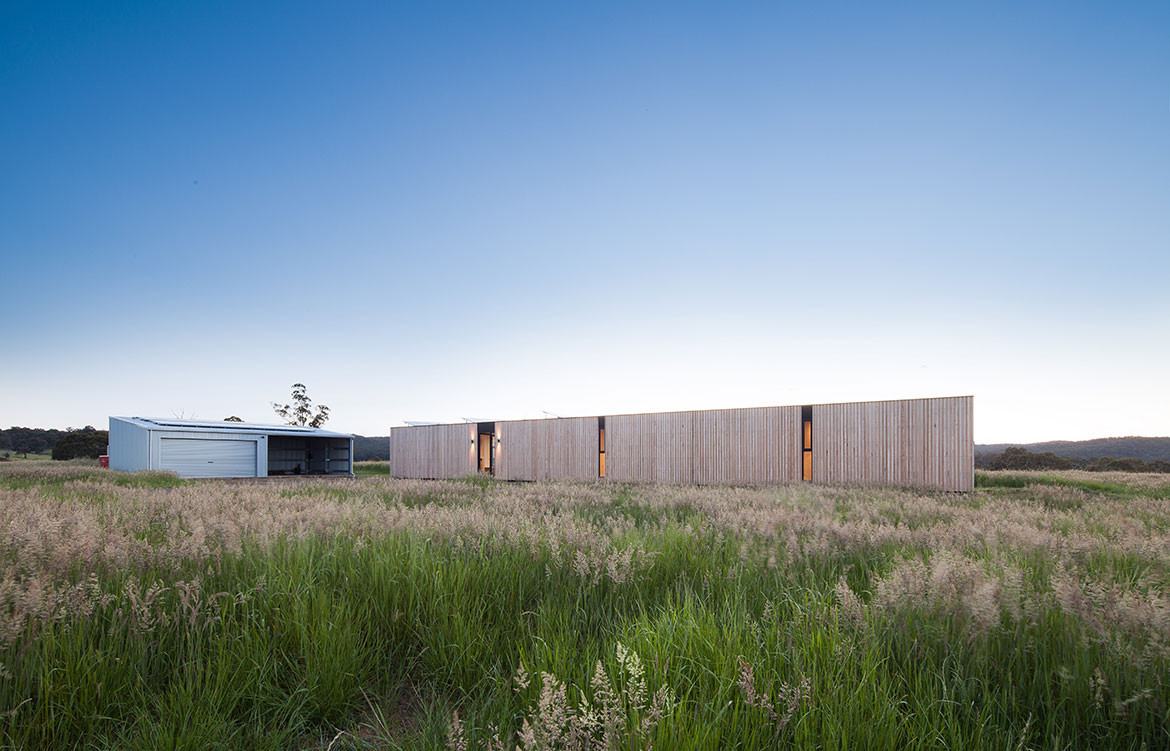 Modscape's modular prefabricated buildings are designed to reduce site waste and minimise environmental impact for more sustainable architecture. "We view prefabrication as the ultimate means of construction for sustainable buildings because we have more control building it in one location, there are less waste and no commuting back and forth to the site," says Jan Gyrn, managing director of Modscape.
Franklinford is a modular, prefabricated home that sits in Victoria's Central Highlands, and is designed to be responsive to its specific location and climatic conditions. Clad in Colorbond, Vitrabond and radially sawn timber board-and-batten, the house is a nod to the local agricultural buildings. It is oriented to capture the sunlight in winter, and carefully considered eaves together with thermally broken double-glazed windows minimise solar heat gain in summer.
The four-bedroom off-grid house is shared between two families and nearby shed hosts the solar panel and storage system and a large 80,000-litre water tank is in use.
Photography by John Madden
Modscape
modscape.com.au
---