Above: Rebecca Cadorin's prisms
We always thought light was simply electromagnetic radiation that is visible to the human eye, but a group of UTS students who are doing their Masters of Design takes a more esoteric view of the subject in a new exhibition: What is a Light? An exploration of light, art and perception.
"Light is everything, light is all around you, it's energy, it's little photons, it's exciting, it's never the same. It's a lot of fun," says Rebecca Cadorin, an interior designer at Space Matrix Design Consultants.
Cadorin, who is working in her Masters in Design at UTS, majoring in lighting, also participated in last year's Beams Festival in Chippendale. "I'm interested in how people interact with light and how light can be responsive, rather than just being something that is either on or off," she says.
She is one of six lighting majors contributing to the exhibition, along with Dimitrina Jegova, Lucia Xiao, Laura Hindes, Abdul Ezzeddine, and Stephanie Shehata.
All have been looking at a number of different lighting artists over the past year, examining their work and reinterpreting it in a new way.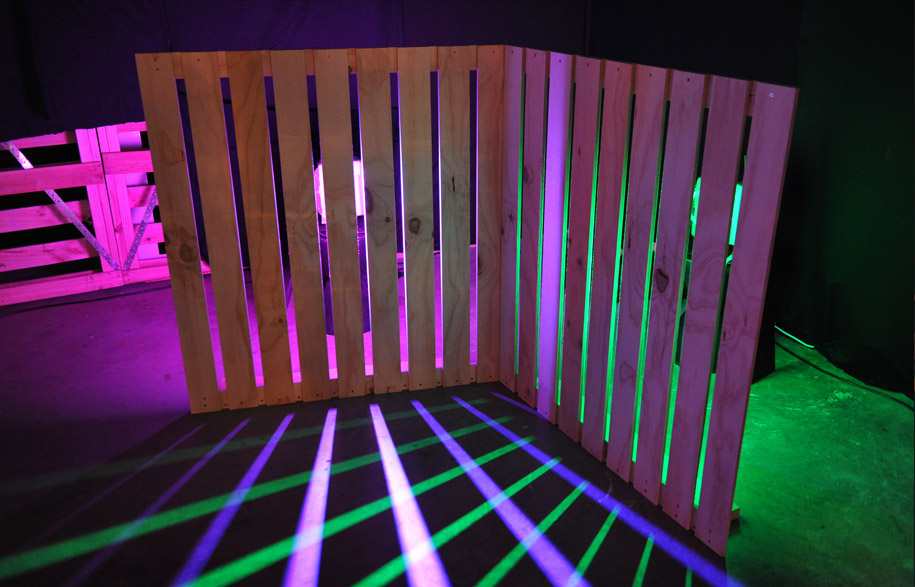 Abdul Ezzeddine's piece influenced by Steven Holl
"I've looked at Dan Flavin (1993-1996)," Cadorin says. "He used simple fluorescent tubes in all different shapes and sizes to create his installations. He was very prolific. I loved his site-specific work at the Santa Maria Annunciata in Chiesa Rossa, Milan. He completed the design just two days before his death. It was absolutely beautiful, the way he washed the walls and ceilings in electric-blue light."
Cadorin's piece for the exhibition is inspired by Flavin's use of repetition, line, shape and colour. The result is an enigmatic creation; a series of illuminated prisms sitting inside each other to make a three-dimensional form.
Jegova's installation uses thin, almost invisible elements to create shadows that reveal complex shapes to the human eye. She has been inspired by Italian lighting designer Fabrizio Corneli renowned for his shadow-art drawings.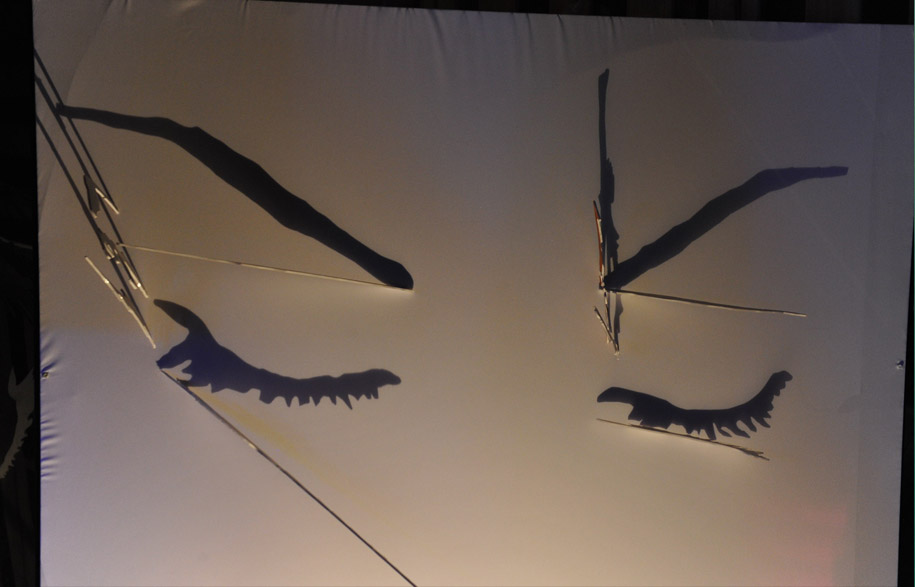 Dimitrina Jegova's shadow painting
Hindes and Shehata have worked together to create a 'fractured infinity room', challenging the senses with a soundscape of light.
While Ezzeddine, deeply influenced by the work of New York architect Steven Holl and the philosophy that space is oblivion without light, has produced a piece whereby coloured light is directed through the gaps in a timber grid, combining to form new and interesting hues.
What is Light is showing at the Brand X art space on Level 3 Central (opposite UTS). But you'll have to be quick. It only runs from Wednesday April 30th to May 5th.
---