Drawing from 25 years cinematic experience as a set decorator on acclaimed international productions, the Kerrie Brown design studio has added to her limited edition range of upholstery fabrics, lamp shades, and window blinds custom made furniture which includes wardrobes, kitchen cabinets and table tops. The designs mix a modern aesthetic, a luminous colour palette and Kerrie's passion for the art and design of centuries passed. The result is a very original mix of whimsy, sophistication and fun.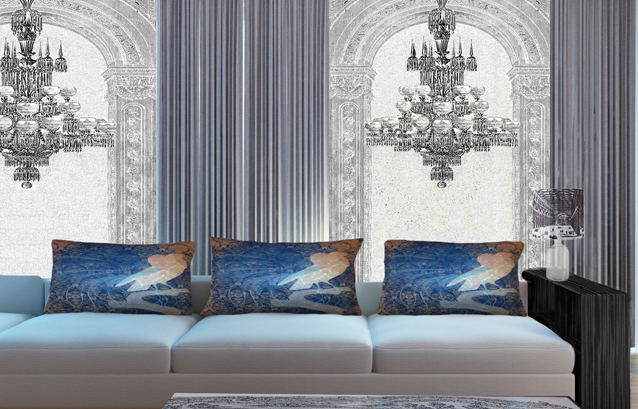 Kerrie's unique sense of style has been honed from researching different centuries and cultures to decorate some of the most memorable film sets. Her work with industry greats such as George Miller (on Babe), Phillip Noyce (The Quiet American), John Woo (Mission Impossible) Andrew Adamson (on The Chronicles of Narnia) and recently Guillerno Del Toro (on the soon to be released Don't be Afraid of the Dark) showcase her signature style.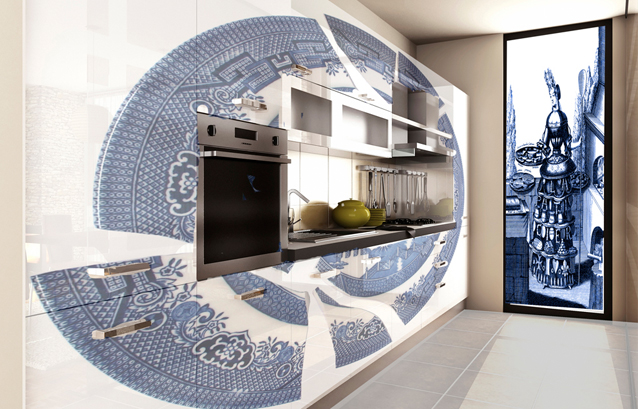 Rollerblinds feature actual size images from that stylish époque including delicate chandeliers, urns tangled with opulent floral garlands and the romantic gardens of the Palais de Versailles. It is this dramatic scale that gives our new collection its playful and original identity. The blinds are made to size and the standard range is produced in a light filtering fabric that allows light to enter whilst retaining privacy.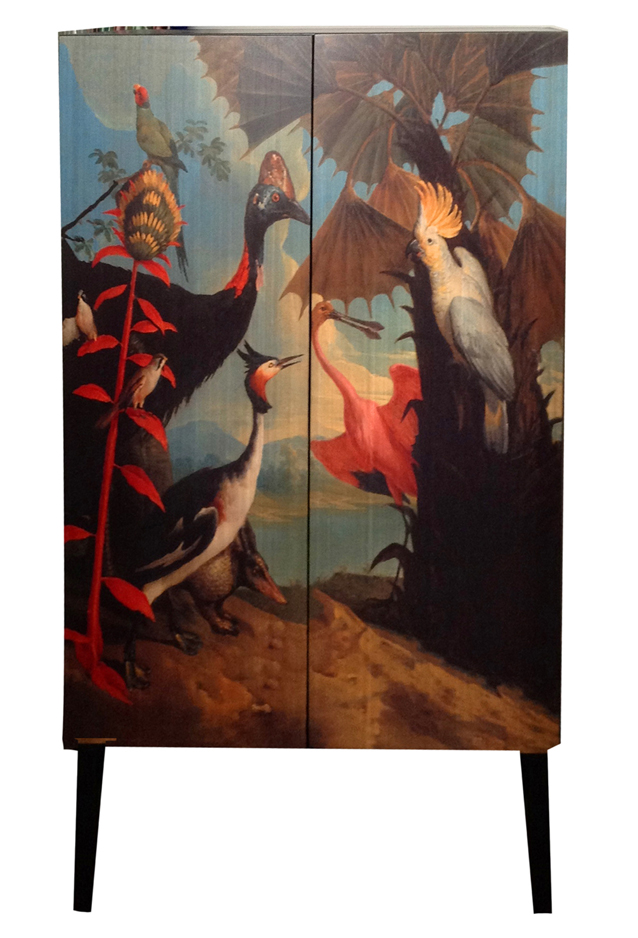 Kerrie Brown offers a wide range of custom-made lampshades in her signature style, embracing the fanciful imagery of an imagined China, the exotic world of 18th century India, and the stylish elegance of Europe.
Cushions and upholstery fabrics develop the 18th century European theme further, introducing city and country scenes, rare botanical prints, decorative floral displays and images from Le Grand Tour series. Suitable for domestic and commercial interiors. 
Furniture and cabinetry are custom designed from the huge repertoire of designs in the Kerrie Brown collection. Designs range from broken chinese plates on kitchen cabinets to giant 19h century pastoral scenes. Kerrie works with the client and cabinet makers to create entire printed rooms to small one off cabinets.
---