On 7 November 2019, 12 years after the Art Gallery of NSW's trustees began planning the vast contemporary art gallery, the first ground was turned in a traditional Japanese groundbreaking ceremony for Sydney Modern – the Art Gallery of NSW's $344 million extension.
President of the Art Gallery of New South Wales Board of Trustees, David Gonski AC; Premier Gladys Berejiklian; Minister for the Arts Don Harwin; gallery director, Dr Michael Brand; and SANAA architects Kazuyo Sejima and Ryue Nishizawa welcomed the start of construction of the art museum.
Officially starting the celebration, contemporary artist Tony Albert brought onstage the 'future generation', alongside Aboriginal elder, Charles 'Chicka' Madden to present an iconic Welcome To Country. Reverberating the gallery's message of connection to Indigenous culture, and the longevity of the new extension. The ceremony finished with a traditional Japanese Buddhist blessing to unite the two cultures in the gallery's grand extension.
Designed by Pritzker Prize-winning architecture and design firm SANAA, Sydney Modern sits lightly on the ground, interacting with the natural environment, and following the lines of the natural topography. The architecture mirrors the materiality of the site, with expansive views over Woolloomooloo, using warm-toned natural stone, glass and concrete as the exterior finishes, with 'rammed' earth walls interiors.
Each of the gallery's seven interlocking pavilions connects with outdoor spaces – a roof terrace, courtyards, public walkways, a 24/7 accessible Art Garden, and two grassed concrete platforms over the Eastern Distributor and Cahill Expressway and the roof of two decommissioned WWII naval oil tanks.
The interior of the oil tanks will, themselves, be redesigned as a gallery. "We are trying to keep the oil tank as it was because they're very different character," SANAA architect Ryue Nishizawa adds. Sydney Modern will envision an engaging, site-specific, and responsive architecture that follows the line of the land. "Each level has one gallery, but also each gallery has secretion from [the] outside," Kazuyo Sejima, continues, "we want to maximise this nature, or context, [inviting] people to touch."
The architects worked closely with an environmental engineer to invite the visitors to respect their surrounding nature, resulting in Sydney Modern achieving Australia's first 6-star Green Star design-rated art museum.
Sydney Modern is SANAA's first Australian project after building the Le Louvre-Lens museum in Lens, France; 21st Century Museum of Contemporary Art in Ishikawa, Japan; and The New Museum of Contemporary Art in New York City. David Gonski AC describes their design as "ingenious."
"[We aimed] to provide a place for communities to come together to experience the Sydney landscape in a new way, that changes with different generations," says Kazuyo. "[So that] people in the gallery can always enjoy the context of nature."
Art Gallery of New South Wales
artgallery.nsw.gov.au
SANAA
sanaa.co.jp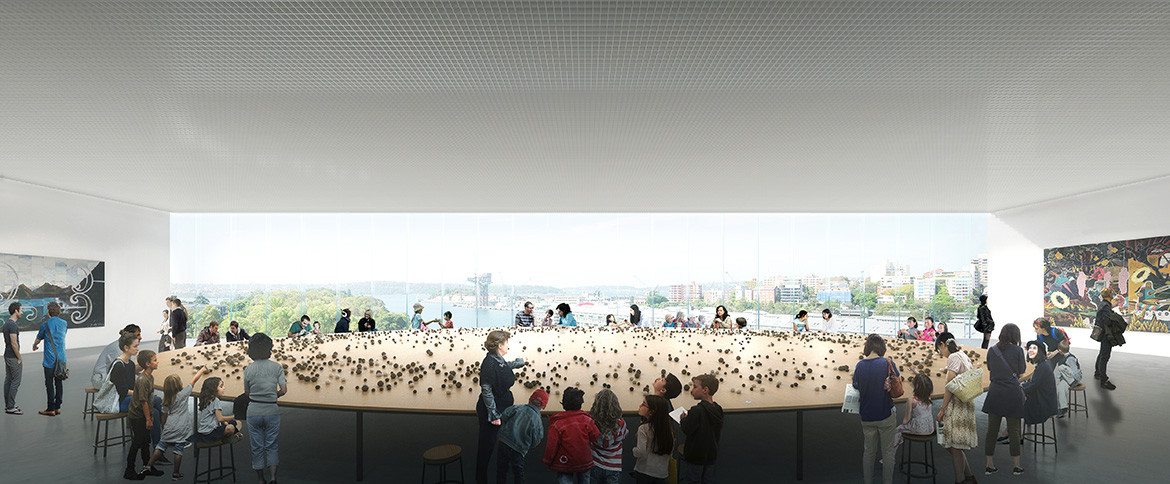 ---