Undoubtedly drawn to the beauty of form and objects, Melbourne-based graphic designer Zoran Konjarski thinks about things differently. "I'm a very visual person, and more of a problem solver," he shares, "I'm not the biggest reader, but I like books … it makes sense, but also doesn't."
Despite the obvious correlation, the road to graphic design came as a matter of deduction. Initially drawn to a career as an auto designer, Konjarski feared the lack of industry in Australia, although his love of cars has never disappeared. Ultimately his structured philosophy of life lent itself all too easily to graphic design – which is fortunate for the many brands he's put his visual eye on.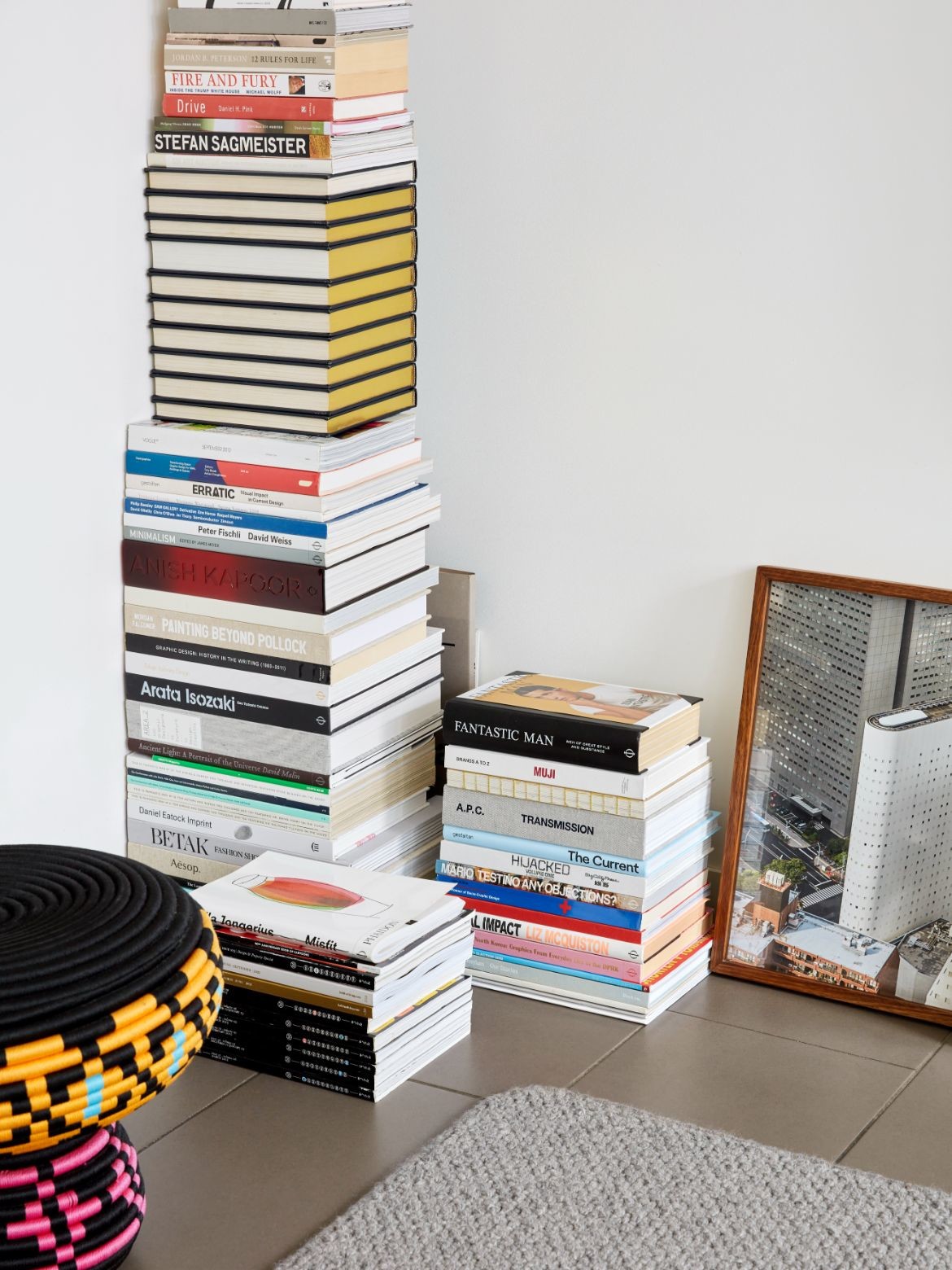 From in-house roles at Aēsop, as well as stints at some of the most reputable design studios around Melbourne, Konjarski has worked across art direction, brand strategy and brand identity for a slew of clients in the hospitality, fashion, property and beauty sectors.
Konjarski confirms this wide-ranging perspective helps him understand the various degrees of design and how it can fan out across many elements. "I feel architects understand how to create and rationalise space, whereas graphic design is about finding a narrative and the experiences that go along with it – which can include space, but the outcome is a broader overview of design," he says.
While there is joy in seeing his work come to fruition in its various guises, teaching design has been a more satisfying endeavour for Konjarski. Before the pandemic, he was a sessional lecturer at RMIT. The experience allowed him to see first-hand how people's confidence and design acumen would grow, and also how different minds and cultures would approach the same problem.
Even though much of his output is responding to a client brief, Konjarski describes his design aesthetic as "minimalist … or rigid, depends on who's commenting", and it comes to life in the neat and deliberate surroundings of his home.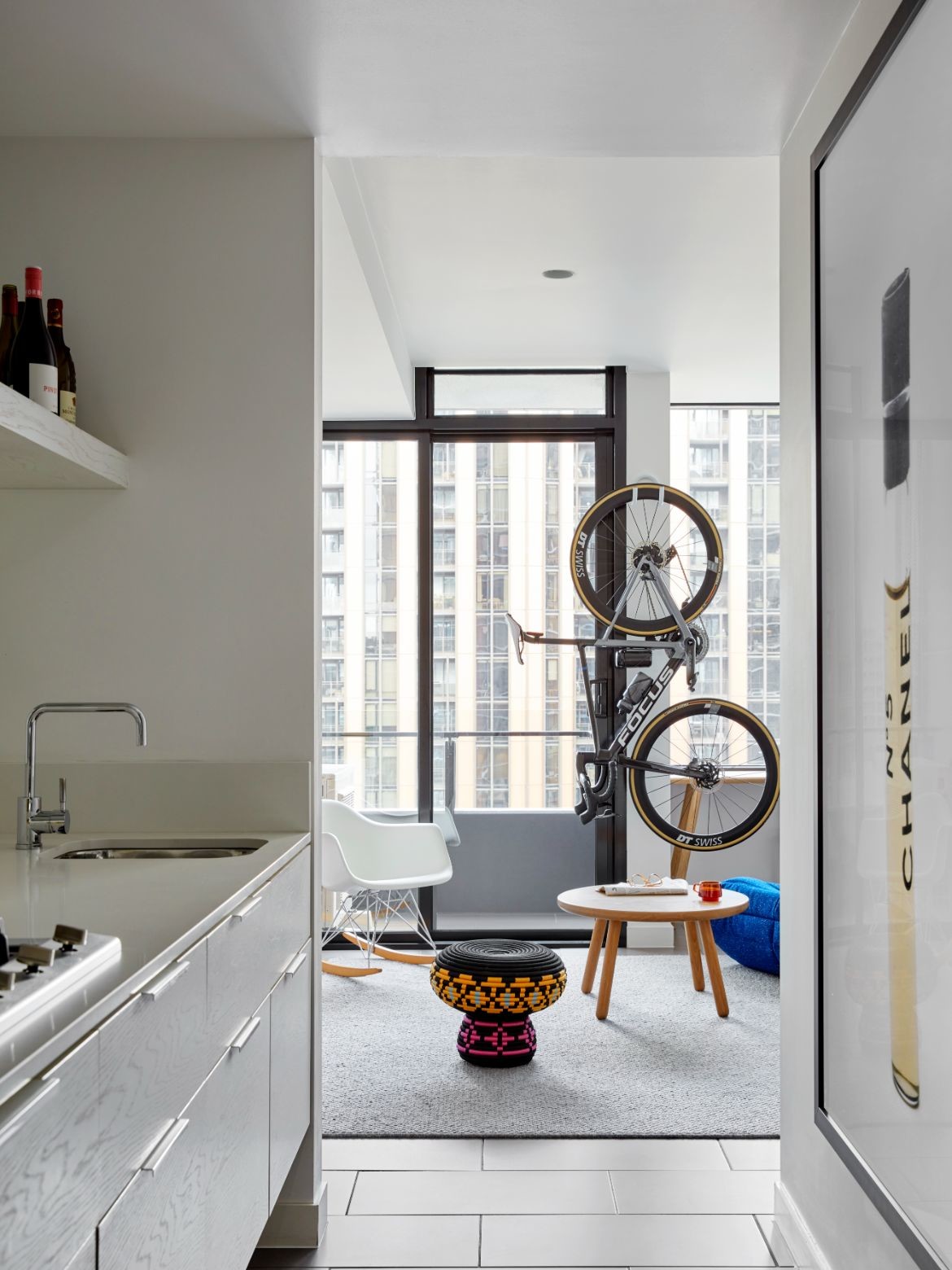 Konjarski bought his one-bedroom apartment in South Melbourne around 10 years ago, appreciating the credibility of the project, with architecture by Elenberg Fraser and interiors by Hecker Guthrie – both mainstays of Melbourne apartment design.
While it's small in scale, he's adapted the way he lives to make it work. "An obstacle with small spaces is that you need to know your things are going to be out and visible, so it's about making everything look and feel as intentional as possible," he says.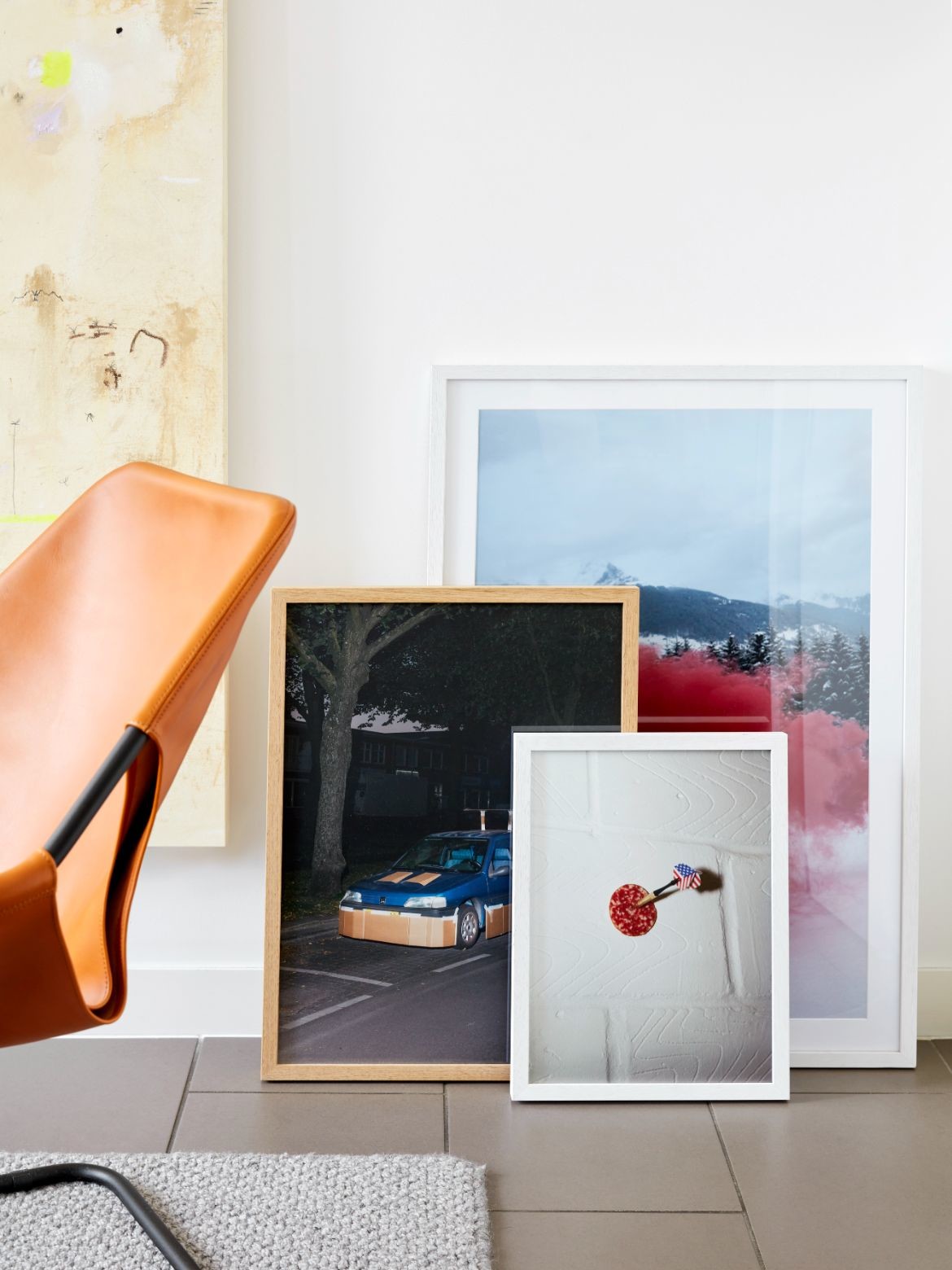 The equilibrium is where functionality and form meet, and is most apparent in his curation of things like an ordered book stack, an eye-catching Tom Dixon coffee pot on the stove, and his road bike hung on the wall.
Cycling is a big part of Konjarki's life and its position in the living area not only expresses his personality, but more importantly keeps it out of the way. Essentially "everything should look good and serve a purpose, even if that's just to look good".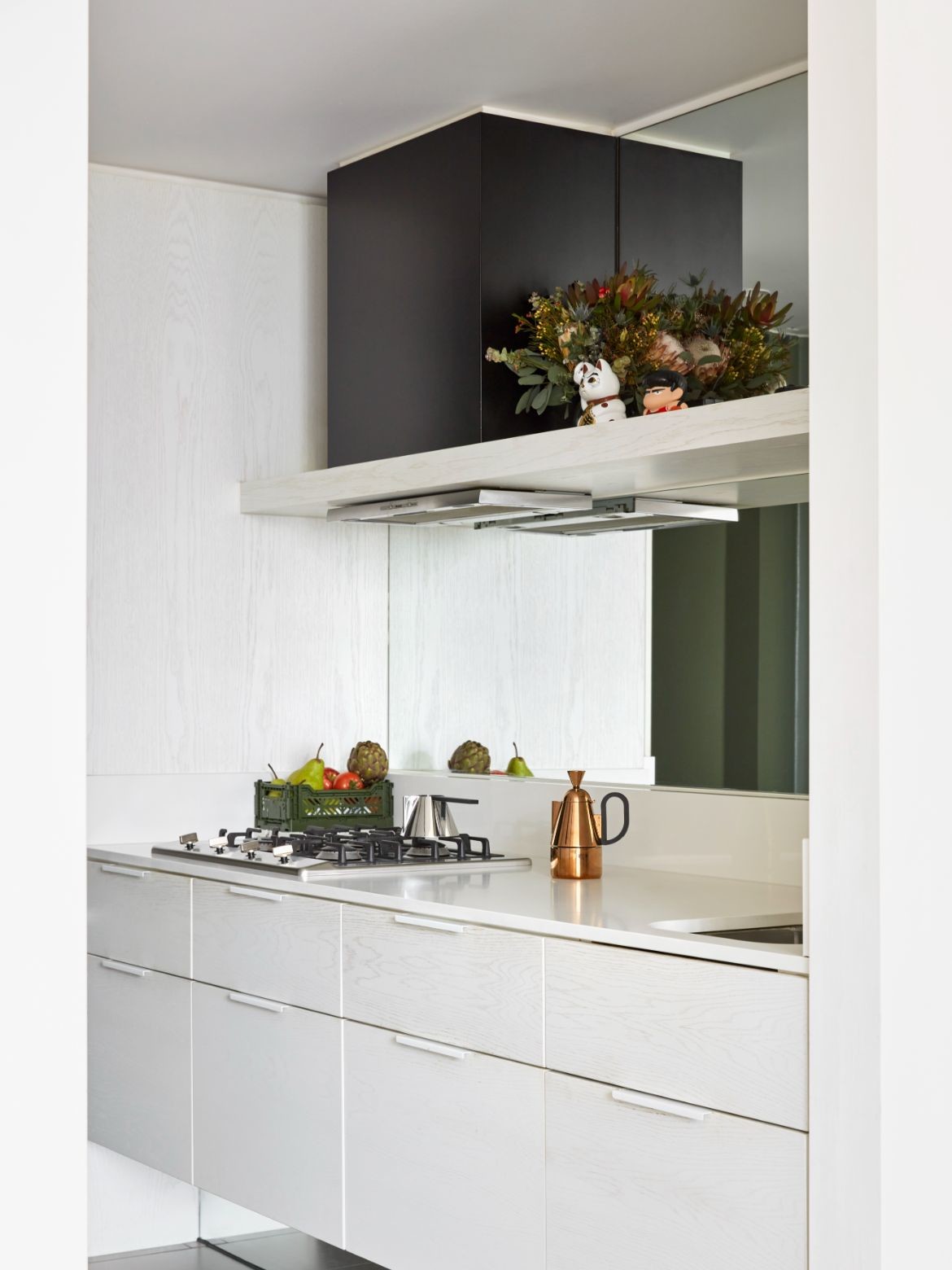 Another consideration that makes Konjarski's apartment comfortable is the highly edited selection of furniture. Rather than trying to squeeze a large modular into a small space, Konjarski has instead been brave and opted for three chairs – each fulfilling slightly different objectives.
His first big design purchase for the space many years ago was an Eames rocking chair. "Often they're one of the first designers you come across and it's relatively affordable on the scale of iconic chairs," he says.
The two newest additions are a Togo armchair by Ligne Roset, upholstered in Raf Simons for Kvadrat fabric, which sits next to a Paulistano armchair in tan leather. Chosen specifically to suit the space, Konjarski adds that "one is good for lazing, and one is good for reading – my mood dictates which is which".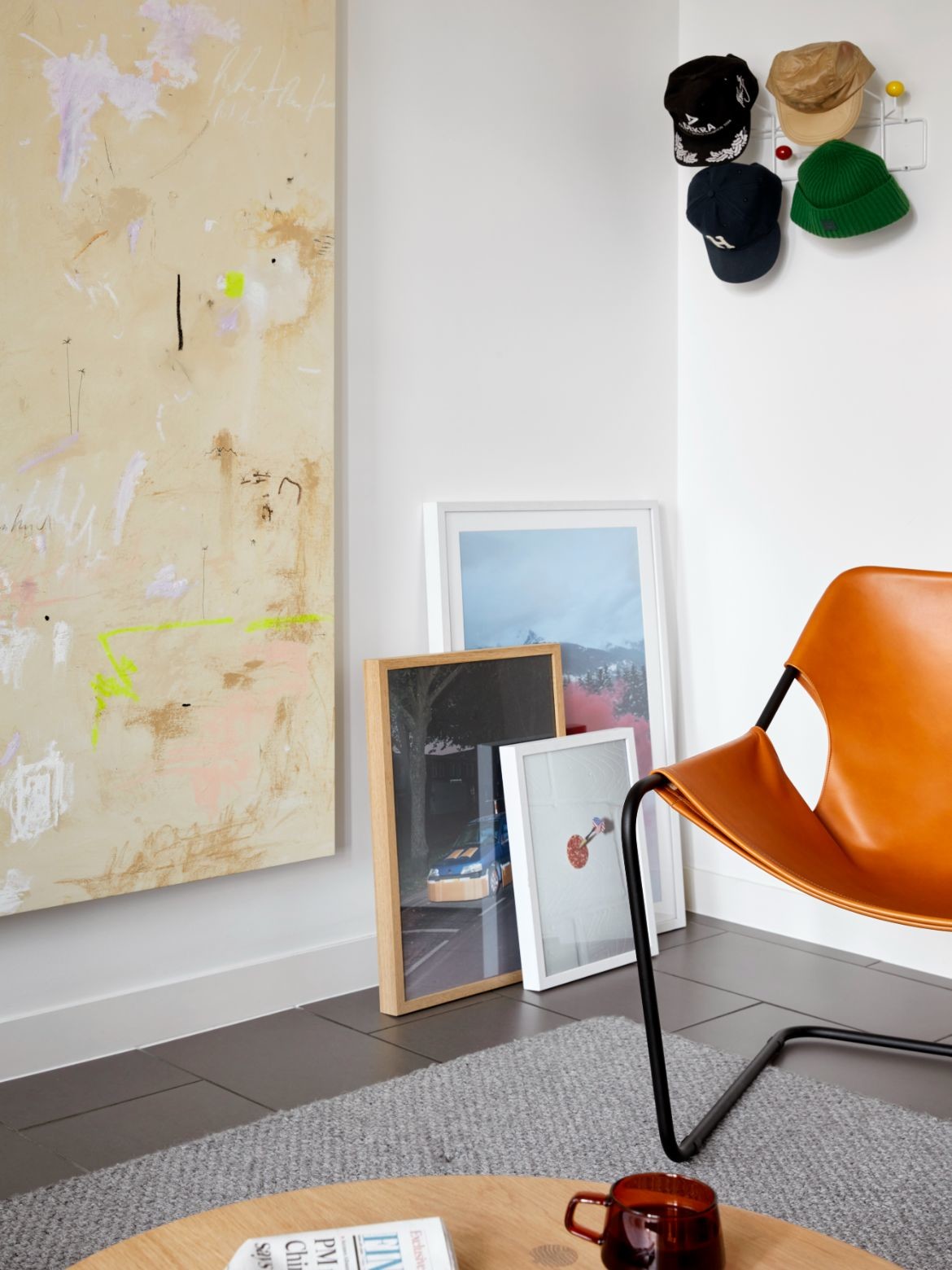 A large original painting by David Wilstermann hangs behind the two armchairs, filling the space with its near floor-to-ceiling size. It's an unexpected touch for such a small space but Konjarski notes that it was about being unafraid to create some tension and push the perception of scale.
Under the window is a small but perfectly fitting desk with a #42 Kai Chair from Great Dane. This bespoke study nook activates the corner ensuring it isn't dead space, plus the outlook of neighbouring apartment towers feels akin to living in a place like Hong Kong.
Impeccably ordered, clean and thoughtful – while all descriptors of his home, they equally form the basis for how Konjarski sees design touch all parts of life and work.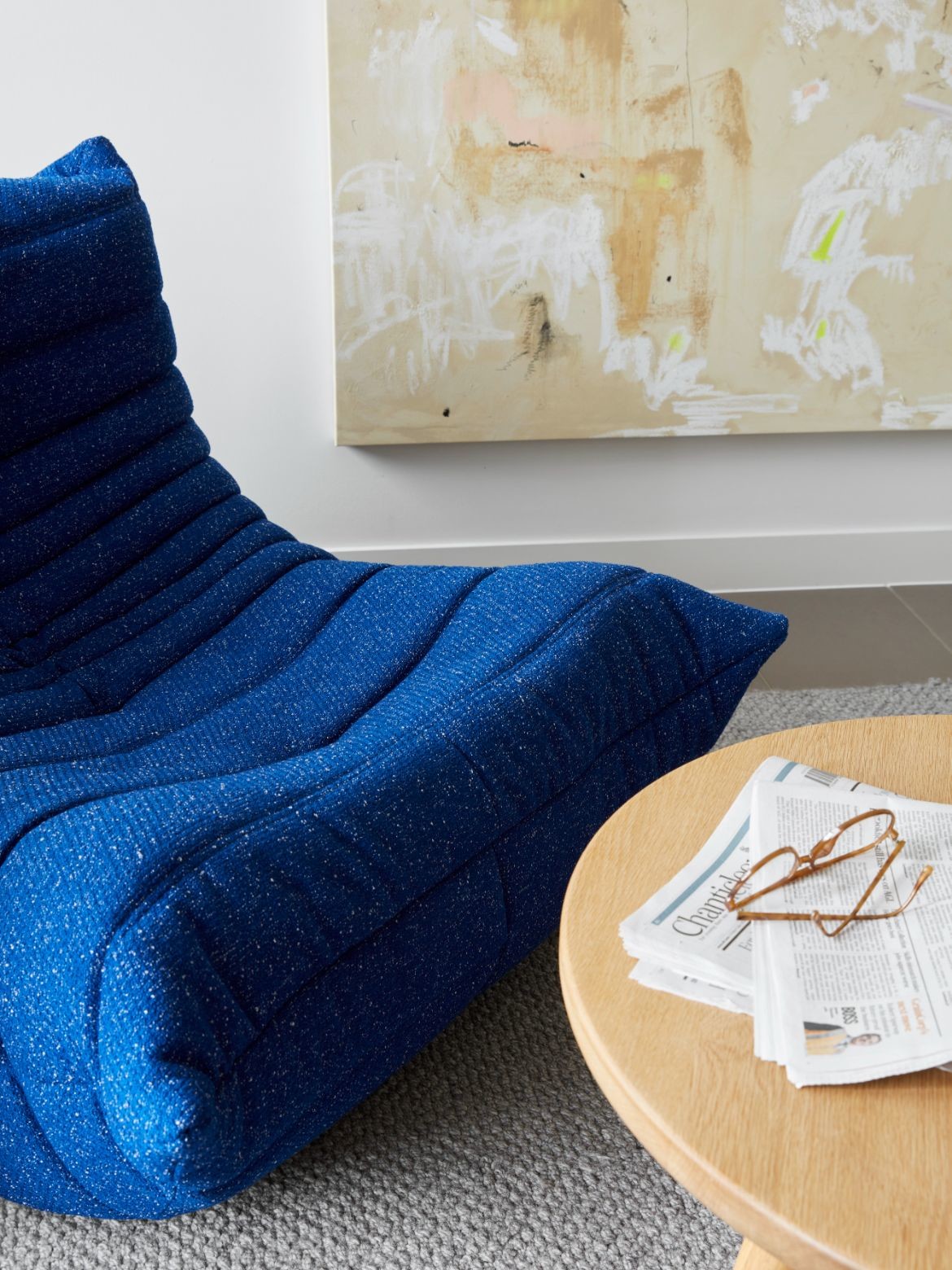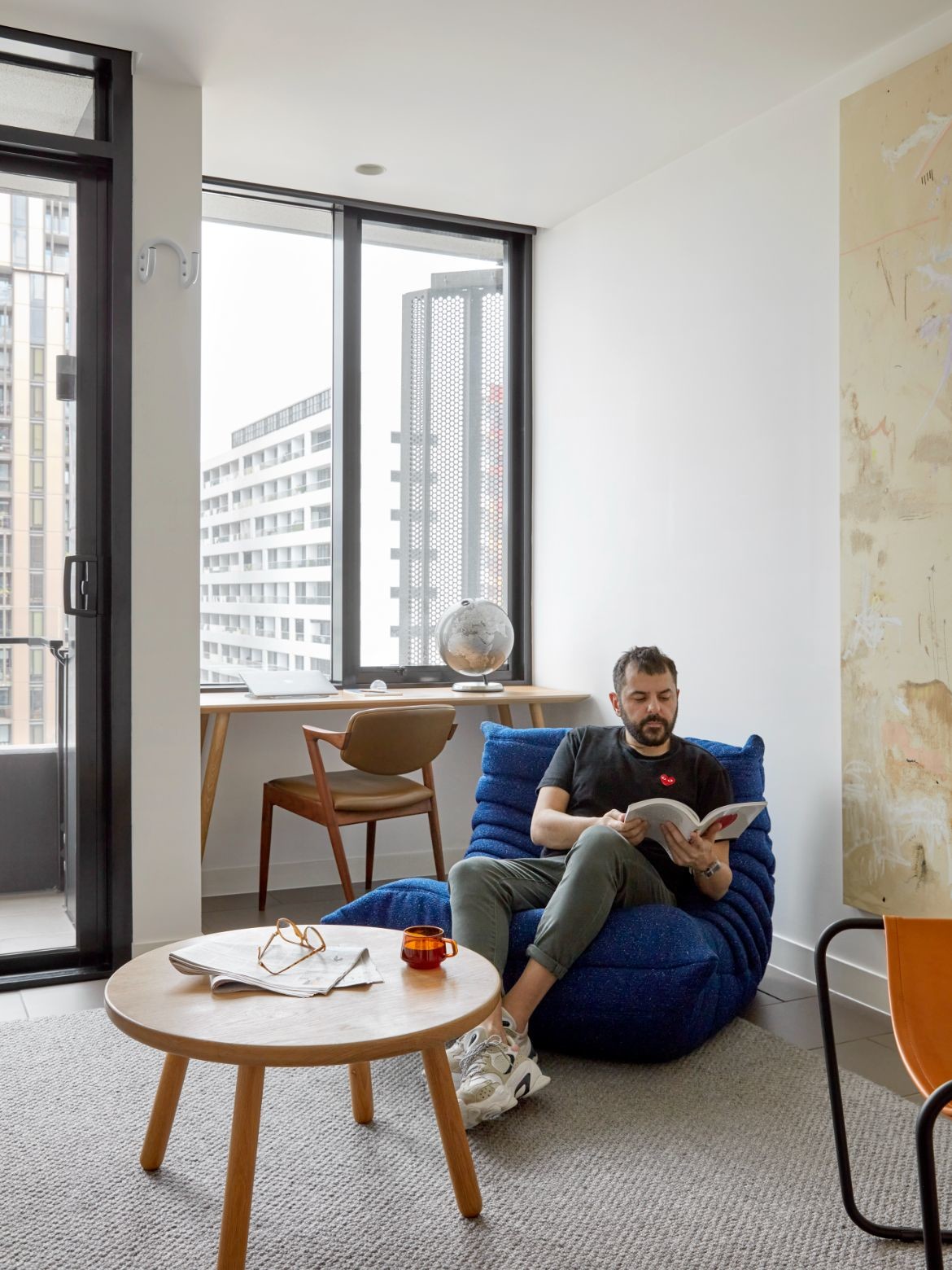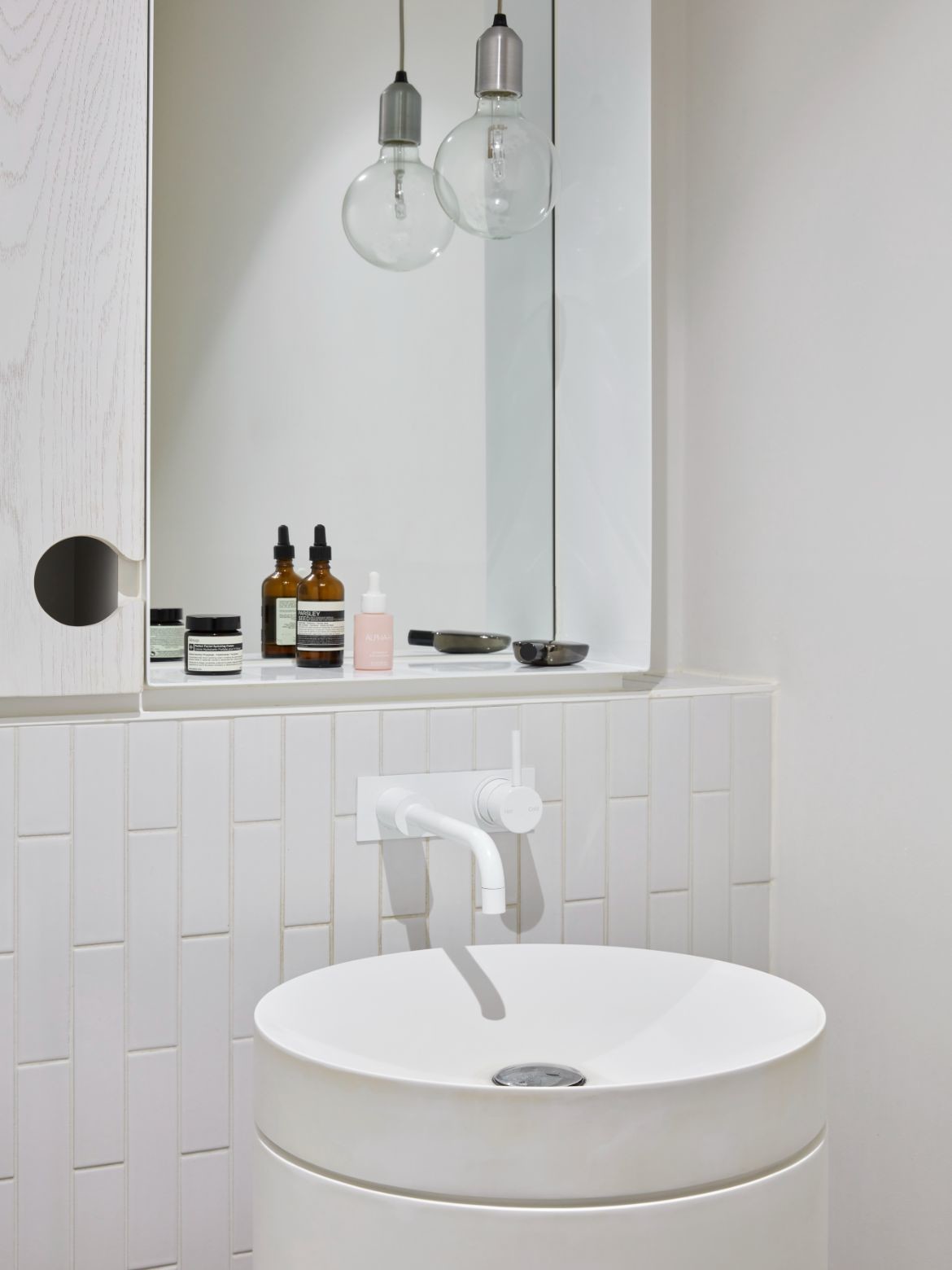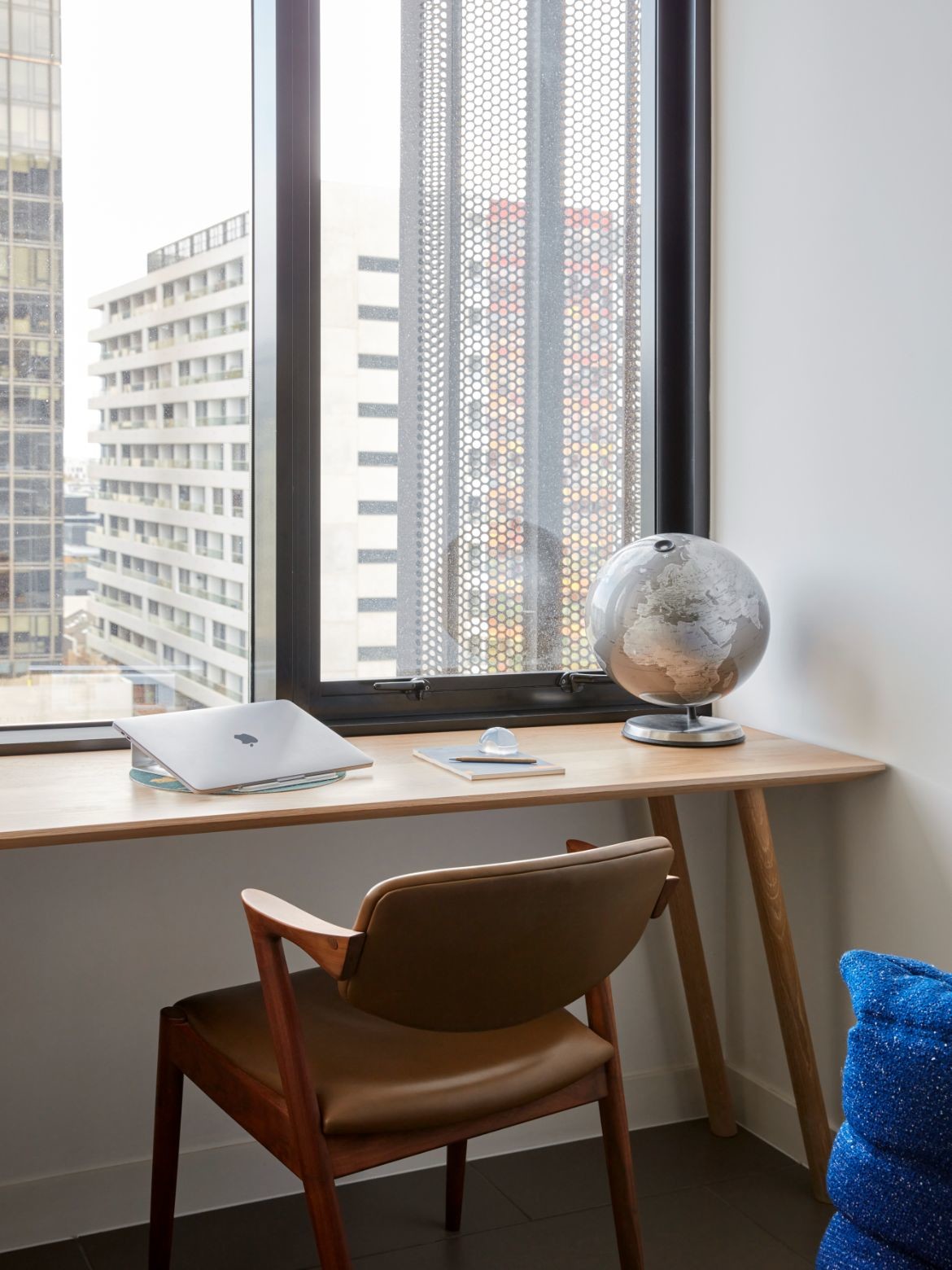 Zoran Konjarski
zorankonjarski.com.au
Photography by Jack Lovel
This story originally appeared in issue #55 of Habitus – the Sustainability issue
---