In an era of impersonal online experiences, a new retail store launched on Prahran's Greville Street is quietly bucking the trend. Introducing Henne.
It's a thoughtful collaboration with designer, Brahman Perera, inspired by the evolving narrative of the Henne woman.
"Being successful within the online format of retail, I wanted Henne as a bricks-and-mortar building to feel intimate and deep-rooted within its physical community, sort of the opposite to the online," Perera says.
With his background in fashion and architecture, creating Henne's first retail store presented an exciting opportunity, particularly because the clients, Nadia Bartel, Michelle Ring and Laura Broque offered a blank canvas.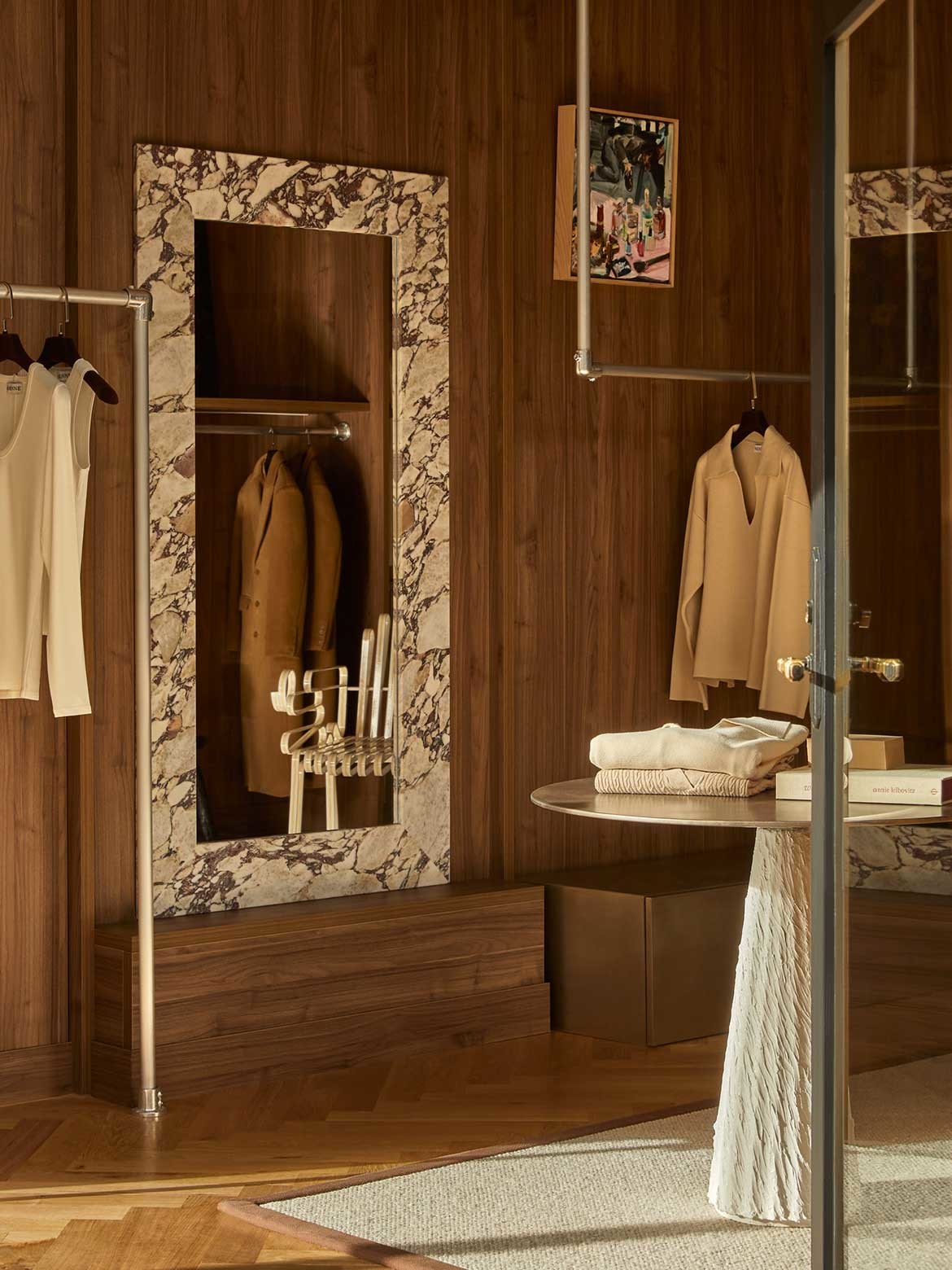 "There weren't any precedents I needed to adhere to, so it allowed for more creative thinking. They weren't tunnel-visioned into what the store needed to look like, they were open and receptive to my ideas and intuition," he says.
He approached the retail spaces through the lens of hospitality – that of being 'hospitable' in all areas of life.
"Henne embraces a softer, less aggressive retail experience through residential and familiar design elements that make the space more homey and comforting," he says.
The store includes not one, but two separate terrace shop fronts, which added an unusual and exciting element to the brief.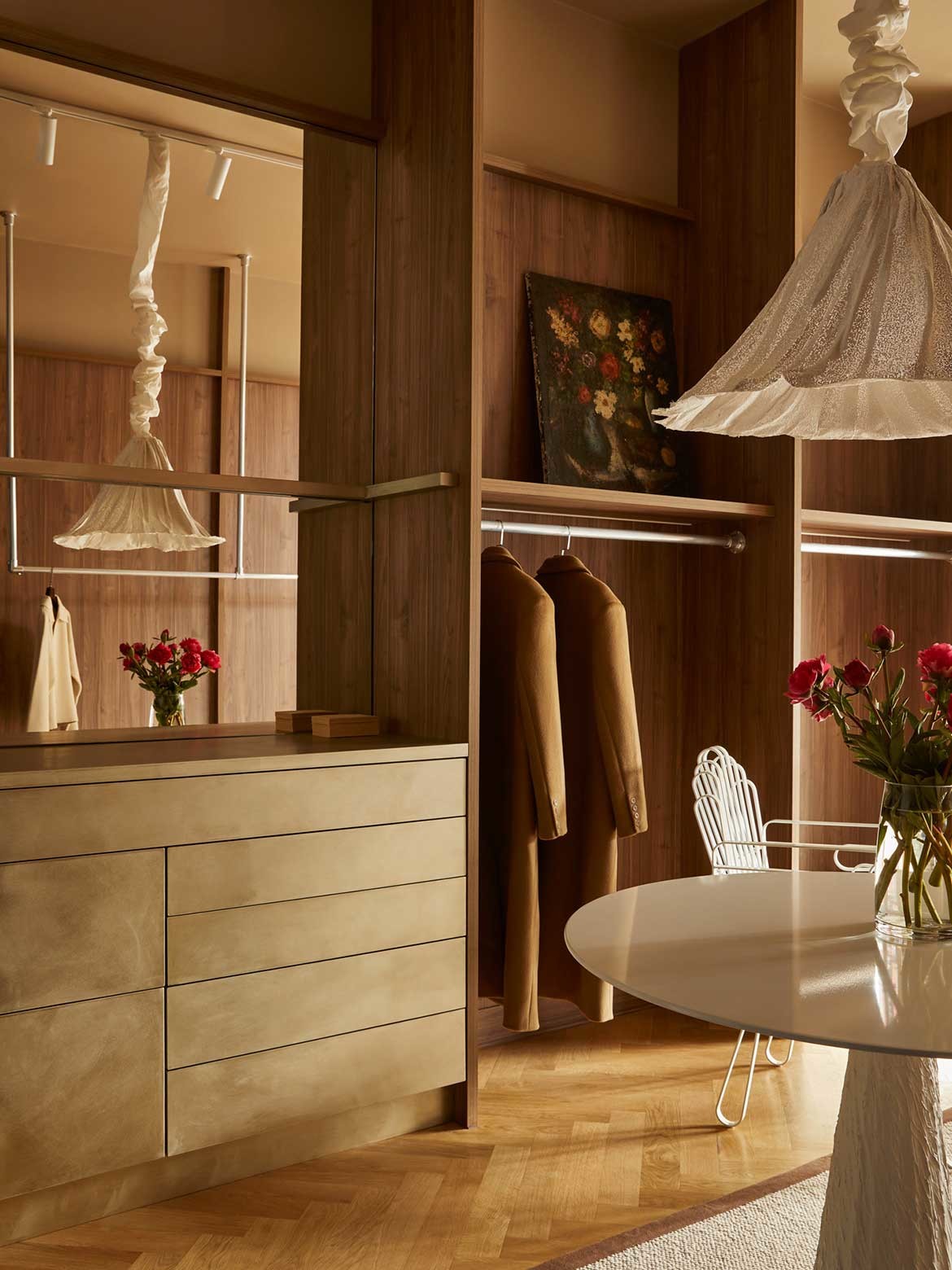 The first shopfront is named 'Her Space', comprising the boutique for customers to browse the latest collections and 'drops'.
It features wardrobe-style garment displays, plinths and rails, set among a landscape of literature, styling and artworks. Details include an aluminium sales counter hand finished in black wax, set against rich timber panelling and hand-knotted wool rugs.
It feels layered, tactile and intimate, and provides a sense of home for customers.
Beyond, a stairwell portal is saturated in periwinkle blue and is a natural backdrop to the store's earthen hues inspired by blue skies.
Related: Dion Lee and DesignByThem explore the crossover between furniture and fashion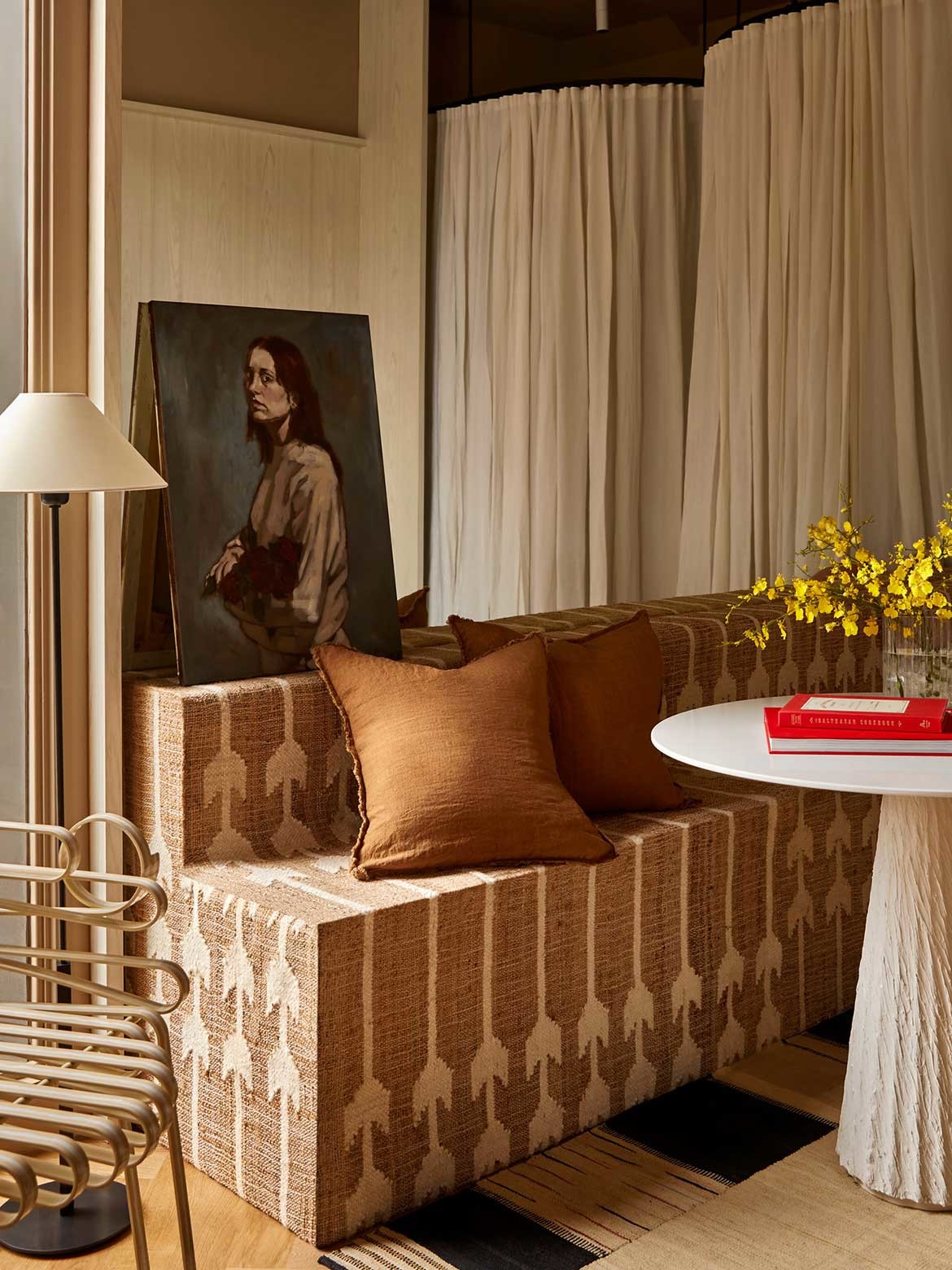 There's also an intimate dressing room upstairs shrouded in woven seagrass, which speaks to Henne's Nordic influences. Rich caramel tones are offset by billowing white drapery and delicate, hinged mirrors that offer a sense of theatricality and interaction.
"I loved designing the generous fitting room upstairs from the Her Space terrace with warm textures, materials and lighting. It feels both intimate and a little bit salient with the striking blue staircase to guide your way," Perera says.
The second terrace features the Atelier, a by-appointment 'For Her – Styling Suite' for events, workshops, tailoring and consultations.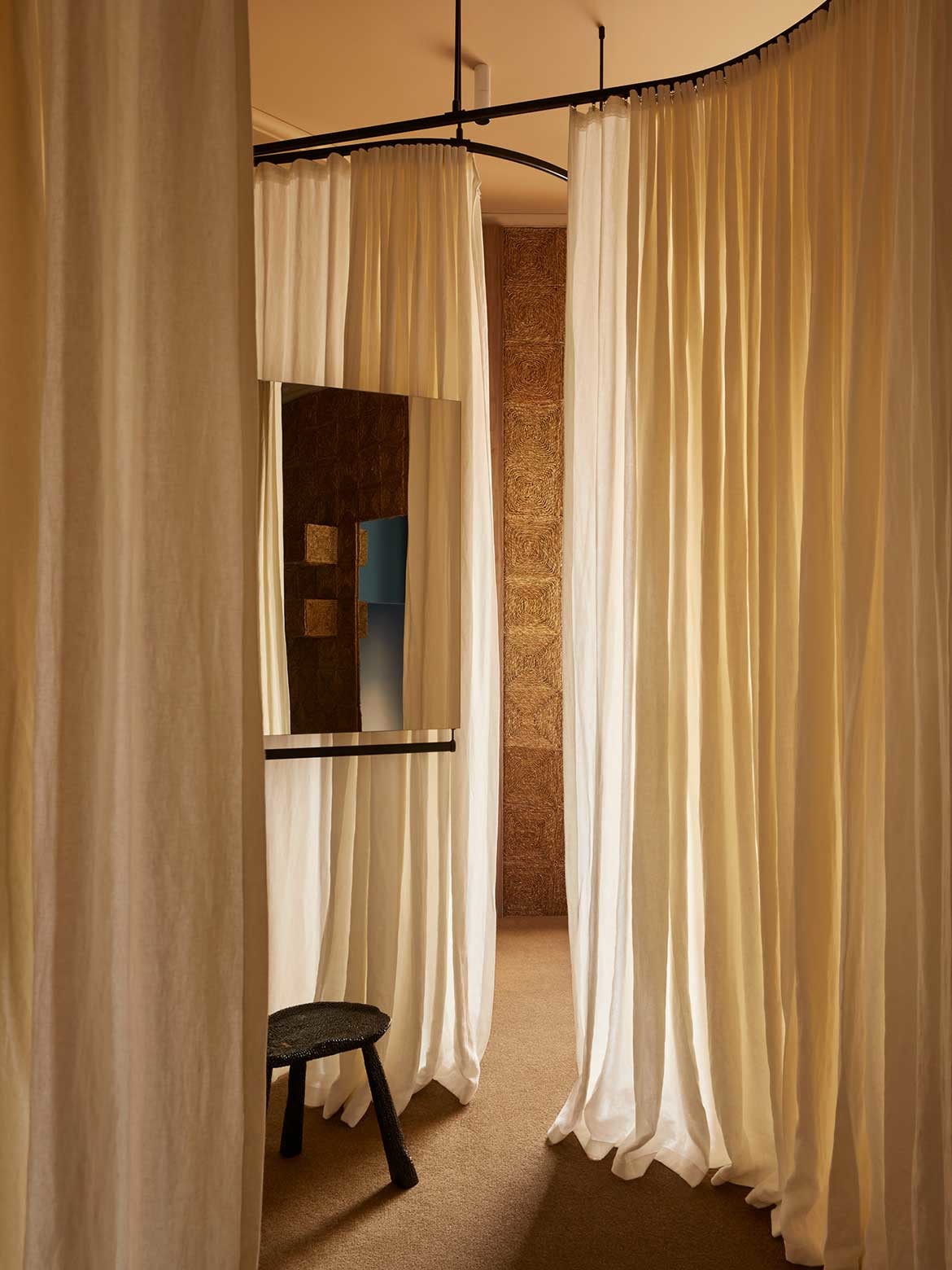 It embraces a warm, residential feel with hand-woven Kilim rugs wrapping floors and plinth seats, complemented by grained, white-wash walls.
"It's a kind of Henne 'behind-the-scenes' that you can also tentatively see from the street," Perera says.
Throughout both spaces, Henne showcases work from local makers and artists. Elegant wire chairs by Melbourne's Bootleg Studio sit in harmony with plastered tables and charred, pitted stools by Bieemele.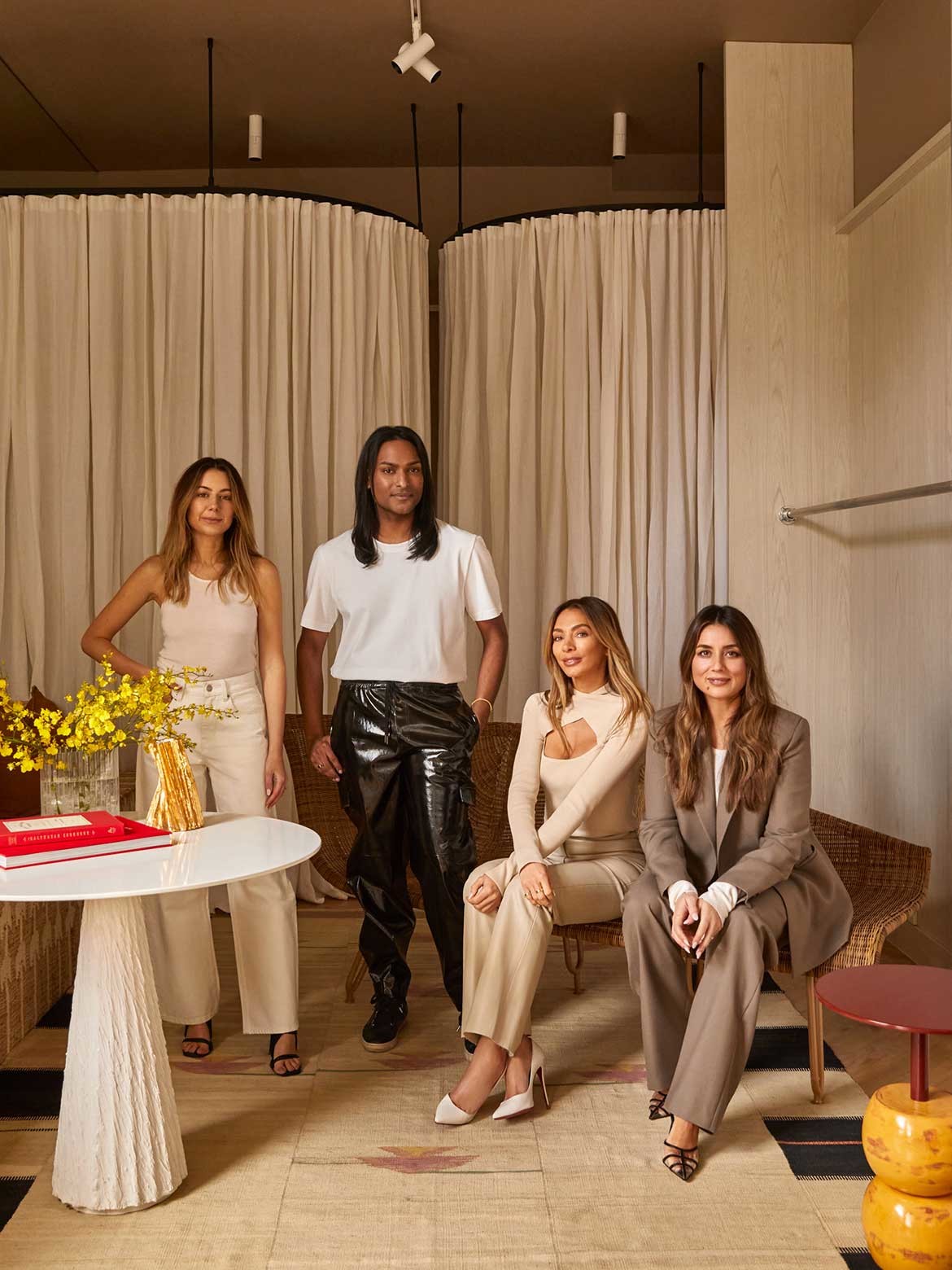 "I think the addition of beautiful artisanal pieces by local makers peppered throughout helps create this special atmosphere. Working with local designers to create bespoke chairs, stools, tables and mirrors has elevated the retail offering and made it a more enjoyable experience," Perera says.
The designer is now part of the fabric too, having created a piece for the store in the form of a tulip-shaped, plastered pendant.
We think you might like this story on designer Kit Willow's second fashion label, which has a powerful mandate to champion planet-conscious fashion.
---