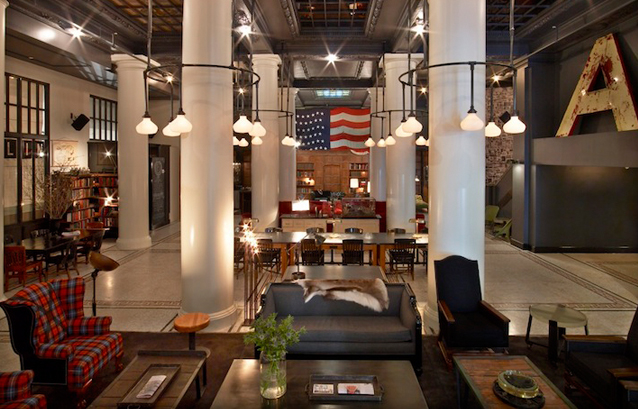 Tour leader, Susan Weir (MDes) first moved to New York as a young design student and  now splits her time between two cities, designing in Sydney and guiding participants in her tours in New York.
"Even though my big plan was to graduate and then get away to the country and 'commune with nature'," – says Susan –  "I became totally hooked on the big city and it's all-encompassing energy. I began to cherish the city life," she says. From the quiet winding streets of historic Greenwich Village, to the hustle and bustle around the Midtown skyscrapers, New York was Susan's home until she met and fell in love with the Australian architect, Robert Weir.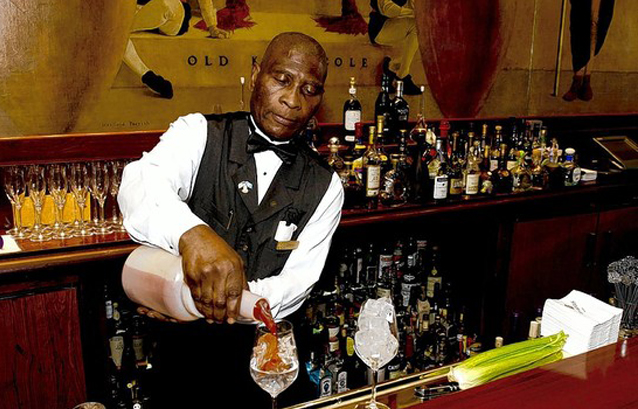 King Cole Bar and Lounge, The St. Regis
It was for Weir whom Susan emigrated to Sydney where she completed a Masters degree in Design, and began working as a museum exhibition designer.
Today she still lives and works in Sydney and leads her tours back to New York City 2-3 times a year. On her tours Susan gives people a taste of the Big Apple she knows and loves. In particular her tours focus on Food and Design highlights.
Susan describes to first time visitors a world that she loves and knows intimately. While she was living in New York City her first job was as an interior designer specialising in corporate headquarters for international banks and uptown restaurants on Park Avenue and Wall Street. Later, working with a carpenter builder, she designed and built showrooms on Fashion Avenue.
During this time Susan attained an special familiarity with all the neighbourhoods in New York City, from Harlem to Battery Park. She now uses her insider knowledge and team of native New Yorkers to show people the finer side of the Big Apple.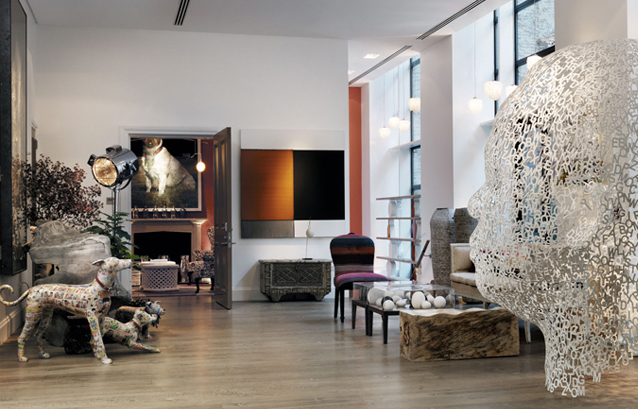 The Crosby Street Hotel
"What keeps me going back is the total buzz New York City generates every day. It's that really creative charge that is addictive. I can't wait to see what's going to be new in museums, architecture, restaurants, fashion, art and interiors. I also look forward to visiting the familiar old places that hold great memories. It's a thrill and pleasure for me to share my passion for the place and to guide visitors to unbeatable eateries and hand picked hoods in the City That Never Sleeps and with $50 billion slated for new construction over the next 20 years, there is always something new to discover in old New York." says Susan.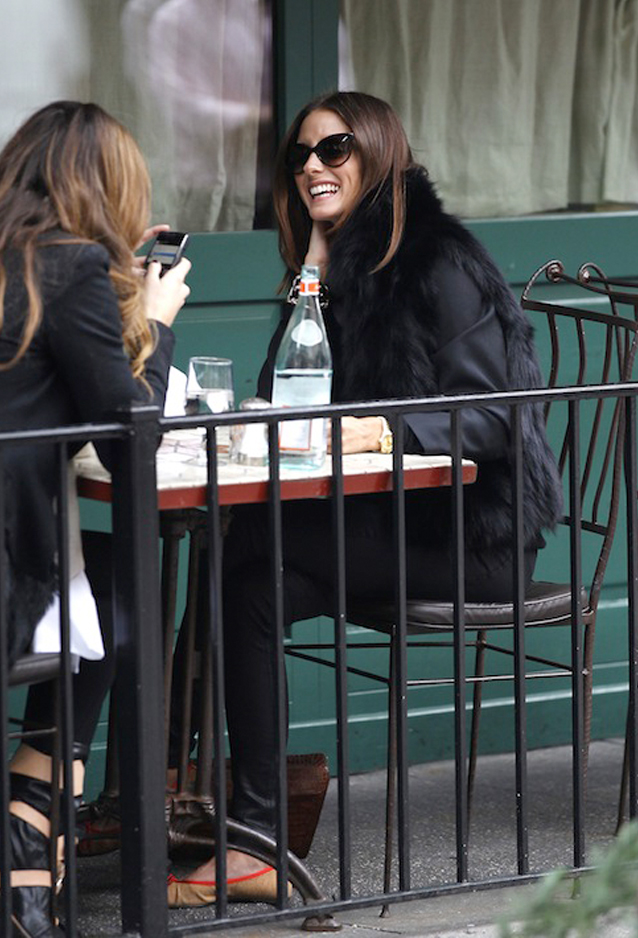 Cafe in Soho 
TOUR TIMEFRAME:
Day 1 Washington Square Park & Greenwich Village.
Surrounded by New Yorks oldest café culture, original Greek Revival, Italianate and Federal mansions, Day 1 of the tour takes in New York University and Washington Square Park – the hub of the Village. Guests can explore America's bohemia and the cradle of creativity, individuality and artistic fulfilment in NYC. These old haunts are the places that Dylan Thomas, Eugene O'Neill and Jack Kerouac frequented. On this first day visitors get to hang out in the places where they wrote, drank and spouted poetry or simply observed the human condition.
The Little Theater Movement also began here in Greenwich Village, and prominent artists from Edward Hopper to Andy Warhol developed a new form of painting in Village studios. On the tour visitors will pass Jimi Hendrix's Electric Lady studios which are still 'the place to record' for musicians from the Stones to Beyonce.
Walk the historic streets of Greenwich Village with Susan and get lost among its unique curio shops and charming neighbourhoods. There are also great cafes and jazz clubs to visit and places to enjoy lunch while people-watching.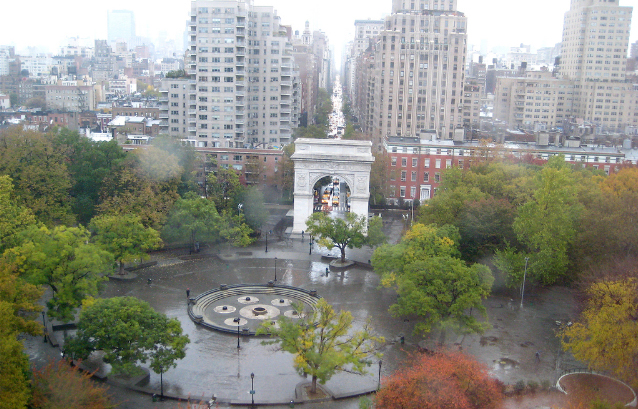 Washington Square Park, Greenwich Village.
Day 2 Uptown, and the Upper East Side
Visit Museum Mile, a mile long stretch of Manhattan studded with America's finest art institutions. With so many museums and so little time, Susan guides her group to the ones that must sit on the top of the list.
A special treat for May tours, will be the chance explore the Decorators Showhouse, an annual charity event that features the worlds top designers' interiors in a stately home and raises funds for inner-city kids.
While in Uptown, opportunities for fine dining in restaurants abound, with a huge number of New York's most acclaimed chefs  working there including Andrew Carmellini of Locanda Verde and The Dutch, David Chang of the Momofuku restaurants, Mario Carbone and Rich Torrisi of Torrisi Italian Specialties. If you're not in the mood for jacket-and-slacks, casual lunching at established restaurants is also available, with each great place offering their own long history.
Day 3 Soho
Ramble around Soho and see the latest in interior styling by internationally renowned designer Kit Kemp and architect Dan Barteluce. Encounter the places where French Brasserie style meets American Tavern. The tour group will lunch on mouthwatering burgers or towering shellfish platters with cold draft beers after-which, guests are invited to prowl back to the avant-garde design shops from Prada to Kartell, and explore the host of brand names flagships that that have recently taken up residence in this heritage district.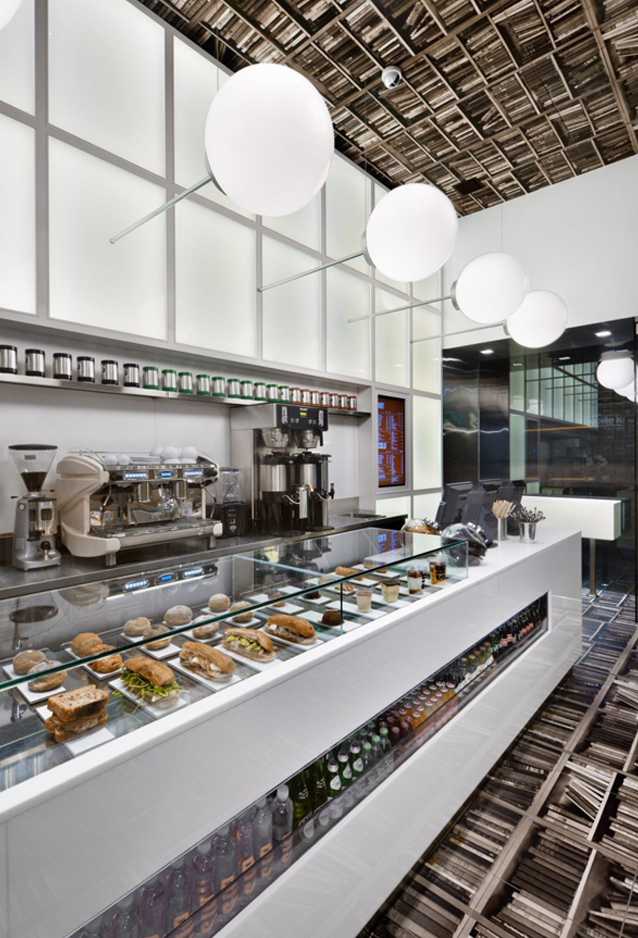 Day 4 Central Park
In Central Park Susan's tour will find everything from sprawling waters and green meadows, to stunning bridges and performance centres. There are formal gardens and even classical architecture, and yet the main attraction is simply the picturesque beauty of the 435 acre natural green landscape and pastoral escape smack bang in one of the busiest cities in the world.
Lunch with Susan at the only lakeside restaurant in NYC with it's extraordinary menu items including Line Caught Long Island Wild Striped Bass with Mashed Potato, in a Brandy sauce. Optional bike rides and boat rides can also be taken.
Then onward for afternoon drinks at a Philippe Starck designed hotel bar.
A place that is described thus; "… a dazzling venue decorated in a riotous collection of styles. It features a glass floor lit from beneath, a hand painted ceiling by world-renowned artist Francesco Clemente, and furniture design that looks like Louis XV meets 2001: A Space Odyssey. It is the perfect place for drinks, lively conversation, people-watching, and experiencing the undeniable excitement of New York."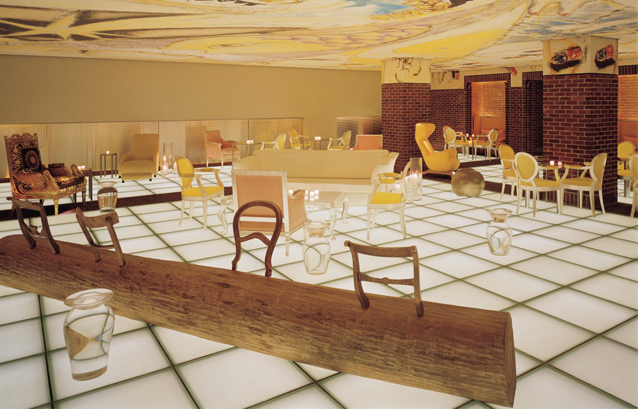 Philip Starck designed hotel bar.
Day 5 'Mad Men' Madison Avenue
On day 5 visitors will walk among the vogue architecture of 'Mad Men' Madison Avenue and discover the Ralph Lauren Flagship Mansion. Few places evoke the grandeur; opulence and delight of interior design quite like the display rooms at the Ralph Lauren Beaux Arts styled Mansion.
Just up the block, The Whitney awaits. As the preeminent institution devoted to the art of the United States, the Whitney Museum of American Art presents the full range of twentieth-century and contemporary art with a special focus on living artists. Susan Weir can provide some context to Marcel Breuer's design for the museum – a striking granite presence of modernist architecture – found in a neighbourhood full of traditional limestone, brownstone and brick row houses.
Danny Meyer's Union Square Hospitality Group has opened a new restaurant at the Whitney which 'presents a contemporary take on the classic Manhattan coffee shop, and features the simple, comforting, and seasonal cooking of Executive Chef Chris Bradley, formerly the Executive Sous Chef of Gramercy Tavern' which Susan recommends visitors try.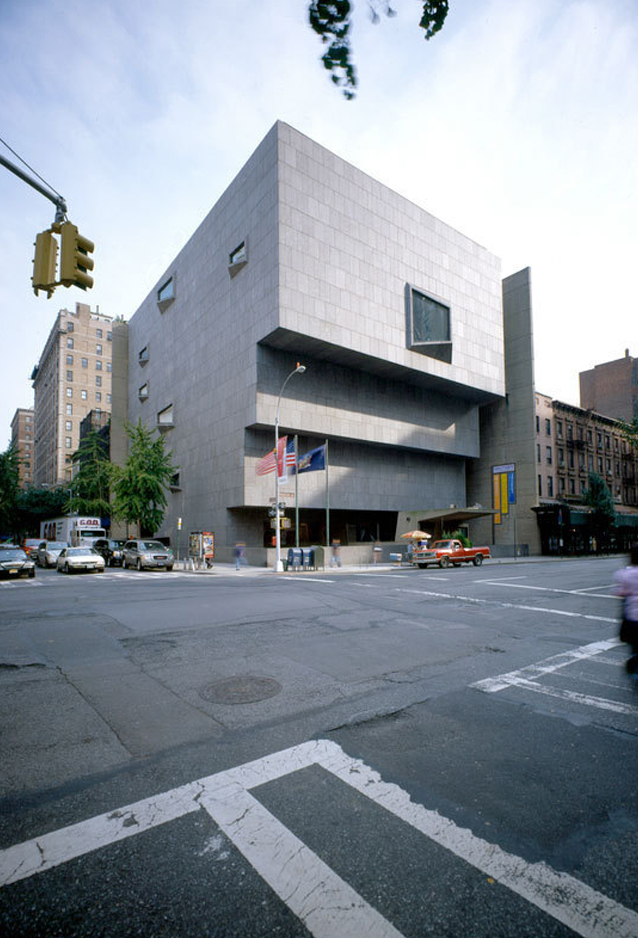 The Whitney
TOUR DATES
Tours are offered in a variety of sizes from a 5 day parcel to a two day family pack.
For more information visit www.foodanddesign2012.com
Some tours are contingent upon reaching a minimum of 10 participants.
For more information and tour description:
Website: foodanddesign2012.com
Email:  funkytower@gmail.com
Other
articles
about Design + Food 2012.
Tags: food and design, food and design 2012, funkytower, susan weir
---