Community context and innovation driven by a small budget have born Dough – a funky pizzeria in Perth's Northbridge nightlife strip of William Street.
Not only has this place perhaps the best pizza in town, but a fit-out that uses everyday materials to create a lively, edgy interior that has instantly become part of the urban community.
Retailer, craftsman and creative type Salvatore (Sam) Fazzari of Perth furniture and design store Mobilia is behind the fit-out of the 145sqm space that morphs a traditional Asian restaurant into a 70-seat pizza restaurant.
"I wanted it to be about the gathering of people to share a simple meal, the energy of that event and the rawness and simplicity of that process. I wanted to lose the sophistication we sometimes feel is necessary when dining out and give it a sense of place," says Sam.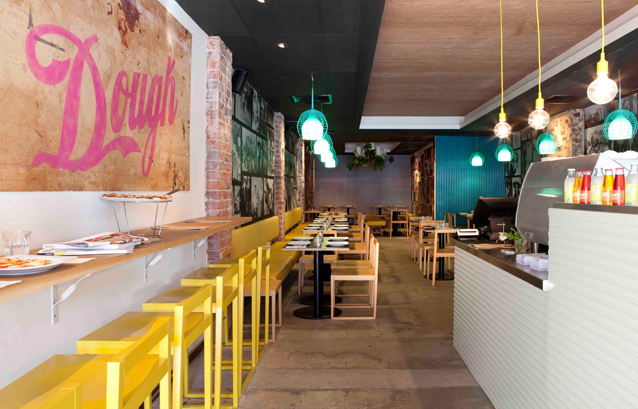 The brief was to create a relaxed, urban space that reflects the heritage of a pizzeria while ensuring community context through design innovation.
"The location, which is a bit edgy and grungy, was an important aspect of the design. We pulled in finishes from the street, like paste-up bill  posters, to give that sense of place. The former Asian restaurant had been there for many years, so it was important to establish this new venue into the streetscape through a raw, worn-in design, while also having a strong design sensibility," says Sam.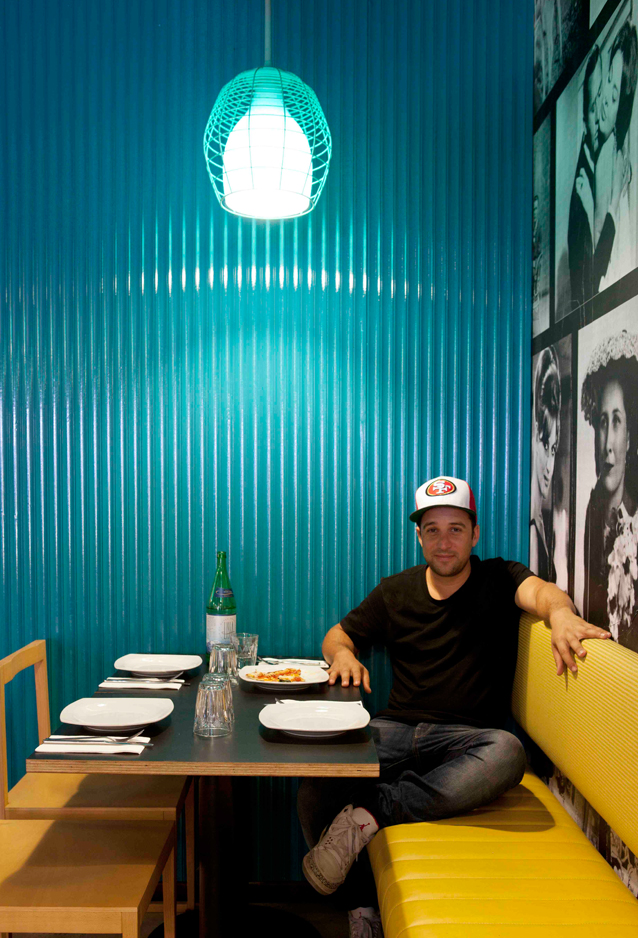 The transformation took three months and has a clean, open feel with elements of interest in raw, exposed bricks, furniture, lighting and the paste-ups, which include Italian screen sirens, Hollywood legends and Italian families in black and white, plus coloured Italian movie posters at the back of the pizzeria.
However, one of the stand-out elements is the Dough signage at the bar near the front of the restaurant. And that came about through luck.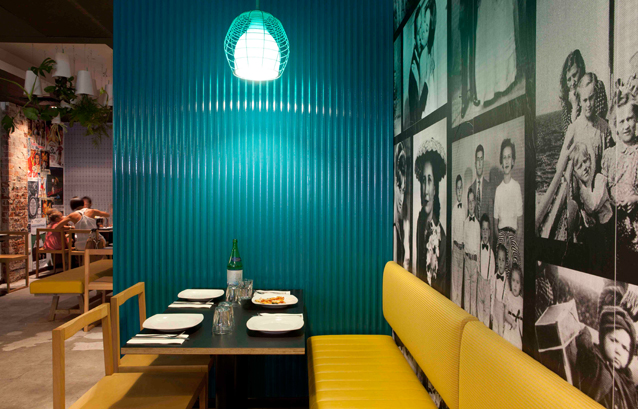 "A friend and I were experimenting with stenciling the word Dough onto an old security screen. It didn't work well, but once we peeled the back the screen we released my workbench had been marked with the paint that bled through the screen. We loved it so much we unscrewed the top layer of the bench and its life as the feature sign was born," laughs Sam.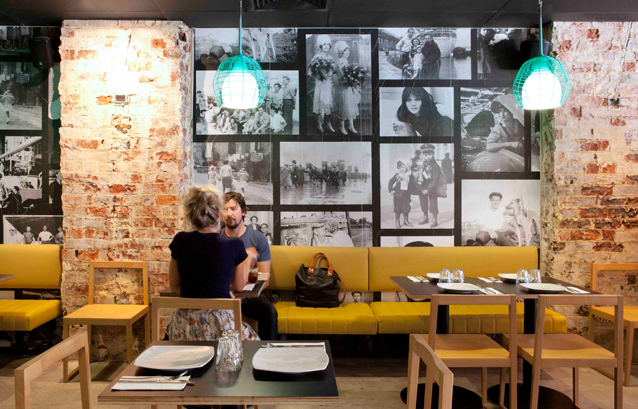 The shell of the space is raw concrete underfoot and plywood overhead that's been engraved with a modern take on the traditional Damask pattern using a CNC machine. The black-and-white paste-ups were created by Sam and local artist Ben Barretto, who sourced the images and create a collage, then printed them out on large sheets of paper and pasted them up like the bill posters on the exterior of the building.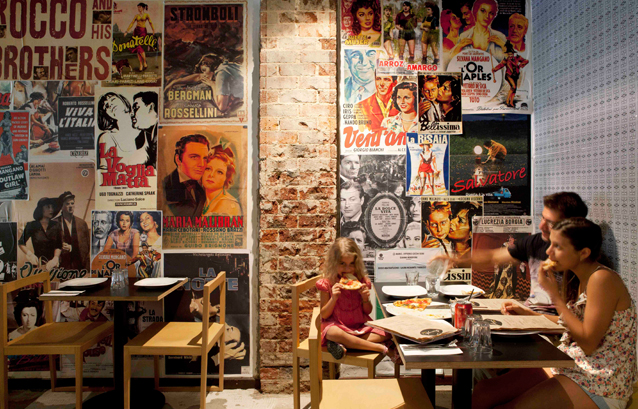 "We really wanted to use ordinary materials, such as plywood, paper, a workbench top, and morph them into interesting, dramatic design elements," says Sam.
"When working with a small budget, it is important to rely on your imagination and creativity, and not be afraid to experiment with materials that may seem very understated and normal to create something unusual and dramatic."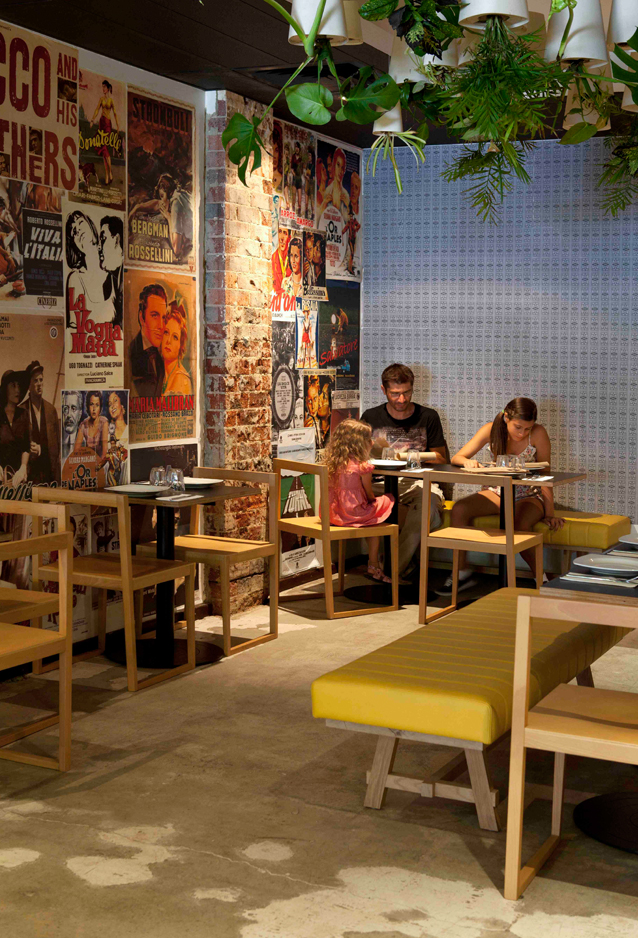 Lending a hint of sophistication to the space are key furniture pieces, such as the Ziru Francesc Rife-designed Ann chair and stools, and benches designed and made by Sam with seats in Maharam Zag fabric and Vere Pelle yellow leather. Lighting is by Foscarini by Diesel (aqua) and Muuto (yellow).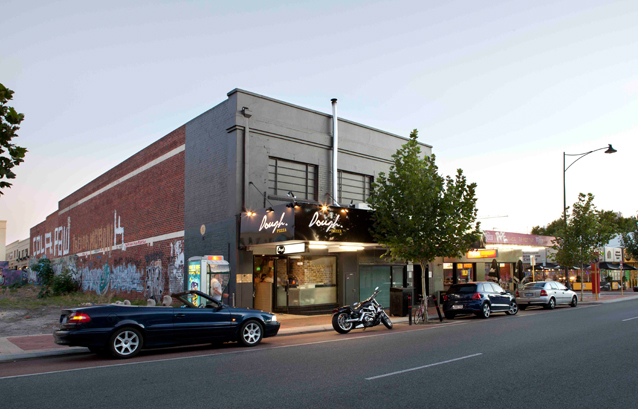 ---