The modest proportions and restrained silhouette of the Marion Bay House allow it to perch on its site without dominating the landscape; a quiet guest observing the beauty that surrounds it. 
The external structure is conceived as a ribbon which seems to grow out of the hillside and folds back on itself, forming a wedge-shaped enclosure. The exterior cladding is composed of rough-sawn macrocarpa assembled in a traditional batten and board manner, reflecting the rural context and in consideration of economy and sustainability, and in time the timber will sun-bleach to silver-grey. Facing south the house is closed against the chilly southern Tasmanian weather, whereas to the east and north an articulated strip of windows and doors opens to the vast panorama.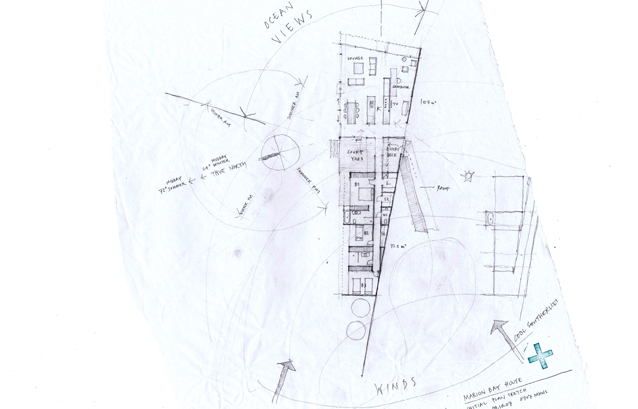 A key challenge for the architects was finding a balance between maintaining the house's lightness while avoiding its being lost in the landscape, and in response the structure is at once supported by posts and appears to emerge from the soil. The extended facade at the rear of the house maintains this continuity between the natural contours and the built environment, and adds a dramatic flourish to the act of arrival, concealing the vista until the house is entered and the full landscape is revealed.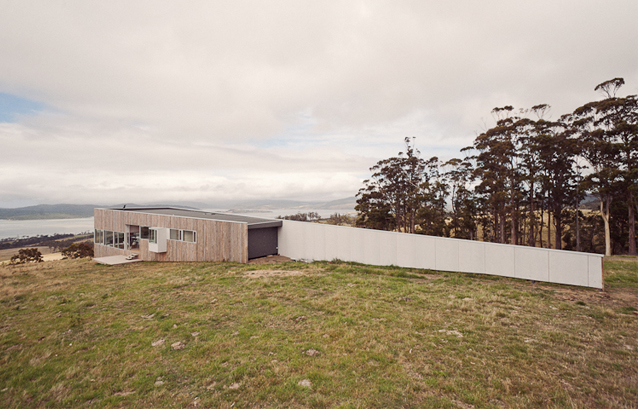 Internally the colour scheme focuses on warm whites and natural timber tones, with use of hardwoods reserved for flooring. The structures volume expands gradually with a sloping roof, allowing cozier bedroom spaces and more spacious public areas. Effective insulation, glazing, and passive solar design have been utilised to achieve excellent energy performance.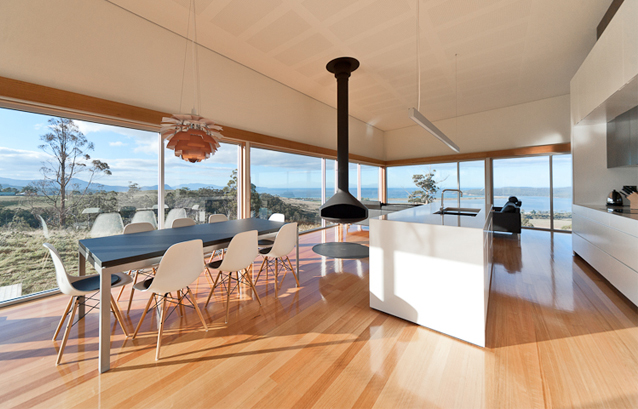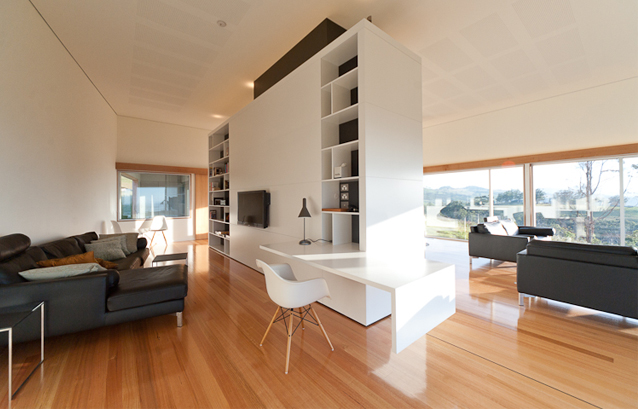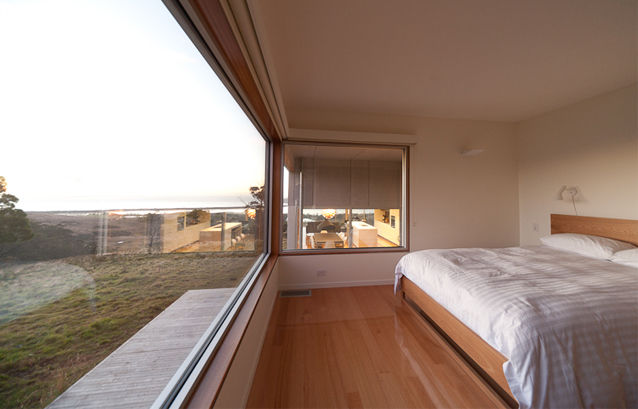 Marion Bay House was awarded the 2011 People's Choice Award in the Tasmanian Architecture Awards.
Architecture and interior architecture by 1+2 Architecture Pty. Ltd., land surveying and house positioning by Noel Leary and Associates, structural, hydraulic and civil design by Aldanmark Consulting Engineers, building surveying by Lee Tyers and Associates, cost consultancy by Stehel Consultants, built by Davis and Dobson Builders Pty. Ltd.
Photography: Jonathan Wherrett
Tags: Home Architecture, House Architecture, Residential Architecture
---