Understandably for a site set in a dramatic ocean panorama, a key element of the client's brief was to access as large-a-swathe of the view as possible. Combined with a strict demand that the resulting home have a five star energy rating and specific ideas of what constitutes good design, however, and the task faced by Seeley Architects became somewhat more complex than simply designing a run-of-the-mill beach house.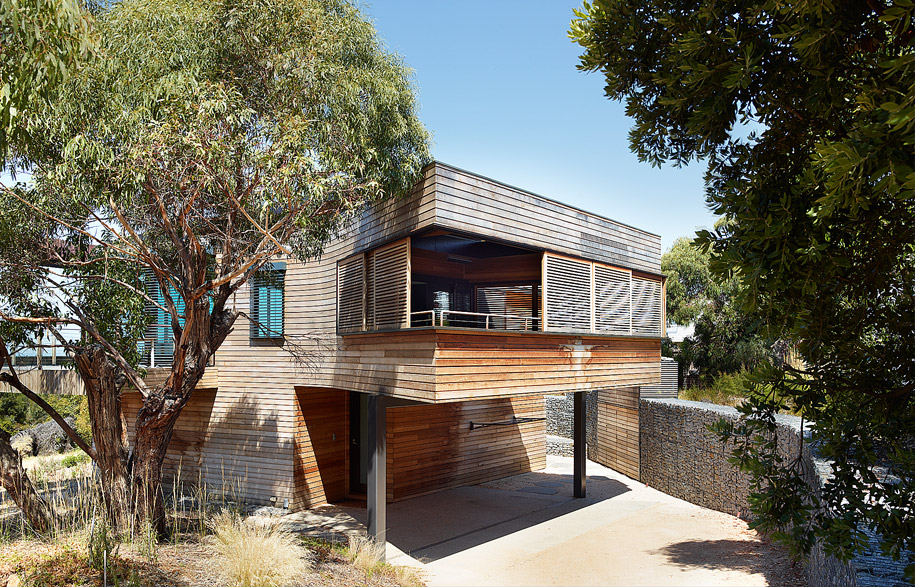 In firm Director David Seeley's own words, the clients wanted a "a groovy four bedroom beach house weekender with big protected decks and large windows to capture the panoramic views from the property". The dimensions of the home also needed to be generally exaggerated, as the home was to accommodate the owners, their three adult offspring and their extended families, several of whom are very tall (one is a professional basketball player).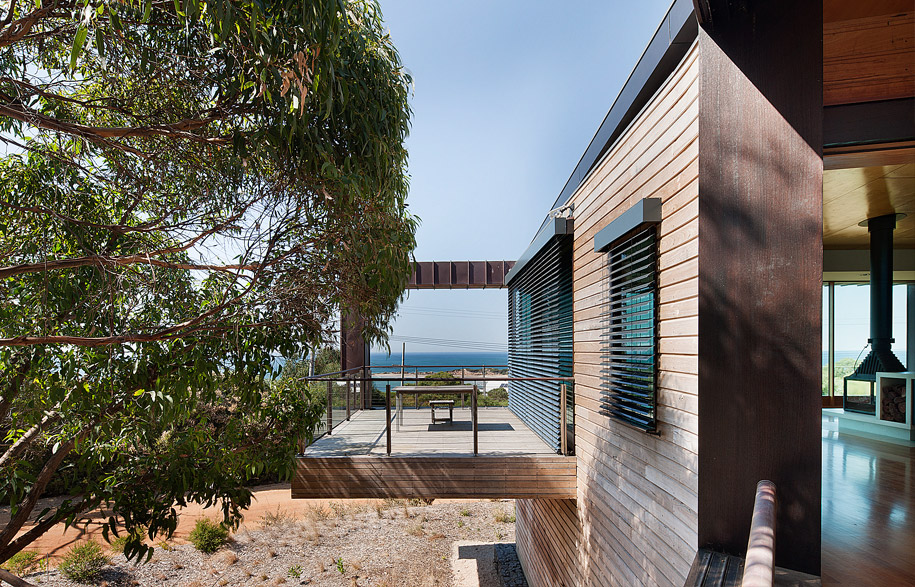 Replacing an uninspired 50's fibro shack, the new structure succeeds at powerfully connecting with the coastal context with a full-length, upper floor window spanning the coast across 180° from east to west. Bordered by a copper-clad frame, which extends out onto the adjoining deck, the window anchors the house in its context, evoking the aspect and composition of a panoramic photograph. The sliding screens and the operable roof on the Wind deck allows this space to be both an outdoor type space and an internal space depending on how the roof and screens are configured.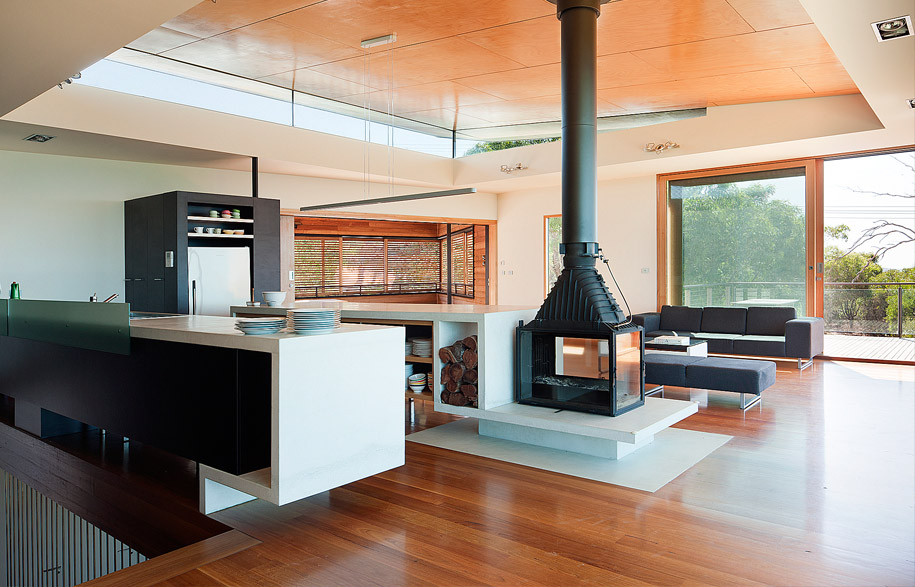 As Seeley points out, however, "Large south facing windows and 5 energy ratings do not generally mix well." To address this the house is passively heated and cooled, with no air conditioning, relying on the occupants' opening apertures such as ventilation flaps, sashes and sliding doors to capture the breezes and cool the house.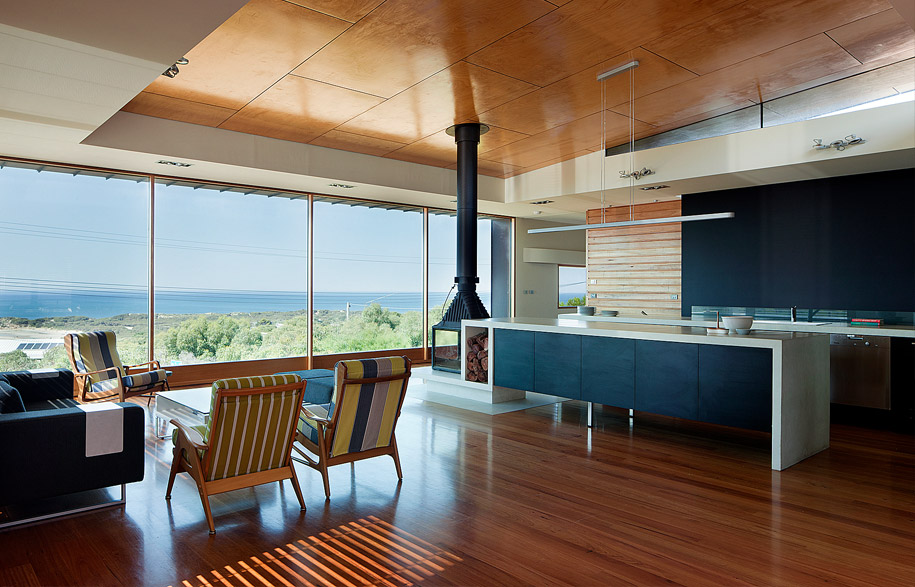 The internal colour scheme and furniture are a reflection of the Danish heritage of the owners, hence the responses are direct, functional and elegantly pared back. A focus on timber finish, both internally and externally, sustains this cultural reference, whilst also suiting the leisurely mood of a beach house and the surrounding bush land.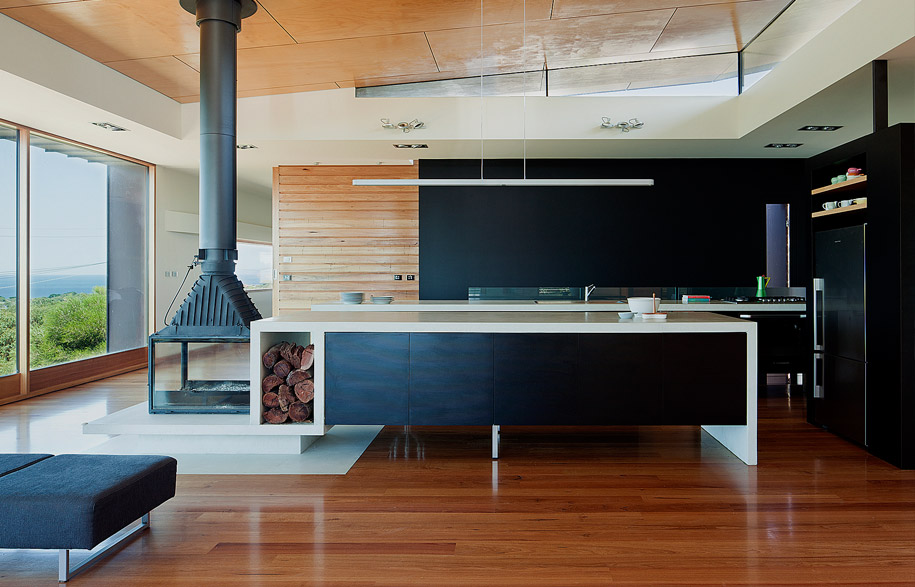 For both architect and client, the favourite space is the kitchen/dining/living room; as Seeley observes, "the space has a sense of grandeur with its scale and proportions, not to mention the views from this room."
Seeley Architects
seeleyarchitects.com.au
Photography: Shannon McGrath
shannonmcgrath.com
---