Overlooking the rolling hills of the surrounding landscape, the house is located in Eaglemont, Victoria, a town with a noteworthy architectural pedigree inhabited by the likes of Walter Burley Griffin, Harold Desbrowe Annear and Robin Boyd.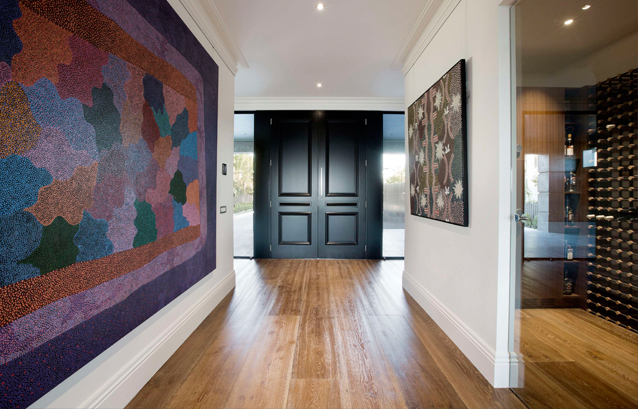 The project faced the substantial obstacle of a heavy, clumsy previous build that while never fully completed was large enough to make complete removal prohibitively expensive. Thus design firm Vibe Design Group were left with no choice but to incorporate it into the new design, a process deftly resolved by adding to and re-cladding the structure.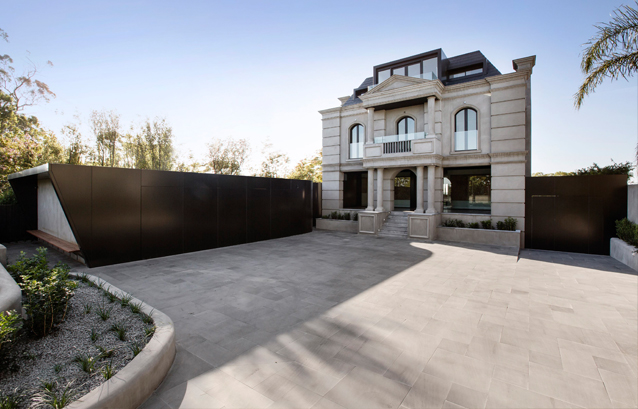 The façade and entry of the dwelling employs the symmetry and proportions of the neo-classical style, modernised by a floor-to-ceiling pane of smoked glass that displays two large artworks on either side of the doorway. Simple white walls throughout the interiors allow for further artworks to be elegantly displayed, creating a gallery-like environment.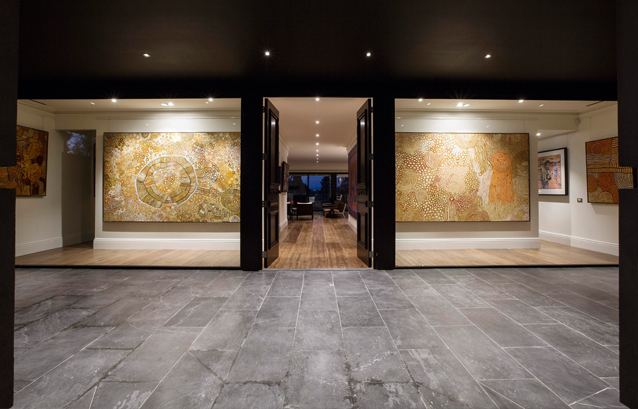 The home is replete with an enviable array of amenities and activity-based rooms including an elevator, walk in wardrobes, massage room, media room and gym – begging the question of when, if at all, its residents would ever need to leave. Spread over four storeys and 987 square metres, the dwelling is luxurious, expansive, and without a doubt was frightfully expensive.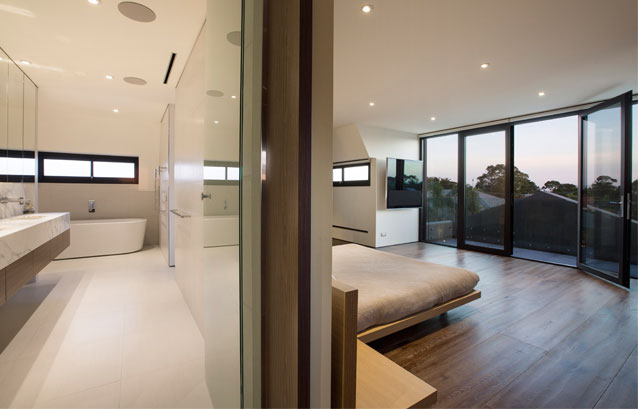 Thankfully in this case the investment has yielded attractive results (unlike so many other homes in the same class), with a clean and simple interior colour palette, cohesive materiality including beautiful timber board flooring and joinery, and a reliance on furniture and artworks for decoration rather than gaudy trimmings.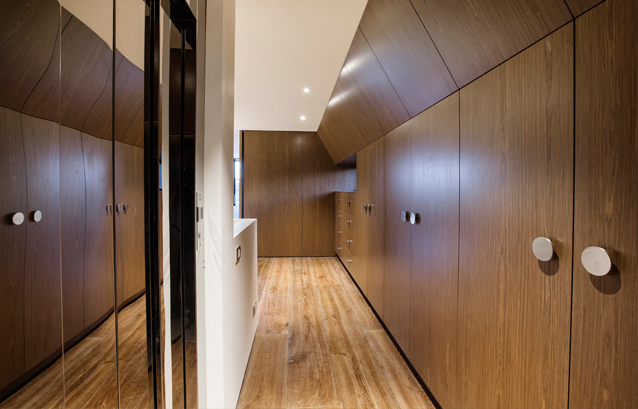 A sculptural staircase spanning the full height of the house is a particularly successful feature, incorporating a semi-transparent timber screen to filter vision and sunlight, and showcasing the minimal forms of an ilanel black rain chandelier suspended in its internal void.
And, whilst the heavier, more rigid aesthetics of the exteriors are a matter of taste, the overall resolution of the home is such that it feels, warm bright and exceedingly comfortable.
Vibe Design Group
vibedesigngroup.com 
Photography: Young & Percival
youngandpercival.com.au
Tags: Home Architecture, House Architecture, Residential Architecture, Vibe Design Group
---