Stylish and stackable, contemporary and competitively priced, the Gloster Asta is an Italian designed collection of dining and lounge chairs featuring stainless steel frames in a continuous curved form.
In line with the contemporary trend for customisation, the Gloster Asta also comes with a range of ten 'sling' seat colours for the user to choose  from. More than one 'sling set' can be purchased at a time, allowing a change of look from season to season.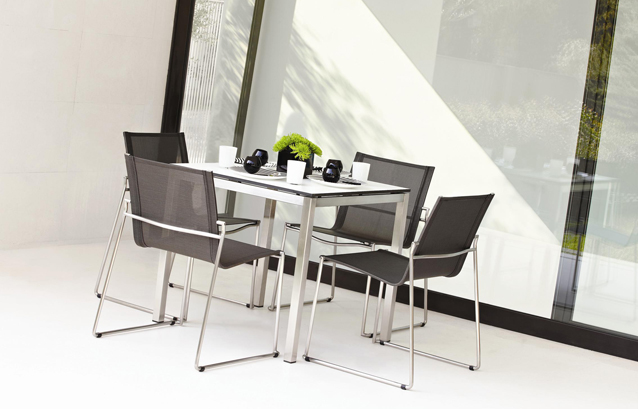 The Asta range allows you to choose from a mix of vibrant or muted colours and patterns with each sling panel fiting easily onto tubular frames for a seamless finish. Recommended as one of the most comfortable and low maintenance options available on the market, the Gloster Asta is a versatile solution for outdoor spaces.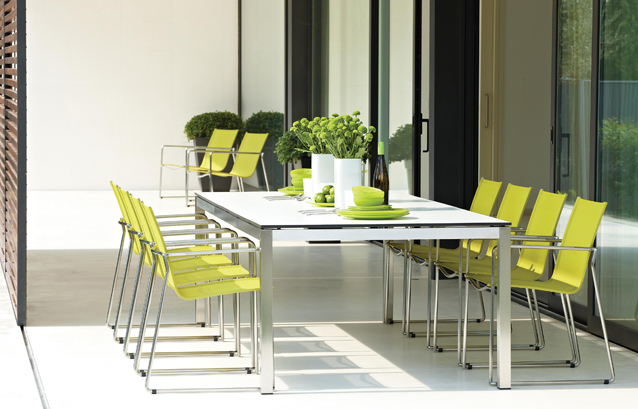 Available exclusively through Cosh Living, the Gloster Asta is just one in a broad range of quality outdoor furniture that features contemporary and traditional designs.
Materials used in the ranges at Cosh Living include; stainless steel, powder coated aluminum, synthetic weave, glass, stone and ceramic materials. Their outdoor dining tables are also available in a significant variety of set sizes and extension tables and their outdoor lounge settings, sun lounges and daybeds come in many designs with an endless choice of outdoor fabrics and styles.
The Gloster Asta is made from Electro-polished Stainless Steel Frames with Batyline Sling in Dining Chair and Lounge Chair dimensions.
The Dimensions:
Dining Chair – H 81cm, W 61cm, D 57cm
Lounge Chair – H 76.5cm, W 69cm, D 70cm
For more information please contact: 
Company name: Cosh Living
Phone: +613 9281 1999
Email: contactcosh@coshliving.com
Tags: Cosh Living, Designer Furniture
---