Carpet is undeniably one of the best flooring materials you can have for a bedroom. The main reason that bedroom carpet is so popular is because of its thermal insulation properties. Carpet, unlike tile or hardwood floors, will retain heat and prevent the floors from feeling icy cold during the winter.
However, there are a number of other reasons someone may prefer carpet over hard floors. Carpet is much softer underfoot, making it more pleasant to walk on. It is also safer for those at fall risk such as young children or the elderly. Carpet will help to cushion a fall and minimize the damage done. It also has aesthetic value, creating a warm and welcoming atmosphere. For more information on the benefits of carpet, see here.
Carpet is more durable than most people realise. If properly cared for, high quality carpet can last up to 20 years. The standard lifespan of carpet is between 5-15 years, and all carpet should be replaced after 30 years because of mould and mildew risks. How long your carpet lasts will depend on the type of carpet, where you have decided to install it, and how attentively you care for it.
Carpet in bedrooms can be very versatile. Generally, modern carpet trends lean towards neutral colours such as beige, grey, brown and white. However, there are many more exciting carpet ideas which can help transform your bedroom into a personalized oasis. For inspiration on the best carpet ideas for bedrooms, see the list below of the top 10 bedroom carpet ideas in Australia.
Bedroom ideas with carpet: 10 best carpet bedroom design ideas for modern homes
10. Choice carpet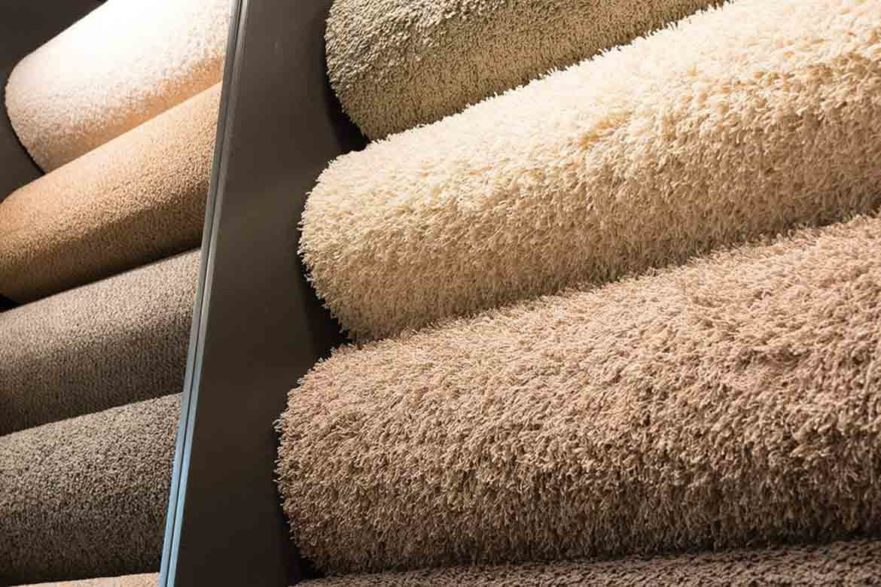 Choice carpet is a one-stop shop for all of your carpeting needs. They supply everything from wool, nylon and polypropylene to hybrids and synthetic carpets. Choice is a consumer-focused advocacy group which has been around for 60 years – and not just selling carpets. Read more about the Choice story here.
09. Carpet world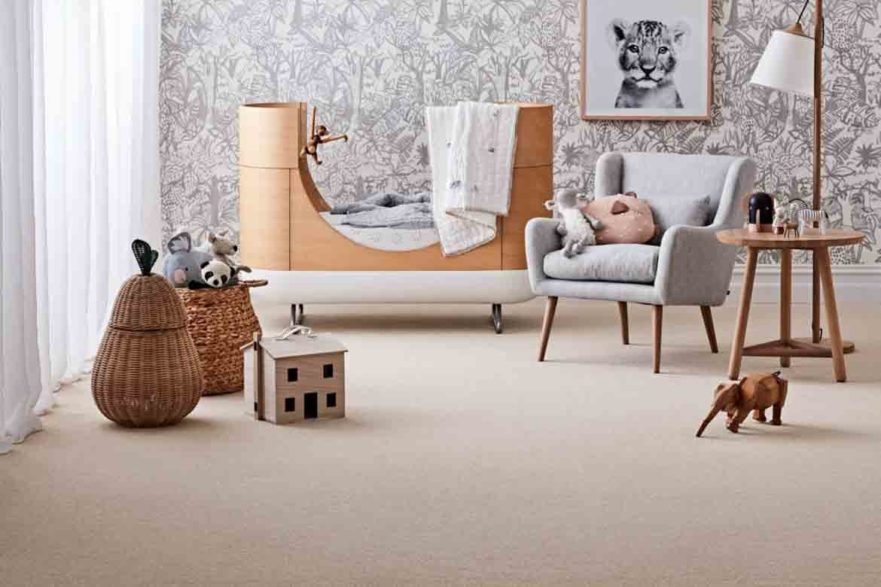 Carpet world is an Australian based flooring company which promotes locally owned and operated stores all across the country. They cater to a range of flooring needs including carpet, carpet tile, timbe, vinyl, hybrid, laminate and more. They are renowned for their innovative approach to flooring and experimental materials. Carpet world is a popular supplier for interior designers across the world, with many vibrant colours and styles available to choose from.
08. Carpet Call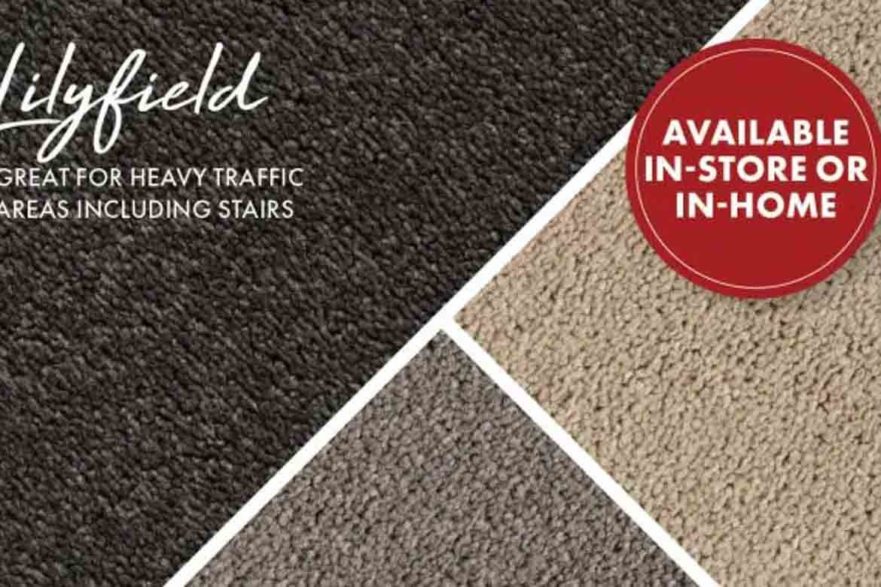 Carpet call is an Australian owned business which began in Brisbane, 1975. They are best known for their gorgeous neutral carpet colour schemes, such as the charcoal, brown and beige Lilyfield carpet options pictured above. All carpet call carpets are environmentally friendly, durable, stain resistant and affordable. Read more about Carpet Call here.
07. White rug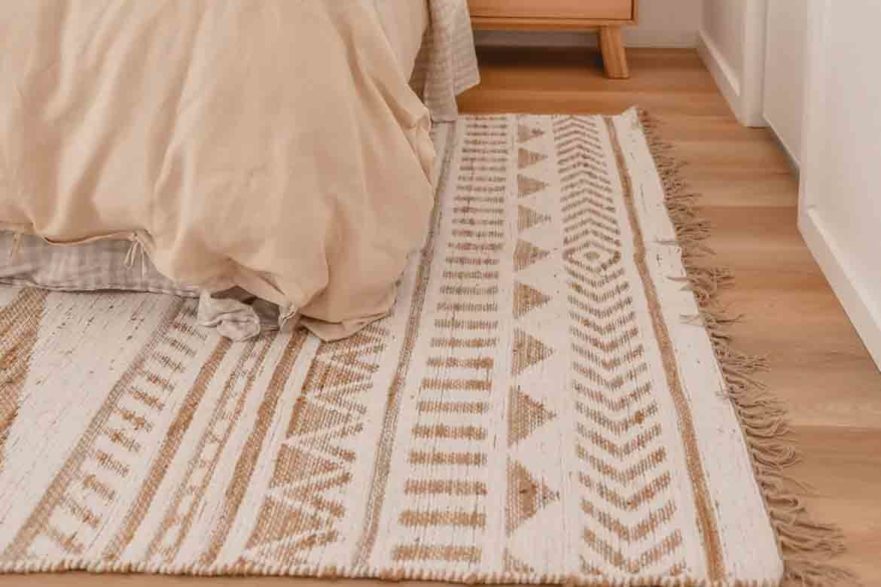 Bedroom rugs are a great idea for those with hardwood floors who do not want to go through the process of installing carpeting. This will allow you to enjoy the benefits of carpet – such as softness and warmth – while still keeping the beauty of your hardwood floors intact.
White and light neutrals are popular colour choices for bedroom rugs because the bedroom an area where stains are less likely, so they will stay cleaner for longer. You can purchase the natural handmade rug pictured above here from Miss Amara for $185.
06. Black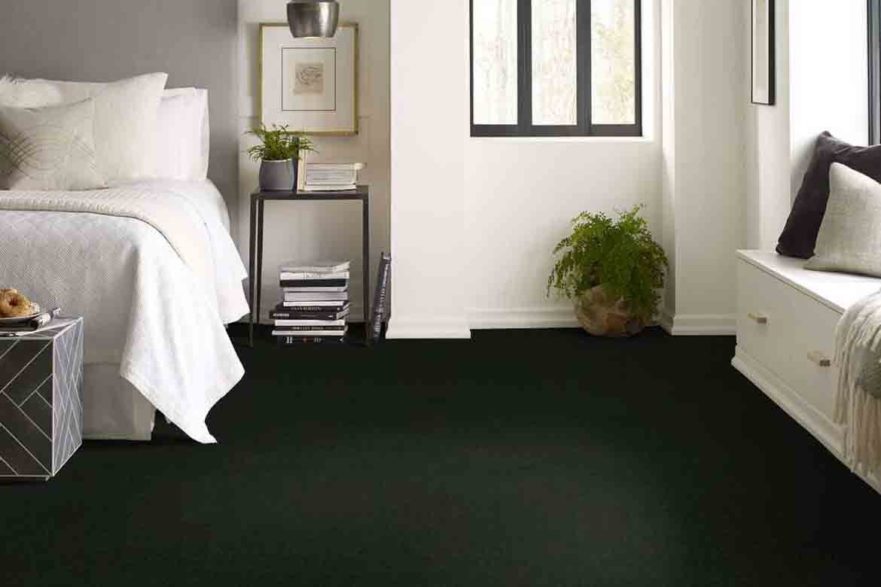 On the other hand, black carpets will disguise dirt and can make the room even warmer underfoot as black will absorb the heat from sunlight. A bedroom with black carpet is mature, moody and sophisticated. This is a good choice for the master bedroom as it has a sense of power.
05. Persian rug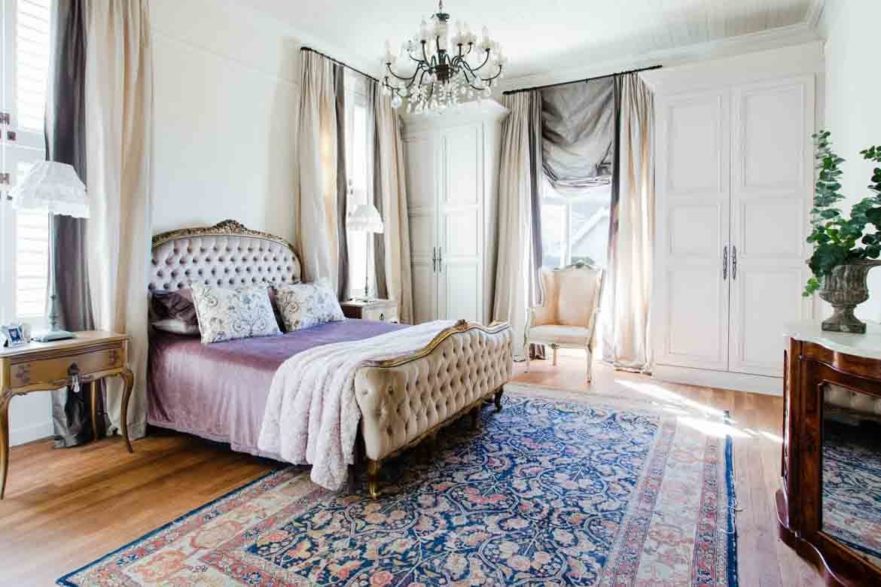 Persian rugs are an elegant favourite when it comes to interior design. They are a symbol of sophistication and luxury, usually handwoven from a combination of wool and silk fibres. Persian rugs are beautiful, durable, and stay vibrant for years if not decades. For more, see the top ten Persian rugs available in Australia.
04. Wool carpet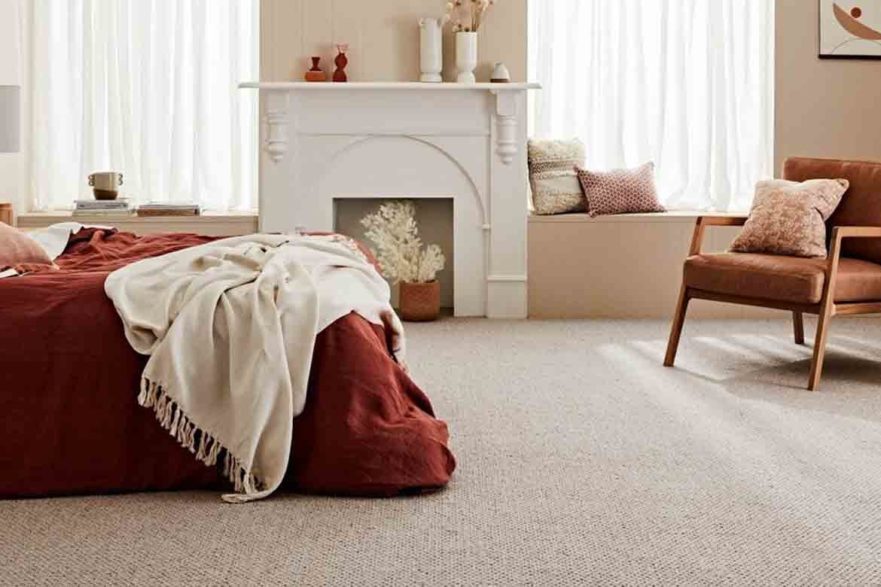 Wool is a particularly popular carpet material for its softness, durability, insulation, slip rating, environmental friendliness, and hypoallergenic qualities. Australian wool is among the best in the world thanks to our climate and ethical production laws – healthy and happy sheep produce better wool, after all. Wool carpets will outlast most synthetic materials by decades. Read about the top ten wool carpets in Australia for more information or purchase the carpet pictured above.
03. Dark grey carpet white walls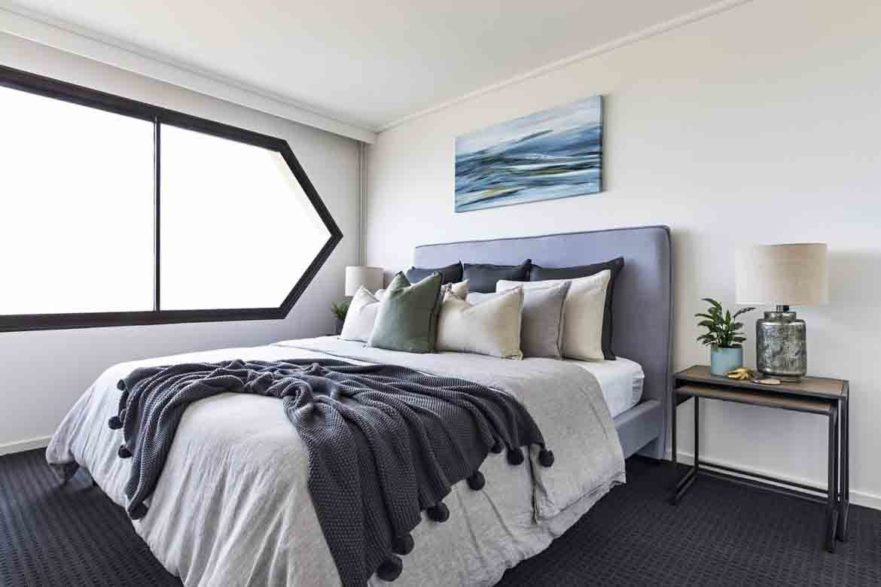 Contemporary interior design is often categorized by a monochromatic colour palette such as this one. Contrasting dark and light neutrals creates a sophisticated modern atmosphere which can be accentuated with a pop of colour.
Now, modern contemporary design often struggles with warmth. Contemporary designs have a tendency to create spaces which feel too clinical to be welcoming. Colour is our best bet to combat this, as well as mixed textures and asymmetrical designs. See here for more.
02. Light grey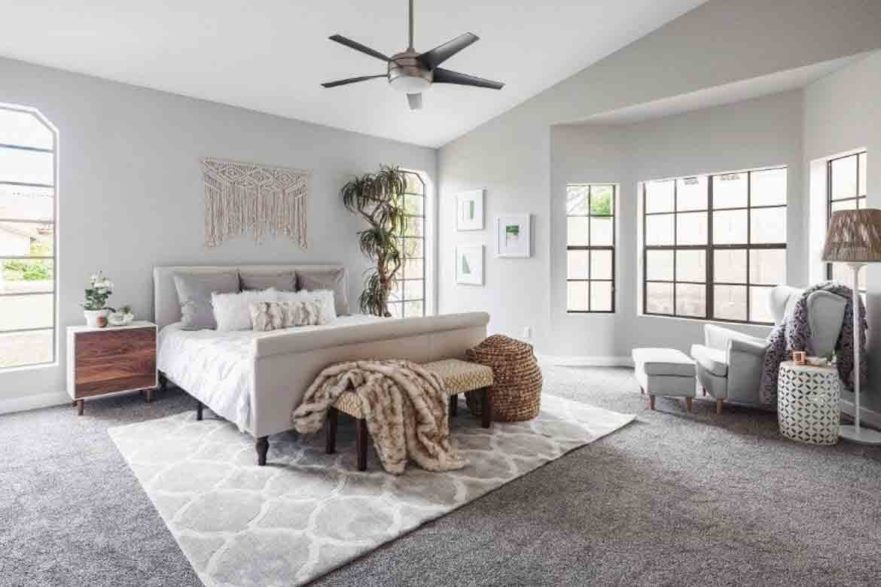 Grey is one of the most popular carpet colour choices. This is because it takes the best attributes of both white and black. Light grey carpets are bright and will reflect light around the room, making it feel better. They are also dark enough that dirt and stains will not be as prominent. Grey carpets are an innocuous colour which will not interfere with any design colour scheme you have in mind. Read more about grey carpets and where to buy them here.
01. Dark green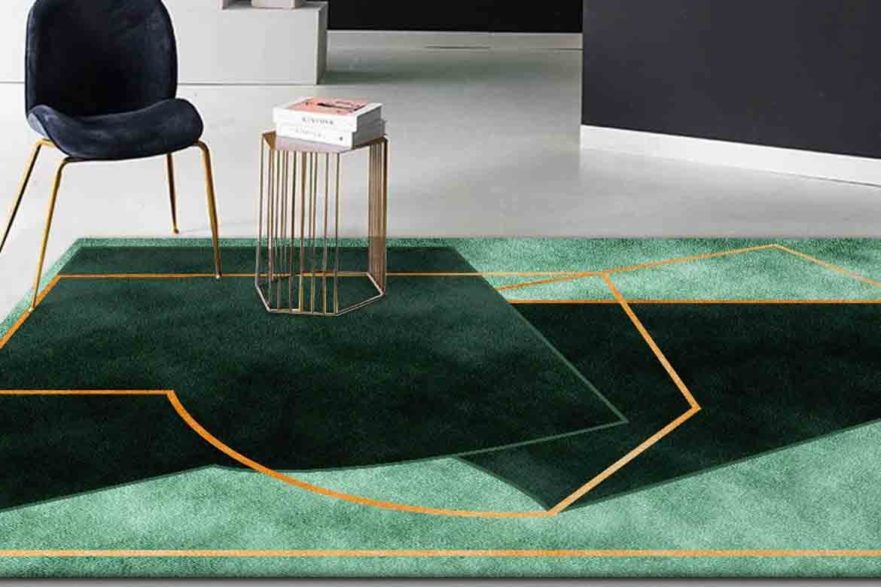 Dark green carpet has been steadily rising in popularity in modern homes with the resurgence of Art Deco styling ideas. A bedroom with dark green carpet has an elegant sense of whimsy that pairs beautifully with cream, cool white, and grey interiors. You can purchase the rug pictured above here from Aliexpress, or continue your vintage carpet hunt elsewhere.
---