But as we all know some meetings could be emails. Where we were once limited by a preference to speak in person, the rise in video conferencing and inability to be anywhere other than home means we are all theoretically available at any time.
Wednesday 3 June, 12.30pm AEST
Presented by:
Donna Wheatley, Principal, Hayball

Dr Wheatley is a highly experienced workplace and education strategist who leads Hayball's interior design team in NSW. While her design approach is evidence-based, Dr Wheatley draws on social and economic influences on space and behaviour to innovate environments of the future. She focuses on value creation as more clients look to their environments to drive business and learning outcomes and provide exceptional experiences. Drawing on her PhD in environmental psychology and extensive project experience, Donna creates dynamic environments that achieve client's goals through design.
Miriam Fanning, Founder and Principal Interior Designer, Mim Design

With over 20 year experience as an Interior designer, Miriam has built a strong reputation in the design industry. Miriam has been involved in many types of design projects ranging from residential both individual and multi, through to hospitality, hotel, retail and large scale retail. Miriam, the founding director of Mim Design, believes in continually being inspired by surrounding environments and seeks a strong sense of design and rational use of purpose for each individual project. Her ability to nurture and meld client relationships ensures the studio is an approachable environment for both clients and the team at Mim Design. Miriam's passion for visually exploring and achieving high quality standards ensures each project is well considered, crafted and designed for a reason.
Tristrim Cummings, Design Operations Leader, Hassell

Tristrim's role operates at the exciting intersection point of design, technology, client, team and project management. Tristrim works with key internal stakeholders to better align work practices across our studios, drive innovation, and improve the client experience. Tristrim is responsible for overseeing the continuous development and innovation of our service delivery systems framework by empowering our skilled talent and holistically connecting our design process, professional services, design technology, and project management. Tristrim's extensive experience across design, delivery and leading an array of small, medium and large projects across a diverse typology provides him with an insight into what makes projects work effectively and efficiently.

Matt Lorrain, Co Founder and Creative Director, SP01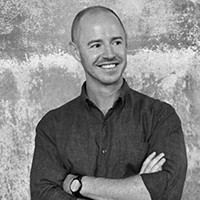 Matt Lorrain is Creative Director of SP01, a furniture collection that is conceived in Australia and made in Italy. The Creative Director title is however a little misleading; Matt is responsible for the entire product life cycle from creating the project brief to connecting with collaborating designers, development of the design, prototyping and production, and producing the brand's iconic imagery. With a team of collaborators literally at all ends of the globe, being flexible and working remotely are absolutely essential to Matt's day-to-day work and his self-described "unstructured" approach works particularly well in these times of upheaval.

Facilitated by: Holly Cunneen, Editor, Habitus

Holly Cunneen is the editor of Habitus and Habitus Living, a quarterly print magazine and digital counterpart providing extensive coverage of architecture and design across Australia, New Zealand and South East Asia. Before joining Habitus, published by Indesign Media, in 2016 Holly was a writer at Grand Designs Australia. With a view that architecture has a shared responsibility to the individual and wider community, her professional trajectory has seen her chart the impacts, accomplishments, and emerging patterns of behaviour within the architecture and design community across the Asia Pacific Region.
Photo: ANZ Centre – Interior by Hassell, photography by Earl Carter.
Get your brand involved in our series, contact us now
---