Materiality and luxury are two values perhaps most essentially synonymous with Cattelan Italia. The foremost has been steadfast to the furniture design and manufacture company's core since its beginnings — as a producer and exporter of Italian marble furniture — in the late 1970s. On the other hand, the brand's expressed affinity toward luxury in design runs true throughout the extended lineage of Italian design, which it shares with preeminent titles, such as Vogue Italia and Versace, that are symbolic of affluence in design.
It is fitting that these days Cattelan Italia, hailing from such auspicious heritage and now in its fifth decade, is realised as a world-class patron of constant, conscientious contribution to luxury design evolution and material innovation. One of the brand's most recent donations to covetors of design everywhere is its budding range of brushed metal finishes. First came Cattelan Italia's Brushed Bronze finish, which wasted no time in becoming a cult favourite amongst customers and specifiers alike; now the brand's Brushed Grey metal finish, emanating the refined masculinity and tactile emotion of brushed steel, has made its official debut.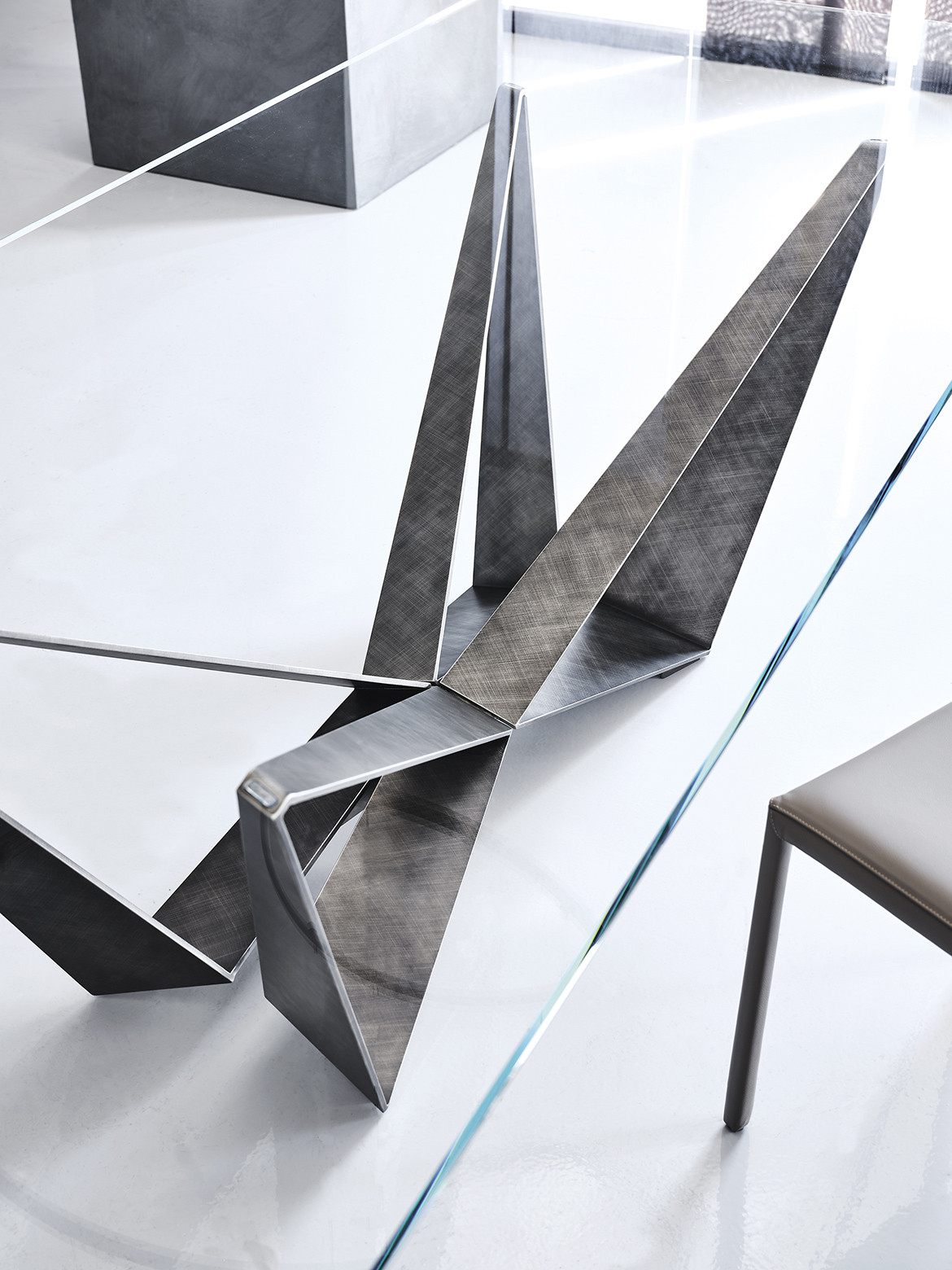 Presenting as the origami-esque legs of the iconic Skorpio table range, designed by Andrea Lucantello for Cattelan Italia in 2014, the debutant Brushed Grey finish enhances the table's acicular identity. An invisible glass top ensures that the edged metallic table base goes unchallenged as the star of this rendition of Skorpio. 
The tarnished finish of the brushed steel base may be the antithesis of a polished execution, but that juxtaposition begins and ends with the baseline definitions. Channelling the unrelenting and inimitable spirit of brutalism, the steely sculpture yields the coveted je ne sais quoi of a designer furniture item that is sorry, not sorry. It's a realisation of Italian design grandeur that couldn't be further from the hallmark opulence of Versace, but it epitomises modern luxury nonetheless.
Cattelan Italia
cattelanitalia.com
---