In many ways, the realisation of ambition is what Habitus House of the Year is all about. Each year, the line-up of outstanding projects, selected from across the Indo-Pacific Region, culminates in an exposé of ambitious residences, designed by and for ambitious people, pursuing ambitious, even profound, ways of life. And each year, we develop a taste for more. Such an appetite for ambition ought not, need not and — thanks to Gaggenau — shall not go unfed.
Driven by the principals of a professional kitchen and inspired by the needs of an experienced chef, all the while catering for private kitchens, in homes such as yours and mine, Gaggenau is an ambitious type itself. The preeminent German manufacturer of premium domestic appliances is renowned as one of the most influential players in the residential kitchen design space. And deservedly so; not least because of its design-led approach and its penchant for being a catalyst in the discovery of many-a-users' culinary ambitions.
To create a custom-designed domestic kitchen, fitted with technically sophisticated yet easy-to-use appliances has been the company's steadfast vision since the mid-century. While, decades on, that robust vision remains the same; the modern-day possibilities have exponentially changed. Today, bespoke kitchen design demands appliances that are built-in and operate harmoniously with one another. Stainless steel fridges integrating perfectly with wine climate cabinets, for instance, or ovens aligned with built-in, automated espresso machines.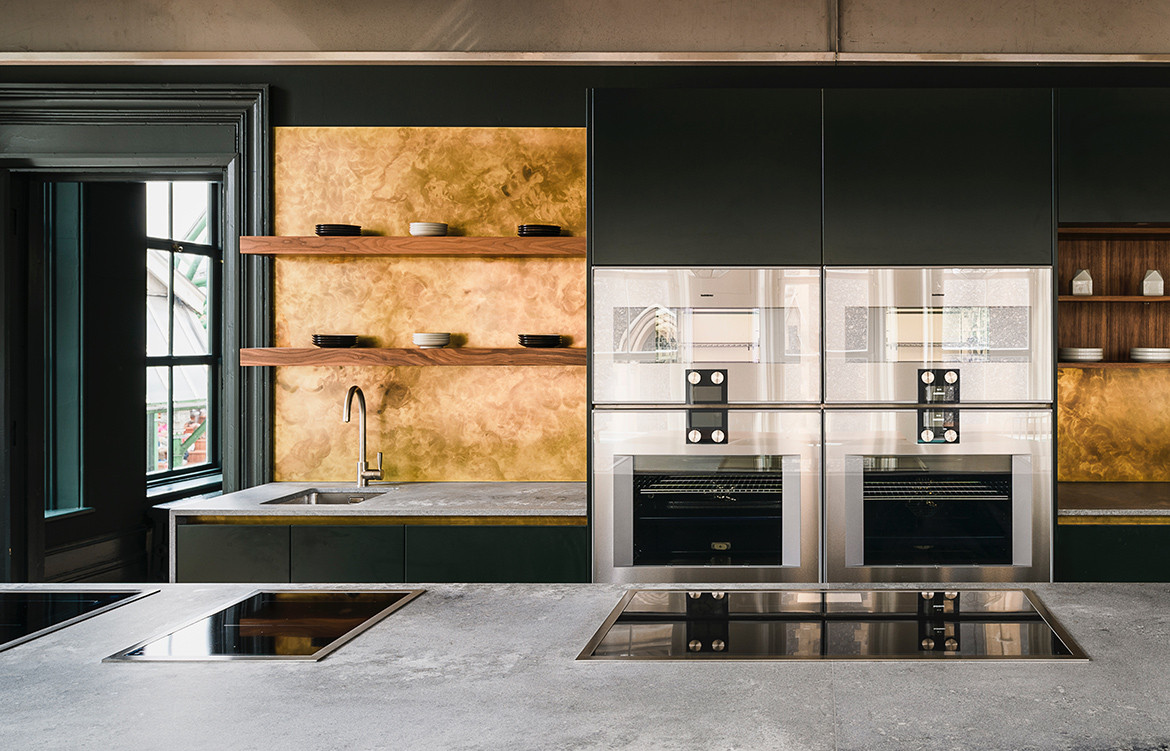 Championing endless culinary potential, Gaggenau's relentless desire to inspire is quintessentially exhibited throughout its product range. Even the oven — typically a staple and rarely a stand out kitchen feature — in Gaggenau's case, is anything but basic.
The brand's 400 series ovens make an apt point in case; their sleek, handle-free form comes endowed with 17 different heating methods, a three-point core temperature probe with estimated cooking time feature, pyrolytic cleaning functionality and an intuitive TFT touch display. In its entirety, the 400 series comprises an exceptional range of ovens, combi-steam ovens, combi-microwaves and complementary appliances, each of which are domestic in proportion while professional in principle and wit.
Specification-wise the 400 series ovens and accessories, along with the rest of Gaggenau's offering of premium kitchen appliances, are designed to be tailored in configuration to suit one's personal preferences and ambitions in the kitchen. Complementary appliances, including the 400 series' warming drawer, vacuuming drawer and automatic espresso machine, are able to be combined with one's own bespoke composition of ovens, combi-steam ovens and/or combi-microwaves.
Completed by an inimitable suite of induction cooktops, modular fridge/freezers, wine climate cabinets, dishwashers and ventilation systems, Gaggenau's offering goes unmatched. Therein lays the key to living up to ambitions in the kitchen.
Gaggenau
gaggenau.com.au
Tags: gaggenau, Habitus House of the Year, kitchen appliances
---