A husband, wife and son team, they have become renowned for their fusion of functionality and aesthetics, and it was during the 1990s – mostly due to their son Paolo's dynamic ambitions, the company started to export its made in Italy-quality furniture to the world.
In 2019, Cattelan Italia brought their deft eye and hand for elegant design new imaginings of the console, chair, sideboard and lamps, tables, bookcases, side tables and beds which all attracted attention at this year's Salone del Mobile in Milan.
Terminal is a console designed by Paolo, and brings natural and approachable charm to even the most sophisticated environments. The base's geometric pattern – with a rounded lower profile, and available in titanium, graphite or steel painted in black or brushed bronze – supports a Marmi ceramic top which is available in Cattelan Italia's new Makalu and Emperador finishes, as well as a range of marble colours from Calacatta to Sahara Noir. It is also available in Keramik Premium – with its elegant encircling of the piece's profile – as well as in wood (Walnut Canaletto, Burned Oak and Natural Oak).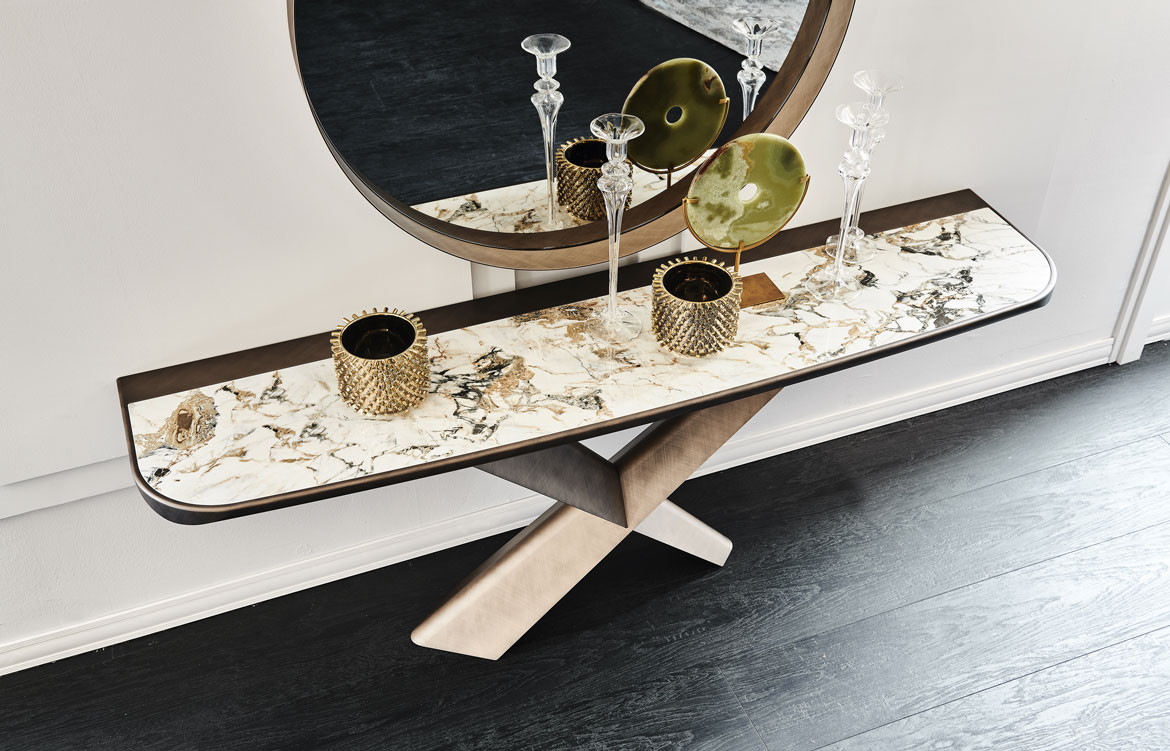 Cattelan Italia chairs have three key features: a dedication to design, perfection in textile details and finishings, and attention to accommodating the body through sophisticated ergonomics. Form is completely at the service of "function, absolute comfort and special conviviality" – and yet the result is easy on the eye.
Collaborating with the Tuscan company Archirivolto Design, Cattelan Italia unveiled two exclusive chair designs. Tina is a soft, welcoming seat dedicated to total comfort. In addition to the wide range of leathers, nubucks and fabrics, it is also available in a never-before-seen velvet finish. Embossed titanium, graphite, black or white are the colours available for the painted steel structure.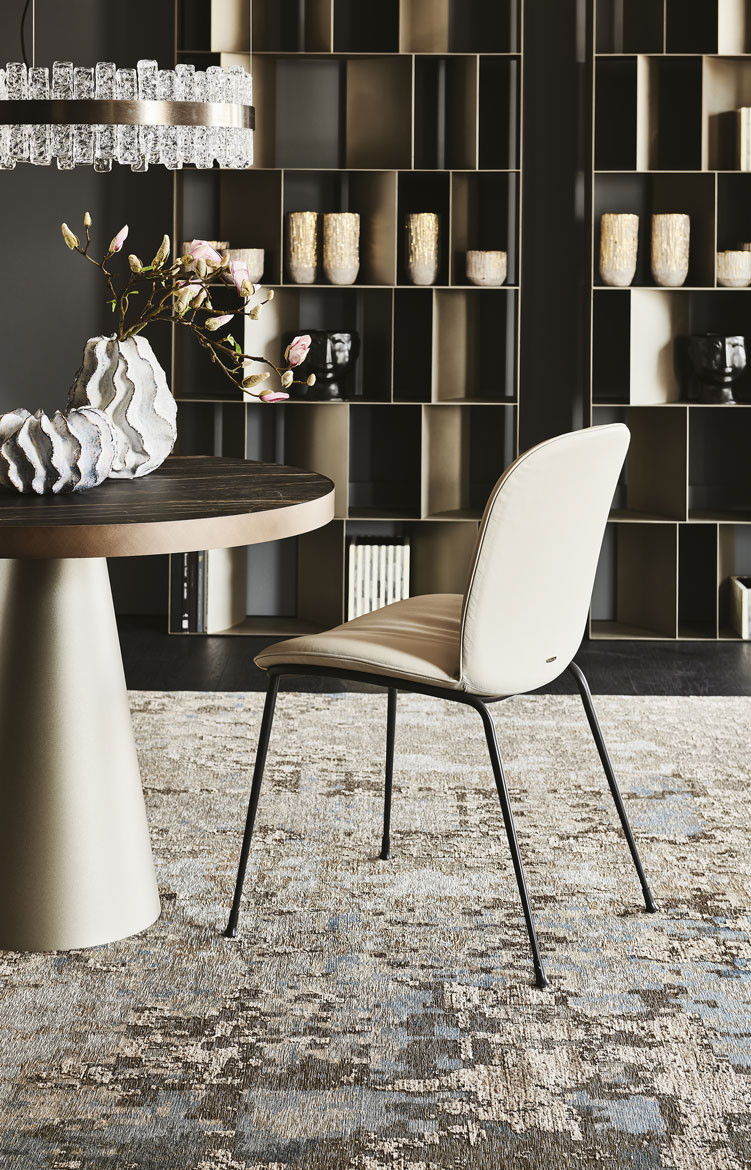 The second chair, Ginevra, stands out thanks to its sober stylistic approach with a nod to the simplicity of traditional forms.
 The inflexible body is in natural beech, Canaletto walnut stain, wengè, white or matt black, while the upholstery can be chosen from fabric, leather or faux leather as shown in the sample book.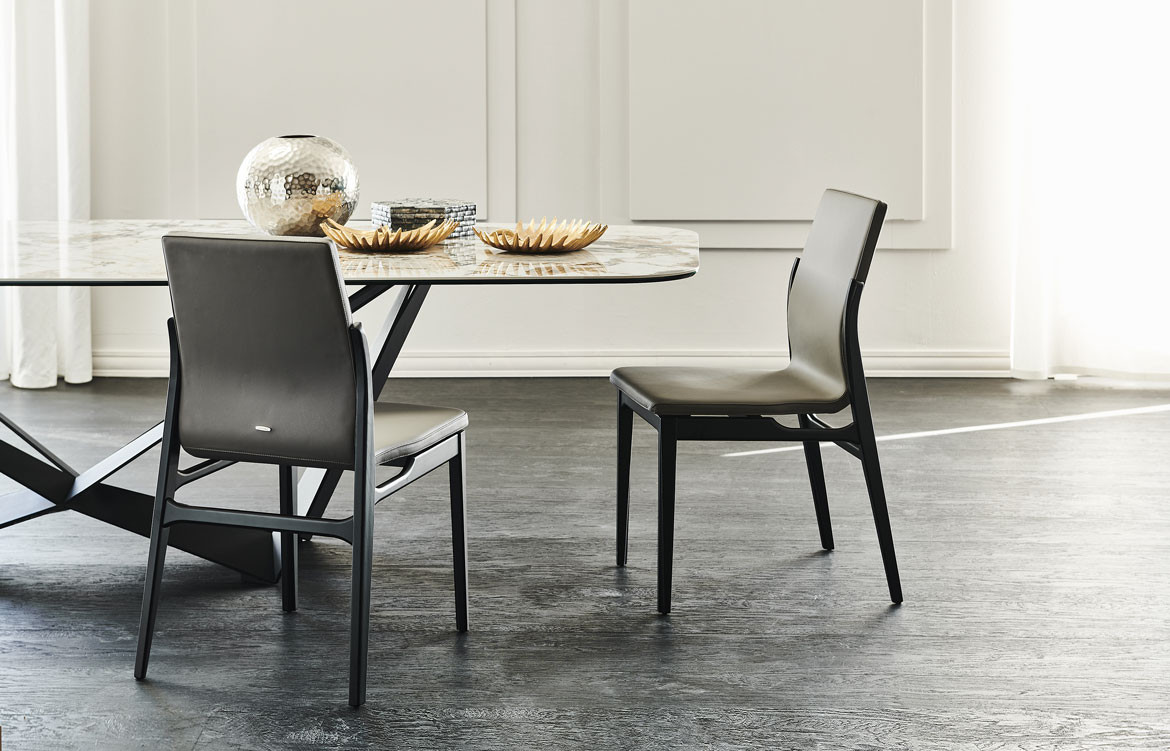 Another collaboration with Archirivolto saw the birth of the Marlon bed, a treat for the eyes and for comfort. The stylized, reassuringly "maxi" upholstered headboard is available in a choice of fabrics and leathers, and the frame is available in both Caneletto walnut and burned out stained ashwood.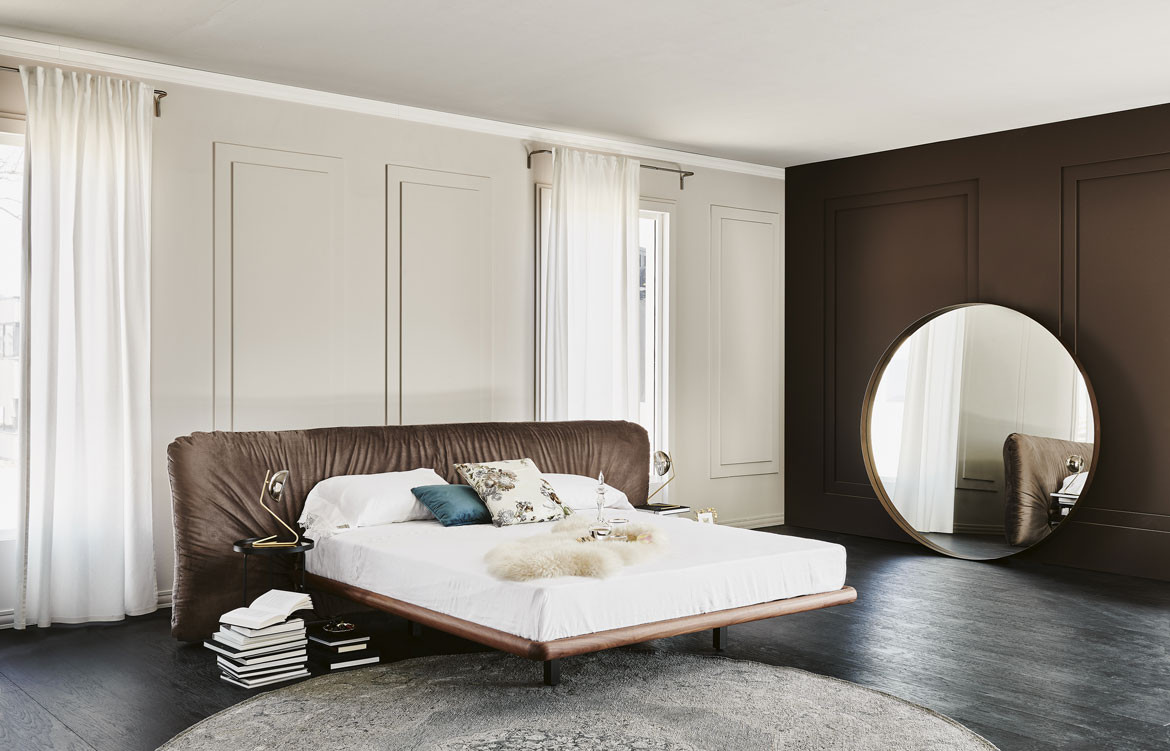 A third chair, the exclusive creation of Paolo Cattelan, comes in the form of Flamingo. With a four-spoke swivel base in graphite, white or black painted aluminium or nylon, Flamingo embodies the best of craftmanship and quality materials. The upholstery is in fabric, leather or faux leather as shown in the sample book.
The two sideboards unveiled this year – BOUTIQUE and VOYAGER – provide equally glamorous but unique approaches to storage. Alberto Danese is the artistic mind behind the design of BOUTIQUE, which gleams as an opulent casket made entirely of glass (beveled doors, sides, top and bottom) while the internal backrest in made of quilted, real or synthetic leather. LED lighting illuminates the interior, as if your belongings were a museum.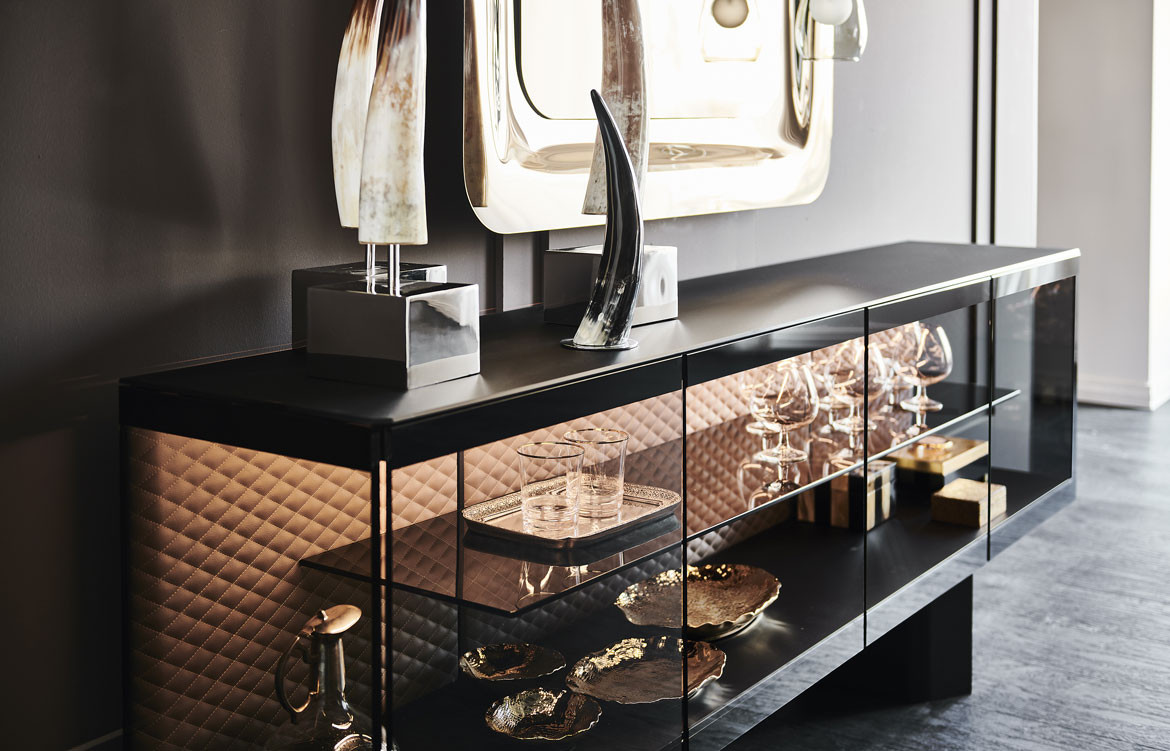 VOYAGER – designed by Lorenzo Remedi – draws attention in the room with its embossed decorations in gold or gloss back embellish the frosted glass front, embracing the ultra-decorative approach. The optional items include a drawer that can be placed on each of the doors.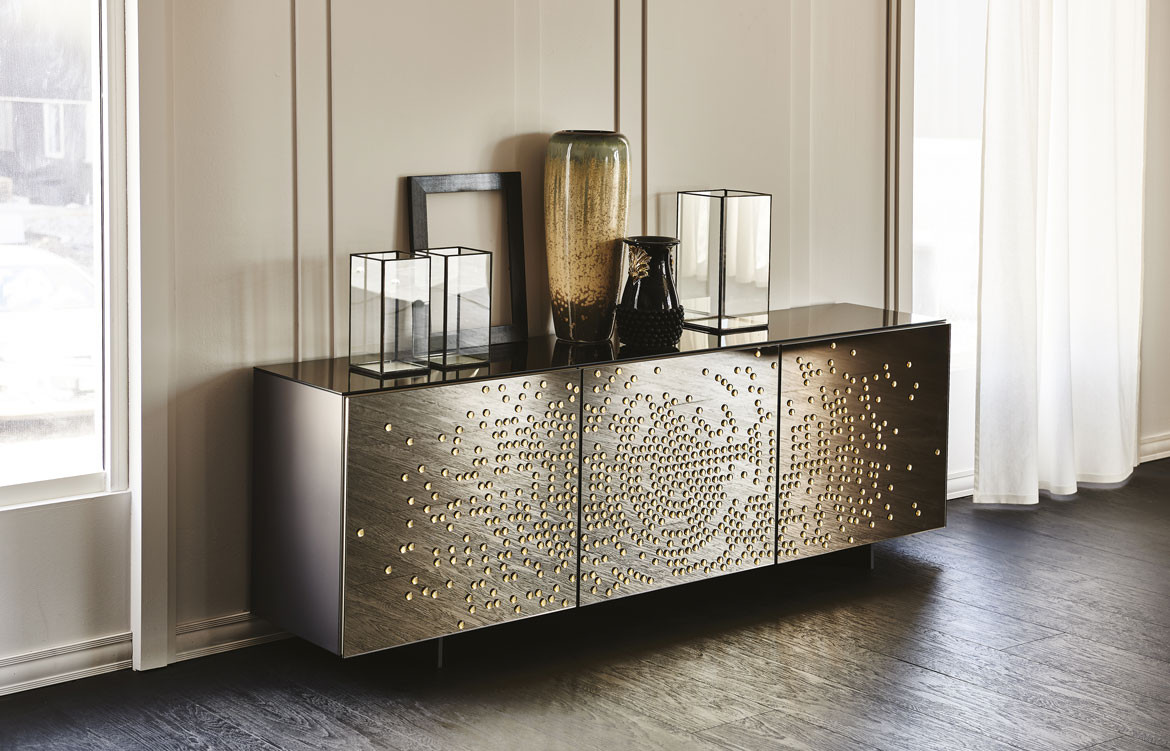 Planeta, a lamp designed by Studio Kronos, is a nod to the quirky originality of 1960s design. Frosted satin white blown glass lampshades are supported by a burnished iron structure with brushed brass details, forming a whimsical pattern. Conversely, the industrial chic of CIRCUIT, with its small lampshades of borosilicate glass, titanium and frosted nickel painted embossed steel structure. Featuring integrated LED lighting, in comes in both wall- and ceiling-mounted versions.
Cattelan Italia
cattelanitalia.com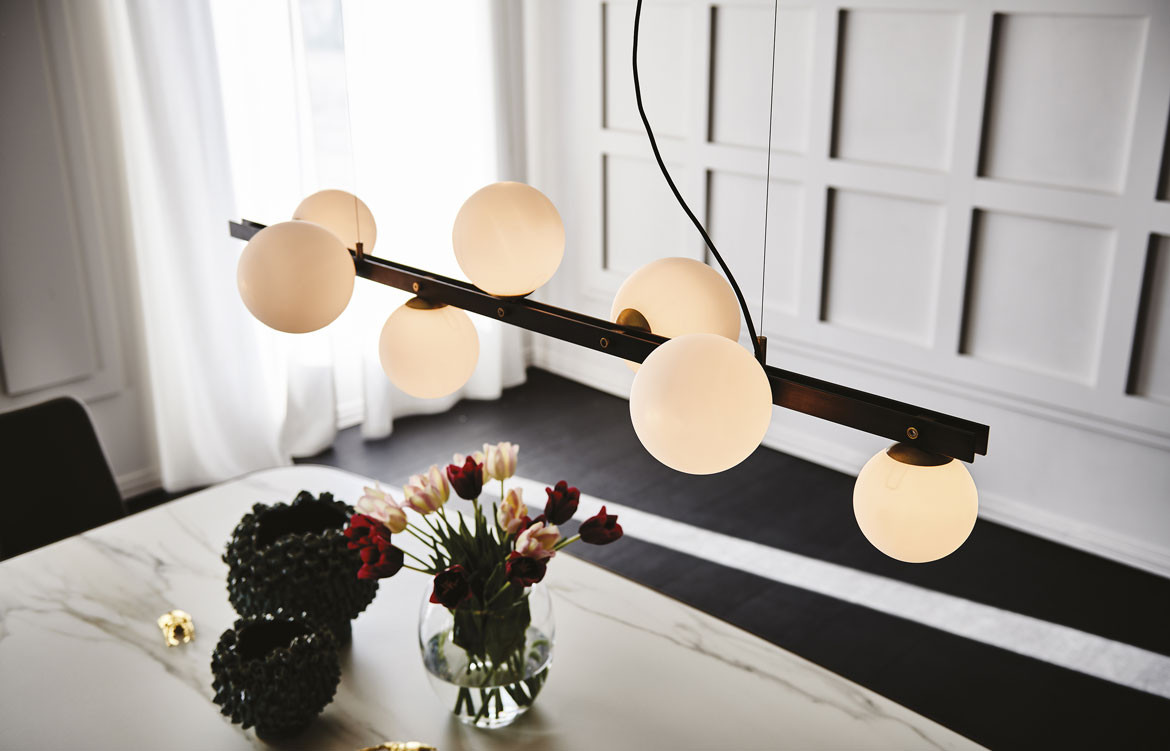 Tags: Alberto Danese, Archirivolto Design, Cattelan, cattelan italia, Lorenzo Remedi, Studio Kronos
---