The magnificent epitome of luxury and splendour. An instantly recognisable symbol of refinement and quality. The ultimate expression of indulgence and a colour so uniquely universal in its timeless expression, it transcends time, trends and style. And even though all that glitters is not gold, that's definitely the case when it comes to VOLA's alluring tapware finish – Brushed Gold – which encapsulates all of the marvellous qualities of this precious metal.
Continuing the brand's fascination with the formative power of colour in creating atmospheric interiors started by Arne Jacobsen in the 1970s, Brushed Gold offers a charming avenue for creative expression and a sophisticated way to visually elevate the space. Designed with longevity in mind, the finish establishes a classic air of rich elegance. At the same time, its subtle yet robust materiality combines a delicate, reflective quality with a grounding, tactile experience – resolving into a warm and luxurious mood.
Part of the exclusive Colour Series, the glistening finish complements VOLA's minimalist product design, which sees all mechanical parts subtly hidden away. It further elevates the lightness and sculptural quality of their functional shapes, highlighting the organic curvature of the circular and cylindrical forms.
The simplicity of design combined with the rich yet gentle shimmer of the finish makes it the perfect fit for a variety of interiors. Brushed Gold will work harmoniously with natural hues and material finishes and provide a more striking, contrasting visual outcome when combined with more decisive colours – such as black. From subdued neutrals and bright pastels to more pronounced colour schemes and saturated tints – VOLA's Brushed Gold is bound to inject an elegant and delicate sense of splendour to any space. And with all VOLA products available in this uniquely sleek finish, the possibilities to create the desired bathroom are endless.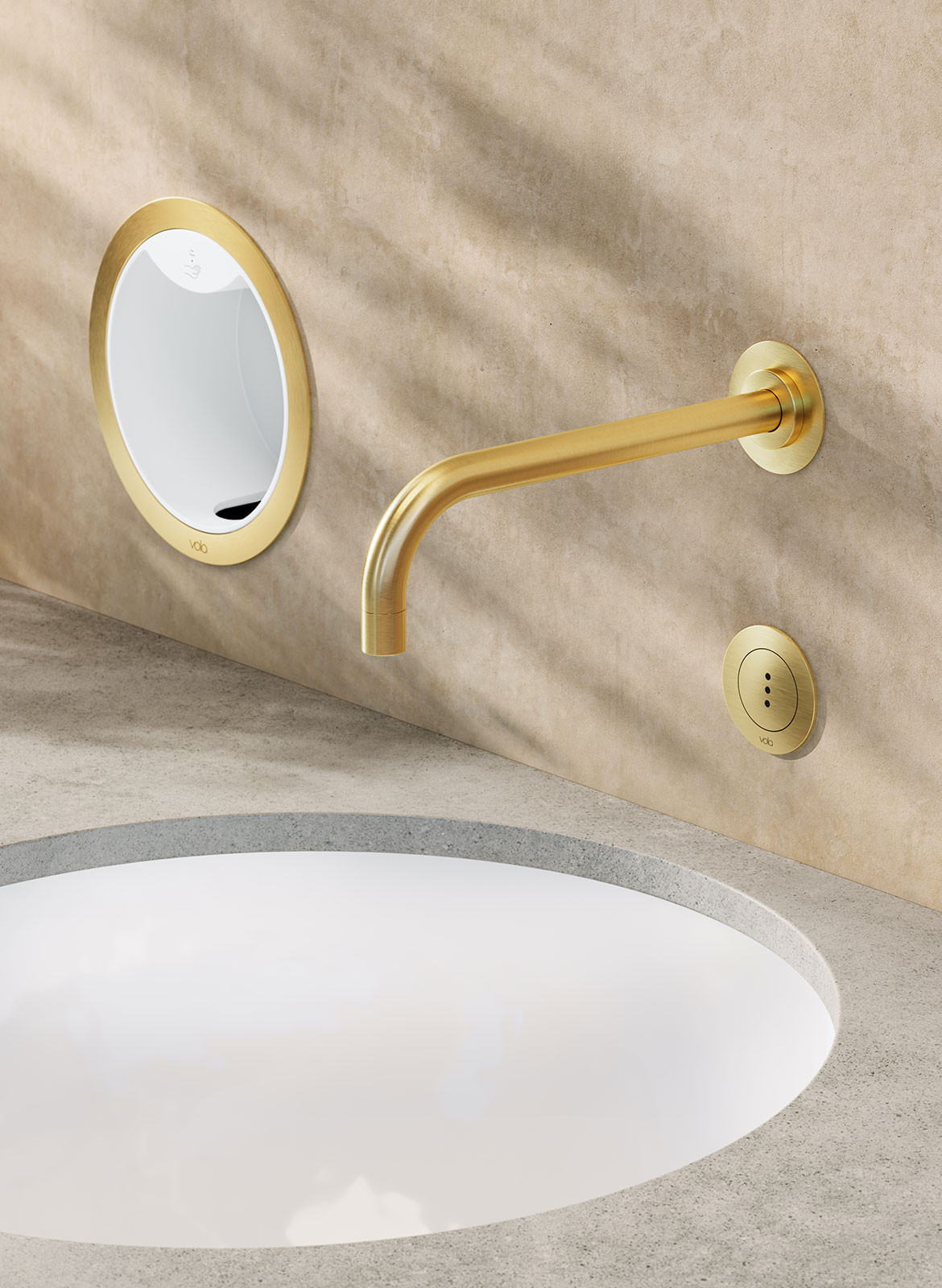 VOLA products are hand-crafted to order at the company's factory in Horsens, Denmark. The 'made-to-order' approach allows for advanced customisation opportunities. The range is also based on a modular design system and encapsulates an incredibly unique combination of handles, spouts, cover plates and accessories. Available in a variety of colours, finishes and configurations, VOLA's collection enables a wide range of design choices for bathroom environments – and ensures the longevity of their products.
Combining the famously exquisite Danish craftsmanship, incredible attention to detail, uncomplicated, functional design with the timeless colouring and grounding textural quality, Brushed Gold is set to turn any bathroom into an indulgent, elegant and universally appealing space.
VOLA
Tags: brushed gold, Colour Series, Danish Design, finishes, minimalist, tapware, Vola
---