Owner and pizzaiolo/chef Johnny Di Francesco had long coveted the video store neighouring his restaurant, and annexing it to expand his dining space and upgrade his kitchen was the culmination of a three year plan to turn 400Gradi into a fully-fledged restaurant.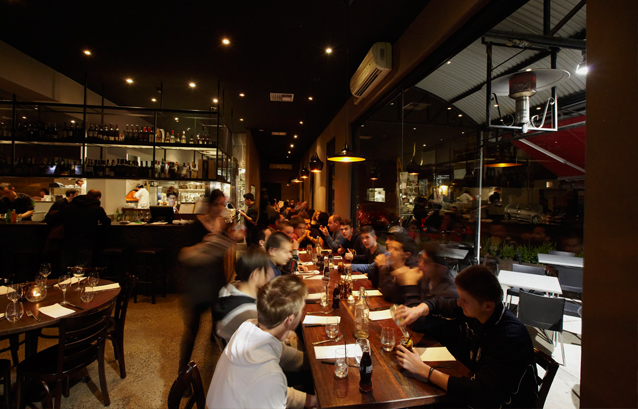 The expansion also presented an opportunity to review the restaurant's interiors and further develop their warm, natural palette. Designer John Miluk instrumental in this process, collaborating with Di Francesco to put his ideas on paper and allowing the restaurant owner to oversee the project himself.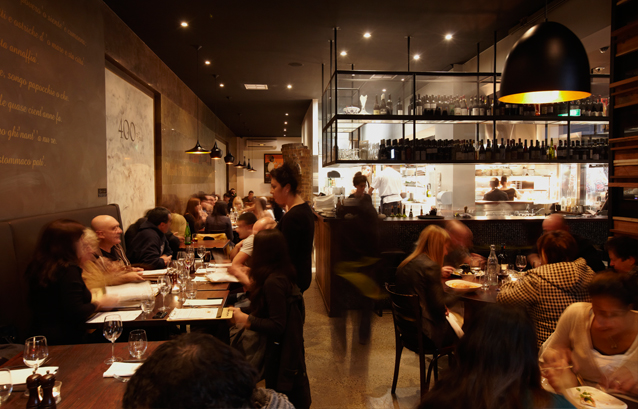 Dark grey, Terrazzo style polished floors with flecked golden highlights provide an earthy base for the Venetian stuccoed walls streaked with espresso coffee ribbons, while the mosaic marble tiles on the bar front and wood-fired oven create a discreetly glamorous centerpiece for the dining room. The bar is further accentuated by a ceiling-high smoked glass bulk head, a tall salumi cabinet and a dark-veined, 160 year-old red gum slab bar top. The same timber is used for tabletops, where its rich colour and luster are highlighted by Black pendant lights lined with antique gold. A final flourish is the fine golden calligraphy that adorns wall spaces around the room, recounting the historical origins of Neapolitan pizza.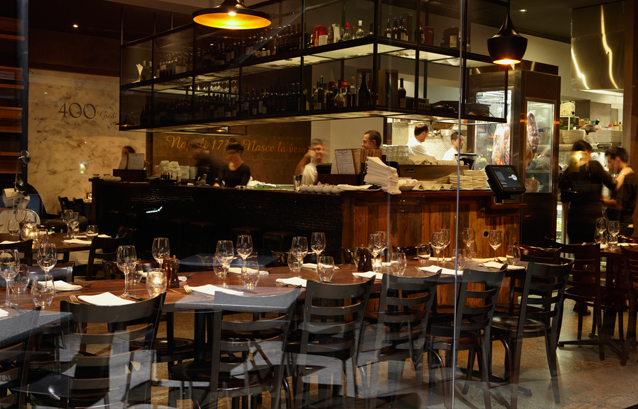 Another important outcome of the renovation has been the installation of a 'Stefano Ferrara' wood-fired oven that meets VPN (Verace Pizza Napoletana) regulations. With his focus on authentic, Neapolitan-style pizza the oven marks yet another credential for Di Francesco, who is already the first Australian to train in Naples and be inducted into the Vera Napoli Association and recently travelled to the pizza capital to participate in the World Pizza Olympics (even the restaurant's name, which translates as '400 degrees', is a subtle reference to the optimal temperature at which to cook pizza).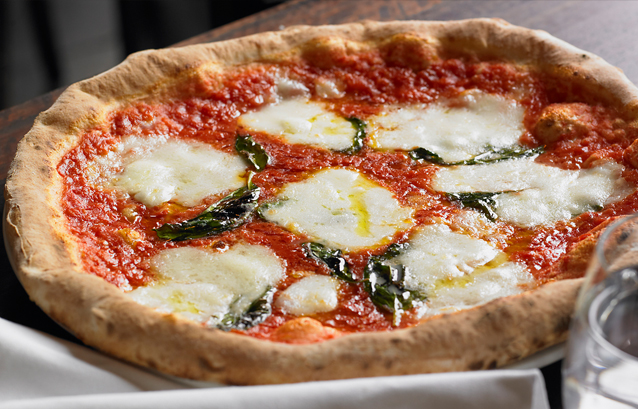 ---