Devon is the product of a recent renovation undertaken by Matt Woods Design, converting an Indonesian restaurant into a unique, urban design café.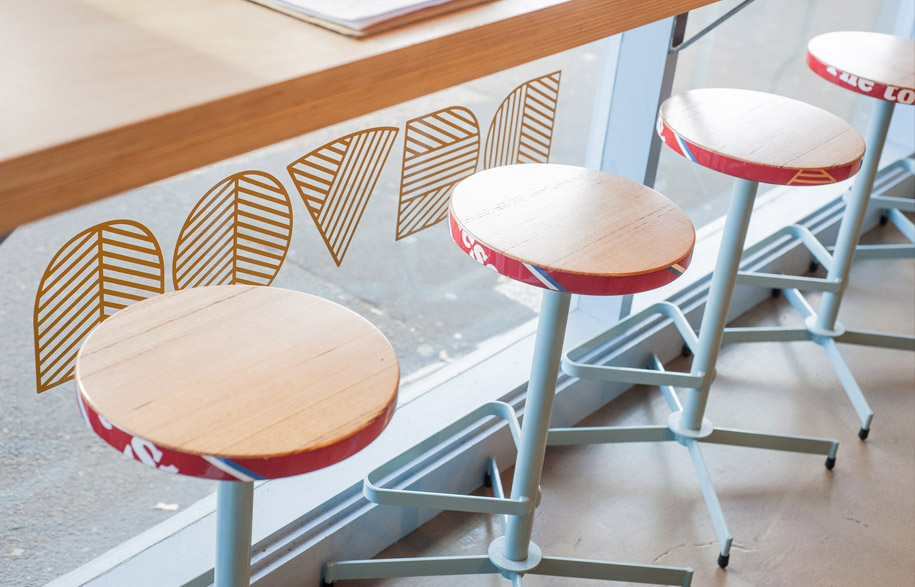 The tight space has been arranged cleverly to seat up to 70 people, with a clean and pared back aesthetic. The primary material employed throughout the project is certified AC grade plywood, used for the bar top and front cladding, wall and ceiling, as well as the custom designed furniture. A bright blue line painted over the walls and tables in a spiral design interrupts the blond timber monotone.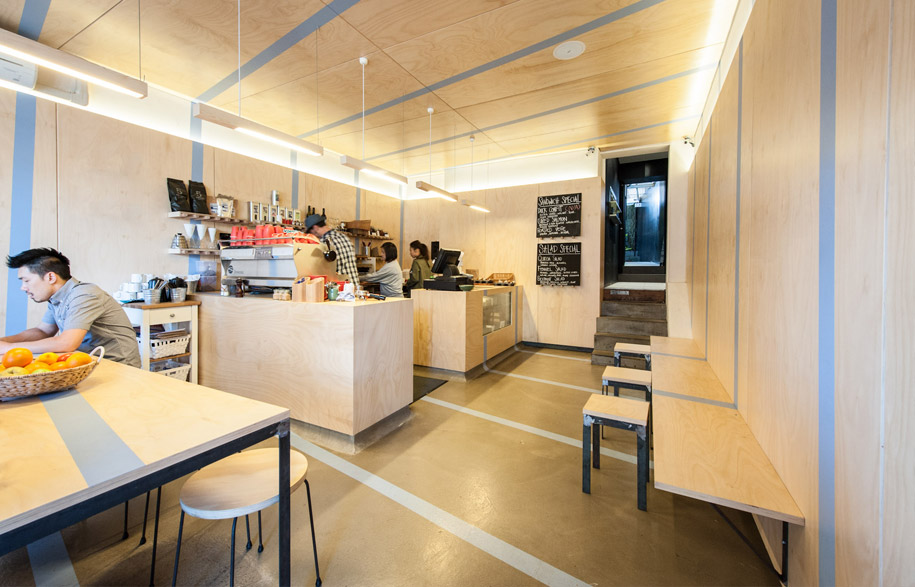 The dining area sustains the urbanity of the project; an un-used garage space has been stripped back to its original brickwork and then animated with graffiti. Woods has been careful to apply this element sparingly, and rather than the clichéd 'bombed wall', a relatively uniform arrangement of words in a single colour keeps the visual effect coherent.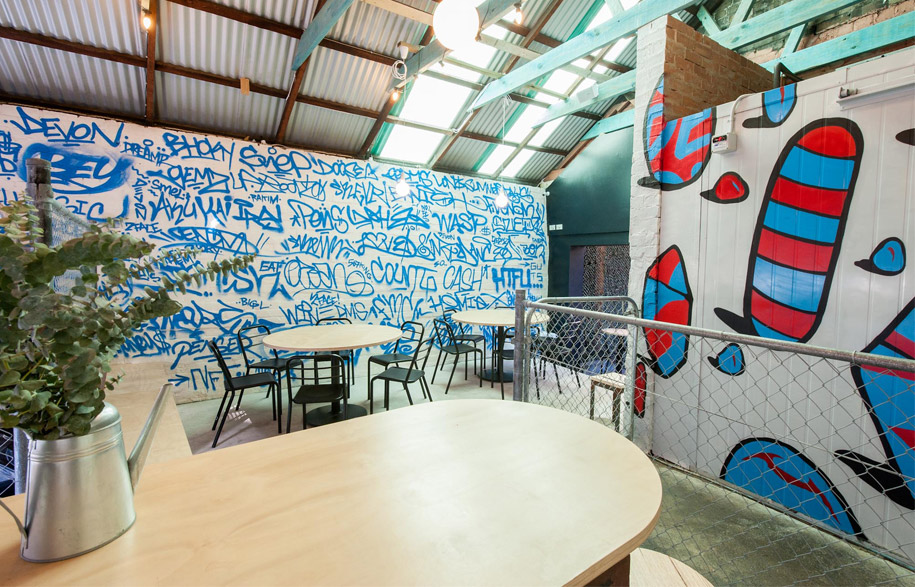 Woods also engaged one of Australia's top street artists, Numskull, to develop a cheeky graphic design for the garage space that hints towards the 'luncheon-meat' double entendre of the café's name. To the rear of the café is an alfresco dining pergola that has been covered in camouflaged netting to create a green, urban oasis.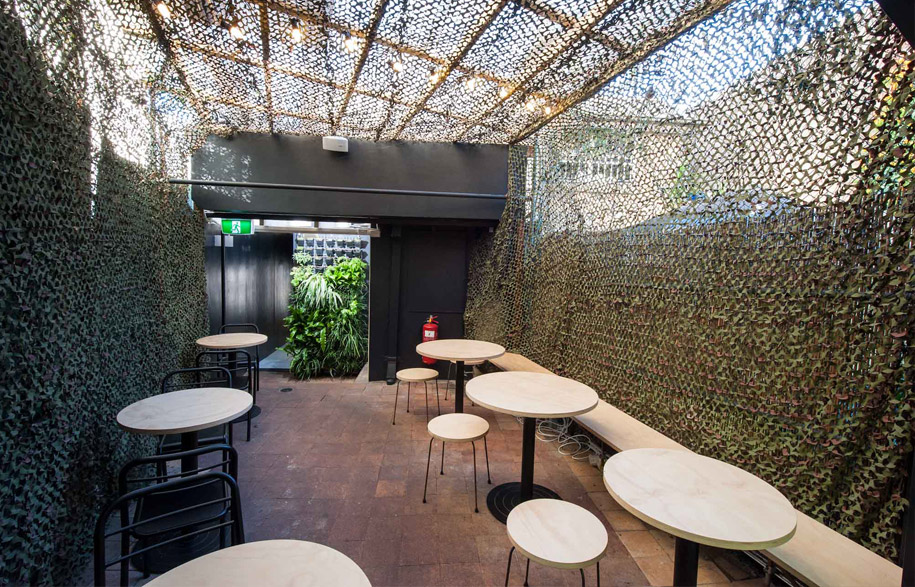 The green wall is a favourite for owners Derek and Noni Puah. The vertically arranged garden of herbs and edible flowers is used both to supply the kitchen and dazzle foodies, lured in by the irresistible troika of design, local produce and good food. Rising to the challenge, Devon's menu has been designed by two ex-Guillaume chefs, and includes playful, intriguing dishes such as the truffled toastie. The gastronomic philosophy of the locale has also informed its aesthetic, as Woods states, "A more adventurous fit out was required to compliment the food on offer".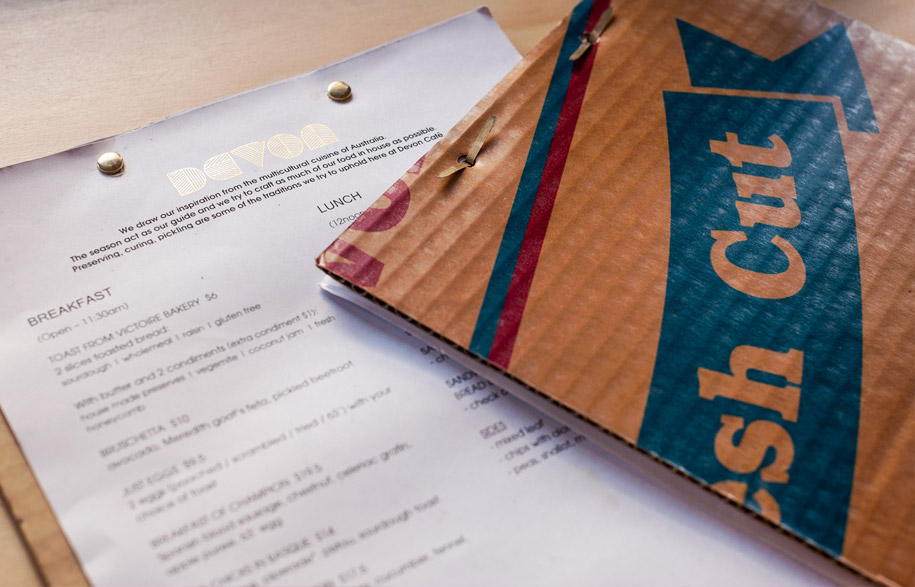 Devon Cafe
devoncafe.com.au
Matt Woods Design
killingmattwoods.com
Photography: Sam Ali
samali.com.au
Tags: Interior Architecture, Interior Design
---