Built to withstand the extreme hot and cold that inland Australia endures, Albury House is an intelligently designed house that is able to open up or close down depending on the inhabitant's preference. Created by Kerstin Thompson Architects, the house channels its surroundings with its earthy textural palette.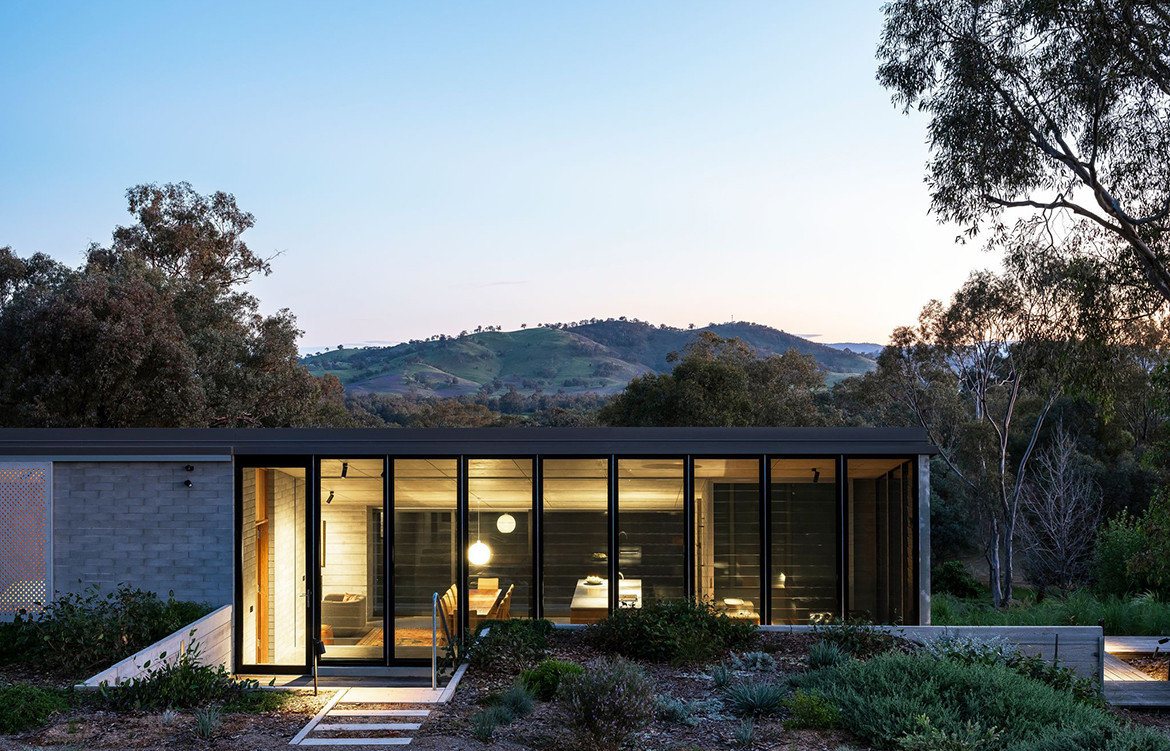 The overarching material seen throughout the build is cement. Built on a concrete slab, the exterior is made of concrete bricks that also feature within the interior, lining the walls as both a climactic and sustainable measure. Cement sheets line the ceiling and flyscreen doors are moveable via cement screens. The use of cement allows for a more natural climate control process that is able to regulate house temperatures all year round. Coupled with the desire to acknowledge the environment the dwelling resides within, and it makes sense for cement to be a dominating texture both inside and outside Albury House.
The house is arranged along an upper and lower terrace that sorts the spaces into certain functions. The terraces also separate the house into a warmer side (to the north) and a cooler side (to the south). The stepped floor in combination with the roof angle creates living spaces that are shady in summer, sun-filled in winter and provide views of Huon Hill to the south.
Ply provides a contrast to the steely greys of the concrete throughout the interior. The kitchen cabinetry channels the classic country homestead but the mood of Albury House gives it a contemporary feel. Furniture curation carried out by the client intertwines smartly with the interior materials, with the odd blemish of colour seen in the rugs, artworks and greenery that is seen between the walls, flyscreens, louvres and sliding glass walls that make up Albury House.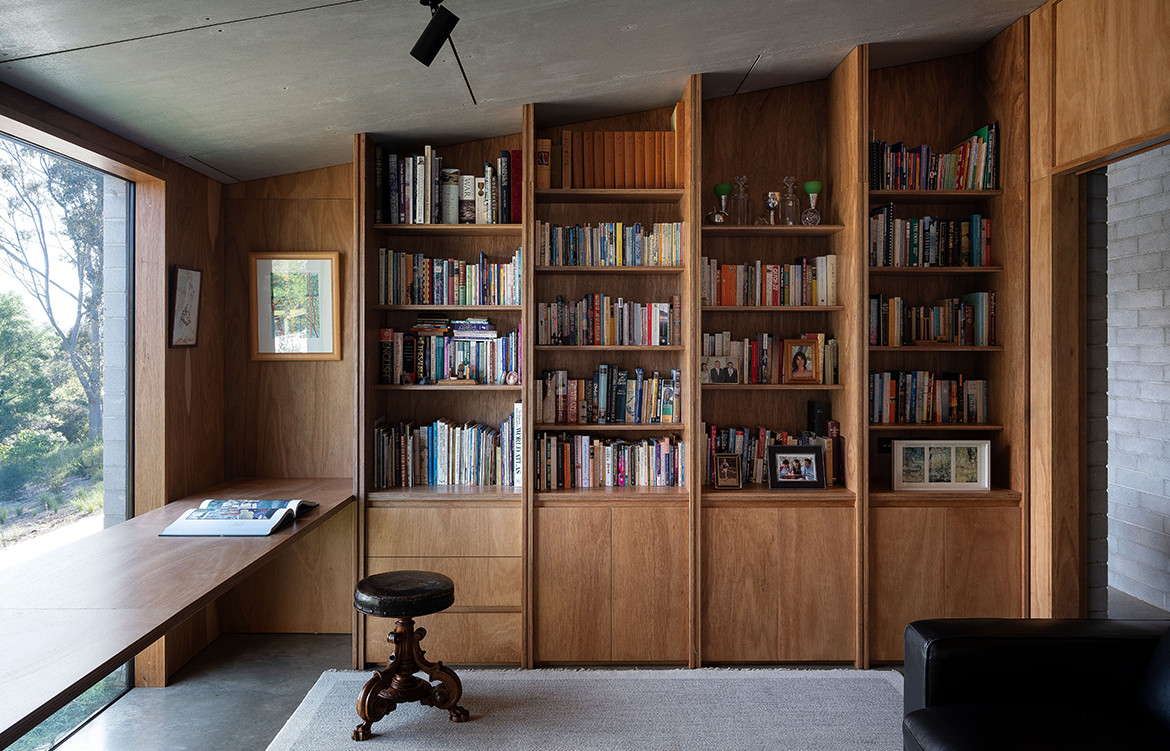 The parti of the house is formed by a cluster of concrete brick 'pods' which establish view-lines and contrasting qualities of space. Some areas are more discrete, closed and snug, with timber lined spaces inside them and in the residual spaces between and around the 'pods' it's more expansive, with open areas that function like breezeways and celebrate the delight of masonry's mass and texture.
Without the use of artificial heating or cooling, Albury House will be able to mediate between heat and cool without compromising within either season. Heavy uses of concrete combined with the accentuations of timber has created a contemporary country home that provides comfortable living quarters in an area renowned for its violent temperature changes.
All photography by Dan Preston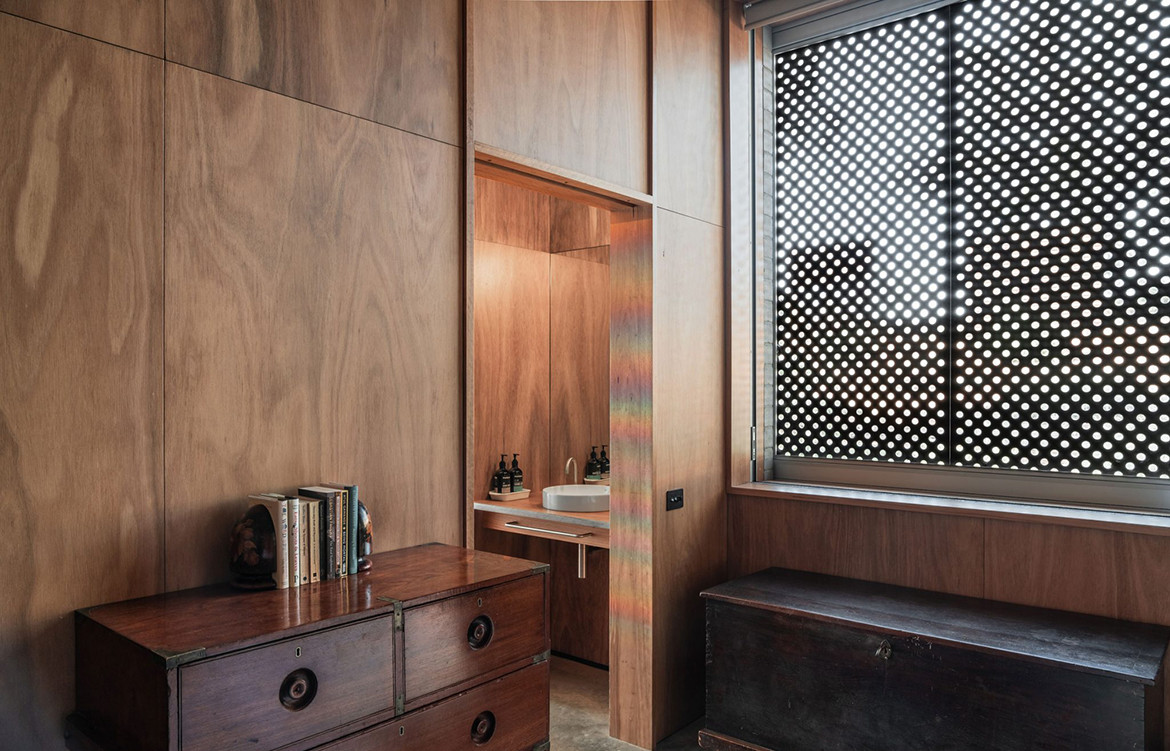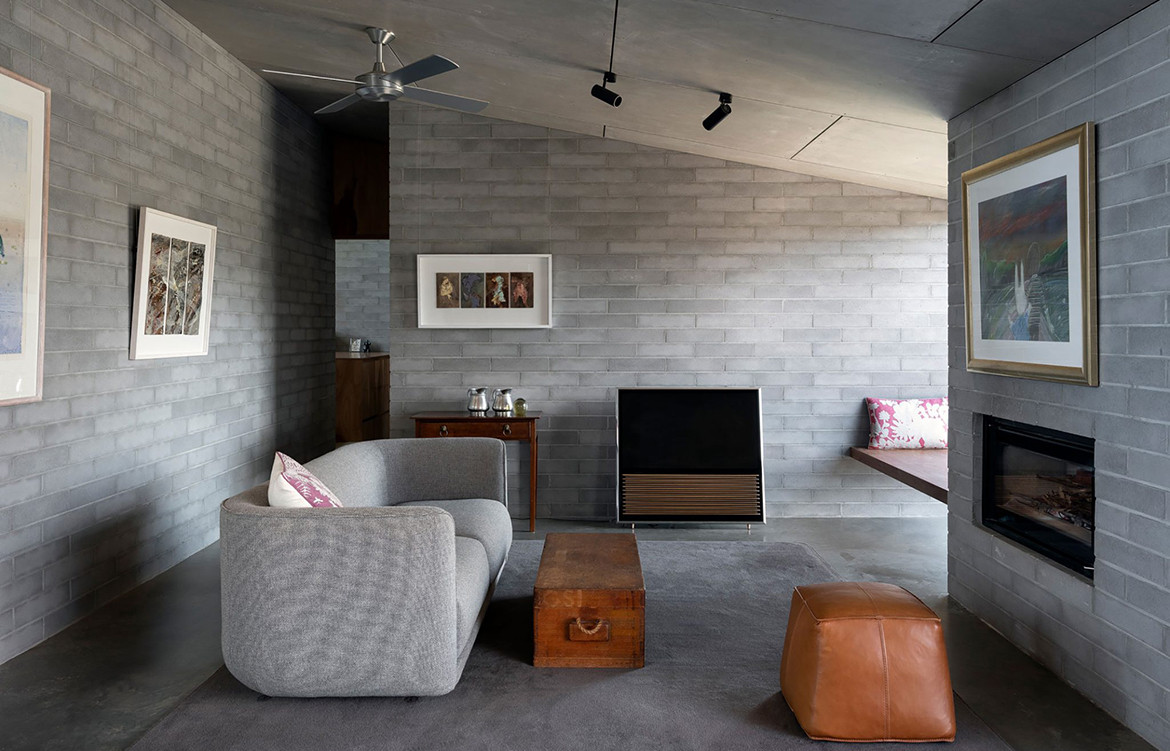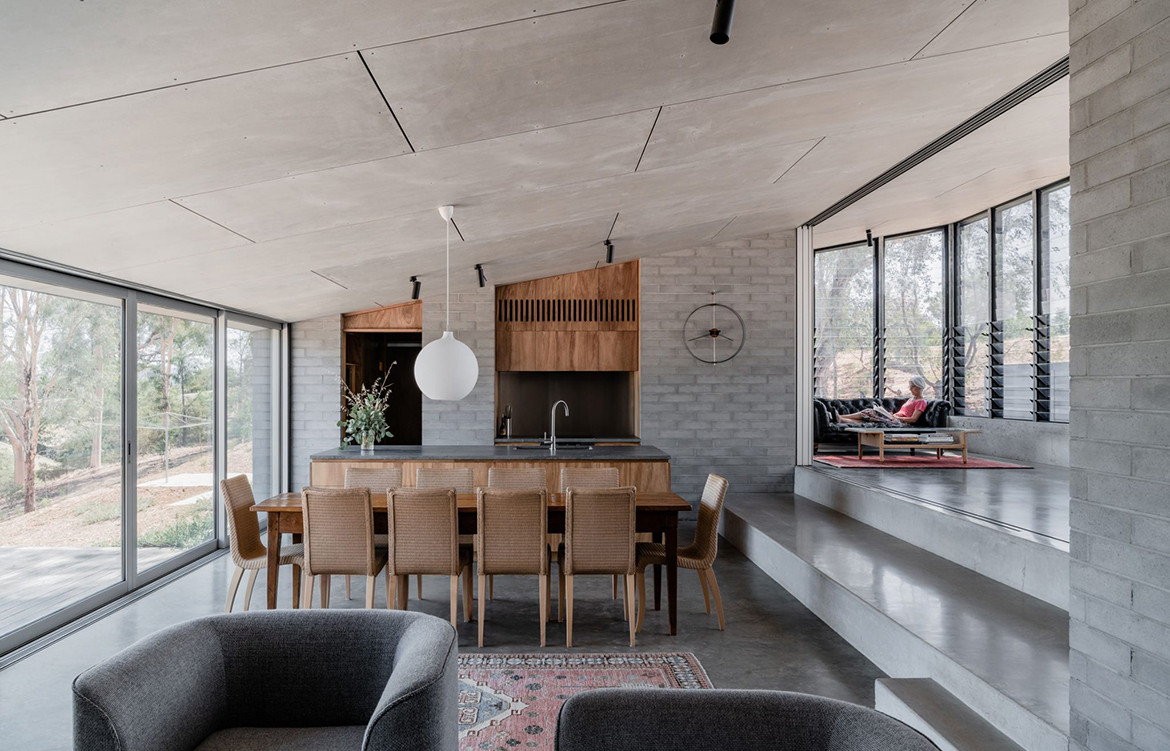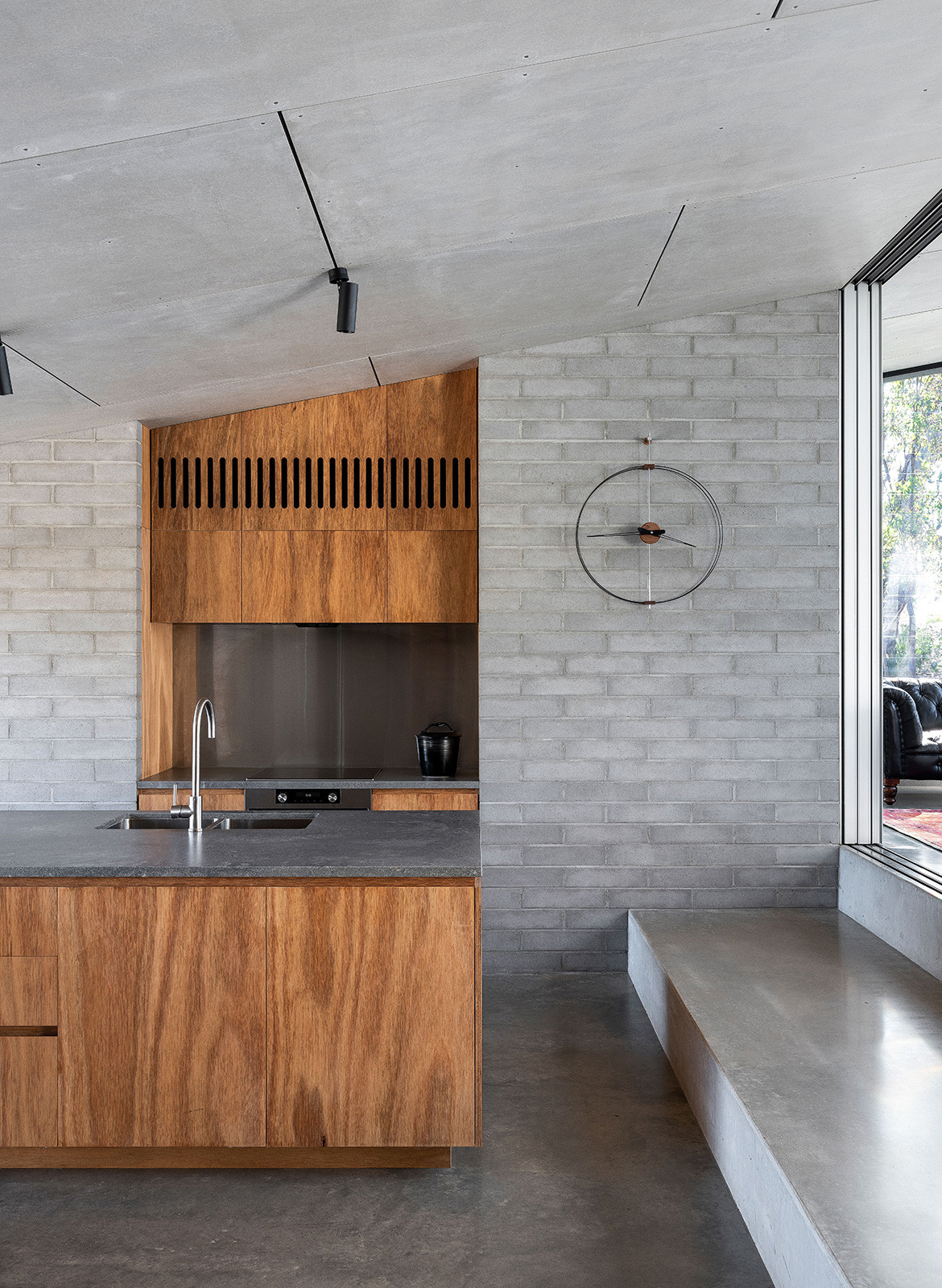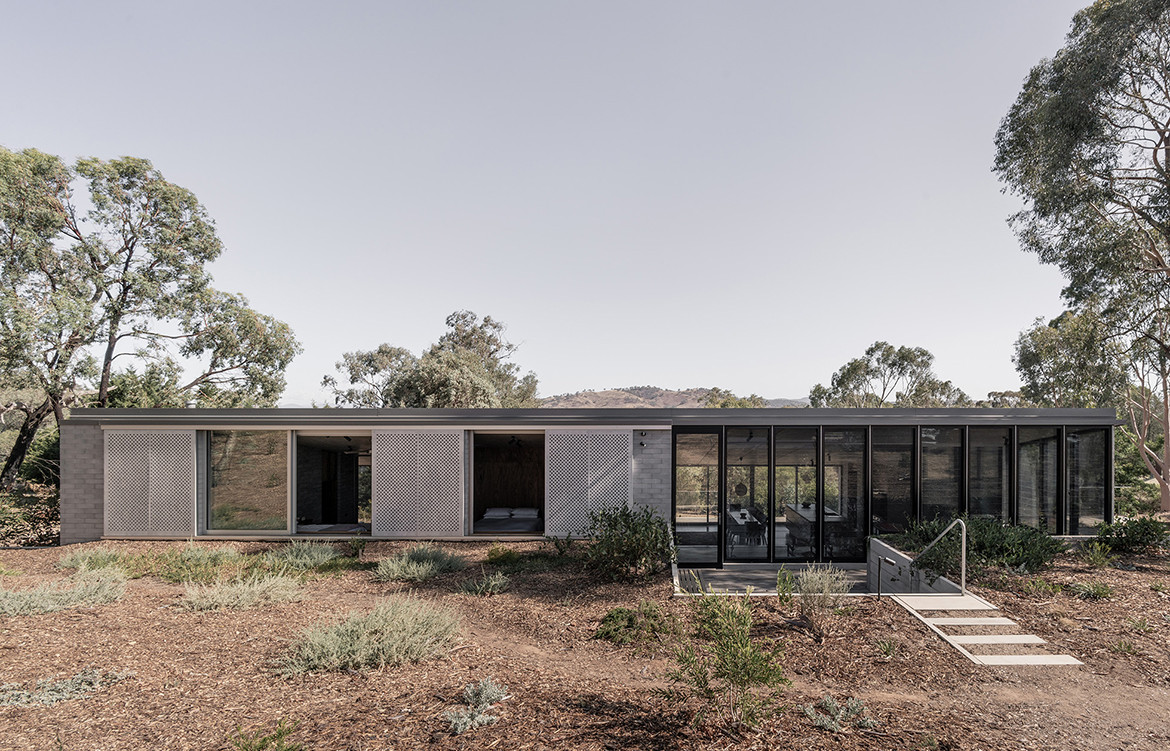 ---