As a home crafted with exceptional care and a collaborative team of architects (Conrad Architects) and interior designers (Mim Design), Armadale Residence exudes drama and refinement.
Centred by a glorious spiral stairwell that stretches upwards to a round oculus, surrounded by a carved and cooly white sculptural form. Finished in polished plaster, natural light from each floor is augmented by light from above which casts shadows and thereby gives the forms additional contrast. Moreover, the seasonal, diurnal and weather shifts are visually invited into the home.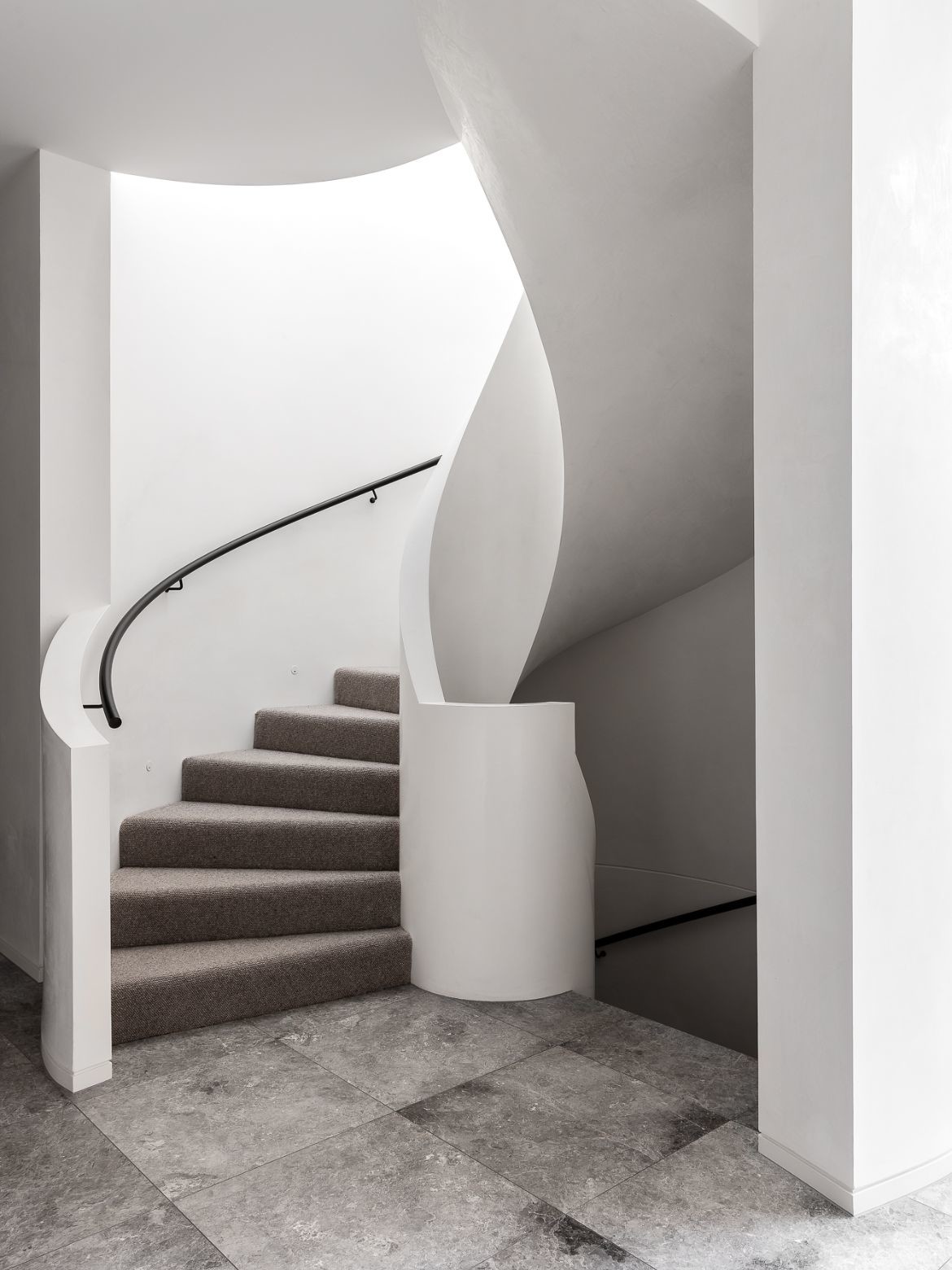 The seasons and weather, are in fact an ingrained consideration for Conrad Architects leading to the house being designed as a flexible envelope that can be adjusted in response to the occupant's desired level of privacy, enclosure and shading. The form of the building is a direct response to two significant aspects. The first is Conrad Architects' interest in pure architectural expression, the second is a meditative rejoinder to Mim Design's interior space.
To that end, the home presents as a classic building façade where proportion, structure, scale, and geometry are delivered in equal measure. Deep colonnades of weighty limestone express restraint, solidity and structure, while vertical openings are finished with bronze French doors, balustrades, planter boxes, and louvred screens.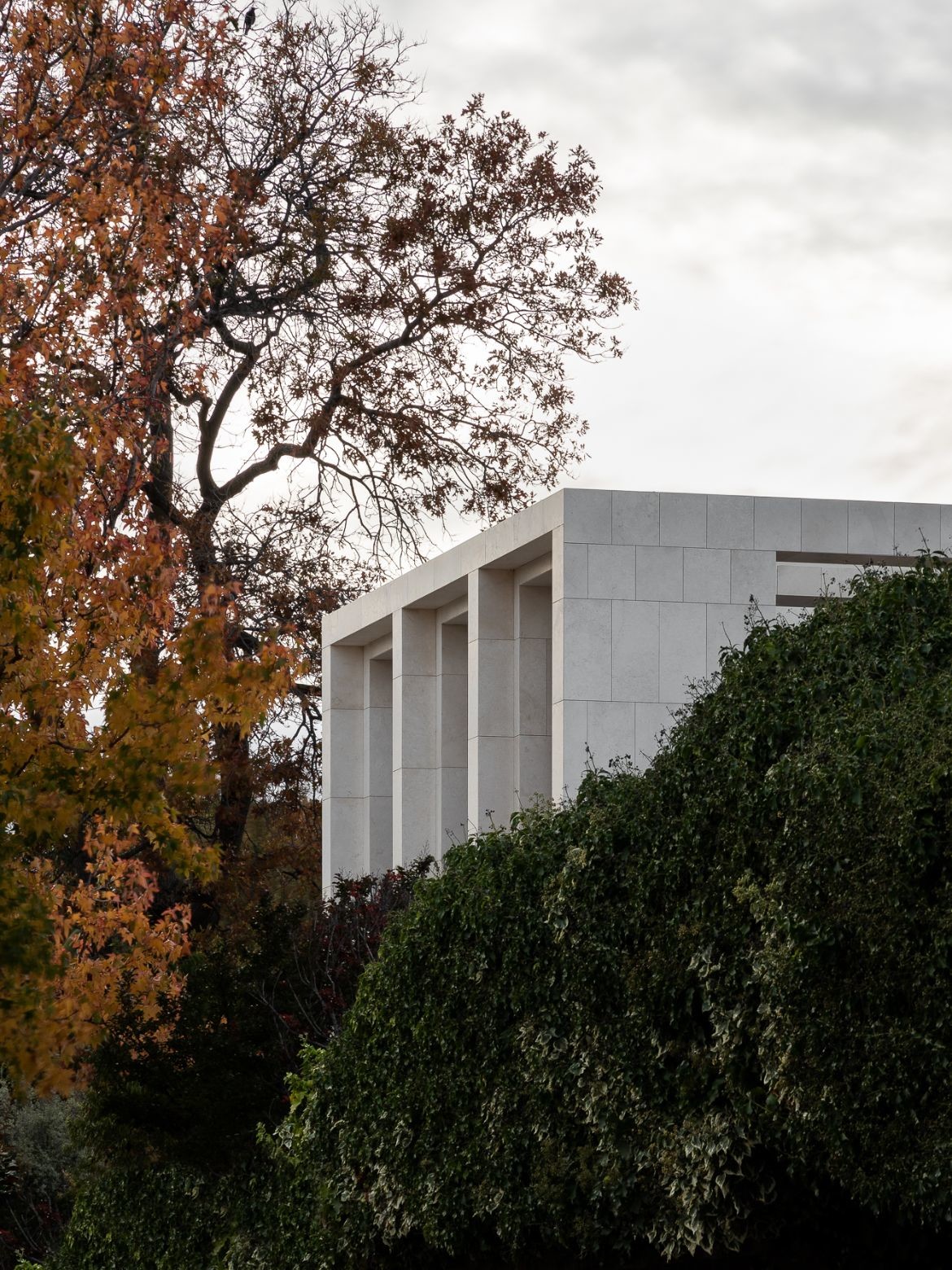 For the interior Mim Design has crafted the internal planning around the aspect, with each space arranged to maximise access to light and landscape. Defined by a linear circulation spine that directly links the front and rear, the layout allows separation between public and private zones. The open kitchen, living and dining areas are light-filled and luxurious spaces for living, presenting framed views of a manicured garden by Paul Bangay Garden Design.
Within the interior, a play of proportions between sculpted elements and refined form brings a human scale to the expansive spaces. The material palette for the public spaces is minimal, but rich with chevron timber flooring, cut and loop carpets, polished plaster walls, cloudy Versilia Marble, rich timber joinery and gunmetal tapware.
The kitchen speaks to this well with the vast geometric planes of Versilia marble comprising the island, countered by the sculptural quirk of a conical pendant lamp in deep matte black. Detailing is precise, with marble framing the inset black stove top. Timber cabinetry is similarly exact with shadow lines and finger grips making a geometric composition in keeping with the timber on white fluted glass comprising vent and cabinetry above the stove.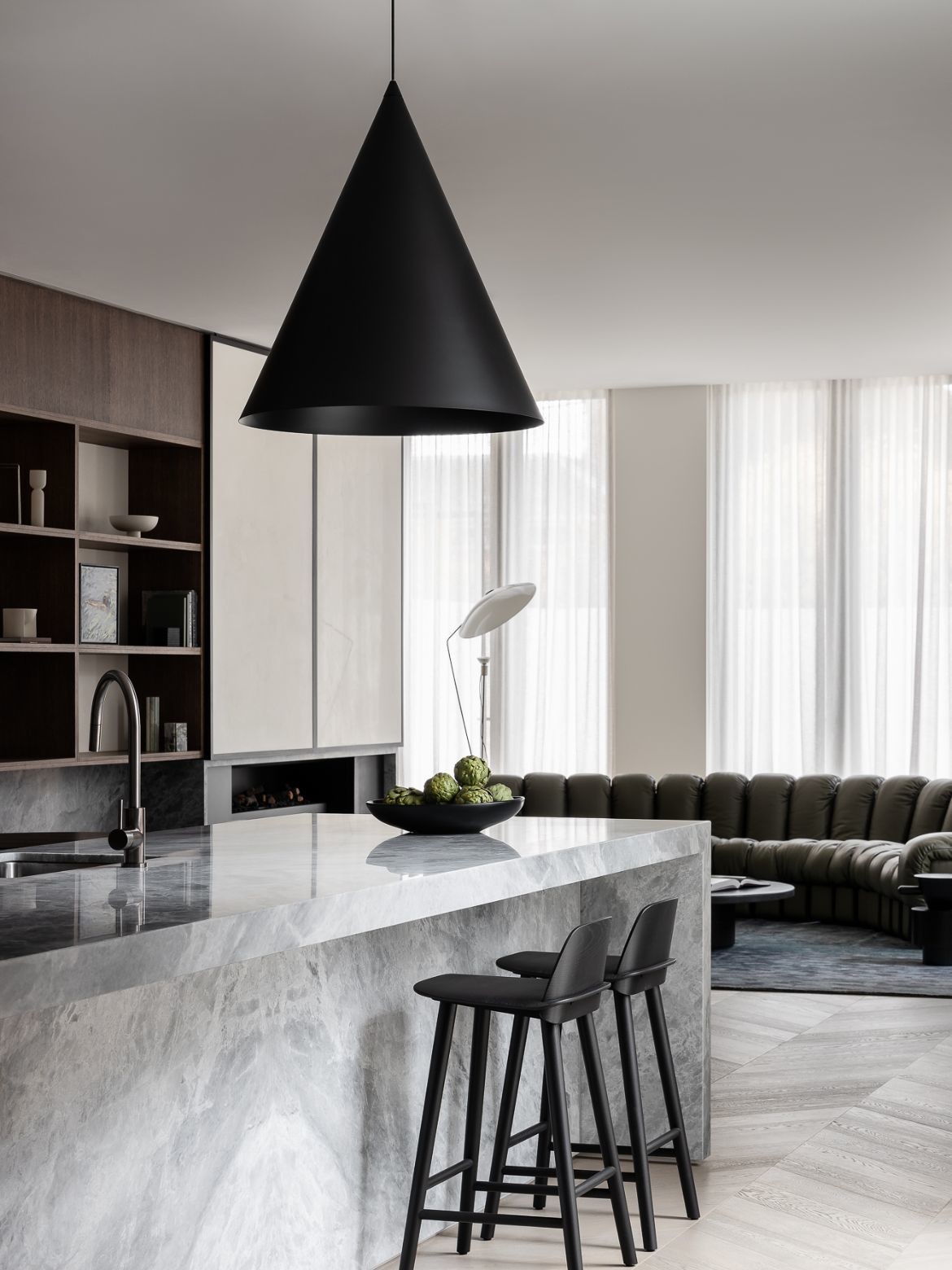 Furniture has been selected for its sculptural form with a deep green De Sede DS-600 Snake Sectional sofa providing a moment of sheer joy. This incredible sofa, launched in 1972, has a huge following in Europe, thanks to its versatility. Each of the sections is separate with a plug hinge joint that allows the whole to be reconfigured.
It also looks incredibly handsome from behind making Mim Fanning's placement of the lounge , both defining of the lounge area and visually appreciable throughout the larger space.
Private spaces are given equal consideration as quiet moments of calm. Study spaces are explored in a darker palette of timber and bronze, while the expansive main suite is afforded a softer aesthetic of warm neutral and caramel hues.
There is a beautiful cohesion between the architecture and interior of this home, with both practices working towards a refined and elegant outcome.
Project details
Architecture – Conrad Architects
Interior design – Mim Design
Landscape – Paul Bangay
Photography – Timothy Kaye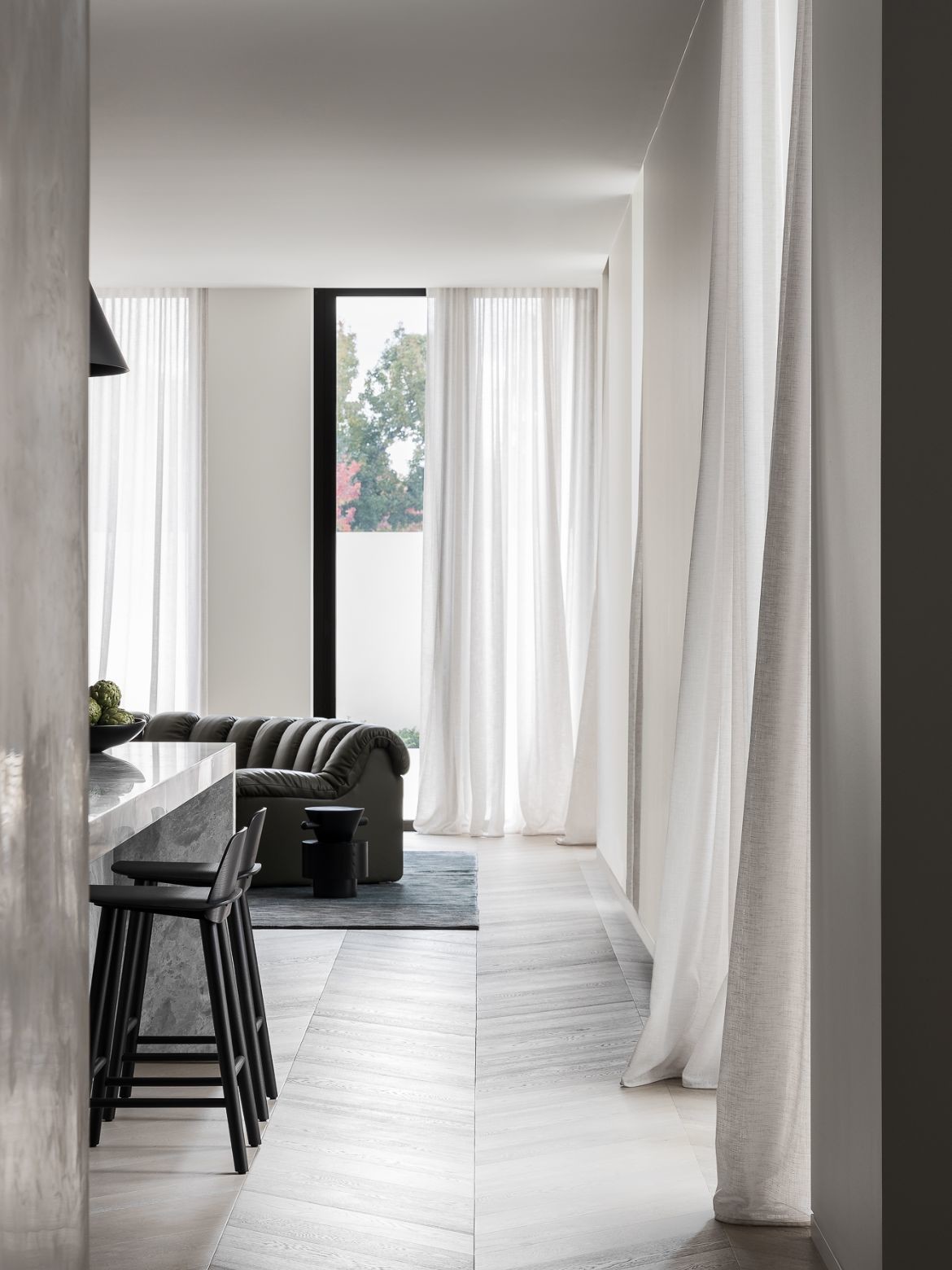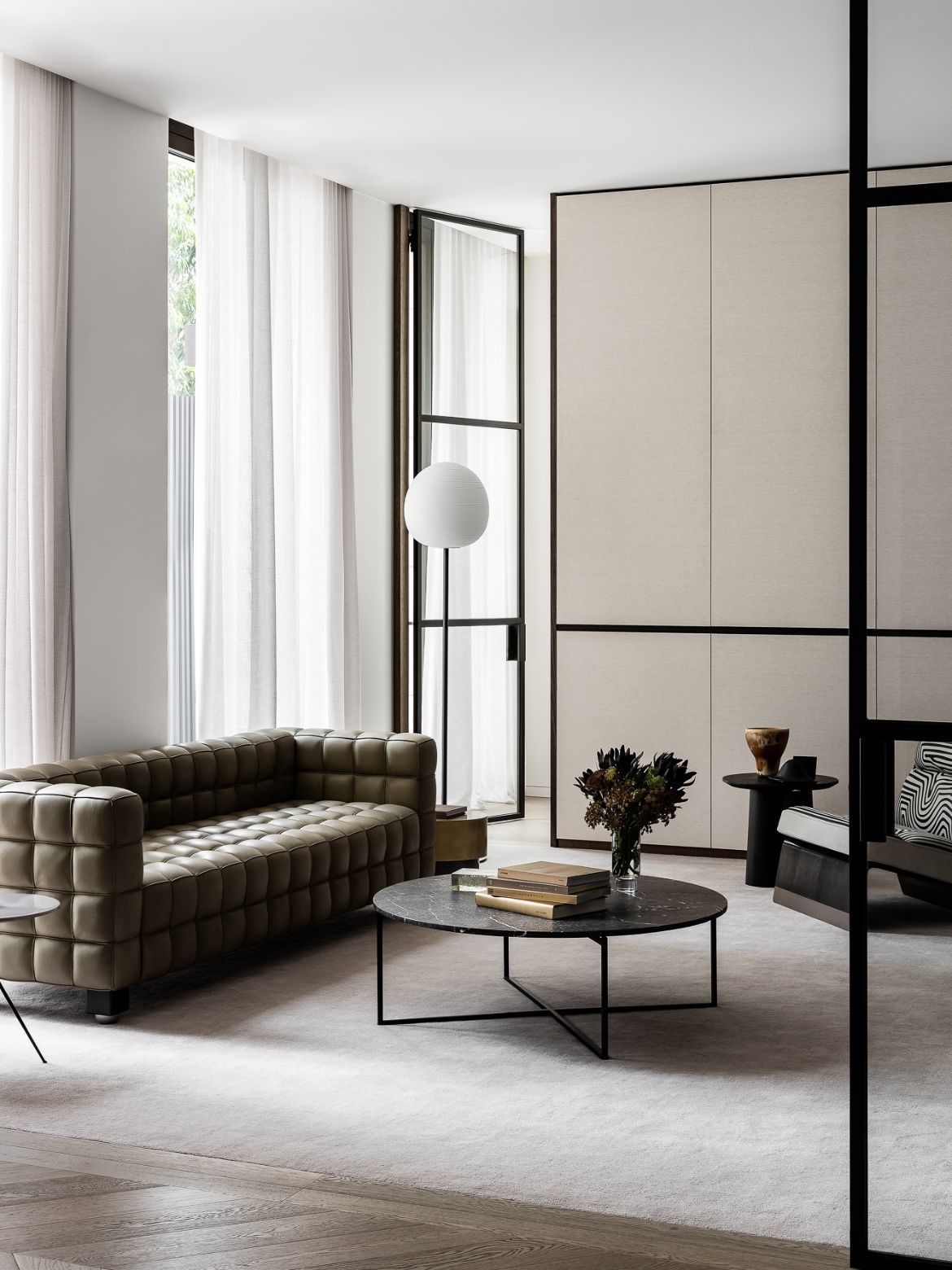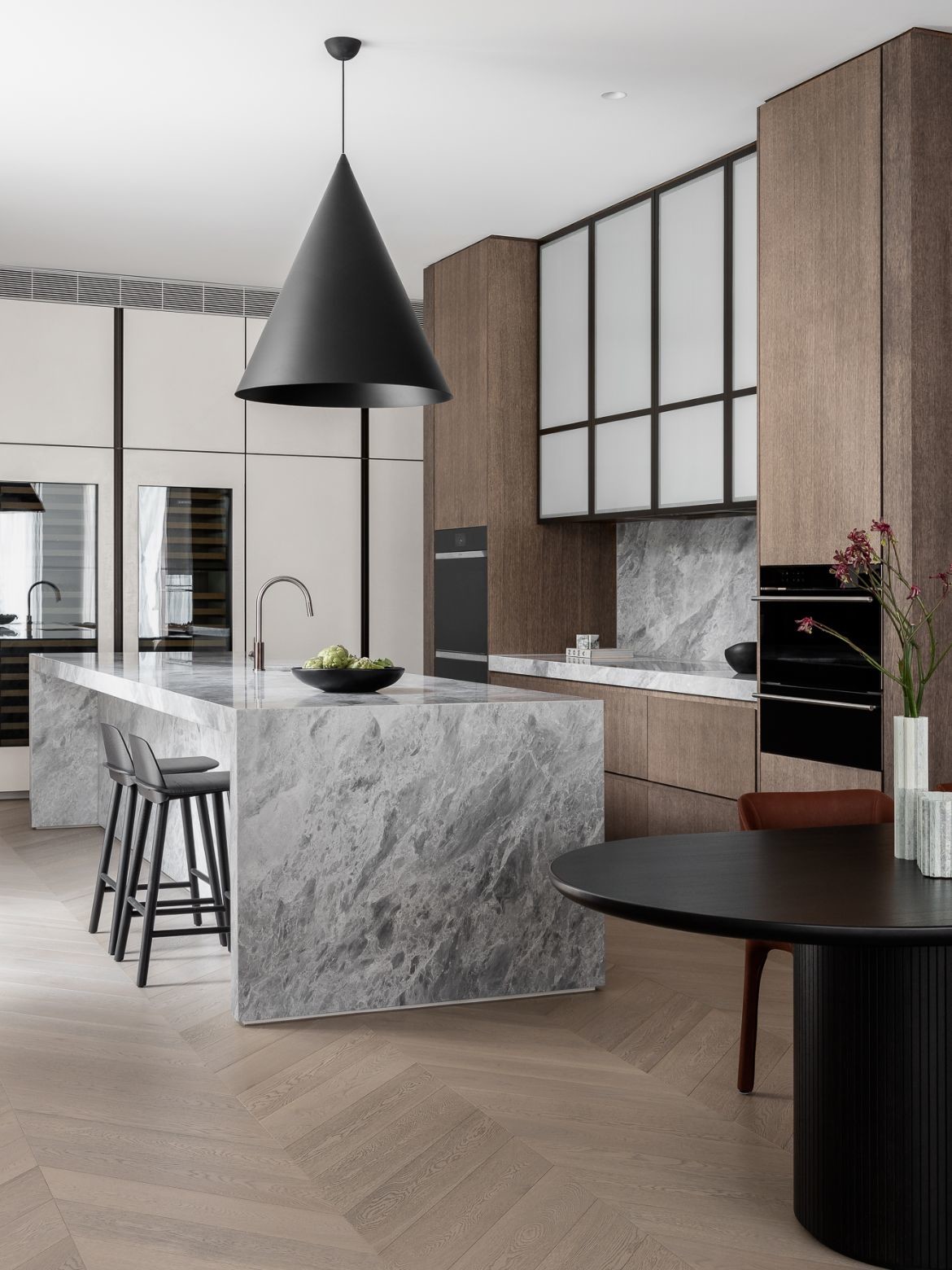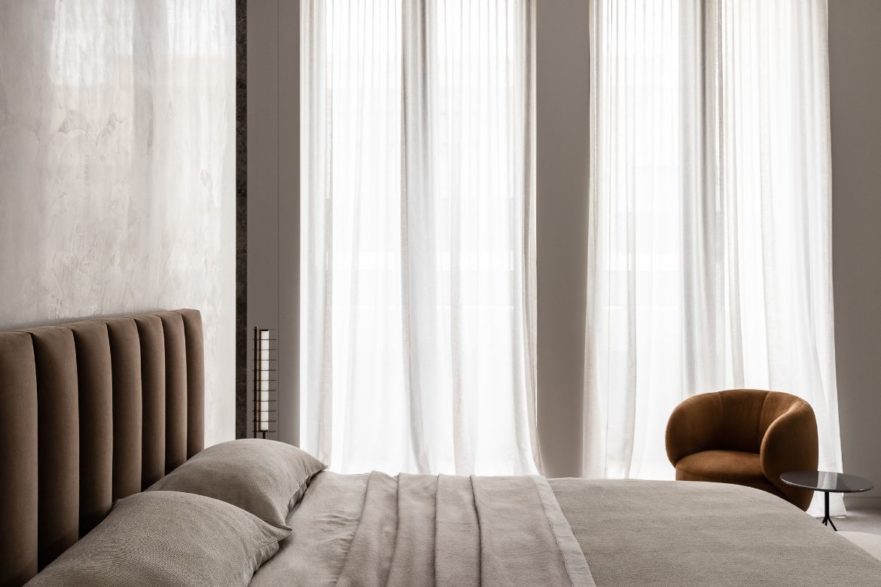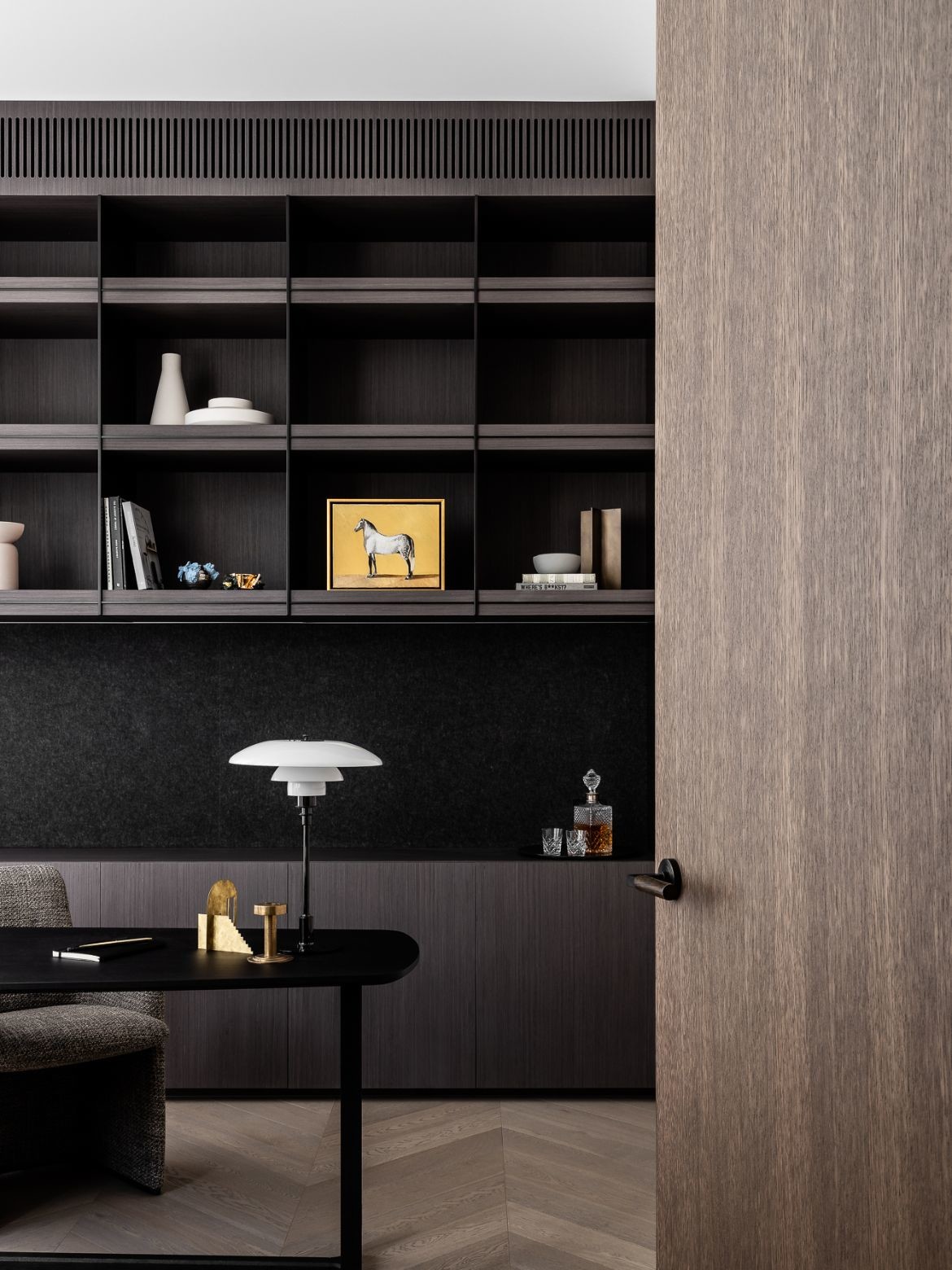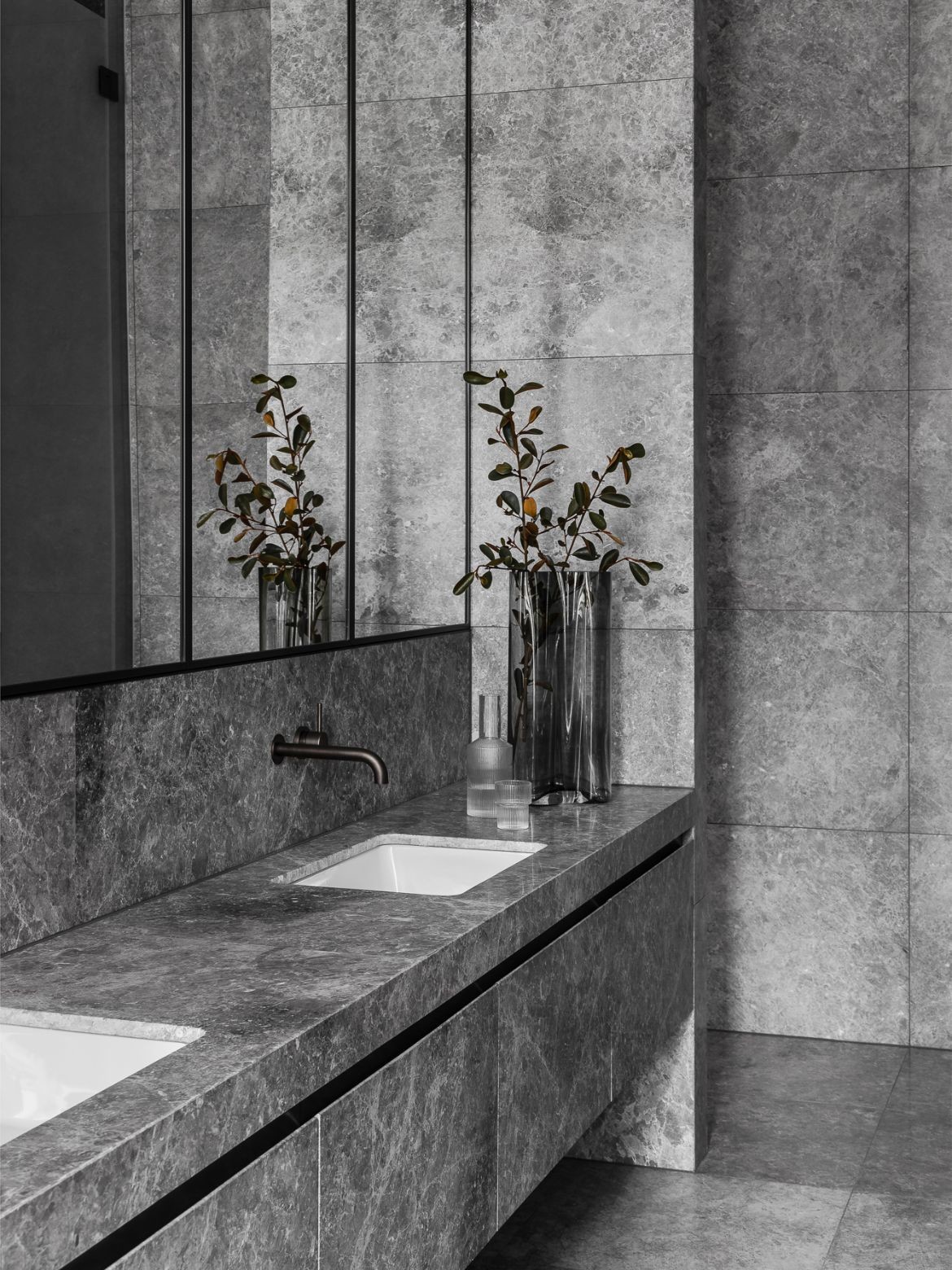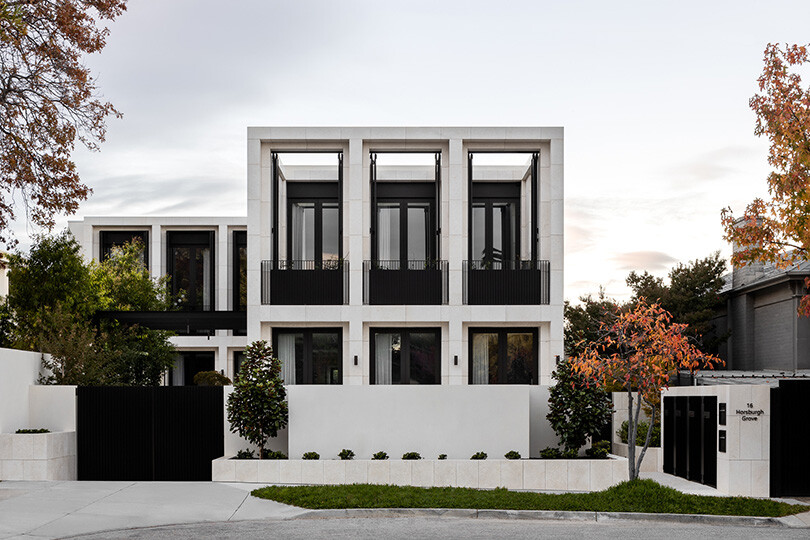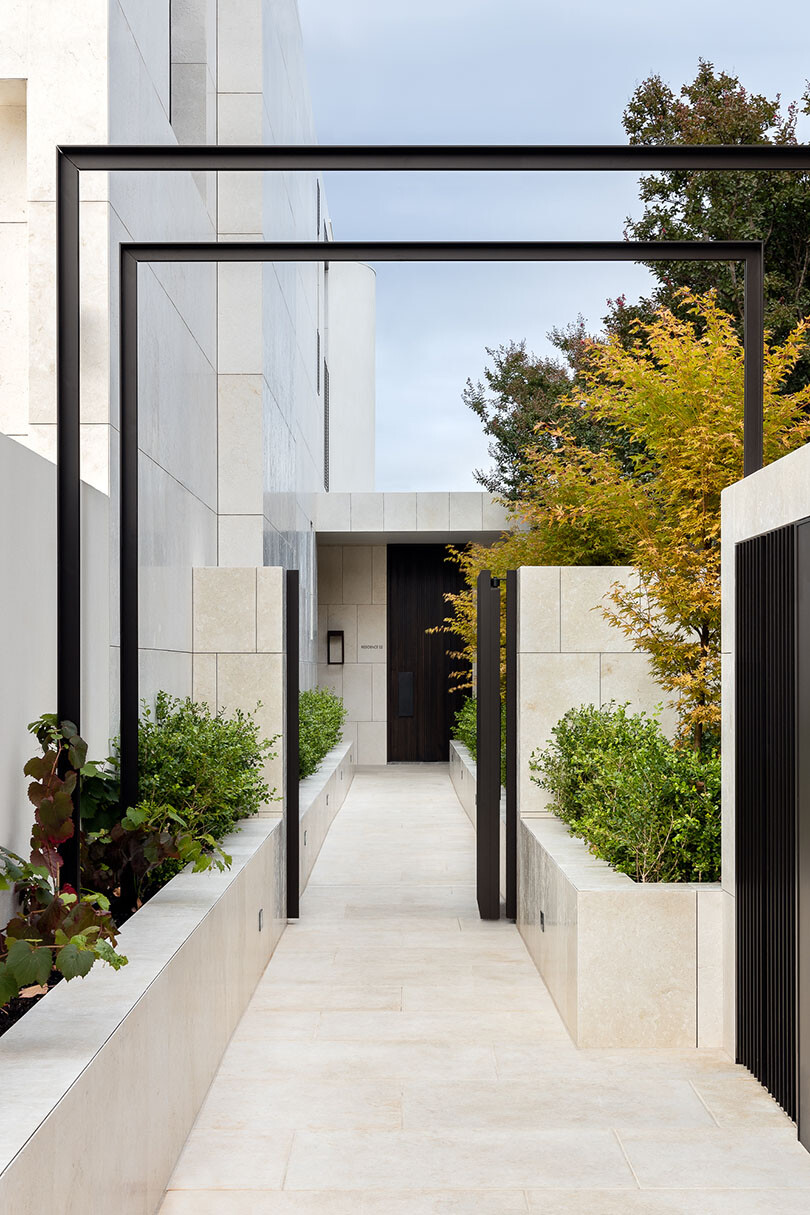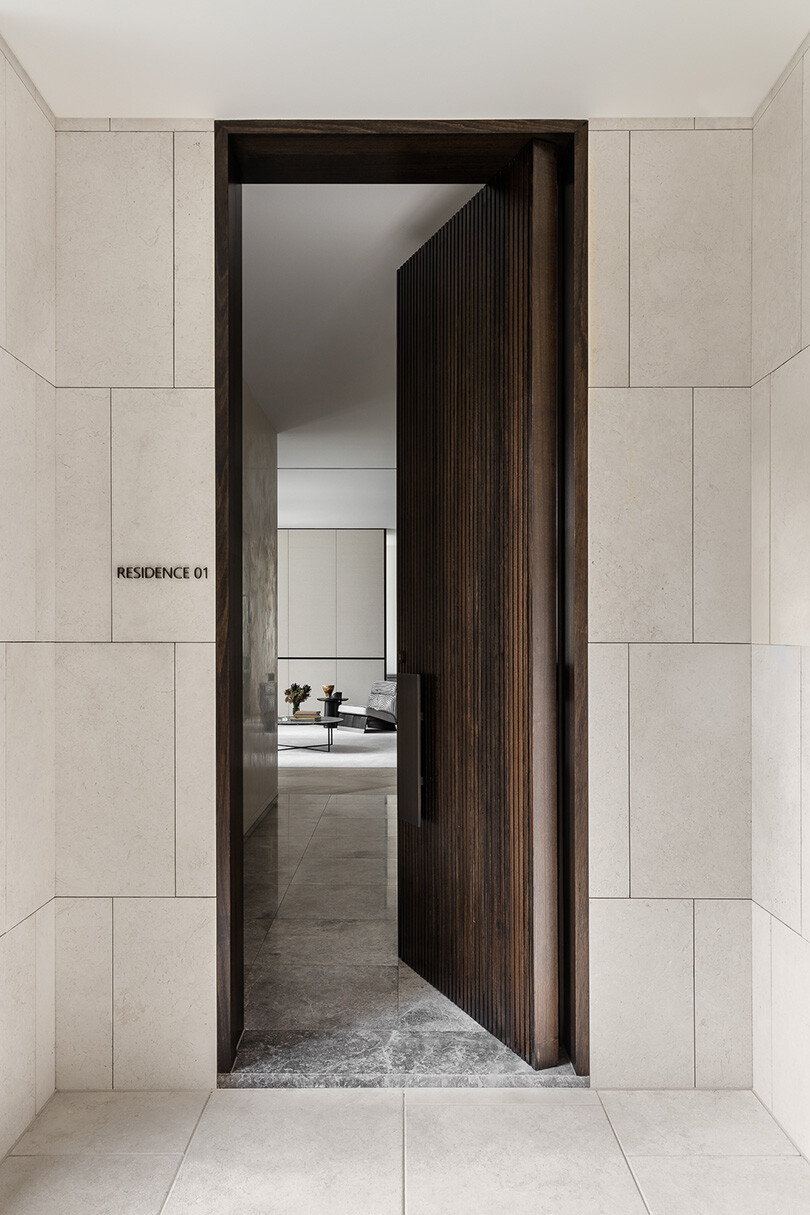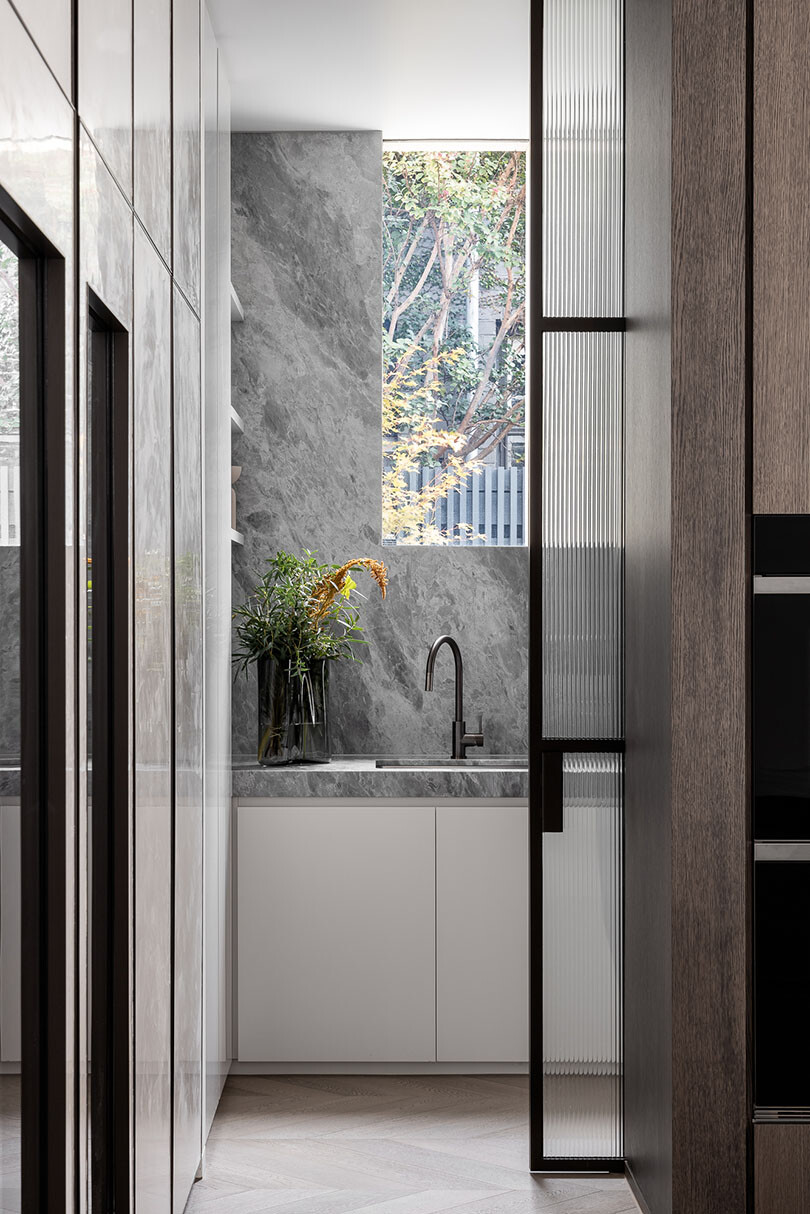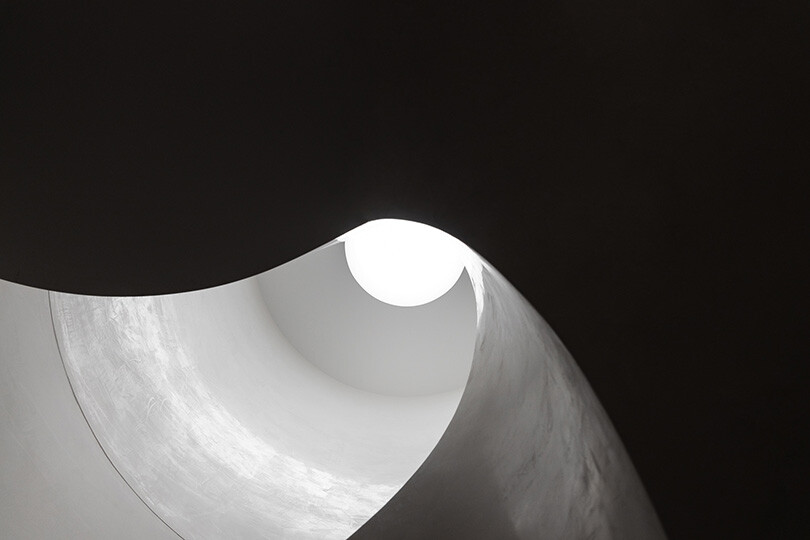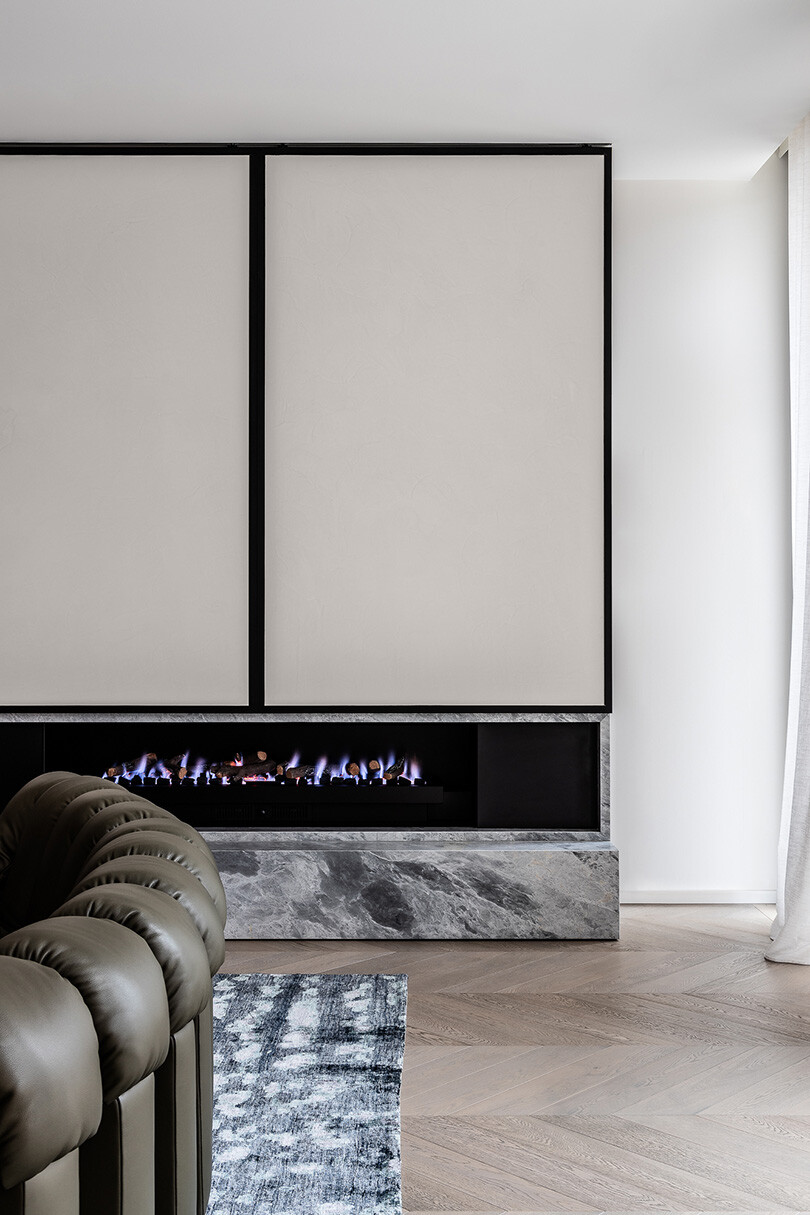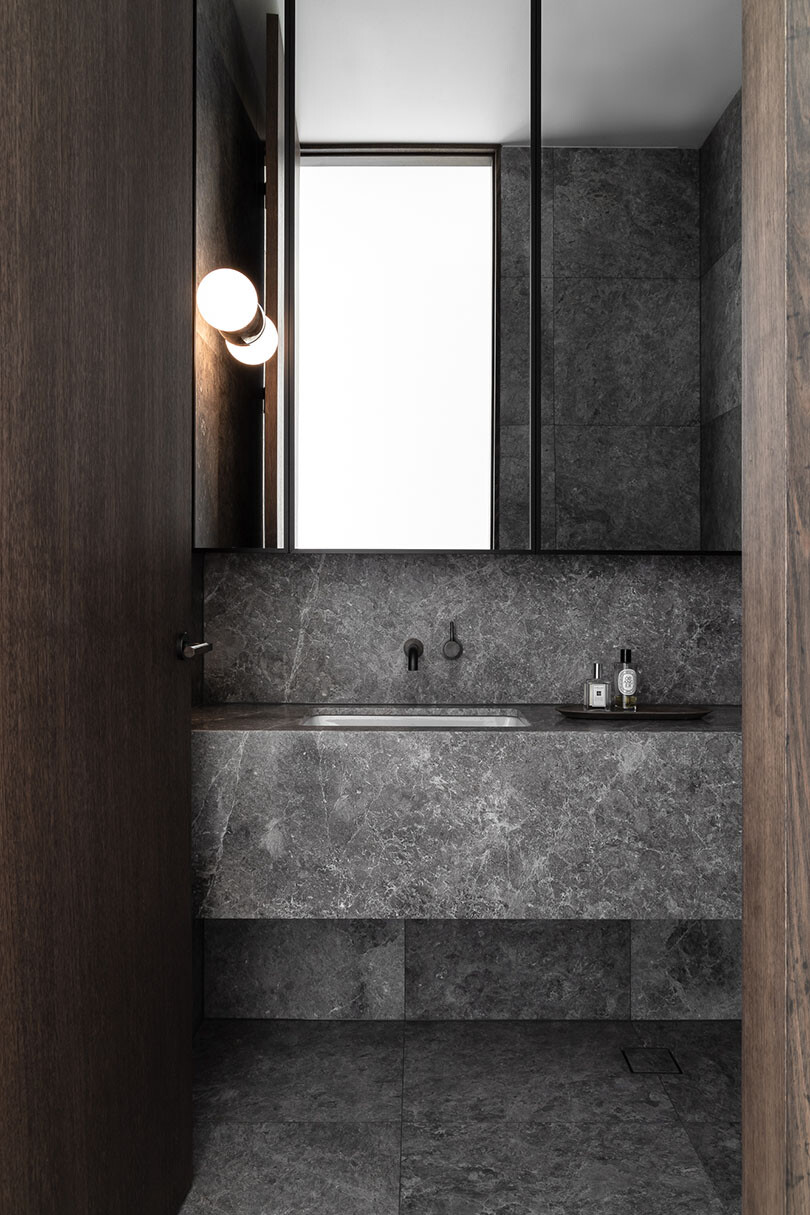 ---