Above: A soft street appearance conceals a large family home.
John Gow's art expertise is diverse. As a collector, dealer and sometime book publisher, he has a passion for Maori carving and early colonial depictions of people and place. His passion for history and heritage led him to be one of New Zealand's first dealers to specialise in these works, previously the domain of auction houses and second-hand bookshops. Out of Time: Maori and the Photographer 1860-1940, a book John co-wrote with art researcher (and ethnographic expert) Michael Graham-Stewart, documents 80 photographs from 15 years of joint collecting. He also owns the highly influential Gow Langsford Gallery in partnership with Gary Langsford, specialising in contemporary painting and sculpture.
"When the kids were young, I remember being perturbed about how to keep them in touch with their Maori culture," recalls John. "So I began collecting Maori carvings. Every carving is like a painting, it has different marks and techniques, and different tribes carved in different ways. On that realisation, I started really looking and studying, and became quite obsessed with it."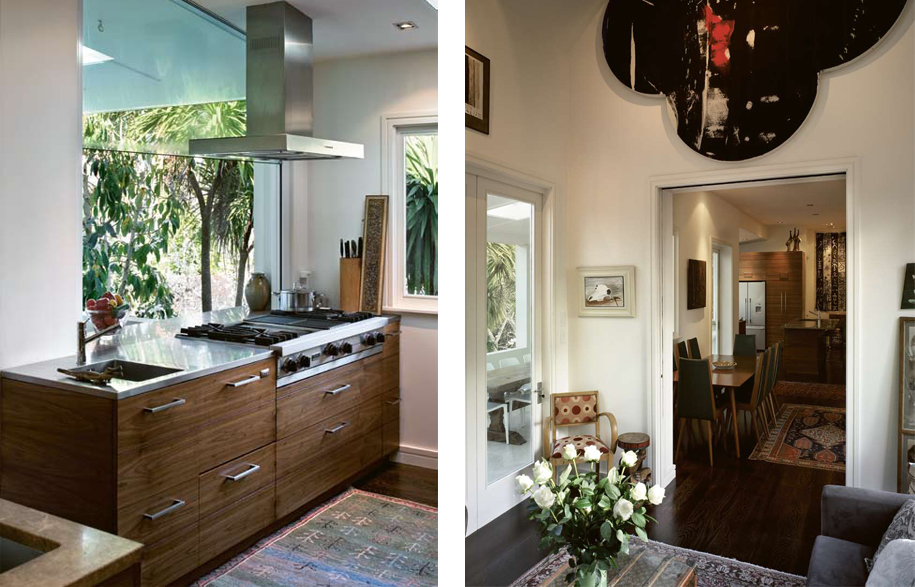 Left: The cooking surface is shared with the outdoor veranda in summer.
Right: A Max Gimblett painting overlooks the adults' lounge.
John grew up surrounded by the visual and performing arts by way of his parents' hobbies and later professions. "We were not your typical farming family," says John. "Mum was a singer, Dad potted and painted. We were unusual in that we had a contemporary house and an art collection." A move from rural Waikato to Auckland came about in 1977 when the family bought shares in the John Leech Gallery. Following his overseas trip to London, John became involved in the business and he now runs the gallery in partnership with Langsford.
A 100-year-old Herne Bay villa accommodates John and his partner Sara's extensive collection of art and objects, along with the needs of a growing and blended family. With 200 artworks and six children between them, finding the right balance between a functional home and one that could contain the art was critical. But they haven't been precious about it. Art is everywhere. The children each have collections in their bedrooms, it hangs in the stairwell and in bathrooms. Every wall is animated with giants of contemporary New Zealand art and photography, not to mention the historical work.
Set behind an ivy-covered wall, the transitional villa has clean unadorned lines in contrast to the more ornate timber villas of the area. Its atypical construction is of hollow glazed clay blocks that are plastered inside and out.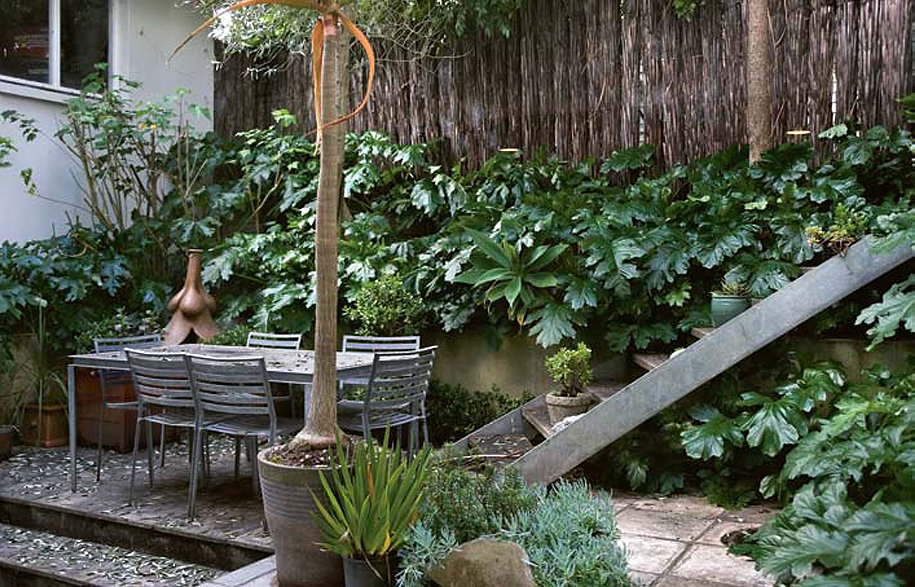 The main living spaces overlook this eastern courtyard.
Good friend and architect Richard Priest designed renovations 15 years earlier when it was converted from three flats. The major work then was to excavate and create a bedroom floor below, and to bring light into the typically dark villa interior. The result was a house pivoted around a central double height space. The conservatory-like void is floodlit with sun and overlooks an enclosed courtyard. Glassbacked shelves allowed for artefacts and objects to be seen from several rooms. The void adds a spectacular scale and caters to the social needs of a modern family. A new round of alterations to the house, completed last year, has allowed it to adapt once more to changing family structures, ages and stages. The children range from eight to 19 years of age so they needed more rooms, catering for differing social needs. The rear of the house has been pushed out in order to create more bedrooms, to add another living room upstairs, extend the kitchen and create a large enclosed concrete veranda for dining.
The three-wall kitchen designed by Brasell + Ojala has two benches with a sink in each. The island bench allows the family to hover and circulate around the kitchen efficiently. The ingenious use of an electric Shugg window suggested by builder, Jerome Box, means the cooktop can be part of the veranda and accordingly function as a BBQ in summer. New finishes include stained American Oak flooring used throughout the first floor, plastered block walls and stone tiles for the veranda, a marble bench, and floor-to-ceiling stone tiles in the new bathroom. With most New Zealand houses built in timber, the Gow villa has quite a different character and quality.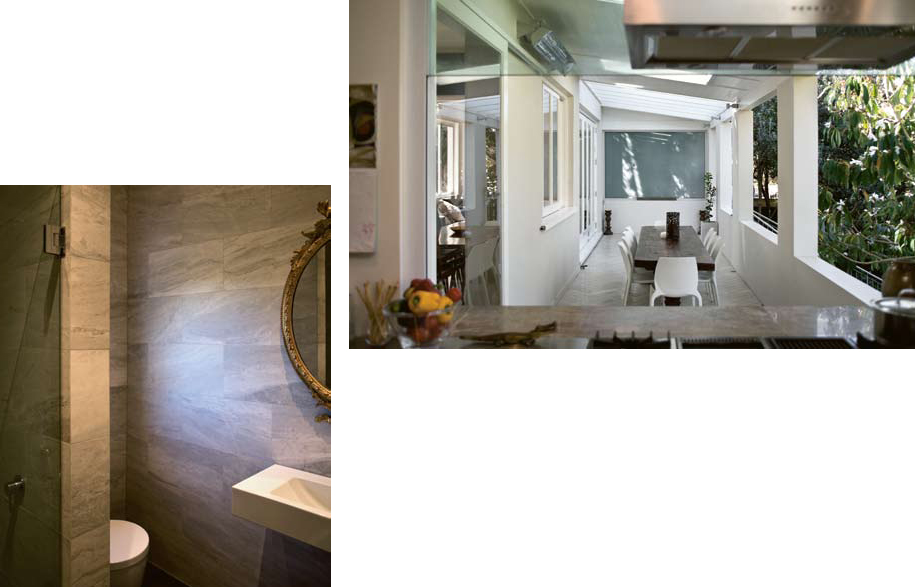 Left: Italian marble lines the upstairs bathroom.
Right: Outdoor dining veranda glowing with soft southern light.
John's personal and professional interests are displayed in his art collection. There is a commitment to diverse artistic practices and different cultural voices. The historical artefacts have a quiet presence and speak of their time and place, while the contemporary Finding the right balance between a functional home and one that could contain the art was critical work is more expressive and sometimes political. Shane Cotton's work entitled 'Whakakitenga ki te Kenehi' (1998) is a multi-layered work based on the chapters of the Bible in Maori. He draws from the remote empty landscapes of McCahon and populates them with words, the tiki figure, the American eagle and a ghostly figure of Christ. Niuean artist, John Pule's 1993 work, 'Moe (Sleeping)' records family history and place within the framework of a traditional hiapo (tapa) panel. Born in Niue, Pule is a major local artist and poet and has been with the Gow Langsford Gallery for 15 years. These moody works are in contrast with the bold and expressive Max Gimblett painting, the pop humour of the Dick Frizzell and the light box works by Michael Parekowhai.
The children have grown up with all this and, like John, have absorbed it by osmosis. As Sara reflects: "They are all quite involved and know who the artists are. When they bring new friends around and are asked questions, we hear the kids start up a dialogue with more knowledge than we had realised." The softness of the house comes from its age, natural materials and gentle light. New architectural spaces and finishes are sympathetic to the old while catering to the ever-changing needs of a busy family home.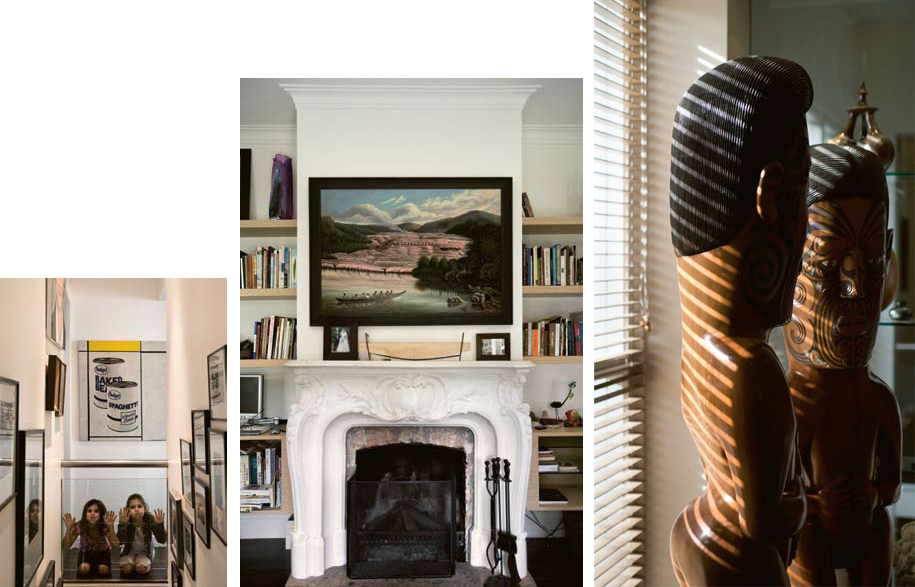 Left: Sara's daughter Imy and friend Olivia in the stairwell.
Middle: The study houses John's early New Zealand painting and photographic collection.
Right: Two carved figures by Bryan McCurrach c. 1965.
Photography: Simon Devitt
simondevitt.com
Architect
Hillery Priest Architecture
Design Architect
Richard Priest
Architectural Documentation
Steve Davis
Builder
Jerome Box
Structural Engineer
Harris Foster Consulting (Rob Foster)
Kitchen Design and Interior Finishes
Brasell + Ojala (Richard Brasell) Hillery Priest Architecture (64 9) 376 6337 hillerypriest.co.nz Brasell + Ojala (64 9) 361 1103 brasellojala.com
Artwork
Main bedroom The Clouds are Pink at Sunset, 2001, Reuben Paterson. Living room View of the Pink Terraces, c. 1880, T.A. McCormack. Cathedral room Cave Drawings, c. 1950, by A.R.D. Fairburn. The Red Parrot, 2000, by Allen Maddox. Drawing for a Song Cycle, 1976, by Ralph Hotere. Toku Whanau Ataahua, 2001, by John Walsh. Still Life with Sheep Skull and Cork Screw, 1986, by Dick Frizzell. Mondrian's Studio, 2004, by Max Gimblett. Untitled Tiki figure, 2005, by John Walsh. 19th Cenury photographs of Maori subjects by Arthur Isles. Untitled Walking Sticks, c. 1993, by Peter Robinson. Upstairs hall Baked Bean Boogie Woogie, 1997, by Dick Frizzell. Garden ceramic Pepolic figure, c. 1992, by Barry Brickell.
Furniture
Outdoor antique table from the Paris market Porte de Clignancourt. Outdoor chairs and stools from ECC Lighting + Furniture, ecc.co.nz. Kitchen vintage Marilyn Sainty chairs. Hallway credenza by David White, davidwhite.co.nz. Study 08 built-in shelves also by David White. Dining vintage Swedish dining suite purchased in 1960 by John's parents. Lounge Louis Vuitton chest, louisvuitton.com.
Finishes
Verandah floor Iserna Southern Italian limestone from Artedomus, artedomus. co.nz. Interior floor stained American Oak floorboards from Artedomus. Walls Aalto paint, aaltocolour.com. Bathroom Elba marble tiles from Artedomus. Kitchen joinery by Hafele, hafele.co.nz, and Blum, blum.com, handles from Katalog, katalog.co.nz, and Morato Anticated benchtop from Artedomus.
Lighting
Lighting from ECC Lighting + Furniture.
Fixtures/Equipment
Kitchen Viking oven and hob, vikingrange.com, Miele dishwasher, miele.com, and Fisher & Paykel fridge, fisherpaykel.co.nz. Shugg window, shugg.co.nz.
Tags: Architecture, Artedomus, Auckland, Blum, Home Architecture, House Architecture, New Zealand, renovation, residential, Residential Architecture
---