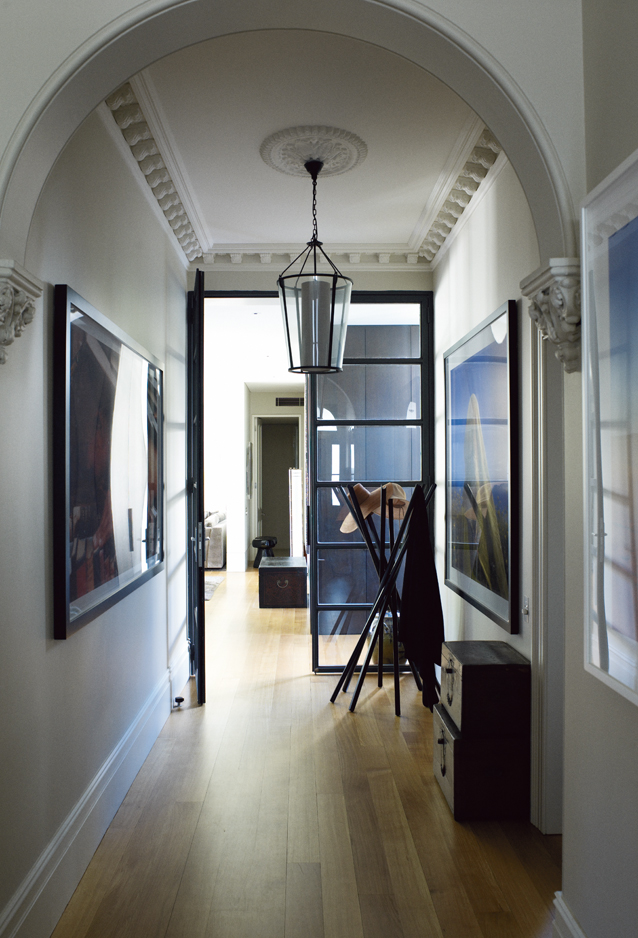 Alex Tzannes has been the Shermans' architect of choice for over a decade. He has designed several projects for them – an addition to the Sherman Gallery in Goodhope Street, Paddington, a renovation of a tiny cottage opposite the gallery for use as an artist's residence and, in 2005, the transformation of an old 1800s corner shop and outbuilding in Paddington into an award-winning office for Brian's,  Sherman Group. "The attention to detail was phenomenal," says Brian.
Tzannes also drew up plans for a major renovation of the Shermans' grand Paddington villa. But this was never realised. "We couldn't face the prospect of living in a hotel for several months while the renovations were done," says Gene. So, they decided to move.
"Brian wasn't keen to move out of Paddington, but the Paddington we had grown to love had changed since the opening of Westfield (shopping mall) at Bondi Junction," says Gene. "I looked at just one house in Woollahra and Brian finally gave in."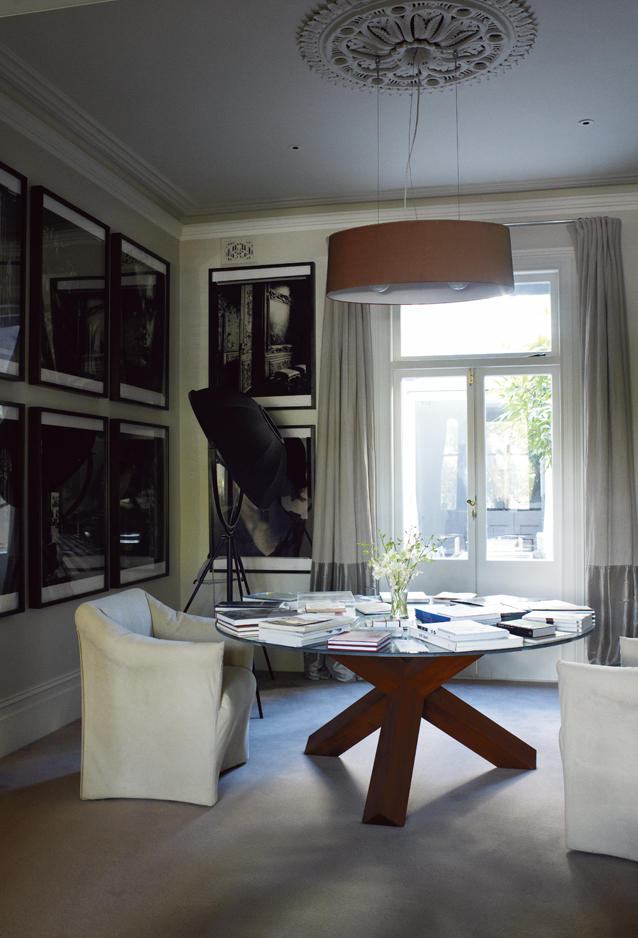 "I grew up in a small mining town in South Africa," adds Brian. "There were no footpaths in the streets, and often no shoes on my feet. Now I love living in a built-up urban environment which still retains a village ambience."
The house, a heritage-listed property with a classical Sydney façade, sits on one half of  a double block – the  house fills one block, the formal garden and pool the other – and was extended and substantially renovated in 2005 by Tzannes.
Gene fell in love with the house immediately. "One of the great beauties of the house is that the interior décor is just what I would have chosen." The interior colours, door furniture, floor coverings, light fittings and plush taupe-coloured drapes and muted colour palette were designed by one of Gene's favourite designers, the Paris-based Christian Liaigre. "They were just what I would have chosen had I started from scratch," she says. "It veered towards a cool, but not too minimalist aesthetic that interested me – plush and cool, but not devoid of feeling."
Contemporary art is an intrinsic part of the Shermans' life. It is a counterpoint that resonates throughout the house. Every inch of wall space, every nook and cranny, displays a favourite piece. And there are many – the Shermans have been collecting art for over forty years.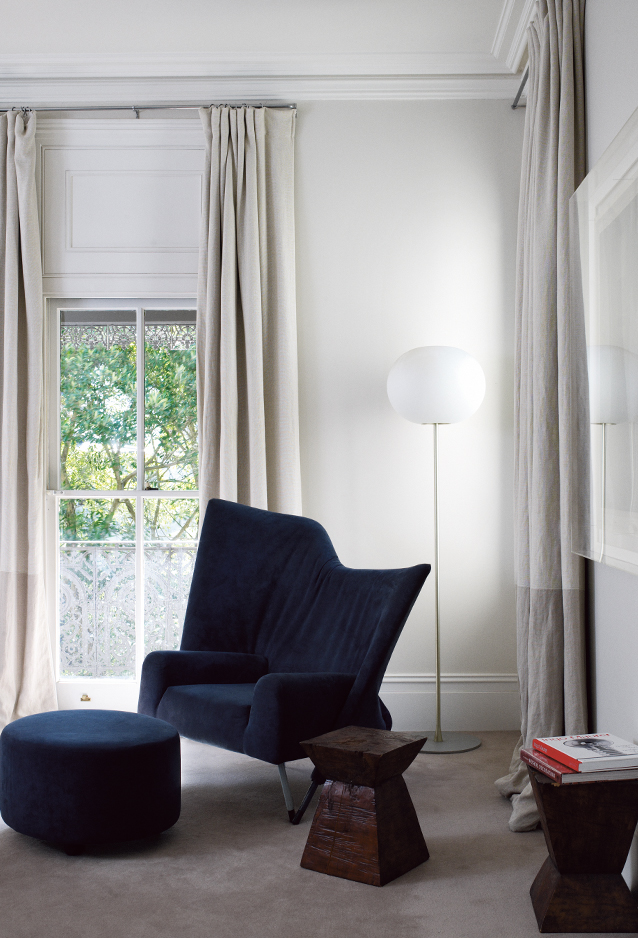 Many of Australia's and Asia's leading contemporary artists are here: Bill Henson, Zhaun Huan, Shaun Gladwell, Song Dong, Guan Wei, Au Xian, Mike Parr. Art is the focus of attention in every room, presiding over an eclectic mix of possessions pulled together over many years. "I like the old with the new," says Gene. Hence, a Philippe Starck 'Ghost chair' sits alongside an old carriage box from South Africa.
Art defines the Shermans, creating an aesthetic not easily separated from the consideration of everything they do in their professional and private lives. The aesthetic ambience flows easily from room to room and, indeed, from building to building.
Brian's study in the house and the boardroom of his office both share works from a series of nine photographs taken by Chinese performance artist, Zhaung Huan, showing at a gargantuan scale Huan's own face gradually obliterated by calligraphy.
When they moved into the current house, the emphasis shifted to work by artists using photography in their practice, or performance artists who use photography to record performance.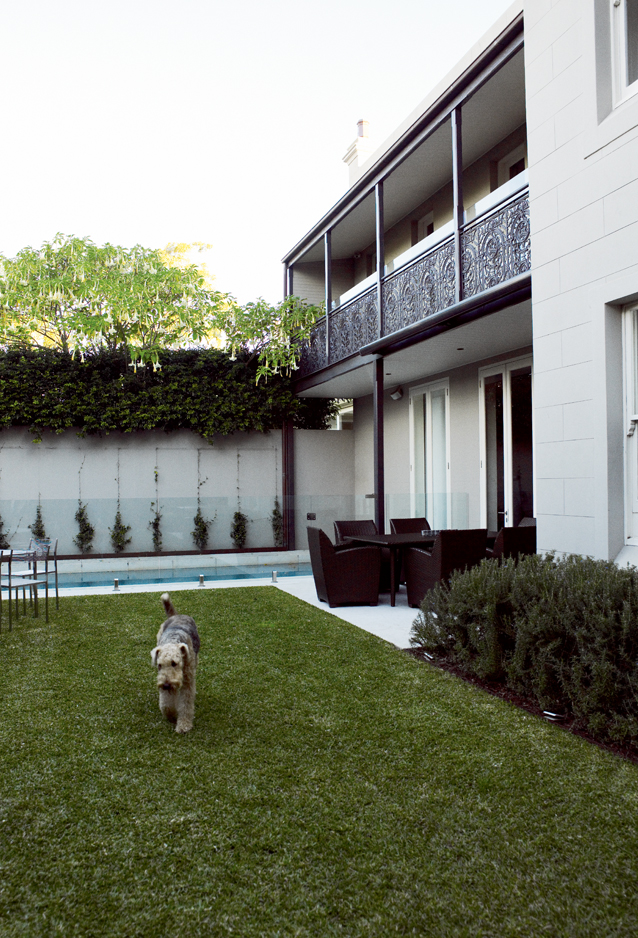 Although colour is kept under strict control, books are not. There are thousands of them. "I always wanted a dedicated library," says Gene. "For years I've had books scattered at different locations – in an apartment in Tel Aviv, at the farm, and at Brian's office." Now the books are united, orderly and marshalled in specially built book cases in a room that boasts several early Bill Henson photographs and a small Mike Parr drawing casually leaning against the marble fireplace above which is an exquisite, almost monochrome, photograph by Melbourne-based artist, Daniel Crooks. Here, too, is an exquisite porcelain bust by Chinese conceptual artist Au Xian, who fled China post-Tiananmen.
The library occupies the front of the house. This is Gene's private space. Womb-like and closeted, but not exclusive. It also serves as a reception room.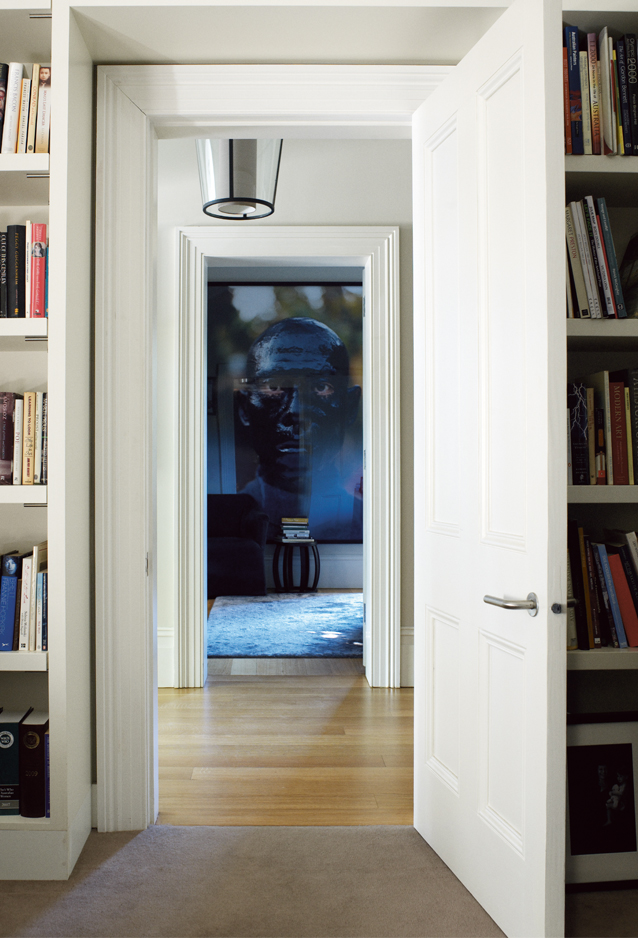 The Shermans prefer to live with strong ideas rather than strong colour. But the house is not colourless. The hallway that runs from the front door through to the back of the house borrows colour from the art: the blue of a Southern Indian sky photographed by Lynn Roberts Goodwin, the red earth of  outback Australia that features Shaun Gladwell craddling a dead kangaroo, victim of road kill, in a modern pietá.
Tzannes' 2005 addition at the rear opens to a large entertaining area, dominated by three things: a huge stainless steel kitchen bench, a long table capable of seating fourteen and a massive Philippe Starck dog-leg sofa.
This room hosts the legendary dinners that take place after gallery openings where up to seventy guests – writers, painters, architects – spill out into the garden area. "Over the years, we have entertained thousands of guests," says Brian. Gene estimates fourteen thousand.
Here a huge, almost monochromatic, painting by indigenous artist, Lily Kelly, sits comfortably close by  an old string-back South African Dutch Cape chair with massive crude wooden arms.
Cleverly, Tzannes resisted opening up all of the downstairs space. Off the main entertaining area he created two small, almost niche-like, secluded rooms and a tiny Mediterranean courtyard that invites reflection while allowing light to flow into these more intimate spaces.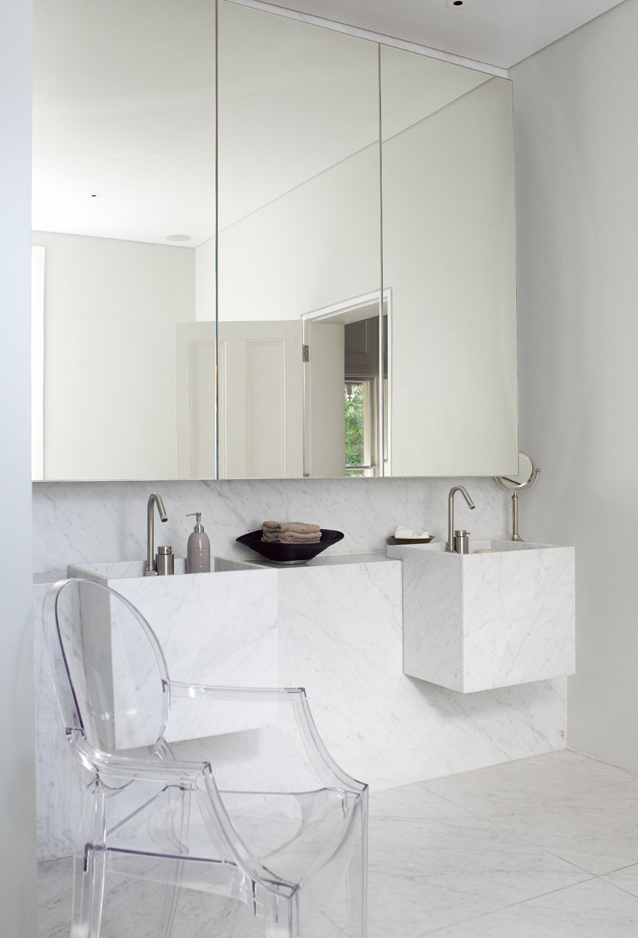 Upstairs, the bedrooms are almost traditional Sydney. Tall windows open on to balconies and light bounces everywhere. One room Gene has commandeered for her study where two things stand out: the outrageously beautiful contemporary lamp by Inge Maurer above the desk and the theatrically contrived photograph of two Shanghai lovers by young Chinese moving image artist, Yang Fudong.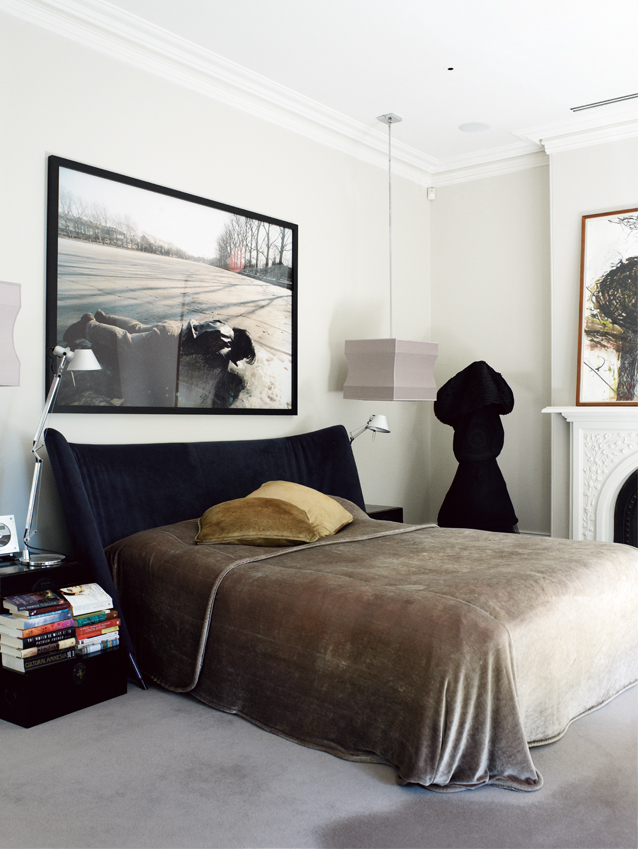 There is a quiet energy in this house, a feeling of determined intellectual endeavour. But there is also an astonishing confidence of purpose. It is a house of quiet contemplation where every piece of art and furniture adds to the sum of the whole.
"The most important factor in our home is comfort," says Gene. "The home is our haven, our retreat. It is an accumulation of memories, of books, of our friends. It is all part of us. Everything has a history and then it is mixed with the present."
This article is an extract from Habitus #5. To subscribe to Habitus click here.
Sherman Contemporary Art Foundation, sherman-scaf.org.au
Tzannes Associates, Tzannes.com.au
Tags: brian sherman, contemporary art foundation, gene sherman, hero1news, Home Architecture, House Architecture, Residential Architecture, sherman
---