Sembawang is a suburb in the north of Singapore that used to house many sleepy kampongs (or villages). These days, it is characterised more by clusters of public housing blocks and several landed residential precincts dotted with many new, taller houses pushing their way up among smaller quaint homes built in the 60s.
In land-scarce Singapore, occupants wishing to construct to the maximum built-up area is a practical reality. Yet, a new home designed by Atelier M+A resists this approach. Founded by Masaki Harimoto and Ng Ai Hwa, the House in Sembawang is a modest two-storey reconstruction characterised by a distinctive timber façade and gently pitched roof. It is designed for a young couple with two children, who wanted the home to be inviting and spacious for the gathering of friends and family, as well as for their children to play freely.
The original house featured small windows, making the interiors dark. The architects kept the main structures of the house, but opened it up with full-height, sliding glass windows all round. This made it easy for both the children and guests to traverse between indoors and out easily.
Unlike many new houses that are essentially glasshouses shuttered off from the external environment with curtains perennially drawn, here, the local climate and how to enjoy it is considered at every turn. Its front was extended for added floor area, but also includes a sheltered porch for outdoor use when it rains or the sun is too strong. Inside, a double-storey volume in the house's heart with a skylight above keeps the interior well lit and increases connection between levels.
On the second storey, rooms surround the atrium, linked by a bridge alongside a generous balcony. The façade, cladded with hardy Accoya acetylated wood, is detailed with air gaps between timber members and between the cladding and brick wall, to act as a heat shield from the sun. The hardy material also addresses weather stains found commonly on white exterior walls due to Singapore's high rainfall and humidity.
Throughout, the leitmotif of lightness pervades: from the cantilevering car porch to the floating custom-designed joinery. The palette of mainly natural materials is tactile, pleasant to the touch. In the front porch brick pavers laid in a herringbone manner grants the house a rustic feel, as do the abundant use of timber. Such choices capture the area's kampong feel in a modern and subtle way. Eschewing the superfluous for warm functionality is Atelier M+A's trademark. The House in Sembawang is a fine example of this philosophy.
Atelier M+A
atelier-ma.com
Photography by Masano Kawana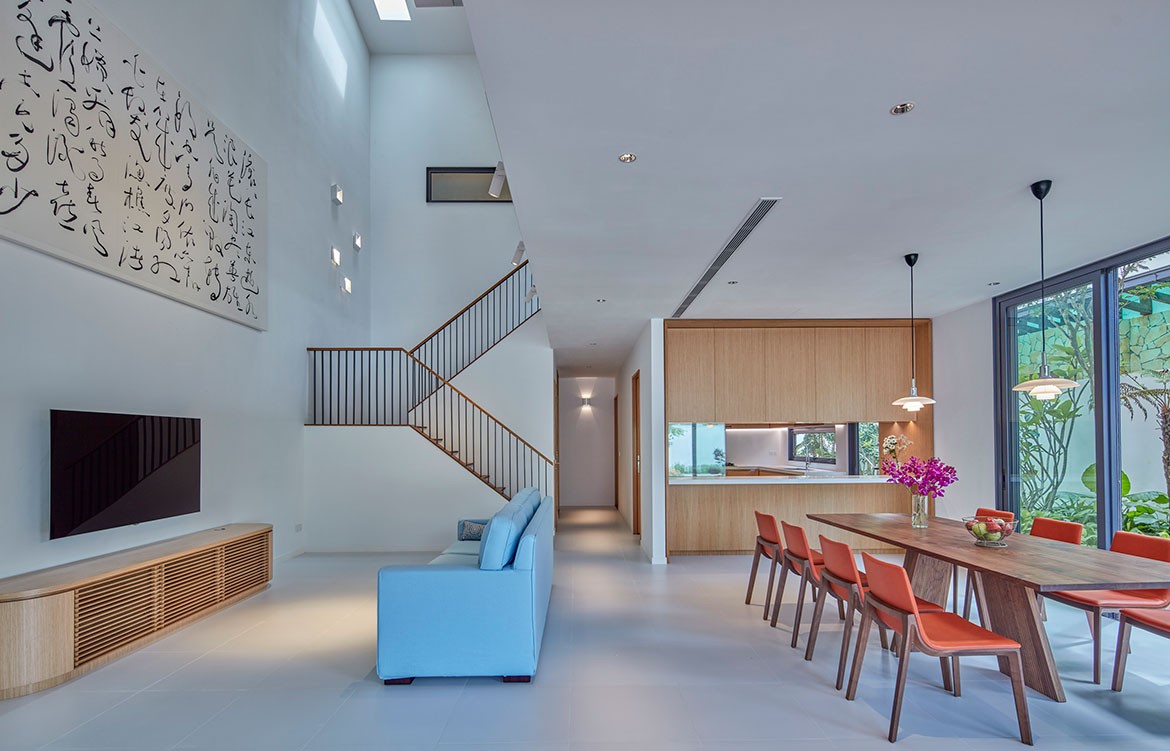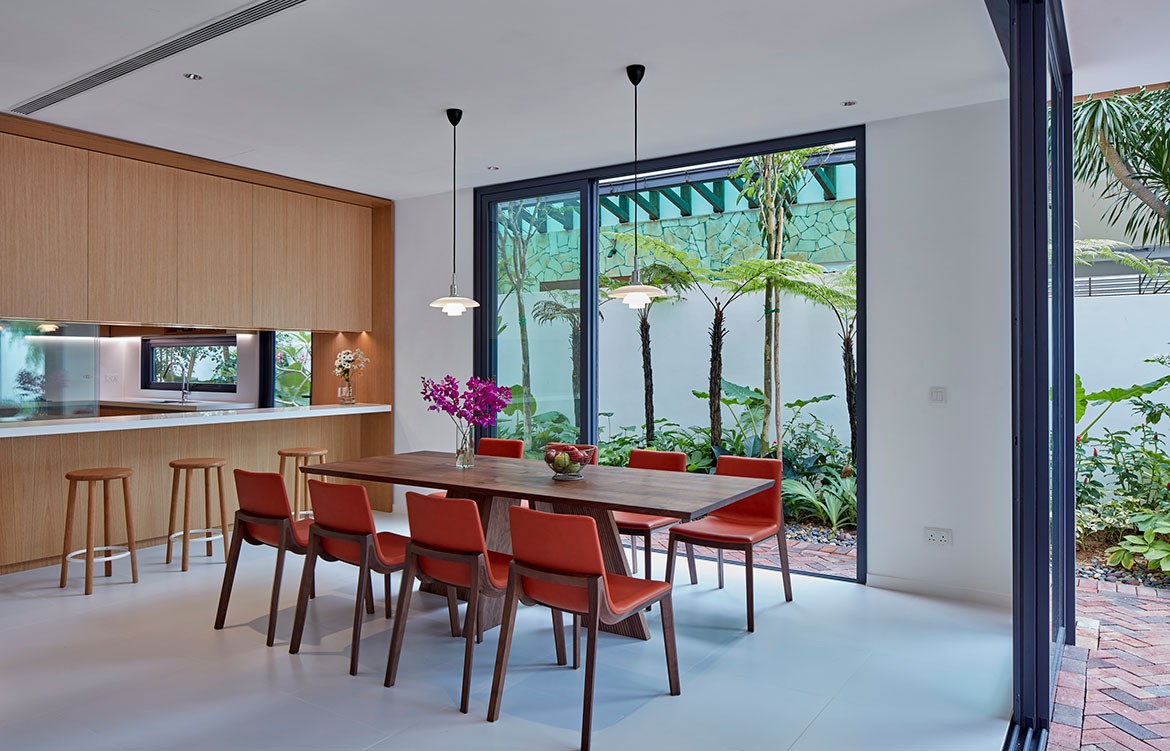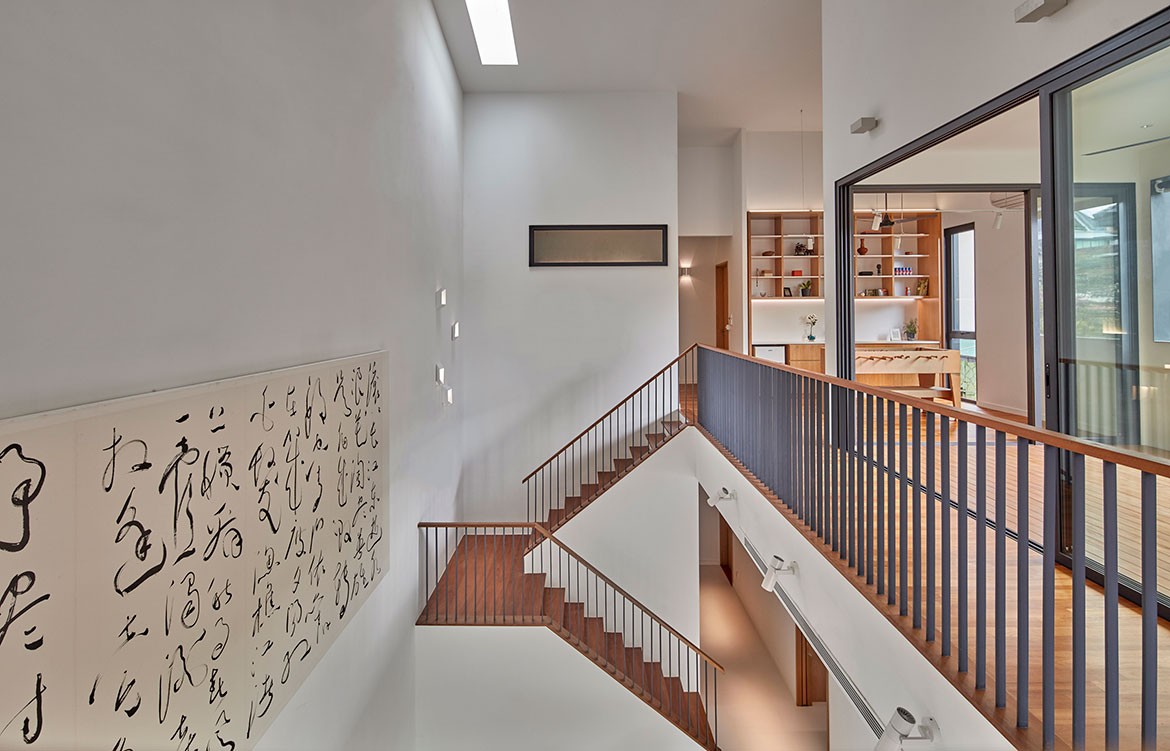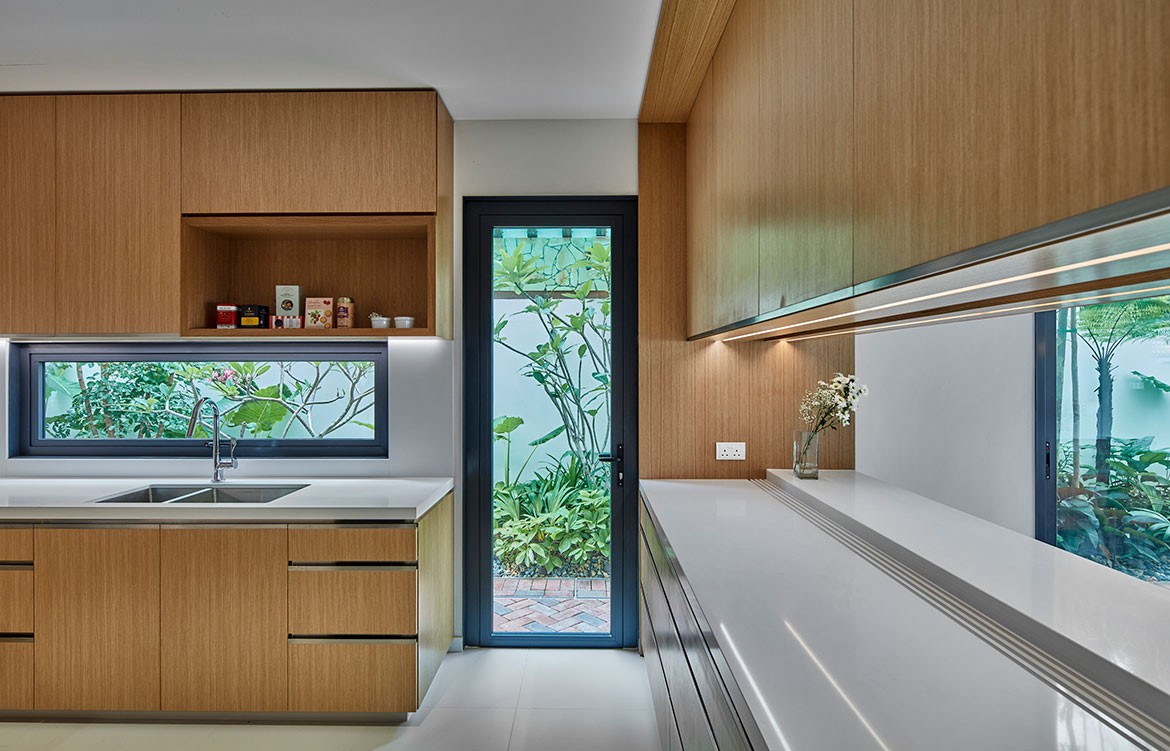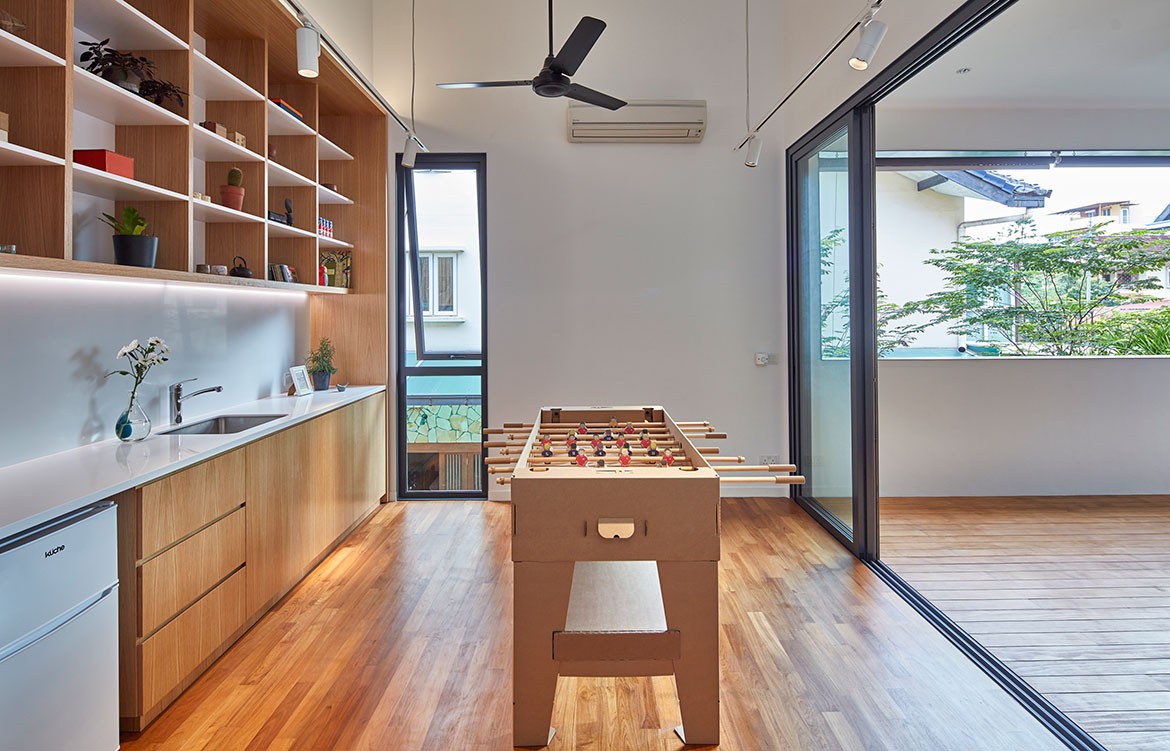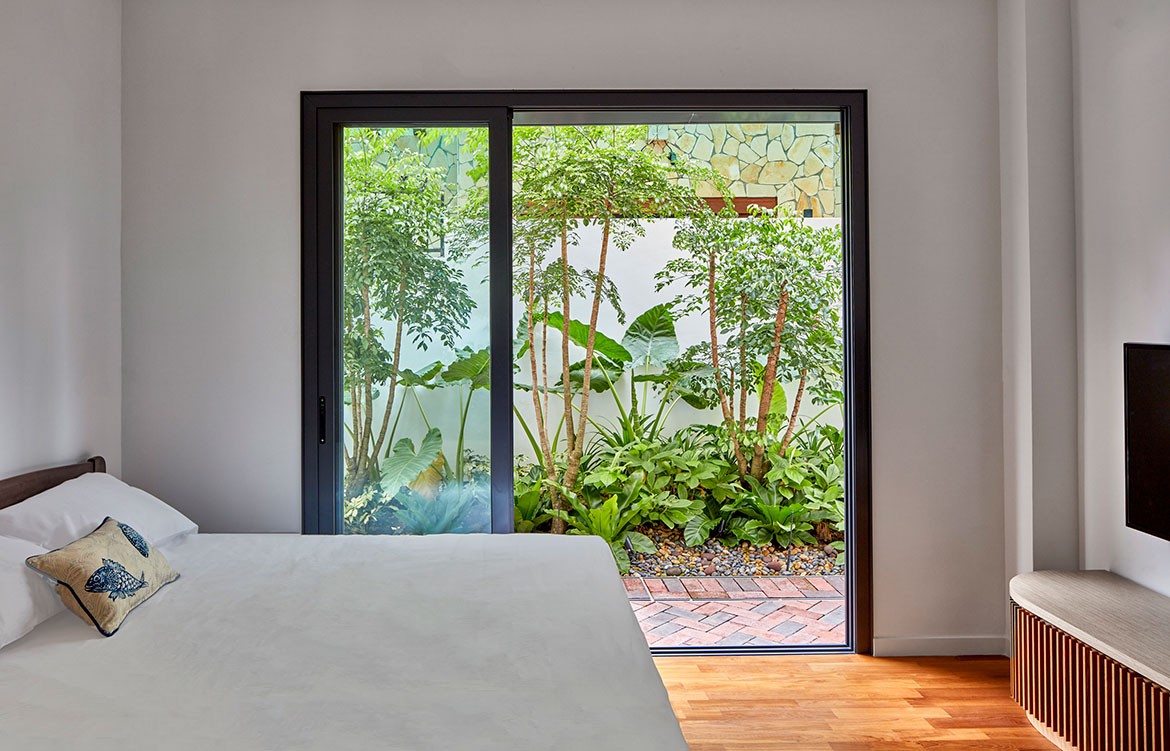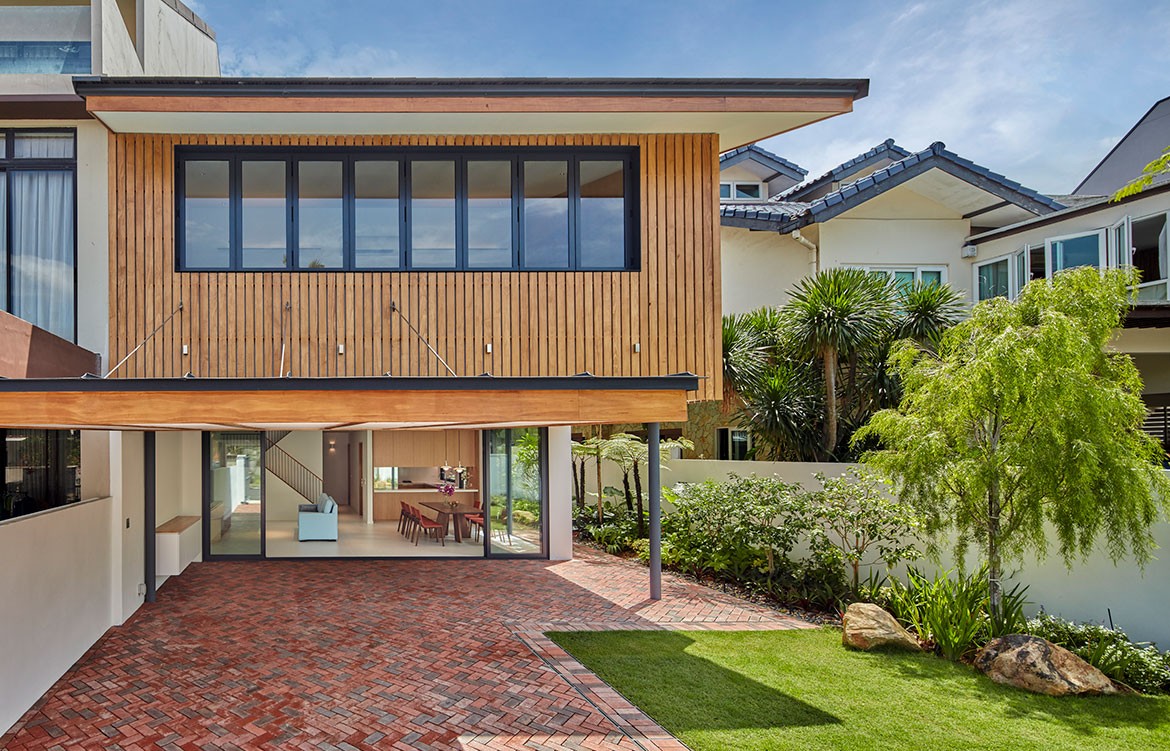 We think you might also like The House with Pianos by RT+Q
---